Explore wild places and make memories with like-minded women with Becoming an Outdoors Woman. Whether you travel solo or with your best bud, you will experience the same camaraderie and support you have come to expect from a BOW workshop.
International Becoming an Outdoors Woman has partnered with Green Edventures Tours since 2010 to provide active, educational, and life-changing travel adventures for BOW women! Many of the trips are designed for the beginner, and tailored for women of all skill levels. Our caring and supportive guides and trip leaders help women explore off-the-beaten path places through personalized instruction.
Through unbelievable animal encounters, and rewarding outdoor experiences we help women fall in love with some of the world's most amazing destinations.  Take a look at some of the trip itineraries to see how you can swim with whale sharks in Baja, see Iceland's waterfalls, trek with Mountain Gorillas in Uganda, or raft down the wild and scenic Salmon River in Idaho.
Becoming an Outdoors Woman fans use Discount Code BOW2023 when you sign up so that we know you are BOW people plus you will save $100-$300 off of the advertised price of these select Green Edventures Women's Adventures, AND Green Edventures will donate $100 to the Becoming an Outdoors Woman Program for each sign up.
Solo female travelers, friends, sisters, partners, mothers and daughters, all women ages 18+ are welcome.
Below is the list of women's adventures where the discount code BOW2023 is applicable until 12/1/2022. Take advantage of advertised early bird discounts and save even more. Don't wait until the last minute. 
Below is the list of women's adventures where the discount code BOW2023 is applicable until 2/15/2023. Take advantage of advertised early bird discounts and save even more. Don't wait until the last minute. 
Links Coming Soon
June 9-11, 2023: Door County Kayaking
July 28-Aug 2, 2023 Isle Royale Kayaking
August 24-28, 2023: Apostle Island Kayaking
September Peru
Interest List:
Interested in getting trip updates? Sign up on our email list. Click here to access the form: https://forms.gle/HCxJQwcTYeTrSXfE8
The planning is done for you.
Green Edventures help International Becoming an Outdoors Woman participants feel like National Geographic explorers, and scientists, without actually being one. Our goal is to make it easy to follow your heart to your dream adventure. Green Edventures trips are no ordinary tours. On our adventures for women, we teach you how to explore wild places for a unique experience. You may feel a little out of your comfort zone, but our team will be there to support you through it. Almost all of the experiences we offer can be done by any woman who is healthy and who is semi-active. With one click, a trip of a lifetime is within your reach.
Our Promise To You:
Many women who sign up with International Becoming an Outdoors Woman are first time travelers and solo female travelers. From the time you sign up, until you reach the destination you will have the contact and support of your trip leader. Each trip has a Facebook Group where participants can get to know each other and ask questions before the trip.  Packing lists and other supplemental information will help you prepare for each adventure. The Pre-trip Departure Packet will provide you with detailed airport arrival and meeting instructions. For those women who are not comfortable booking their own airfare, our travel agent can assist you with that.
Our team will help you navigate COVID entry and testing requirements and each destination. Due to the increasing complexity of travel for unvaccinated travelers, we are requiring all participants to be be fully vaccinated.
Group travel basics:
Group sizes are typically 10-16 with the average being 12 participants. Each trip is led by an expert local guide and supported by a Green Edventures' Trip Leader. Group demographics tend to be multi-generational from 30s to 70s but the average age is 55. We travel like a big family and support each other. Most women sign up as solo female travelers, but friends, siblings, parterns, mother-daughters, also sign up.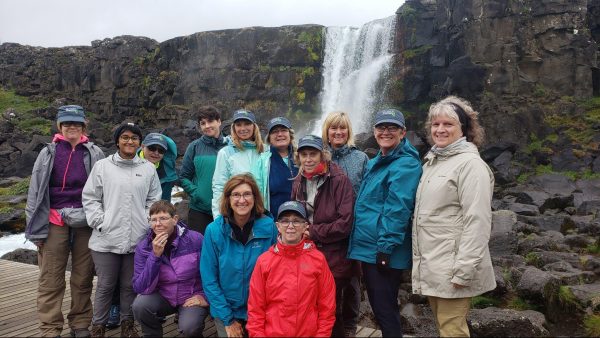 Questions?
Contact Your First Adventure Buddy,
Tara
Tara Short
1-888-622-4911
tara@greenedventures.com