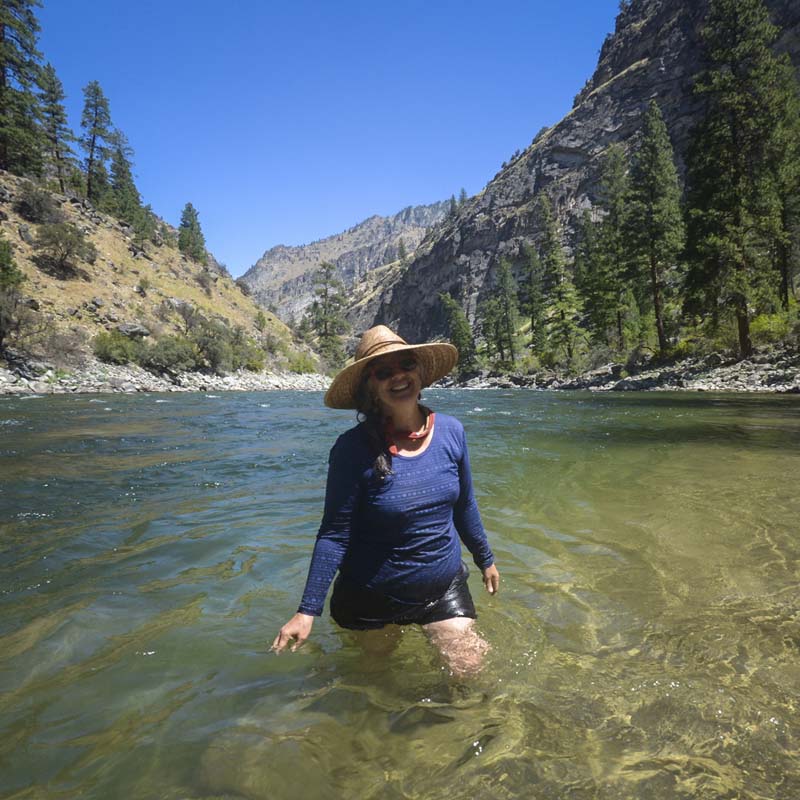 Idaho: Main Salmon River Women's River Rafting Adventure (August 21-29, 2022)

Boise, Idaho

  9 Days

  08/21/2022

  08/29/2022
  Easy – Moderate Physical Activity
Scroll Down For The Itinerary
Be enchanted by Idaho's Main Salmon River on our Women's Rafting Adventure. Get swept up in the bliss of this grandiose adventure among friends as we drift through the River of No Return Wilderness on the longest free flowing river of the Great American Frontier.
Ladies, join us in Idaho for an end of summer river rendezvous on our Main Salmon River women's rafting adventure. Let the river lead the way as you drift into wilderness. Feel the thrill of white water rafting, enjoy opportunities for wildlife viewing, sleep under the stars, and learn about women of the past and present who have made a life on the river. You will paddle in good company, unplug from the world, and connect with nature.
Join us on our Main Salmon River Women's Rafting Adventure for a 9-day adventure that includes 6-unforgettable days rafting 80 miles of the scenic Main Salmon River. This adventure combines exciting class III+ whitewater rafting with slower opportunities to enjoy the scenery of towering granite canyons, swimming in calm clear water from the shores of sandy white sand beaches, a soak in hot springs, short shore excursions, and chances to spot wildlife like birds, bighorn sheep, eagles, and bears.
The Main Salmon River is a world class river, private rafters wait years to get permits for. This unique place has a lot of history, with many of the famous settlers being women. Your expert rafting guides will break up your time on the water with excursions to prehistorical sites with pictographs, and visits to homesteads to help connect you with the human story of the river, and the notable women of the Great Frontier. 
The Main Salmon River women's Rafting adventure begins in Boise with an overnight at an airport area hotel to allow flexible arrival times. The following morning, participants will take a 1 hour charter flight in a 6-10 seater prop plane over Idaho's wilderness and touch down in town of Salmon, Idaho. In Salmon, we will continue to get to know each other, meet our river guides, and explore some of the historical spots of the cute mountain town. After a night at a hotel, we will embark on an adventure on the Main Salmon River passing through the Frank Church River of No Return Wilderness. There will be four days of camping, and one night at a remote river lodge while rafting. The take out is in Riggins, we will overnight in McCall on day 8. On the final morning, A 2-hour group ground transfer will return participants to Boise for afternoon flights.
A rafting adventure for any woman.
Any active and healthy woman who can swim and be comfortable in and around water can join our Main Salmon River women's rafting adventure. Depending on the group size, participants can choose their ride style from active paddler taking instructions from the guide, or to passive passengers who kick back to enjoy the sites. With groups less than 10, participants will ride on oar boats while the boatman/woman does the work. For larger groups, a paddle raft may be added which requires 6 participants actively paddling. Water levels will also determine the types of boats for the trip. In both cases, those who want more of a challenge can learn to navigate rapids with an inflatable kayak. 
The Main Salmon River is a perfect place to bring together women of all ages and backgrounds for a multi day rafting trip. Participants can be experienced rafters or newcomers who make this their introductory dip to test the waters.
About river camping
Be prepared for the best night's sleep you have had in a long time. This trip includes 4 nights riverside camping with one night at a remote river lodge.  We use our Dutch ovens every day, and are skilled in tailoring our menu to fit special dietary needs. During camping, your guides will provide you with hardy, healthy and hot breakfasts and multi-course dinners. We have all the good stuff, and it's prepared on-site with a huge variety of fresh, often times local, produce, meats, seafoods, breads, and regional dinner wines. Lunches are typically sack lunches. Tents and sleeping pads are provided. Sleeping bags can be rented for an additional fee. 
A note about the river lodge
This package include one night accommodations at a wilderness river lodge. The lodges are simple and provide everyone a chance to take a hot shower and sleep in a real bed for the night, and to enjoy dinner and breakfast cooked by the lodge hosts. Ideally, the night we stay at the lodge is either night 3 or night 4, because that's about the time you appreciate the creature comforts the most. Due to circumstances outside our control such as water levels, lodge staffing, a lodge's ability to source provisions, and lodge bed demand, there is always the slight chance that we will not have the lodge night on the river. Instead, we will continue to camp on beautiful and scenic beaches. If this is the case, all participants will be updated about this in the pre-trip departure package, and will get a refund or package price reduction of $200.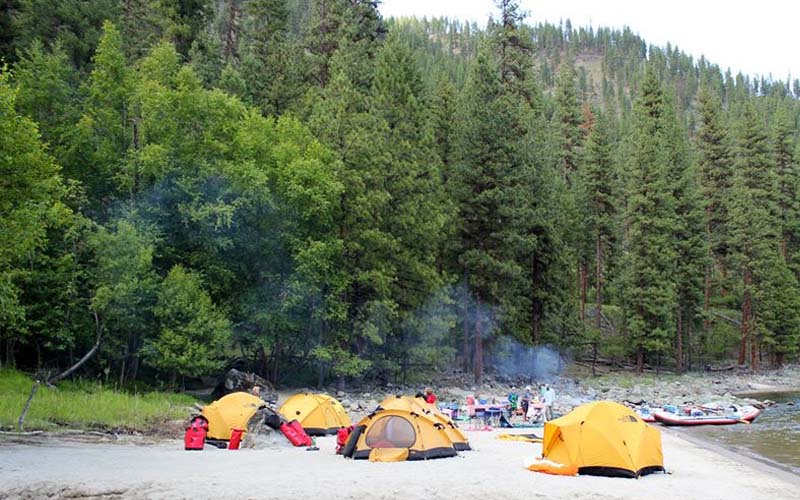 Trip Highlights:
Scenic 1-hour charter flight in a prop plane from Boise over Idaho's vast wilderness.

​
Visit the Sacajawea Interpretive Site & Cultural Center in historic Salmon, Idaho.

Discover wilderness with 6 days of rafting on the Main Salmon River in Class III-IV rapids.

Pass through the second largest canyon in North America.

Bond with new friends and share memorable moments by the campfire.

Listen to the calm sounds of the river, breathe in fresh pine air, and feel the freedom of being unplugged.

Learn to navigate and conquer rapids in an inflatable kayak.

Dip your toe in river living with 4 nights camping and 1 night at a remote riverside lodge.

Meet modern-day women homesteaders.

Stretch your legs on hiking trails, and soak your muscles in a hot spring. 
Eat delicious food prepared by your guides.
Included:
Flight from Boise to Salmon
All scheduled activities, permits, park fees, and taxes.
3 nights double occupancy 2-3 star hotels.
4 nights camping with tent and pad.
1 night double occupancy at a river lodge.
Expert local river guides.
Ground transport (15 pax vans, school bus river shuttle)
All meals.
Ground transfer from McCall to Boise.
Excluded:
Airfare to Boise, Idaho.
Gratuity $350 minimum appreciated
Travel insurance
Sleeping bag rental
Supplemental Information: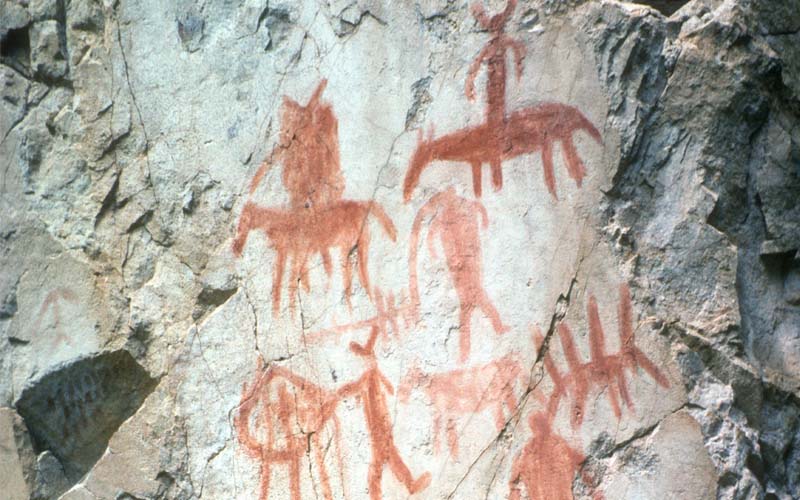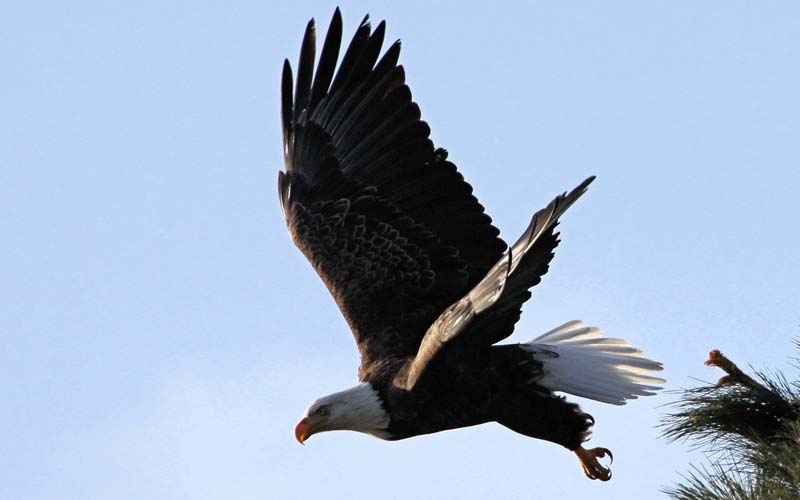 Package Price: $4195
Deposit: $1000
Deposit due by: until spaces are full
Availability: Click Book Now (below) to see real time availability and to sign up.
Use our chat feature to ask other trip-related questions.
All participants must be fully vaccinated.
Minimum / Maximum Group Size: 10/16
Travel insurance is available and recommended.
This adventure begins and ends in Boise, Idaho. Day 2, participants take a 50 min scenic flight to Salmon. The trip ends on Day 9 in McCall, Idaho where participants return to Boise via 2 hour ground transport.
►Where Do We Stay?
Night 1: Boise Airport Hotel (TBD).
Night 2: Salmon, Stagecoach or Similar
Night 3: River Camping
Night 4: River Camping
Night 5: Remote River Lodge
Night 6: River Camping
Night 7: River Camping
Night 8: McCall (TBD)
►Day 1: Arrival Boise
Schedule a flight to arrive by 4pm or before. The hotel's airport shuttle will pick you up. Your trip leader will be waiting for you at the hotel and will greet you upon arrival.  Welcome, orientation and dinner at the hotel. (D)
►Day 2: Scenic Flight Over Idaho Wilderness & Historic Downtown Salmon​
***Morning flight from Boise to Salmon, enjoy scenic views of Idaho Wilderness. Arrive Salmon, Idaho. We will drop our bags off at the hotel and stretch our legs with a walk downtown. Followed by a visit to the Sacajawea Interpretive Site & Cultural Center and hike the trails.
5pm: Meet at Lemhi County River History Museum to meet our partner and lead guide of Aggipah River Trips, Stephanie Ellis. During this orientation, participants will each receive waterproof duffel bags, and instruction on how to use them. Stephanie will go over the expedition plan, and answer questions about the upcoming adventure. Group dinner at a restaurant in historic downtown Salmon. Overnight at the Stagecoach Inn or Similar. (BD)
** specific times for the charter flight will be determined by availability from the airline. The above itinerary is an ideal schedule and subject to change.
►Day 3: Introduction To The Main Salmon River
After breakfast we take a two-hour bus ride to put-in at Corn Creek. Here, your guide will go through pre-trip orientation. Expect to be on the river by 11am.
Our introduction to the Main Salmon starts with exciting rapids such as Killum, Gunbarrel, Alder Creek, Rainier, Devil's Teeth. Around 1pm, we will take a break and enjoy a riverside lunch with locally sourced ingredients. Your guide will lead you to some native American pictographs and give you insight about what life was like for people who lived in the canyon 12,000 years ago.
After lunch, more river rafting fun, and then arrive in camp about 4:30pm. 7:30pm Dinner. Relax with new friends. (BLD)
►Day 4: River of No Return Wilderness & Hot springs​
6:15am Rise in the morning to smell of alpine air and freshly brewed coffee followed by a hearty breakfast prepared by your guides.
Break camp, and head downstream for another day in paradise. Expect big rapids like Black Creek, Hancock and Bailey with stretches of tranquil water allowing you to look for wildlife as you gaze at mountain views. A few excursions including a soak in a hot spring will break up the day on the water. Arrive at camp about 4:30pm. Dinner. Swap stories by the campfire. (BLD)
►Day 5: Women Homesteaders of the Past & Present
Sip coffee riverside. Stretch. Feel the freedom of wilderness, the flow of the river, and connecting with nature. The routine of river life is settling in. You decide you may never leave.
Today you will have a mix of adrenaline pumping whitewater excitement. We'll run 5-Mile, Split Rock, Big Mallard, Elkhorn and Growler Rapids,  with stops for informative land excursions to learn about women who came to the Salmon River and never left.
Mid-morning meet with a local woman caretaker who has made her home along the Salmon River for 30+ years. You will learn what it takes to live year-round in one of the most remote parts of the US including a visit to her self-sustaining garden.
Afternoon, we will make an interpretive stop at another homestead. Learn how Francis Zaunmiller Wisner spent 46 years on the Salmon River, outliving two husbands and being self-sufficient. Overnight at a remote river lodge. Enjoy a hot shower and other creature comforts. Dinner. (BLD)
►Day 6: Painter Mine, Buckskin Bill's & Intro to Inflatable Kayaking​
Lower in the canyon, the thick forest gives way to steep granite cliffs and the glass-like pools provide a place for play and reflection.
The water conditions ahead make it a good day for inflatable kayaking! You will experience smooth water intermixed with class II+ whitewater. Stop at Painter Mine where we will learn about gold mining in the Salmon River canyon. Lunch and informative session at Buckskin Bill's homestead. Here, learn about how Buckskin made his living along the river, and visit with Barbra, who has been caretaking and living full-time at the place since 1983.
More river time through afternoon, arrive in camp around 4:30pm.  Dinner. A billion-star show starts at sunset. Do not forget to look up.
►Day 7: Inflatable Kayaking Continued & Polly Bemis Homestead​
Expect another good inflatable kayaking morning with smooth water intermixed with small rapids. Visit Polly Bemis's homestead, a Chinese immigrant who began her life in Idaho in a mining camp in the late 1800s and moved to the Salmon River in the late 1890s. She lived here until her death in 1933, several of those later years alone.
Lunch shortly afterwards, then the rest of the day spent on the river. Arrive in camp around 4:30pm. Celebrate the last night on the river. There will be lots of she-nanigians to reminisce about over the past few days together. Belly-laughs guaranteed.
►Day 8: Final Three Rapids – Riggins – McCall​
Enjoy a leisurely morning. Depart camp at 9am. Fun morning with three of the largest rapids on the trip, Chittam, Vinegar Creek, Carey Falls. Arrive at Carey Creek take-out boat ramp around 11:30. Transfer by bus to Riggins with a box lunch. Transfer to McCall. Overnight in McCall. Group farewell dinner. (BLD)
►Day 9: McCall – Boise Ground Transfer​
8am Ground transfer from McCall to Boise Airport. The drive is about 2 hours. Participants will arrive by 10-10:30am. Plan for flights to depart after 1pm.
** Please note: The activities, lodging, guides, and schedule may change without notice as practical considerations arise during program development or onsite. **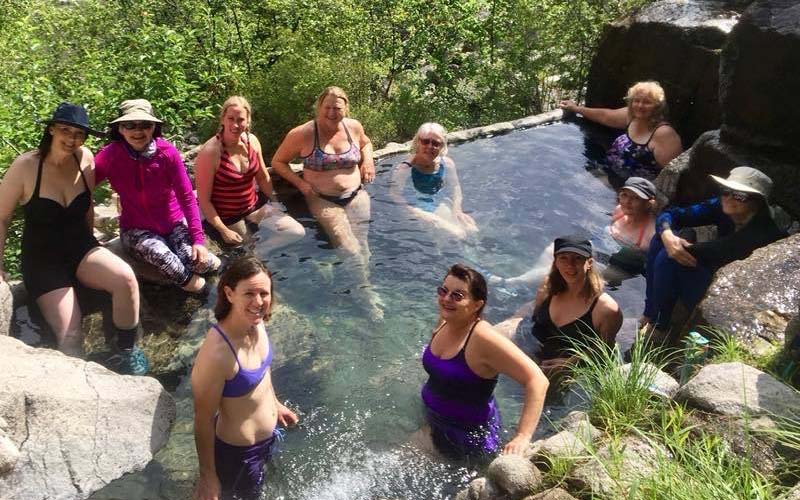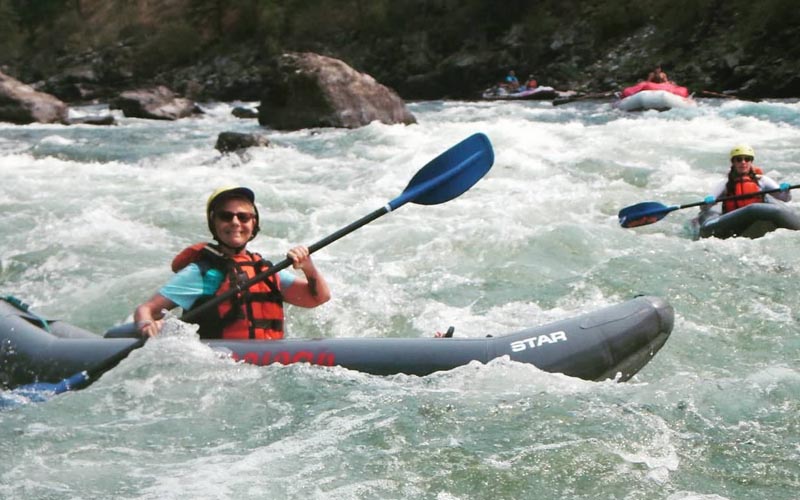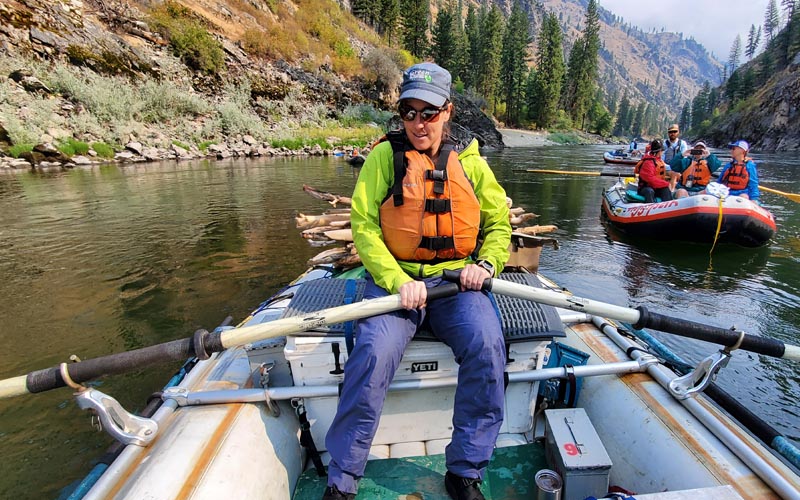 Stephanie Ellis
Guide / Aggipah River Trips
Steph's parents raised her on the river, taking her on her first 6-day float at age four.  She has been running a boat on the Salmon River since 1996, her first solo occurring shortly before she turned 14. She has been involved with running the business side of Aggipah since 2010. She currently serves on the Idaho Outfitters and Guides Association's board of directors, which helps keep her up-to-date with local river issues.  Local history is an interest of hers, which led her to earn a BA in history at Boise State University. Steph's other interests include skiing, hiking, reading, gardening, cooking and fitness. She has been raising her two sons on the river, continuing her family's tradition. 
Sign Up For The Green Edventures E-mail List
**We respect your privacy. Our website is fully secure and your information is kept 100% private with us**

Go Green Edventures!