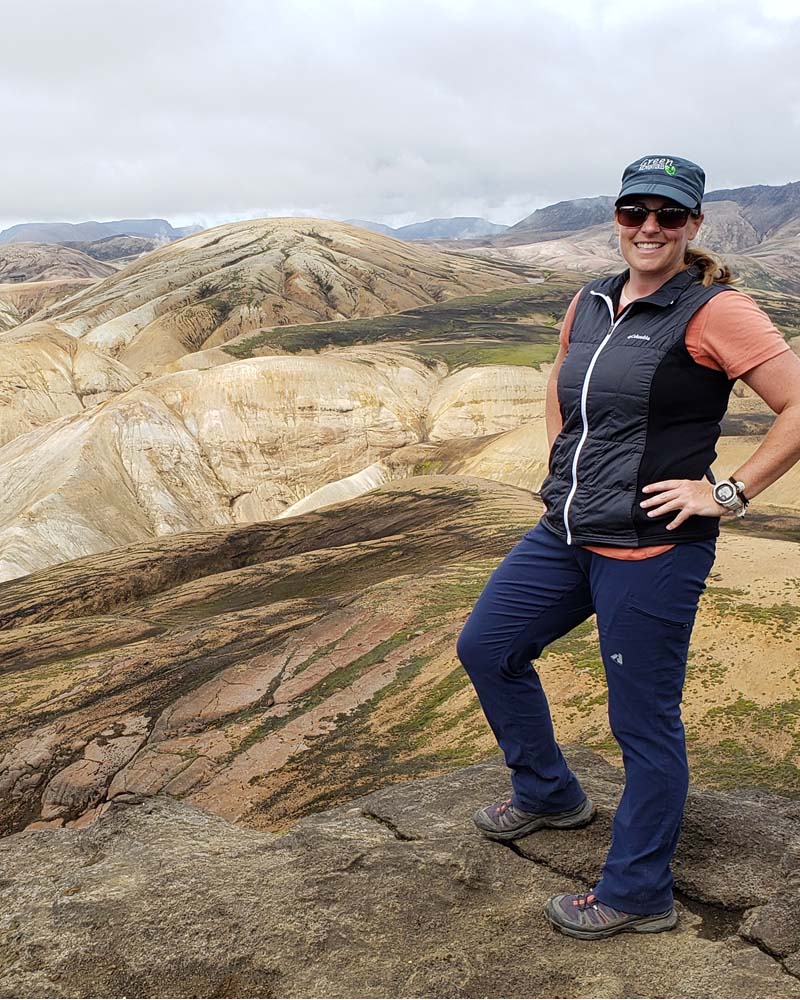 Iceland Women's Laugavegur Thru Hiking Adventure Tour (August 10-16, 2023)

  Iceland

  7 Days

  08/10/2023

  08/16/2023
  Women Only
  Moderate – Strenuous
Scroll Down For The Itinerary
Iceland Women's Hiking Adventure Tour is a 40-mile thru-hike from the hot springs of Landmannalauger to the lush green forests of Thorsmork in the highlands of southern Iceland! You may never be able to pronounce the name, but the adventure will be unforgettable. Be wowed by big landscapes, feel free to let go, and be surprised by what you can do with the right group of people by your side on each of your 84,480 steps from steaming hot springs to a forested Valhalla on our Women's Iceland Thru Hiking Adventure Tour Laugavegur Trek.
The Women's Iceland Thru Hiking Adventure Tour Laugavegur Trek is a 40 mile hike over 5 days (plus pre/post hike lodging) from the hot springs of  Landmannalaugar, across extreme environments of the southern highlands, to the forested valley of  Þórsmörk (thorsmork).  The landscape is so varied and other worldly, you just might think you were on another planet.
Traverse rainbow, rhyolite mountains down into steaming geothermal areas that give way to bubbling mud pools surrounded by vibrant green lime colored moss. Trek through valleys of obsidian (Dragon Glass to all you Game of Thrones fans), and walk over snow, ford glacial rivers, and across an expansive lava sand desert on our Women's Iceland Thru Hiking Adventure Tour.
Be rewarded with the feeling of accomplishment on our Iceland Women's Hiking Adventure Tour, knowing that you achieved your goal each day! Celebrate and laugh with your adventure buddies as you sit around the table at night sharing homemade meals, and your stories at the end of each day on our Iceland Women's Hiking Adventure Tour.
Oh, girl….there will be stories on this epic Women's Iceland Thru Hiking Adventure Tour!
On this Women's Iceland Thru Hiking Adventure Tour, all of the planning has been done for you. This trip is fully supported with pre-trip preparation and a detailed packing list. Carry only a day pack with personal gear. Hot breakfast and dinners are prepared at mountain huts each night. Luggage is transferred between huts for you. The trail on the Iceland Women's Hiking Adventure Tour is challenging, but not impossible or technical. All you need for this trip is a positive can-do-attitude and a few pieces of good personal gear such as: gortex rain jacket and pants, trekking poles, hiking boots, back pack, non-cotton base layers.
Who should sign up for Green Edventures' Women's Iceland Thru Hiking Adventure Tour?
You must love hiking. Women's Iceland Thru Hiking Adventure Tour is open to women who do not have any experience thru-hiking. Some mountain hiking experience carrying a backpack is required in various weather conditions and you must be an active person willing to prepare your body for the experience.
Women's Iceland Thru Hiking Adventure Tour would-be participants are encouraged to have some mountain/elevation hiking experience. We walk 6-7 hours per day, or about 7-10 miles. Maximum elevation is 3,400 ft and is covered within the first two days of hiking. The third day is rolling with short, steep climbs. The final stretch is mostly flat with little elevation gain. The fifth day is hiking the trails around Thorsmork. The trails are foot paths with loose gravel, rocks, sand, mud, and possibly snow. Excellent rain gear, hiking boots, and trekking poles are required equipment you will need to invest in. Total accumulative elevation for the hike is 6000f over 5 days.
Want to extend your stay in Iceland? Pair this Women's Iceland Thru Hiking Adventure Tour with our. 9-day Snaefellsness Peninsula & South Coast Multi-Day Iceland Adventure for Women August 18-26, 2023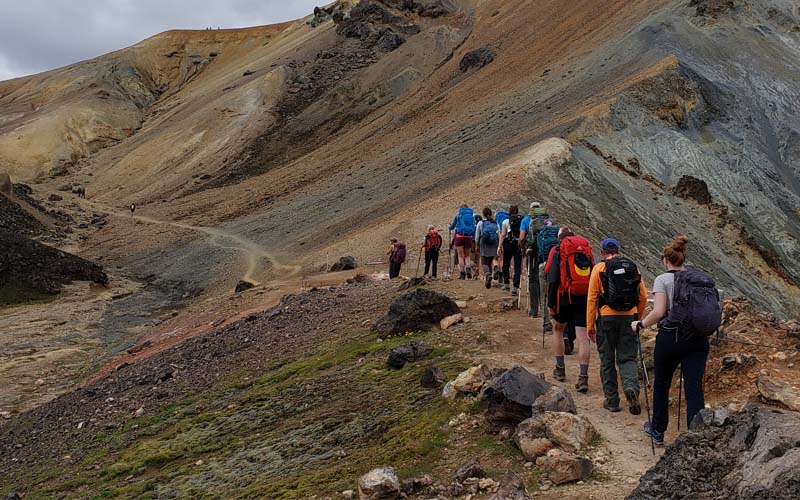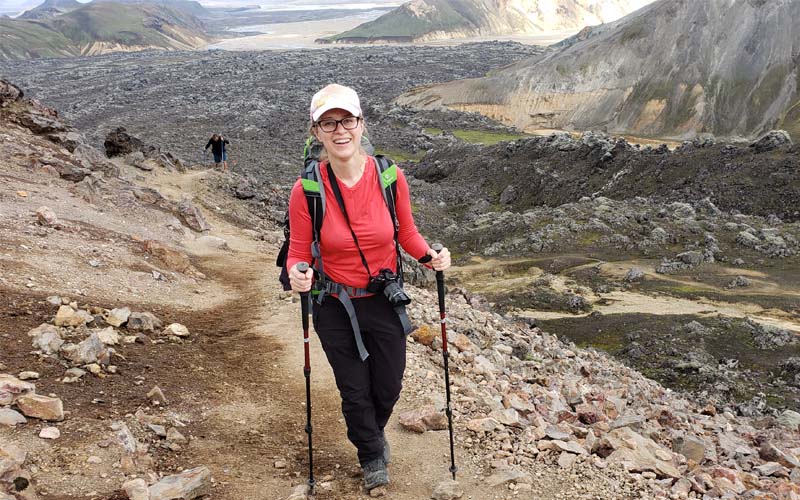 Trip Highlights:
Share Iceland's most famous hike with a fun group of women!
Soak in the hot spring of Landmannlauger.
Let your eyes delight on dramatic and colorful landscapes.
Feel the freedom of hiking in wide and wild landscapes. 
Learn about Icelandic flora, fauna, and folklore.
Stay in mountain huts in the middle of nowhere.
Eat delicious Icelandic food like lamb, bread, and fish.
Relax and hike. All of the planning is done for you.
Surprise yourself! Take on the challenge and finish what National Geographic has named one of the world's best hikes in one of the most beautiful places in the world!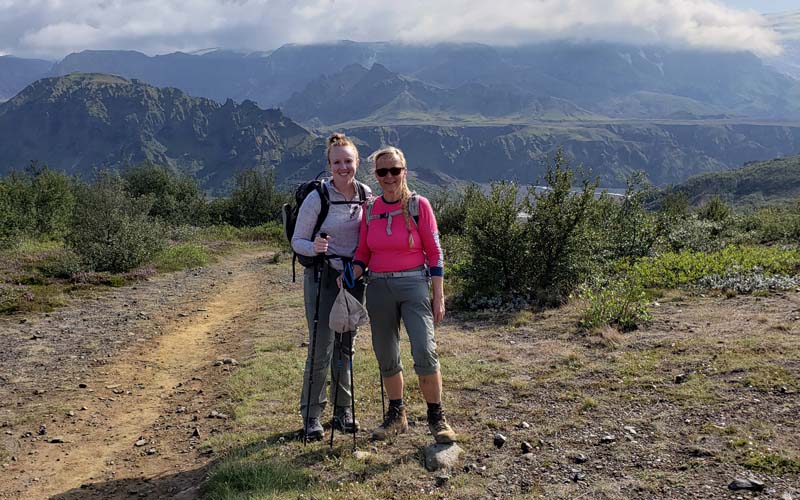 Included:
Expert, Icelandic trekking guide from day 2-6.
Freshly prepared meals throughout the trek.
Entrance to the Blue Lagoon.
Luggage transport throughout trek.
Group ground transport day 2- day 7
Accommodations: 2 nights guest houses in Reykjavik, 4 nights in mountain huts.
Tour leader from day 1-7
Pre-trip support including packing, travel, ect.
Excluded:
Airfare to Reykjavik
Airport transfer from Keflavik to Reykjavik day 1.
Meals in Reykjavik
Optional excursions, visits to museums.
Gratuities ($200)
Personal spending money.
Travel Insurance
Sleeping bag
Supplemental Information: Package Price: $3295 
Deposit: $695
Then equal installments  April 10th, May 10th, June 10th, and July 10th
All payments are non-refundable. In the unlikely event that Green Edventures is unable to confirm this Iceland Women's Hiking Adventure Tour, a full refund will be given. 
Min / Max: 10 / 16
Use the chat feature to ask trip related questions.
Travel insurance is available and recommended for the Iceland Women's Hiking Adventure Tour.
Documentation:
A passport is required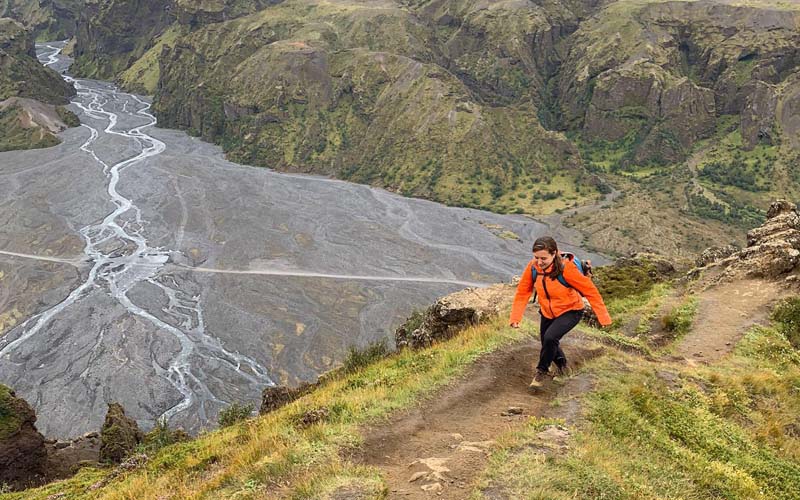 The Iceland womens Laugavegur trek starts in Reykjavik and ends at the Kaflavik International Airport. The first and last nights are spent in Reykjavik. Days 2-5 are through hiking in the southern highlands.
►Day 1: Arrival at the Keflavik International Airport (KEF) – Explore Reykjavik.
The Iceland Women's Hiking Adventure Tour starts and ends in Reykjavik. On this day, arriva at Keflavik airport anytime that is most convenient and economical for you. Transfer to Reykjavik on your own, but we will help participants arrange transportation. Meet and greet. Introductions and a walking tour of Iceland's largest city. Dinner in town (not included) and overnight in guesthouse. Overnight at Reykjavik.
►Day 2: Bus transport to Landmannalaugar hot springs. Afternoon trek to Hrafntinnusker​
On the first full day of the Iceland Women's Hiking Adventure Tour we drive eastwards from Reykjavik, crossing the high moorland of Hellisheiði and passing south of the steaming volcano, Hengill. We also pass the greenhouses of Hveragerði village. East of Þjórsá river, we head inland and cross to the north of Mount Hekla, one of Iceland's most infamous volcanoes, which last erupted as recently as February 2000. We now enter the black Dómadalur (Valley of Doom), which is a gateway to Fjallabak Nature Reserve. The Nature Reserve is a huge mountainous wilderness that is constantly built up by ongoing volcanic activity and eroded by glaciers, rivers and wind.
Reaching Landmannalaugar we have lunch, after which we start out by crossing the 500-year-old Laugahraun lava flow that is still giving heat to Landmannalaugar hot springs. Climbing steadily past numerous sulphur vents, we top a succession of rolling rhyolite hills before descending to the steaming hot springs of Stórihver. As we get higher, the better we can understand the forces of nature. Up on the plateau, steam rises in all directions from unseen vents and we reach our accommodation at Hrafntinnusker mountain hut in the late afternoon.
Distance:12km (7.5miles) Active walking time: 4-5 hours Ascent: 470m
►Day 3: Trek via canyon system to lake of Álftavatn (Swan Lake)​
The idea that there is always some logic to landscape dring the Iceland Women's Hiking Adventure Tour is proved to be false today, as we head south into the canyon complex to the south of Hrafntinnusker. Descending into the gorges of Jökultungur, we come across steaming hot springs and mud pools. The route winds southwards, crossing old snow patches and climbing ridges where we have views across dark volcanic plains towards lake Álftavatn and the Mýrdalsjökull and Eyjafjallajökull glaciers. Crossing the southern edge of the Torfajökull Massif, we descend a long slope towards the black sands and palagonite ridges around Lake Álftavatn (Swan Lake). Arriving at the lake, one of the most beautiful locations on our route, we check in at the Álftavatn mountain hut.
Distance: 12km (7.5 miles) Active walking time: 4-5 hours Descent: 490 m (1610 ') GPS for the hut N 63°51.470 -W 19°13.640
►Day 4: River crossing and black sand plains to Emstrur​
Today there are several rivers to cross on the Iceland Women's Hiking Adventure Tour as we head southwards and towards Myrdalsjokull Icecap. Some of these glacial streams and rivers are bridged, but others need to be forded. After a long, but gentle climb, we descend to the green oasis of Hvanngil, where there is a mountain hut. We continue our walk, crossing another couple of rivers, to reach the surreal 5- kilometer-wide, black sand plain of Mælifellssandur, beneath the conical peak of Stórasúla. Heading now towards Hattfell, another ancient volcano, we reach the Emstrur region where farmers used to graze their sheep in summer. Before arriving at the Botnar Mountain Hut (our accommodation for the night) we visit the magnificent Markarfljót canyon which is cut almost 200 meters down into the rocks south of Hattfell.
Distance: 16km (10 miles) Active walking time: 6-7 hours Descent: 40 m (130 ')
►Day 5: Trek the Markarfljót Canyons to the spectacular Þórsmörk Valley
The first challenge today is to cross the bridge across Emstrur River. Having overcome this obstacle, we trek through the magnificent Markarfljót Canyon, which was carved out by thundering floods, caused by volcanic eruptions under the ice cap. The effects of erosional forces are visible at every step on this trek and nowhere more obvious than in the Þórsmörk Valley. For the first time on our trek, we enter a green and well- vegetated valley, which becomes more luxuriant the closer we get to Þórsmörk. The last part of the hike is through thick birch forest, where even the lava ridges are covered with scrubby trees and the lovely arctic flowers that bloom for a few weeks each summer. Þórsmörk means Þór's forest and it is not hard to see why this area should be considered to belong to a norse god. It is out of this world! The valley is guarded on all sides by tremendous, fast-flowing rivers and steep glacier-clad mountains. It is one of the most beautiful spots in Iceland and the favorite weekend retreat of many of Reykjavik's hikers. On the last night of the Iceland Women's Hiking Adventure Tour We overnight at one of the Þórsmörk's huts.
Distance: 17km (10.5 miles) Active walking time: 6-7 hours. Descent: 300 m (985 ')
Day 6: Morning at Þórsmörk, then return drive to Reykjavik.​
We spend the morning in Þórsmörk, with the option to take it easy and rest or to walk one of the numerous trails. One option is to visit Sönghellir Cave (Song Cave) or to hike up to the viewpoint of Valahnjúkur, from where we can see over the icecaps of Mýrdalsjökull (1460m) and Eyjafjallajökull (1666m). We catch the bus back to BSI bus Station in Reykjavik at 14.10. Arriving at approximately 18:45. Then we take a short walk back to the guest house and go out for dinner. There will be a little bit of time for shopping in Reykjavik.
Distance: 5-10 km (3-6 mi) Active walking time: 2-5 hrs
►Day 7: Blue Lagoon & Airport Transfer​
The final day of the Iceland Women's Hiking Adventure Tour there is one more fun activity. After breakfast, the Group transfer to Keflavik airport for a return flight.  On the way we will stop at the Blue Lagoon to have a relaxing 2-hour bath its spa-like milky hot water. Considered one of the 25 wonders of the world, the geothermal water originates 6,000 feet below the surface, where freshwater and seawater combine at extreme temperatures. It is then harnessed via drilling holes at a nearby geothermal power plant, Svartsengi, to create electricity and hot water for nearby communities. On its way to the surface, the water picks up silica and minerals, before emerging at a soothing 38°C (100°F). Perfect for a relaxing and re-energizing bath. (B)
** Please note: The activities, lodging, guides, and schedule may change without notice as practical considerations arise during program development or onsite. **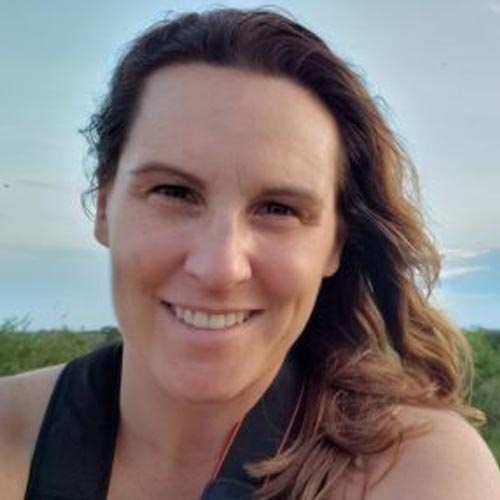 Tara Short
Trip Facilitator / CEO Green Edventures Tours
Tara is the Founder & CEO of Green Edventures Tours. She has 20 years of experience curating and facilitating educational adventures in the Americas, the Caribbean, Africa, and Iceland. She holds a Bachelor's Degree from the University of Wisconsin-Stevens Point in Natural Resource Management with an emphasis in Environmental Education/Interpretation. Tara has worked for notable educational, scientific, and conservation organizations and institutions such as the John G. Shedd Aquarium, Chicago's Museum of Science & Industry, USDA Forest Service in the Chugach National Forest in Alaska, and Wild Studies in the Bahamas. Tara is a PADI Open Water Diver, Advanced Diver, Rescue Diver and has specialty certifications as Underwater Naturalist, Deep Diver, Multi-Level diver and Night Diver. She holds current Wilderness First Aid & CPR Certifications.
Sign Up For The Green Edventures E-mail List
**We respect your privacy. Our website is fully secure and your information is kept 100% private with us**

Go Green Edventures!