The Galapagos Islands Explorer for Women (July 19-30, 2023)

  Galapagos, Ecuador

  12 Days

  07/19/2023

  07/30/2023
  Women Only
  Moderate Physical Activity
Walk through forests of giant daisy trees, see ancient turtles wander through meadows, and enter a world where animals have no fear of people. This isn't a fantasy, it's the Galapagos.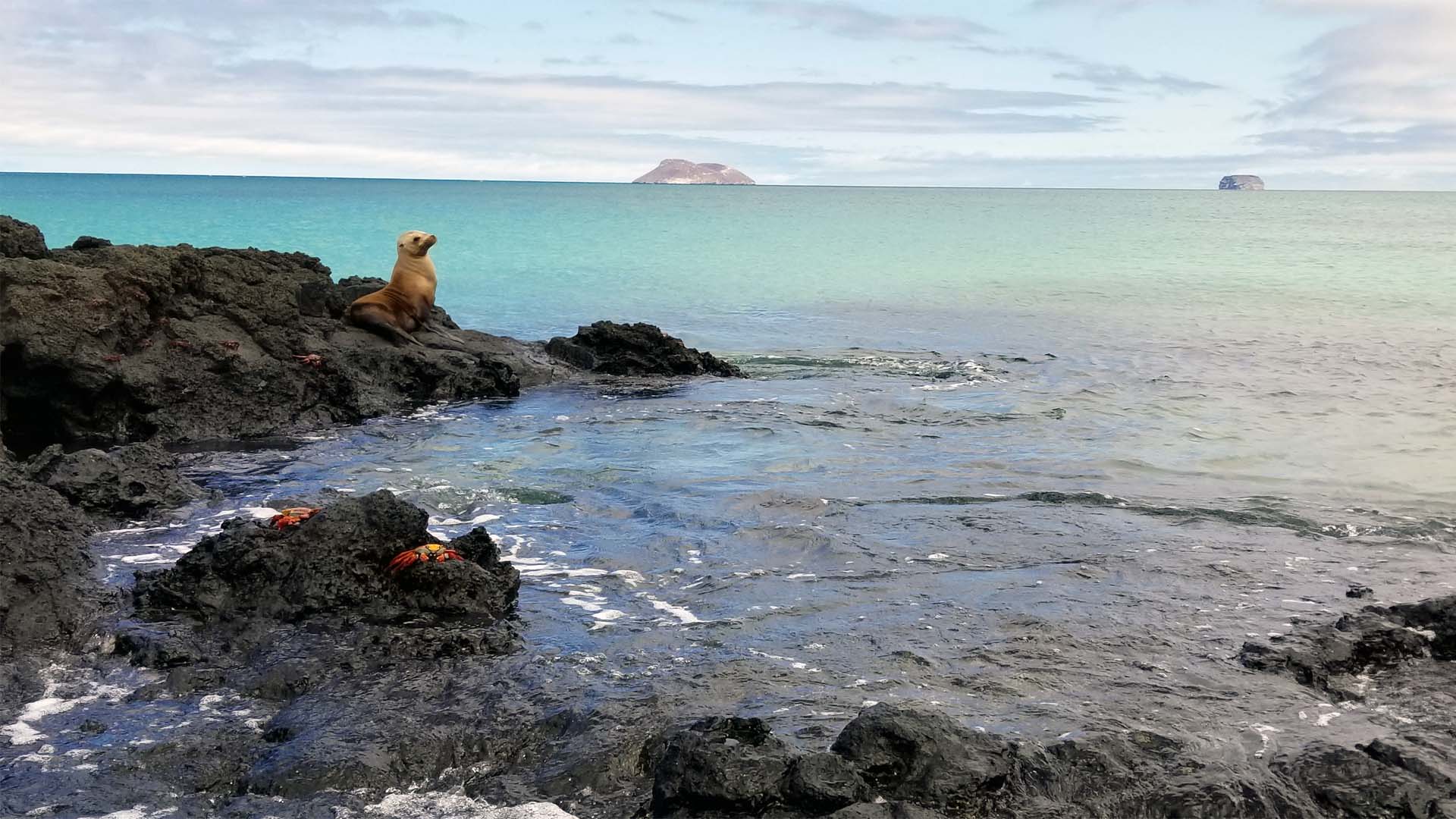 Ladies, join us on an unforgettable journey on our Galapagos women's trip. This is a fun, educational, active adventure for women to explore the Galapagos with new adventure buddies and future life-long friends.
Daily excursions include snorkeling trips, birding, and nature walks will introduce you to various habitats from humid highland forests, to lowland marine desert, and white sand beaches. Wildlife we anticipate to see include: 2 species of giant tortoises, marine iguanas, land iguanas, various sea turtles, white tipped sharks, eagle rays, flamingos, blue-footed boobies, Darwin's finches, and possibly penguins.
Activities include 80% snorkeling and 20% hiking / nature walks. Participants must know how to swim and have some snorkeling experience.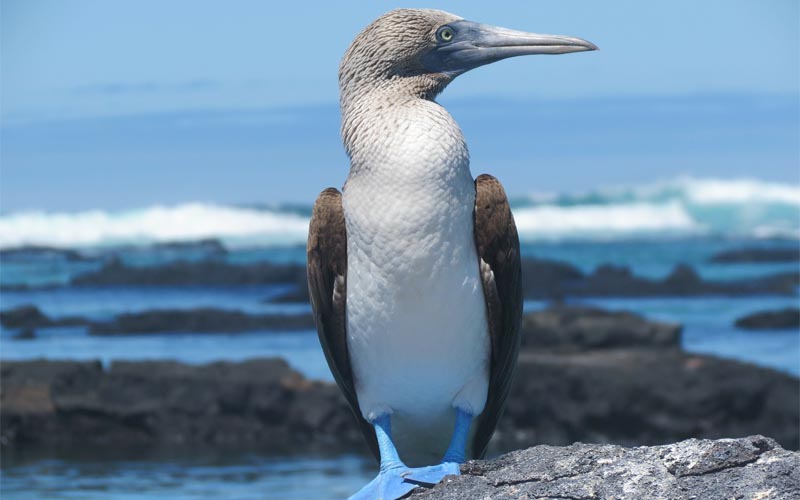 Trip Highlights:
Visit 4 different islands in the archipelago to learn about how species have adapted to survive in these extreme environments.
Hike trails through other-worldly habitats like the Scalesia Forest, these trees are giant Daisies, and they are so abundant in the highlands, they have an eco-zone named after them.
Snorkel a variety of sites on different islands with amazing marine life like schools of fish, sea turtles, marine iguanas, white tipped reef sharks, sea lions, and possibly manta rays or penguins.
See giant Galapagos Tortoises in their nature habitat.
See a variety of bird species like Blue-footed Boobies, Magnificent Frigate Birds, Flamingos, and all of the species of finches Darwin researched to help him write Origin of Species.
Guided city tour of the historic district of Quito to learn about the architecture, culture, and history of the city.
Take a gondola ride for a bird's eye view of Quito.
Included:
All guided activities and equipment.
Double occupancy rooms 3 star hotels.
Most meals (minus 1 dinner, 1 lunch).
Purified drinking water.
Galapagos Transit Card
Airfare from Quito to Galapagos.
Local guide and tour leader.
Trip Leader
Excluded:
Airfare to Quito
Travel Insurance
1 dinner, 1 lunch
Personal spending money.
Gratuity ($300)
Bottled beverages
Wetsuit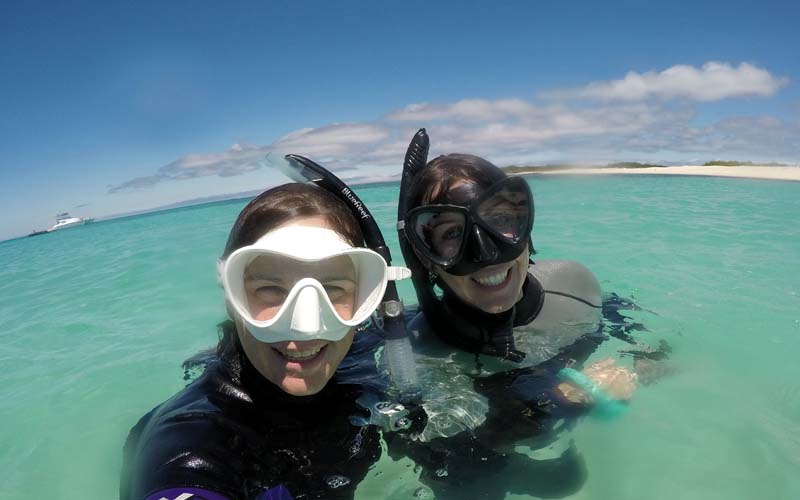 Isabela
quito
Galapagos
Baltra Island
Santa Cruz Island
Floreanna
San Cristobal, galapagos
North Seymour
Package Price is $5445
Deposit : $650
Deposit due by: April 15th or before
Installments: Four from April 4th – July 4th
Travel parameters will be provided.
Travel Documents:
Valid Passport
As of 10/2022 Proof of COVID vaccination OR negative PCR test.
Travel insurance is available and recommended.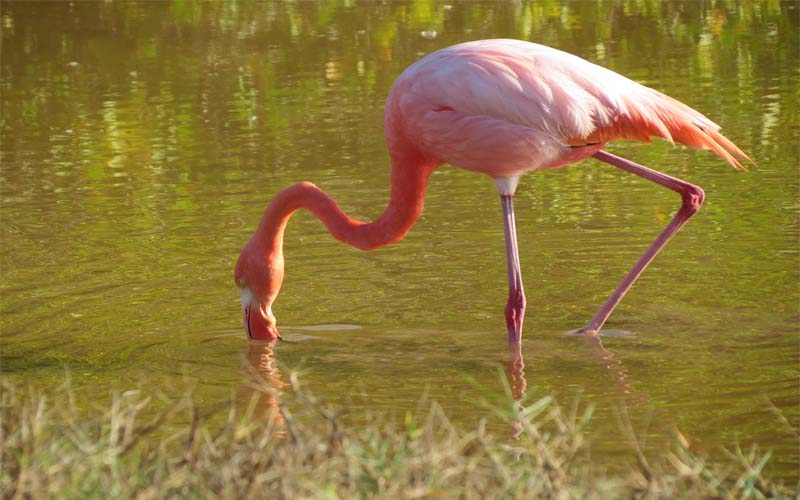 ►Where Do We Stay?
Day 1: San Jose Puembo, Quito
Day 2: San Jose Puembo, Quito
Day 3: Hotel Santa Fe, Santa Cruz
Day 4: Hotel Santa Fe, Santa Cruz
Day 5: Hotel Casa de Marita, Isabela
Day 6: Hotel Casa de Marita, Isabela
Day 7: Hotel Casa de Marita, Isabela
Day 8: Hotel Wittmer, Floreana
Day 9: Hotel Miconia, San Cristobal
Day 10: Hotel Miconia, San Cristobal
Day 11: San Jose Puembo, Quito
►Day 1: Welcome to Ecuador

Fly to Quito, Ecuador. Typically, flights will arrive late at night and participants should have dinner at the airport on the way to Ecuador. Overnight at Hotel San Jose Puembo, or similar. Note, travel parameters will be provided.
►Day 2: Quito Historical City Tour 
Morning:
Today we will visit the best-preserved capital city in Latin America. Our first stop is to the Panecillo statue which overlooks the town of Quito. This high point is an icon of old town and provides for amazing panoramic views of the city. Then we travel by bus down into old town Quito to walk the winding cobblestone streets. You will take in the spender and energy of the city as your guide introduces you to architecture and history of Quito and Ecuador.
Afternoon:
After a visit to La Compania (the Golden Church) we will walk into to the Plaza Grande for lunch at a local restaurant. Then continue our stroll through history with stops at the Palacio del Gobierno (President's house), the Independence Monument, and the La Basilica Church to name a few of the highlights.
Dinner at the hotel. Overnight at San Jose de Puembo. (BLD)
►Day 3: Travel from Quito to the Galapagos
Fly from Quito, Ecuador to the Galapagos National Park. After landing in Baltra we will transfer to Santa Cruz via the Itabaca Canal to our bus waiting on the other side. As we journey to Puerto Ayora, we leave the lowland desert and climb in elevation, and experience the changes of vegetation. On top of the road we will stop to visit two sink holes, part of the geomorphological decline of the volcano. There we will walk through the Scalesia Forest. Afterwards we will visit El Chato, the tortoise sanctuary where tortoises roam freely in their native habitat. Participants will walk through the trails and take photos of the birds and tortoises.The sanctuary also has an underground lava tube to explore. Lunch at El Chato. Overnight at Hotel Santa Fe or similar and then dinner. (BLD)
►Day 4:  North Seymour Island Adventure
Our group  will be picked up from the hotel at 8 am and taken back to the Itabaca Channel where the crew of your boat will be waiting for you. The trip will take around one hour and close to your arrival you will be able to spot grey shapes from the Bursera Graveolens trees, that almost never carry any leaves. Seymour was created many million years ago due to the elevation of tectonic plates and the island has a flat shape with many small cliffs that serve as home for the local seabirds. Swallow-tailed gulls and frigate birds overfly the island, frigate males showing their big red throat pouches to find their mate. Meanwhile along the path, many blue footed boobies will be nesting or executing their mating ritual in which they dance and whistle in a very unique way. It is also common to see these birds flying near the coasts looking for food and dive into the water at high speed, a stunt that they are only able to perform due to a special waterproof protection on their wings. Seymour is probably the island which best represents the known Galapagos species, as you will also be able to see sea lions, sea and land iguanas, pelicans, great and magnificent frigate birds and many others.
Return to the hotel about 5 pm. Dinner in town. (BLD)
►Day 5:  Speedboat to Isabela & Snorkel La Concha de Perla & Kayaking
Morning:
After breakfast at the hotel, we take a 3-hour boat ride to the largest island in the Galapagos, Isabela Island. This will be our home for three nights and the setting for new adventures.
Afternoon:
The post lunch activities will be snorkeling in the calm waters of La Concha de Pearl. This is one of the rare snorkeling spots outside of the national park. Here you will be able to explore mangrove habitats below the waterline. This important transition zone between ocean and freshwater habitats is home to schools of fish like mullet and colorful reef fish like filefish, parrotfish, and big animals like sea turtles and sea lions.
After a little rest, we take kayaks from the beach and head over across the bay in search of the Galápagos penguin, and other bird species. This easy paddle on turquoise water will give you a different perspective above the waterline.
Evening:
Dinner in town. Overnight at Casa de Marita or similar (BLD).
►Day 6: From Blue to Black- Day Tour of Lava Tunnels & Snorkeling

This is an all day adventure that is broken into two parts. The tide and weather will determine which activities we do first.
Part 1: Lava Walk: We will ride on a fast boat to the west of Isabela, towards Cabo Rosa where the area known as the Tunnels is found. This is an extensive lava flow formed by long and numerous lava tubes with collapses that result on beautiful basaltic arches surrounded by pristine turquoise waters.  You will step from the boat to the shore and take an easy stroll in this other-worldly environment. You will see turtles and other marine life meandering through the labyrinth of tunnels below you as you walk on the lava trails. There are Blue-footed Boobies and their nests everywhere. Your guide will explain the courtship dance, and nesting behavior of this photogenic birds. You might even see the dance.
Part 2:  Snorkeling: There are several park-designated snorkeling sites that your guide will choose and you will have two opportunities to get in the water to explore  Expect to snorkel with schools of golden rays, spotted eagle rays, seahorses, white-tipped and black-tipped sharks, and huge sea turtles.
Late afternoon return to hotel. Overnight at Casa de Marita or similar. Dinner in town. (BLD)
►Day 7: Tortoise Breeding Center & Wetlands Walk + Tintoreras Tour 
Morning:
We take a short bus ride to the tortoise breeding center where you will see the five species of tortoises that are endemic Isabela. Here, participants will learn how to distinguish the different species and about the reintroduction efforts that are keeping them thriving in the wild. After learning about tortoises, your guide will guide you walk through wetlands where you will learn about the importance of mangrove habitats. This area is home to many species of birds include flamingos who come to the brackish water in search of brine shrimp.
Afternoon:
Embark on a short boat ride to Las Tintoreras, a chain of small islets located in the south of Puerto Villamil, Isabela. This biodiverse site is home to Galapagos sea lions, marine iguanas, blue-footed boobies, sea turtles, pelicans, and Galapagos Penguins. It is also one of main breeding sites for marine iguanas, and a great spot to get a close-up with them. After a hike around the islet, get back on the boat and cool off by snorkeling in the waters nearby. Swimming next to multi-color fish, starfish, sea urchins, and with luck  we will add penguins to our list of animals we will have snorkeled with while visiting the Galapagos.
Return to hotel. Dinner in town. (BLD).
►Day 8: Transfer to Floreana  & Hiking to Pirate Caves 
Morning:
We load our speed boat and transfer 3-hours to the island of Floreana.  Along the way participants will keep their eyes peeled for dolphins and whales that we may pass while on route. We arrive at Floreana in time to move in, rest, and have lunch at the hotel before our afternoon activities. There is a nice snorkeling spot right in front of the hotel for those who want to sneak in some extra water time. Floreana is one of the lesser traveled islands with a quirky history of characters who have come ashore (and some who never left). We will spend one night here at the landmark and historically significant Wittmer Hotel.
Afternoon:
We will visit the highlands of Floreana to take in the view of Cerro Paja and the Scalesia Forest.. To get there, you will ride aboard a Chiva open air truck. These trucks used to transport cattle, now they transport tourists on the island. We will hike for 2-3 hours. Your guide will show you pirate caves, and the place where the first citizen of the island was born. Birders will want to keep a look out for the endemic Medium Finch.
Return to hotel. Relax at the beach. Dinner at the hotel. (BLD).
►Day 9: Transfer to San Cristobal Island 
Morning:
We load our speed boat and transfer 3-hours to the island of San Cristobal. San Cristobal is geologically the oldest island in the Galapagos, and the only island where three different species of booby birds and the great frigatebird can be seen nesting in the same area.
Afternoon:
Tijeretas Hill or snorkeling. Tijertas Hill, also known as Frigatebird Hill, is a 3.5 mile loop with with views of Kicker Rock to the west and Shipwreck Bay to the south. In one of the view points there is American-made cannon dating from the Second World War. Another view point offers a panoramic view of the north coast of the island from where one can see the Kicker Rock (León Dormido), Cerro Mundo and Cerro Tijeretas. At the third vista there is a statue of Charles Darwin in honor of his visit to San Cristóbal. The upper vista is located on Cerro Tijereta. From the center of Puerto Baquerizo Moreno, it takes about 45 minutes to reach the top of the hill, which serves as a nesting spot for two species of Frigatebirds. At the base of Tijeretas Hill, there is a small cove perfect for swimming and snorkeling and where is usual to see sea lions and many fish species.
Return to hotel. Relax at the beach. Dinner in town. (BLD).
►Day 10: Isla Lobo Snorkeling Trip
Morning:
Isla Lobos is a small, flat island located 45 minutes off the coast of San Cristobal Island known for its snorkeling and diving. Beside its rocky shores lie calm waters in which conditions for swimming and viewing marine life are optimal and visibility can reach up to 40 feet. The island is most known for its resident sea lion population, where dozens of them play in the turquoise water and dot the white sands to rest. Bird watching for blue-footed boobies, Darwin finches, brown pelicans, and frigate birds is also feasible here. After a scenic boat ride, you will come ashore for an informative walk that takes you past numerous sea lions, frigates, marine iguanas, and more. Later, go snorkeling and explore the underwater world surrounding the island with possible stingray and sea turtle sightings
Late afternoon:
Return to hotel.  Dinner in town. (BLD).
►Day 11: Transfer to Airport + Fly to Quito

Late morning we check in for our flight back to Quito. Participants can buy lunch at the airport. We arrive Quito around 4:30 pm. Check in to hotel and relax for the evening.
Dinner at the hotel. (BD)
►Day 12: Visit the Equator + Teliferico & Transfer to Airport

Morning:
Our first stop today is the Intiñan interactive outdoor museum. Here you will discover and participate in various physical phenomena that only occur on the equator, learn about the ecology of Ecuador, and see what life was like for indigenous people before Spanish settlement. Next, we will go to the Teliferico, a gondola ride running from the edge of the city centre up the east side of Pichincha Volcano to lookout Cruz Loma. It is one of the highest aerial lifts in the world at 4100 meteres (12,300 ft) and a place where you can get a bird's eye view of one of the highest capital cities in the world.
Afternoon:
Lunch at a restaurant in Quito. Then a visit to a local handcraft market to look for souvenirs before dinner and airport drop off. (BLD)
End of tour.
Flights depart after 9pm
** Please note: The activities, lodging, guides, and schedule may change without notice as practical considerations arise during program development, onsite, or a determined by weather conditions, or the Galapagos National Park and other authorities.**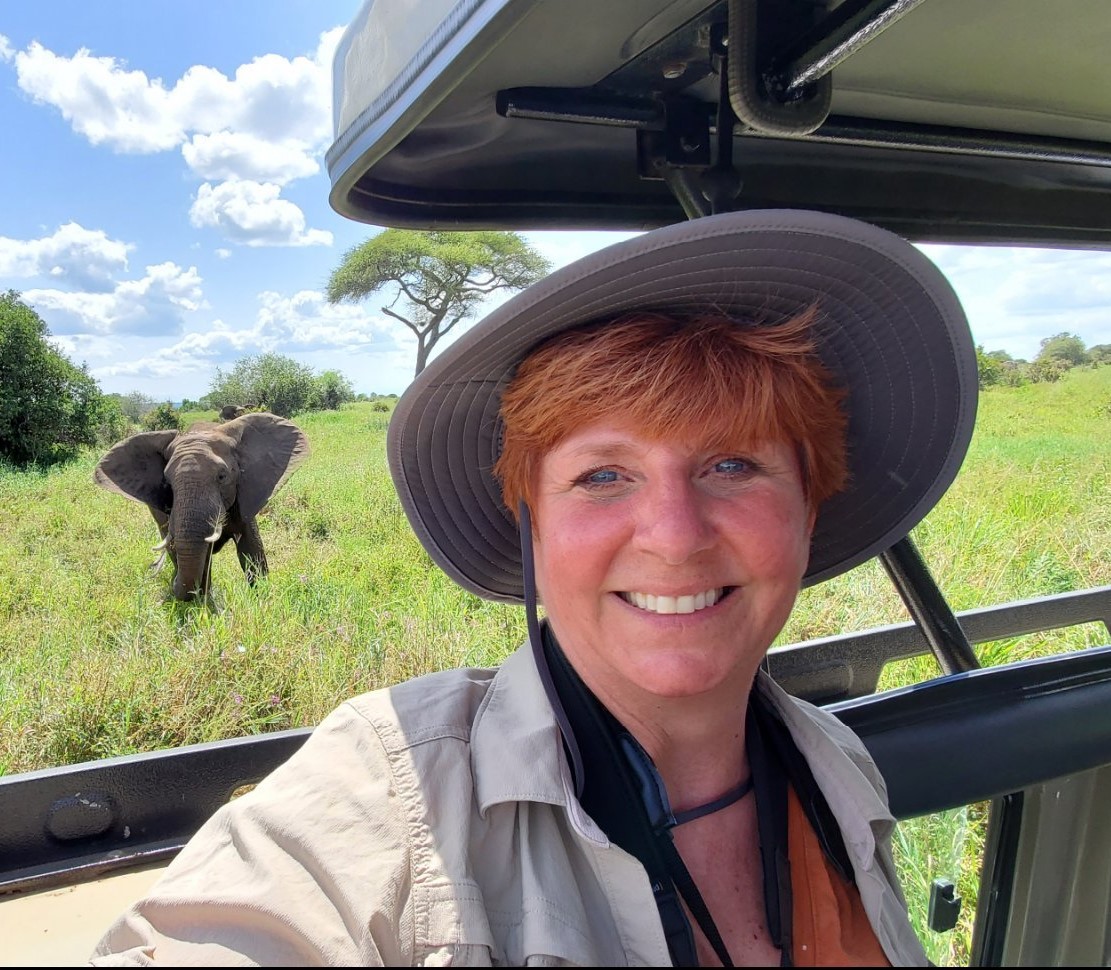 Lori Anderson
Trip Leader
E-Mail: info@greenedventures.com 
Lori started her Green Edventures journey in 2019 going on trips such as Tanzania, Idaho, Northwoods WI, Yellowstone, WI Dog Sledding, Uganda, Iceland Multi-sport and Laugavegur, Baja, Roatan and Alaska. In 2021 she led our Northwoods WI Women's Trip, and in 2022, she Co-Led two WI Dog Sledding Trips, Tanzania Women's trip and Co-Ed trip, Idaho Salmon River Rafting and a Northwoods WI student trip.
She has been traveling since the age of 11 where she took her first trip out of the country to Canada, since then, she hasn't stopped. For Lori, it isn't always about the destination, she wants to travel anywhere and everywhere! She loves all forms of travel – road trips, plane trips, cruises, guided tours, self-guided/planned trips, outdoor/indoor, beach or mountain, hiking or theater, solo or partner or group – you name it! But her favorite part of travel is meeting new people along the way and hearing their stories!
You can read more about Lori here: Meet Trip Leader Lori Anderson
Sign Up For The Green Edventures E-mail List
**We respect your privacy. Our website is fully secure and your information is kept 100% private with us**

Go Green Edventures!