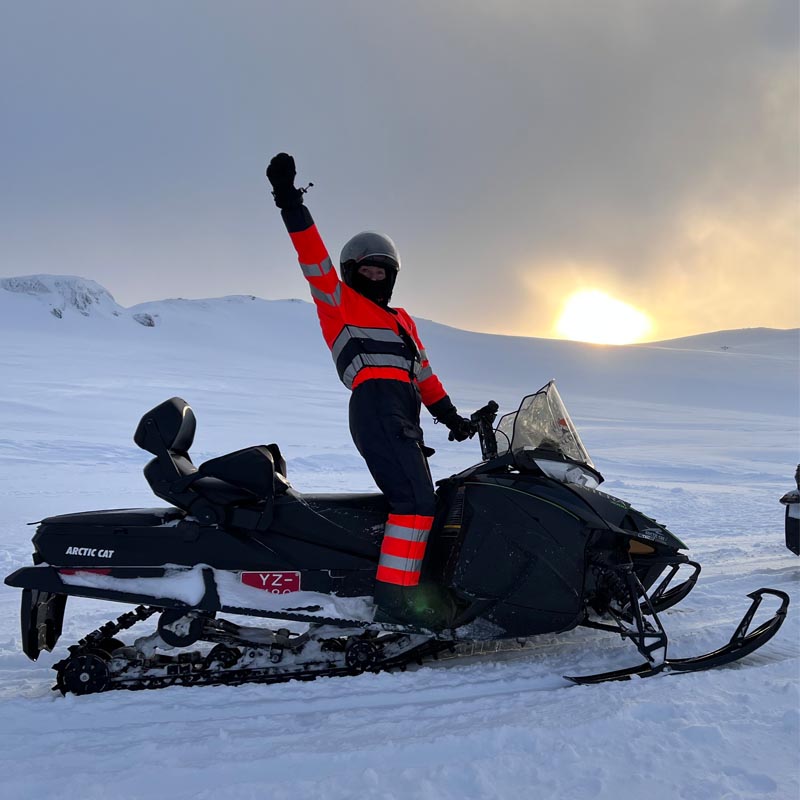 Iceland Women's Adventure Fire, Ice, Northern Lights (November 6-11, 2023)

  Iceland

  6 Days

  November 6, 2023

 November 11, 2023
  Women
  Moderate Physical Activity
Scroll Down For The Itinerary
Experience the land of fire & ice with fun outdoor adventures that thrill, chill, and ignite your inner Viking, in the company of a great group of women.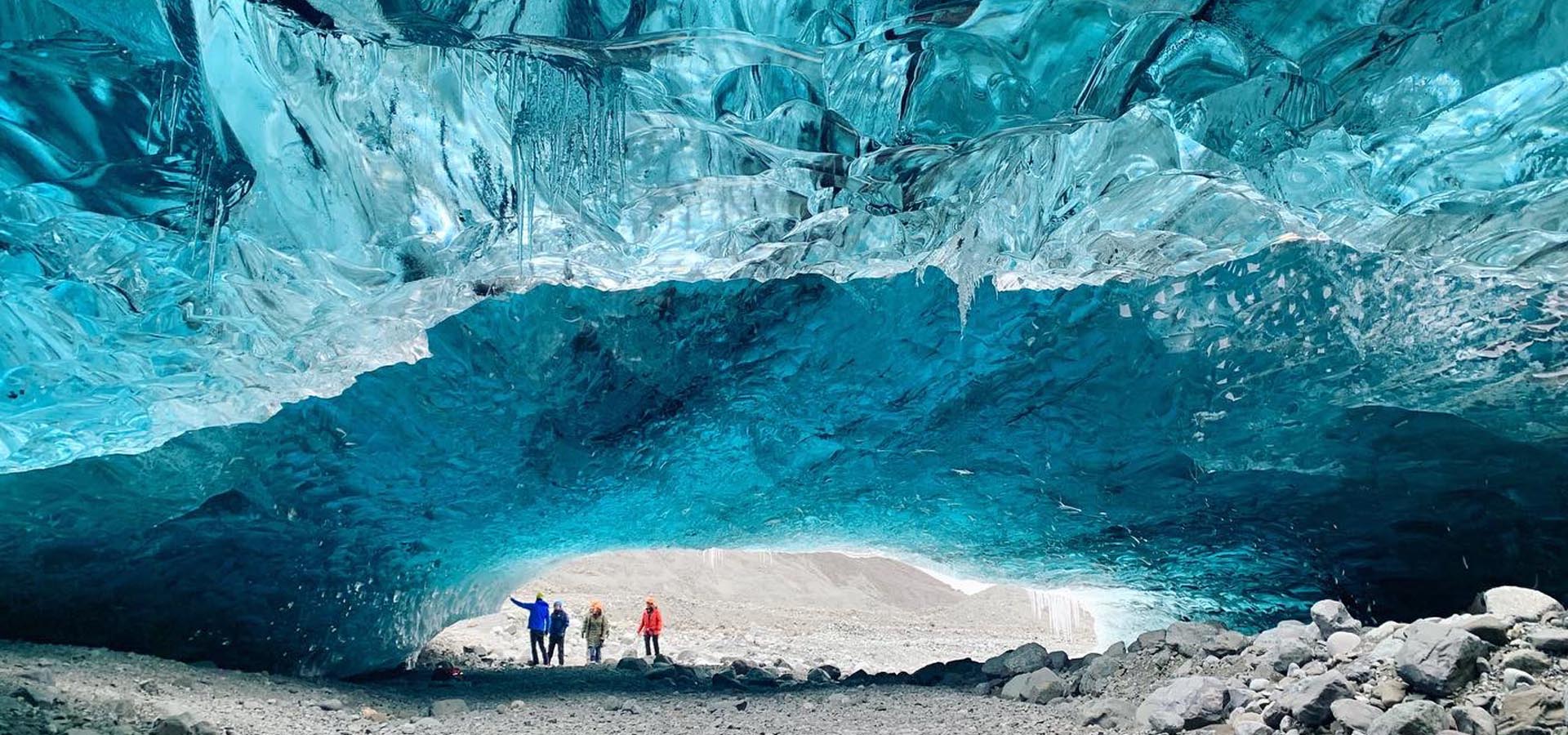 Our Iceland Women's Adventure Fire Ice Northern Lights is set in the beautiful south coast. Your days will be filled with exciting winter activities with breath-taking scenery, and your nights spent gazing at the arctic sky in search dancing lights known as the aurora borealis.
Join us on our Iceland Women's Adventure Fire Ice Northern Lights and learn how to ride a snowmobile, trek on a glacier, go ice climbing, and explore an ice cave! Discover the fiery side of Iceland with a visit to the famous Strokkur geyser, and eat delicious tomato soup at a greenhouse farm powered by geothermal energy. Not to be missed are soaking in the hot lagoons and pools warmed by the super volcano Iceland sits on. A special stop will be the Sky Lagoon in Reykjavik, one of Iceland's newest spas, to invigorate and rejuvenate your body through their 7 Steps Rituals. All activities are included plus visits to waterfalls, black beaches, and opportunities to see the Northern Lights when conditions are right.
The Iceland Women's Adventure Fire Ice Northern Lights is open to all women and is in partnership with International Becoming an Outdoors Woman. No previous experience required. Join us as a solo traveler, with a partner, or with a friend. There are no forced single supplements. On our fun and active Iceland women's adventure, you will have instant travel buddies, lots of belly laughs and future-lifelong friends. The Iceland women's adventure will be a positive life-changing adventure you will remember forever.
You might also be interested in our  9-Day Iceland Women's Adventure August 18-26, 2023 trip or 7-Day Laugavegur Trek August 10-16, 2023.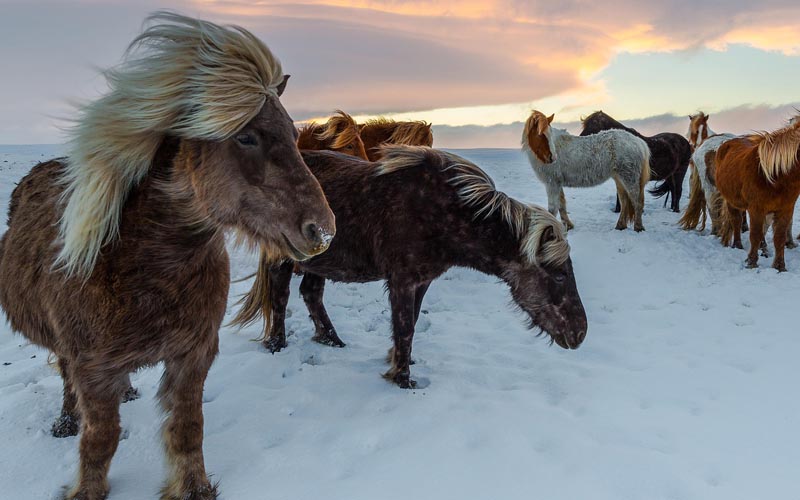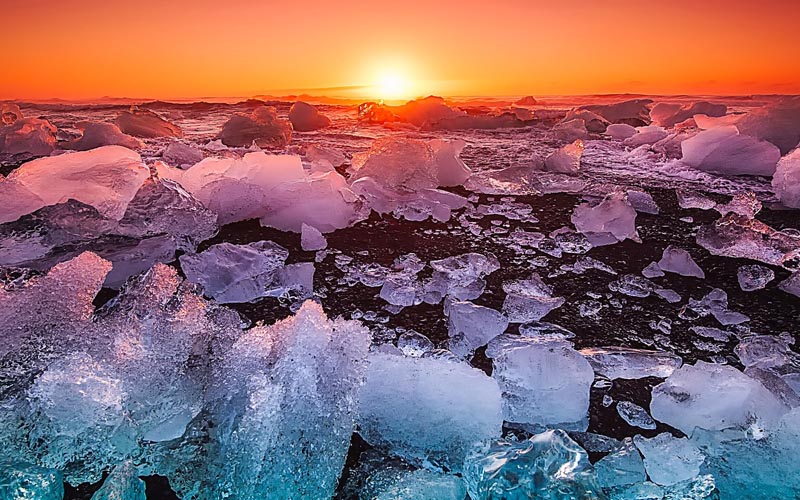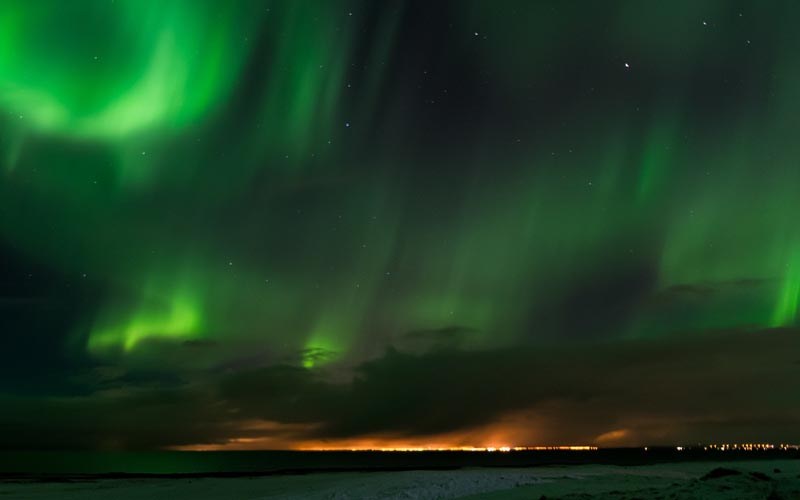 Trip Highlights:
Visit Iceland's powerful treasures Stukkur Geyser & waterfalls.
Learn about Viking history at Þingvellir National Park.
Get geared up! Ice climb & hike on a glacier.
Feel blue! Explore inside an ice cave in Skaftafell National Park.
Explore the black sands with bergy bits on Diamond Beach.
Drive a tandem snowmobile on a glacier.
Dine in a greenhouse restaurant that grows tomatoes all year with geothermal energy.
Soak in the Secret Lagoon, and Icelandic pools.
Experience the 7 Steps Rituals at Sky Lagoon Spa.
Good timing to be in Iceland for Northern Lights.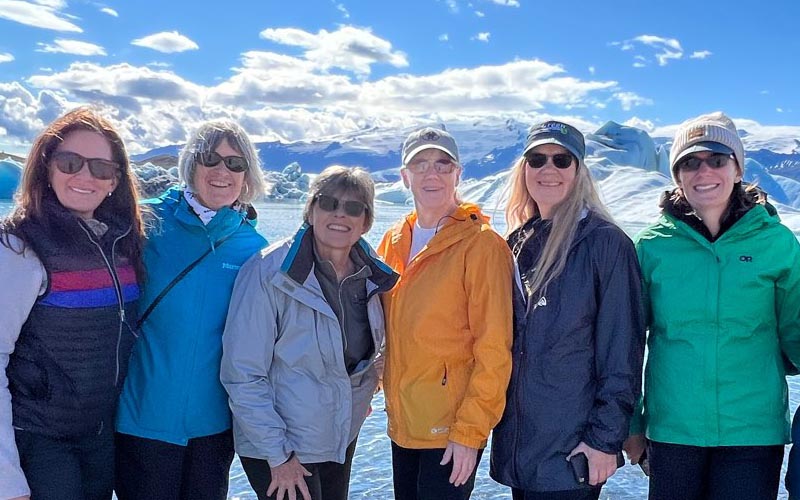 Included:
All activities listed in the itinerary.
Most meals.
Group airport transfer.
English speaking Icelandic driver & guide for 6 days.
Double occupancy lodging in 3-star hotels.
Green Edventures Trip Leader from day 1 to day 6.
Excluded:
Airfare to Keflavik.
Lunch Day 1
Lunch & Dinner Day 6
Gratuities (approximately $250)
Personal spending money.
Travel Insurance
Supplemental Information:
Packing List (Coming Soon)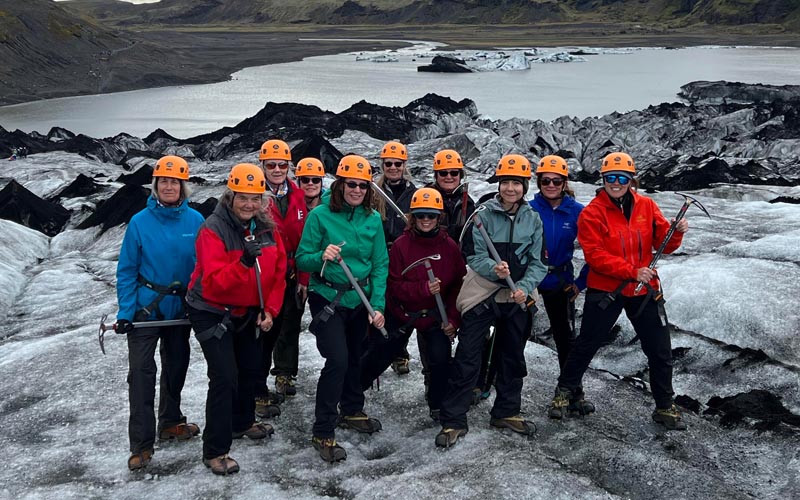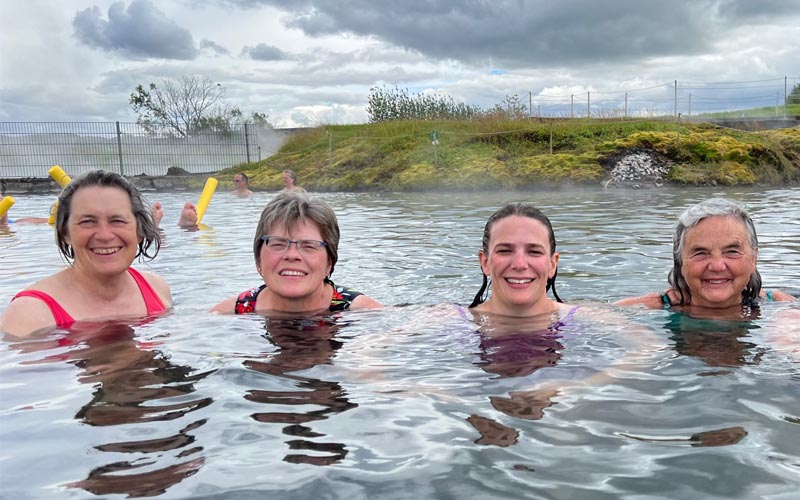 Package Price $3695
Deposit: $695 April 15th, or until spaces are full.
Installments: June 1st, August 1st, October 1st: $1000 each month.
Availability:  See below "Click for Pricing" for real-time availability.
Group Size: Min 8 / Max 12
Use the chat feature to ask trip related questions.
Travel Documents:
A passport is required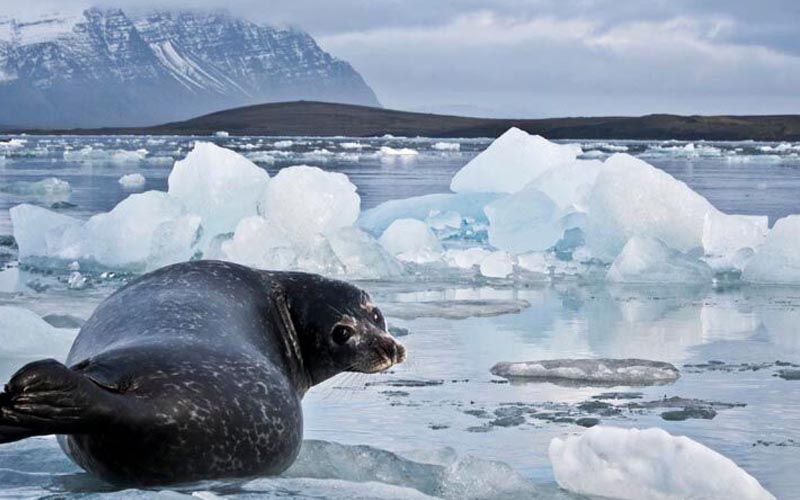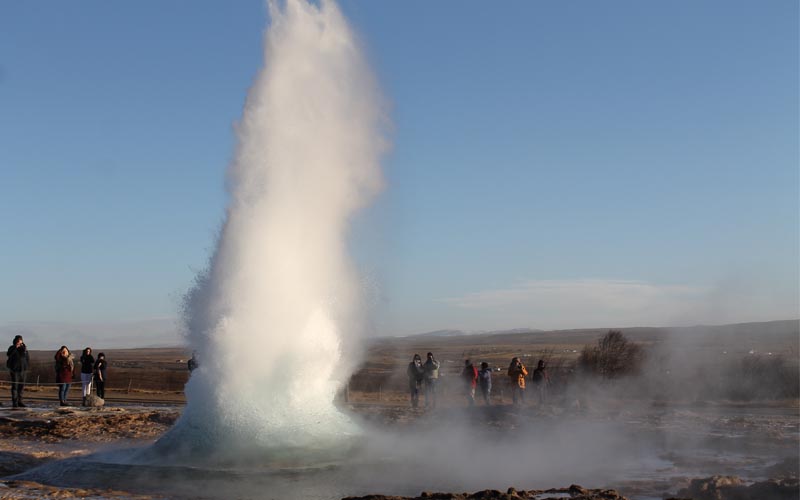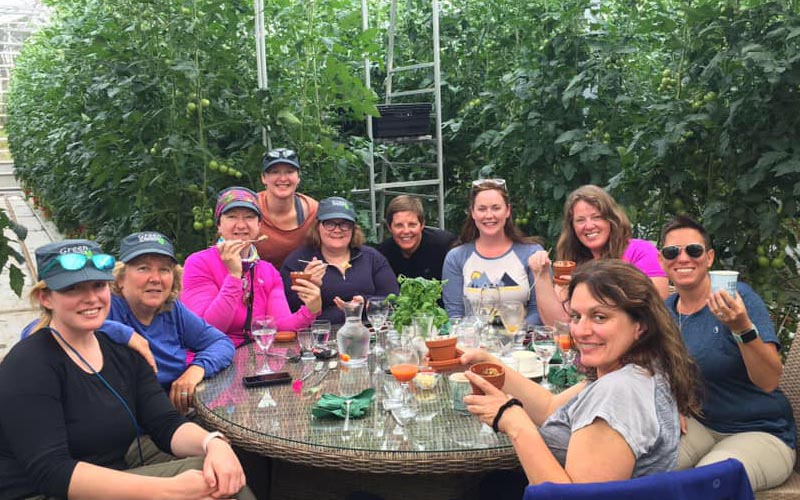 ►Day 1: Arrival at the Keflavik International Airport (KEF)
Arrival at Keflavik airport by 11am. We will transfer as a group to Reykjavik. Drop your luggage at the hotel, and then head off to Reykjavik to explore and have an early lunch on your own or with your other adventure buddies. Return to the hotel to check in and refresh. Meet and greet. Welcome dinner. Overnight in Reykjavik. (D)
►Day 2: Fire – Erupting Geysers & Steaming Pools
Today we head out of the city to the famous Golden Circle to see some of Iceland's popular and powerful treasures.
Our first stop is Thingvellir National Park, where we walk along the faults and through the fissures of the mid-Atlantic ridge to further your understanding of how Iceland is part of the North American and European tectonic plates. You will also hear about the major historic events that have taken place at this UNESCO world heritage site.
From there a short drive brings us to the famous greenhouse Friðheimar where we have their fresh tomato soup for lunch (included). After lunch, we visit two of Iceland's most famous natural sites, Gullfoss Waterfall and the Strokkur Geyser. At geyser you will get video and photos of it exploding up to 120ft in the air every 10-15 minutes.
Later, we get a closer look at the hot springs. While snowflakes fall gently on your warm cheeks, you will sink neck deep in the hot water and float on pool noodles surrounded by steaming and bubbling hot springs all around.
Overnight near Hella. Dinner. (BLD)
►Day 3: Ice – Glaciers & Waterfalls
Our first stop today will be the beautiful waterfall Seljalandsfoss and we will walk behind it for stunning 360 photos. Then after a short drive east, we come to the massive cascade known as Skogarfoss. If you are lucky, there will be a beautiful rainbow at the base of the falls.
Afternoon we will be geared up and led onto the glacier known as Sólheimajökull (the Sun Home Glacier). Our glacier guide will teach us about the glacier and its ever-changing features. Then with ropes, harness, and ice axes, participants will sink into a crevasse or other opening in the glacier to try Ice Climbing. The glacier guides will choose a spot suitable for the skills of the participants. Note: participants can opt out of ice climbing and substitute for a longer ice hike.
We continue east toward the town of Vik, just before we reach there, we will stop at the black sand beach known as Reynisfjara. This is a fantastic place to photograph the towering basalt columns and to stretch your legs before the drive toward Kirkjubaejarklaustur.
Spend the next two nights from our country hotel looking for northern lights from the heated rooftop.
Overnight near Kirjubaejarklaustur. Lunch and dinner locations TBD. (B.L.D)
►Day 4: Ice – Blue Cave & Black Beach
On this ice-focused day we will get up close and personal with Vatnajokull glacier, Europe's largest glacier in Skaftafell National Park.

The morning begins with a rugged 4WD ride to explore the other worldly underground landscape of this relic from the last ice age. Capture stunning photos of deep blue, glass-like ice, while meandering through of one of mother-natures endangered environments. When the glaciers are gone, your photos will be digital artifacts.
Afternoon, we will explore one of the glacier lagoons of Vatnajokul. Towering icebergs wash up on the beach. You might see seals and birds floating on the icebergs drifting out to sea. Icebergs and bergy bits wash ashore, glisten in the sunlight, and look like diamonds.
Overnight near Kirjubaejarklustar. (B.L.D)
►Day 5: Ice – Snowmobiling Over Iceland's Largest Volcano 
This morning we head back west along the south coast, leaving Skaftafell in our rearview mirrow. Our destination is Mýrdalsjökull Glacier for a 2.5 hour epic adventure on top of the world. Mýrdalsjökull Glacier glacier covers Iceland's largest volcano, Katla. We board a glacier truck and head up the mountain toward the glacier where the snowmobiles are located. Participants will explore the wilderness and breathtaking views from tandem (two person) snowmobiles, alternating between driving and riding. All drivers must have a valid driver's license. A solo rider option upgrade may be available.
In the late afternoon we will tell stories and laugh about the last few days as we do what the Icelanders do, we swim in the outdoor local pools.
Farewell dinner in Reykjavik and last-minute shopping. (B.L.D)
►Day 6: Fire & Ice – Sky Lagoon
Group transfer to Keflavik airport.
But first, we stop at the Sky Lagoon, Reykjavik's newest lagoon and spa. Participants will experience the 7 Steps Ritual that combines the healing powers of warm water, cold water, warm steam, dry heat, and fresh air! These natural elements are a traditional way to promote wellbeing, inside and out.
The spa has showers and blow dryers so that you can be fresh and rejuvinated for your flight back to the USA. Group airport drop off is 1:30pm. (B)
** Please note: The activities, lodging, guides, and schedule may change without notice as practical considerations arise during program development or onsite. **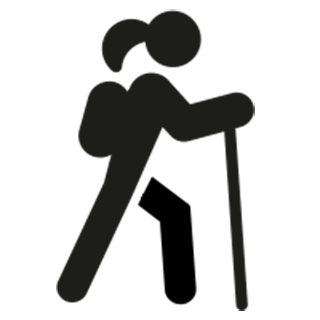 Trip Leader Info Coming Soon
Sign Up For The Green Edventures E-mail List
**We respect your privacy. Our website is fully secure and your information is kept 100% private with us**

Go Green Edventures!