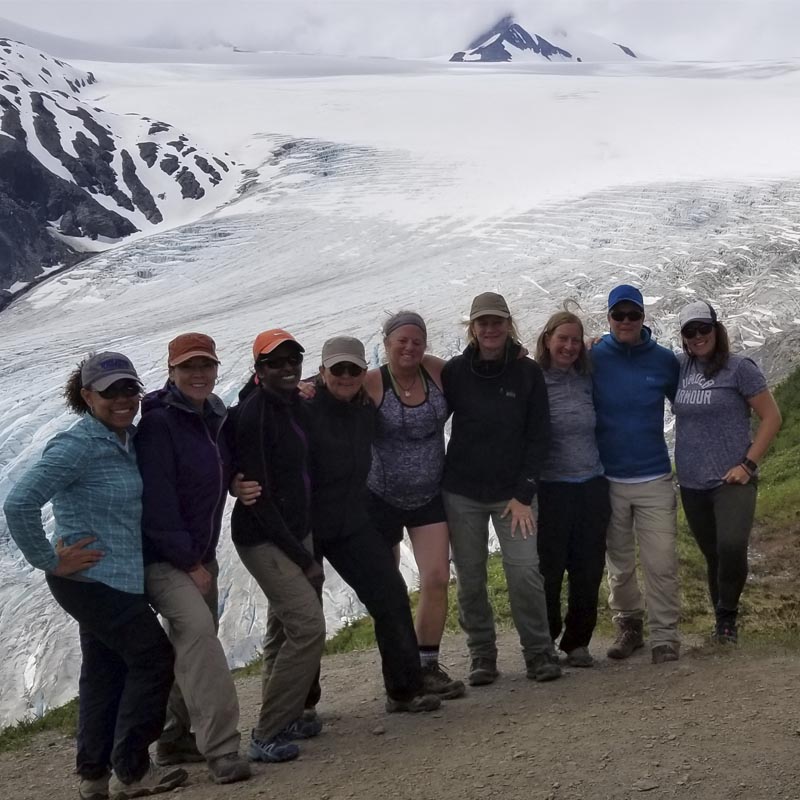 Alaska: Women's National Parks Hiking and Multi Sport Adventure | June 20-30, 2023

  Alaska

  11 Days

  06/20/2023

  06/30/2023
  Women's Adventure
  Moderate – Strenuous 
Scroll Down For The Itinerary
Ladies, if you want to see Alaska like a local, and access wild places that make your heart sing, then our Alaska women's adventure is for you.  It is an active, fun, and informative adventure in the company of a great group of like-minded women.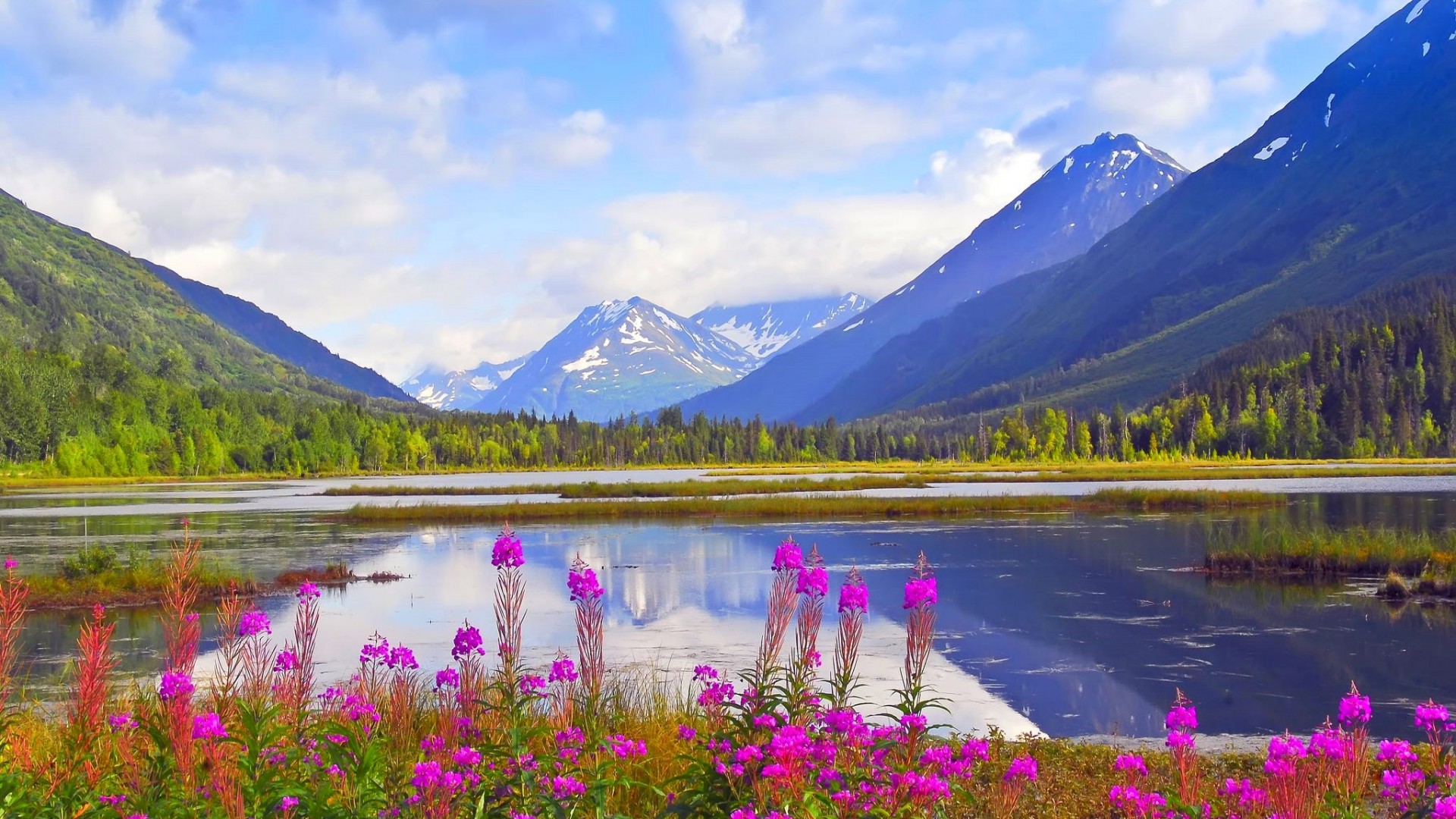 Our Women's Alaska's National Parks Hiking and Multi Sport Adventure offers women a nature-based Alaskan experience with a mix of spectacular day hiking, sea kayaking, wildlife viewing, and whitewater rafting as a way to explore the Kenai Fjords National Park and Denali National Park.
The Women's Alaska's National Parks Hiking and Multi Sport Adventure will introduce participants to the Kenai Fjords National Park and Denali National Park. This active adventure offers women big rewards for a little physical effort. Here, wilderness is accessible to any woman with a desire to stretch her legs on a dirt path.
This Women's Alaska's National Parks Hiking and Multi Sport Adventure is designed for women who like to hike and who enjoy the challenge of exploring a place by the power of their own steam. You don't have to be an athlete to do this trip, but you should be healthy and active. There is a plan B for most of the activities, so please let us know if you have any questions or concerns before you sign up.
Our Women's Alaska's National Parks Hiking and Multi Sport Adventure starts and ends in Anchorage. The first segment of the adventure will take participants into the Alaska's interior where they can experience adventures in Denali National Park. Activities include hiking, bus shuttle into Denali National Park, dog sled demo, and one way ticket from Denali to Anchorage on the Alaska Railroad.
The second segment is a multi-sport adventure is based in Seward. Here we will explore the biologically-rich emerald coast of south central Alaska's Kenai Peninsula by foot, kayak, boat, and raft. Our group will spend two night at a wilderness hostel on the eastern shore of Resurrection Bay. This rustic accommodation is is only accessible by water taxi and will provide us with an excellent setting for a kayaking day trip along the coast. The final three nights will be on the western side of Resurrection Bay just a few miles outside of Seward on Kenai Lake. Here we have access to the Kenai Fjords National Park via a wildlife cruise as well as many opportunities for hiking the trails of the coastal temperate rainforest ecosystem.
How strenuous is strenuous? On this Women's Alaska's National Parks Hiking and Multi Sport Adventure, we walk an average of 5-9 miles per day under 2 miles per hour. Our longest hike is 9 miles round trip and over 3200 ft in elevation. It will be challenging for most flatlanders, because you gain about 1000 ft of elevation with each mile. You will be encouraged with by a great group of adventure buddies, and rewarded with stunning views the entire way. The Mt. Marathon Bowl Hike is 5 miles round trip over 1900 ft. The rest of the hikes are under 1000 ft in elevation and between 3-4 miles.
What others are saying about the Women's Alaska's National Parks Hiking and Multi Sport Adventure:
"This was my second fabulous adventure with Tara and not my last! Tara and her local guide, Cheryl showed me the real Alaskan Frontier.  14 of us women came together and forged new friendships.  It's hard to imagine viewing such immense moose, caribou, black and grizzly bears with cubs; birds galore with many up close viewing of bald eagles; orcas by the dozen playfully jumping out of the water; whales spouting; and sea lions and otters feeding.  The hiking and kayaking experience was wonderful.   To top it off,  Denali was clear for full visualization the entire time in the park.  Thank you for so many peak moments in the beautiful Alaskan wilderness."  Darlynne G. California. (2019)
"We had an awesome time on this trip. Thrown various challenges with wildfires, and very different levels of participant ability the leaders were still able to run a smooth, fun, and exciting trip. The food was delicious, the accommodations were spectacular, and it was great to be able to experience the wilderness of Alaska and push ourselves to explore deeper with the safety net of confident and competent guides." Courtney B, Canada (2019)
Scroll down for the complete itinerary for the Women's Alaska's National Parks Hiking and Multi Sport Adventure.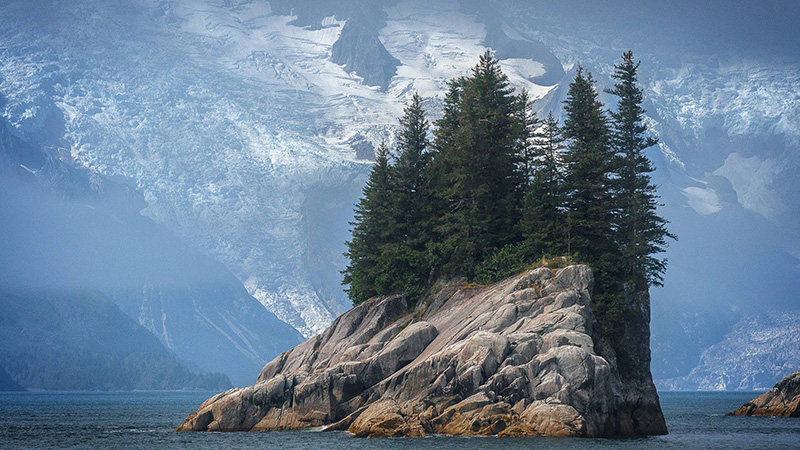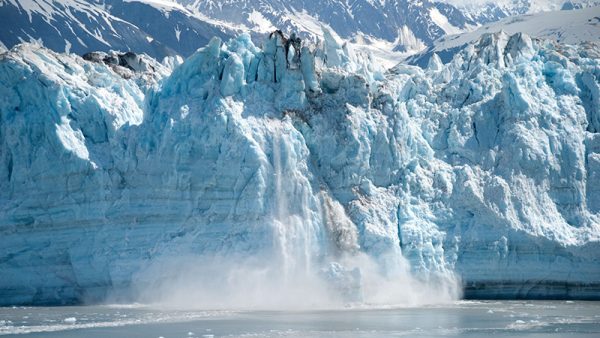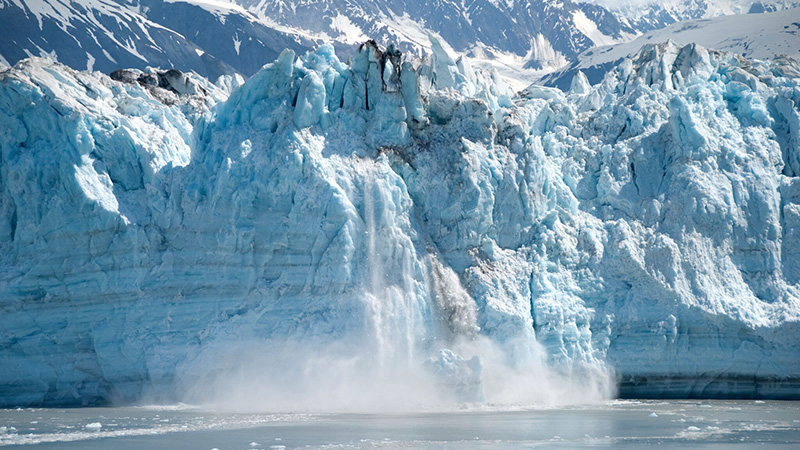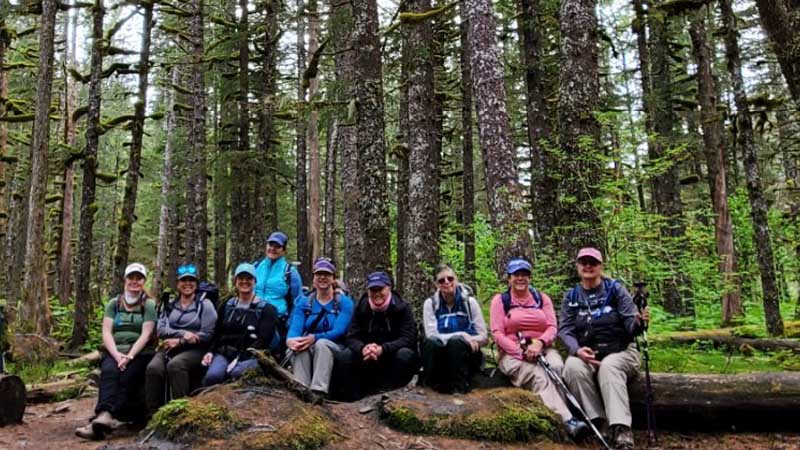 Trip Highlights:
A variety of exceptional 2 to 6-hour scenic day hikes over mixed terrain that will reward you with breath-taking scenery.
Make sure you bring a camera for excellent wildlife viewing opportunities throughout the trip.
Replenish your appetite with great food! Fresh, homemade, multicourse meals and deserts.
Dip your paddle in emerald green wildlife-rich waters of Kachemak Bay while sea kayaking among diving sea birds, curious seals, and shy otters.
An evening trip to the Sea Life Center will introduce you the ecology of Alaska's marine life and some of the conservation efforts around Alaska.
A 6-hour boat trip into the wild Kenai Fjords to see calving glaciers, whales, sea lions, and marine birds.
A thrilling roller coaster ride on whitewater through narrow canyons and over natural steps on the Class IV Six-Mile Creek.

Entrance to Denali National Park and Eielson shuttle bus tickets.

Dog sled demo a the National Park.
One way ticket on the Alaska Railroad from Denali to Anchorage,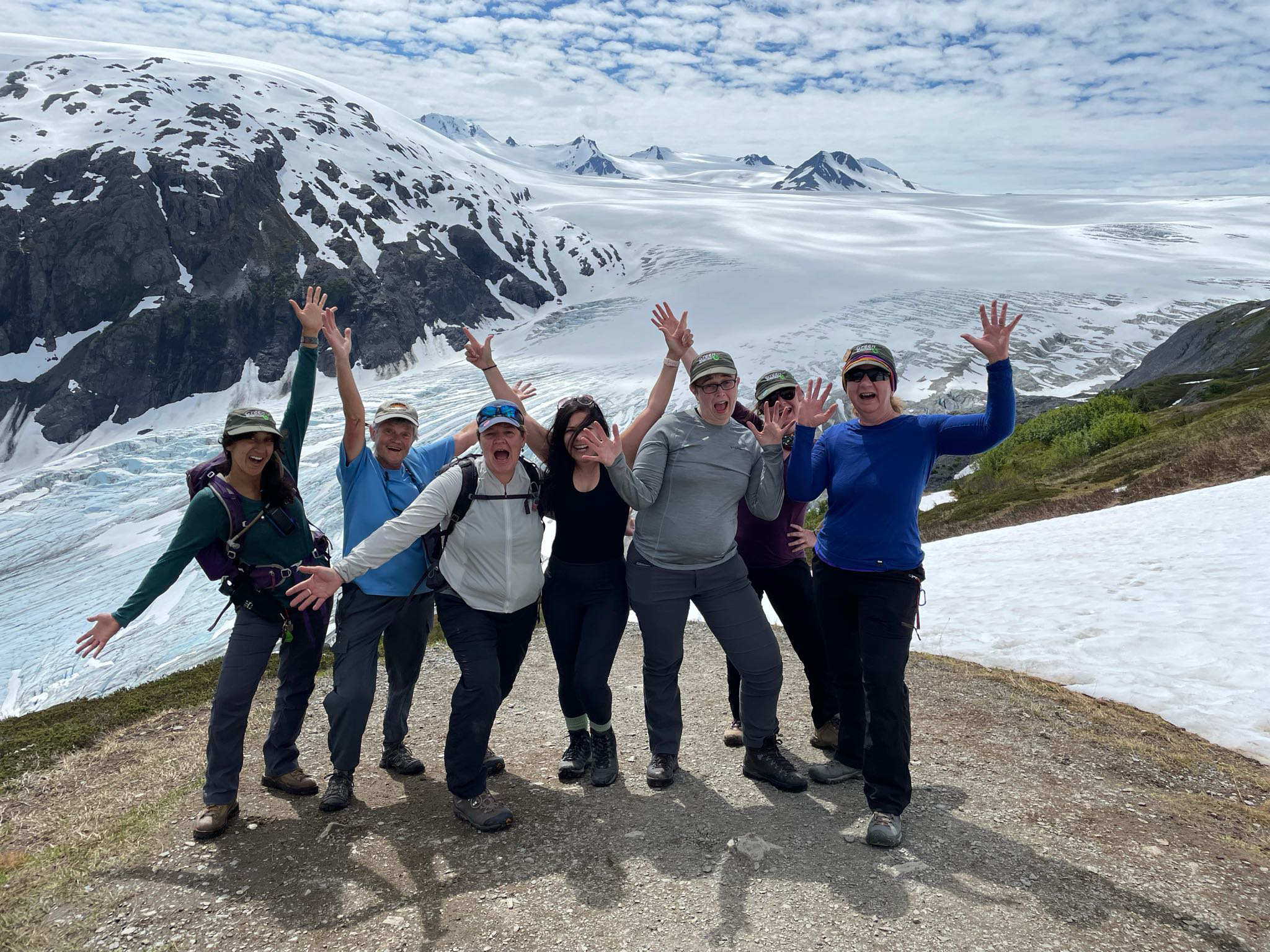 Included:
A variety of daily guided hikes led by a local guide.
6-hour boat tour whale watching & glaciers
River rafting trip
Guided kayaking trip
Entrance to the Alaska Wildlife Conservation Center
Denali NP entrance fees.
Denali Shuttle bus ticket
Alaska Railroad Train Ticket
10 nights accomodations
Meals from dinner on day 1 to lunch on day 11 (minus 1 dinner)
Excluded:
Airfare to Anchorage, Alaska.
Travel Insurance 
1 Dinner
Alcoholic Beverages
Gratuity of $400 per person
Supplemental Information: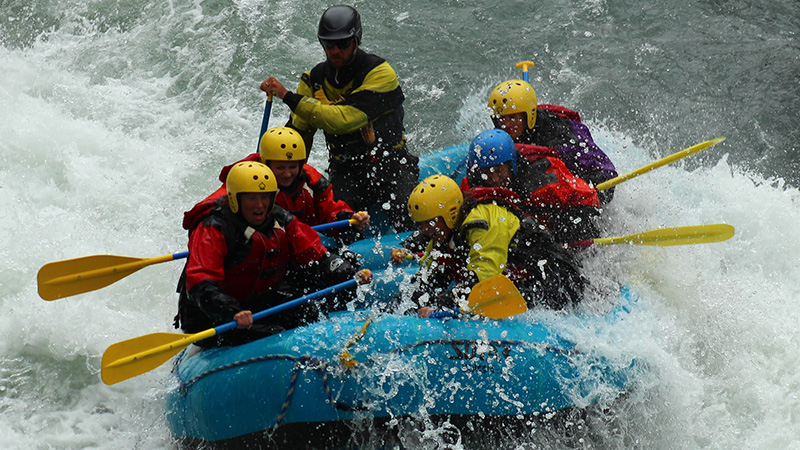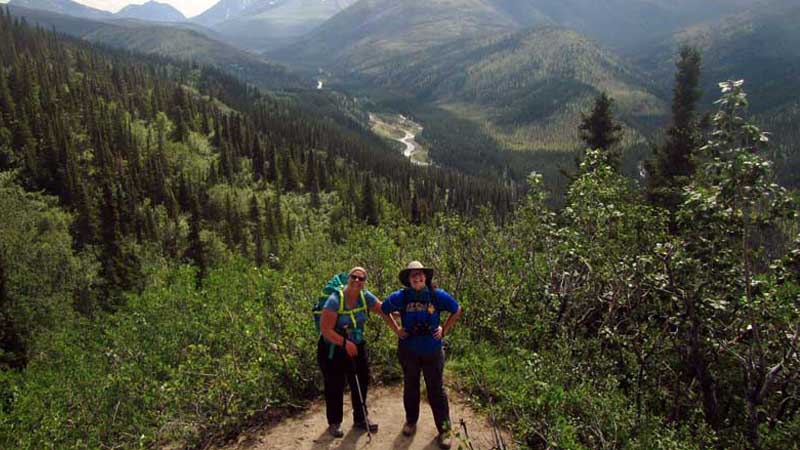 Anchorage Airport
Seward Boat Harbor
Mt. Marathon Jeep trail
Hope
Seward
Exit Glacier Rd.
Alaska Sea Life Center
Package Price: $4475
Deposit by April 15th: $525
Installments: 3 equal payments April 1, May 1, June 1
Min/Max Group Size: 8/10
All payments are non-refundable. In the unlikely event that Green Edventures is unable to confirm this Alaska Women's Adventure a full refund will be given. We must have 8 participants by April 15th to confirm the trip.
Use the chat feature to ask trip related questions.
Travel insurance is available and recommended for the Iceland Women's Hiking Adventure Tour.
Documentation:
non for US citizens
Cancellation Policy
Terms & Conditions
►Day 1: Travel to Anchorage
Today is a travel day that includes a night at the hotel in Anchorage and welcome dinner. Arrive by 3pm local time. The hotel has a free shuttle to and from the airport. 
►Day 2: Anchorage – Denali Area
Breakfast at the hotel. Your guide will pick you up and you will take a scenic 3 hour drive towards your next adventure and the largest mountain in North America. Along the way, the you will stop for opportunities to photograph Denali and take a 3-4 hour hike in Denali State Park. In the late afternoon, you will check into the Denali Hostel located 9 miles from the park entrance. We have 3 rooms reserved just of our group. Dinner will be a delicious and fresh hot multi course meal prepared by your guide. (BLD)
►Day 3: Denali National Park Visitor Center & Triple Lakes Hike
The Triple Lakes Trail is considered one Denali National Park's best day hikes. Triple Lakes Trail is on the edge of the 6-million acre Denali National Park and Preserve, and is the ideal entry into the wonders of this pristine reserve. This hike starts with an ascent of about 400 feet. The climb is worthwhile — when you emerge from the forest, you can see an expansive view of the Nenana River, the glacially carved Yanert Valley, and the seemingly endless Alaska Range.  Throughout the hike participants should look for ptarmigan, eagles, bears, and moose. This guided hike will be about 9 miles and 5 hours in duration. Participants will enjoy a packed lunch on the trail and return to the hostel for dinner and socializing. 
Overnight at Denali Hostel. (BLD)
►Day 4: Denali National Park Shuttle 
Note: due to a rock slide, the shuttle is only going to mile marker 43. At the bridge, There is a nice hike up the road to a lookout point.
Enjoy a local experience on the shuttle bus through the Denali National Park to the Eielson Visitor Center. 92 miles long, the Denali Park Road parallels the Alaska Range and travels through low valleys and high mountain passes. It is the only road in the park. Along its route, beautiful landscapes can be seen at every turn, and there are many opportunities to view Denali – if the normally cloudy skies permit. Wildlife can often be seen, too, though sightings are not guaranteed – they are, after all, wild animals roaming an unfenced land. At the visitor center, participants can enjoy the wilderness exhibits and self guided trails around the visitor center.
Overnight at Denali Hostel. (BLD)
►Day 5: Park Sled Dog Kennels -Hike Rock Creek Trail – Alaska Railroad to Anchorage
In the morning, we will visit the dog sled kennels. Here, rangers and dogs work together to demonstrate a traditional Alaskan mode of travel. These unique, 30 minute programs include an opportunity to tour the park kennels and visit Denali's Alaskan Huskies. 
Mid morning, enjoy a guided hike with packed lunch on Rock Creek Trail (about 2.5 miles). This is a nice walk back from the kennels with lots of wildflowers! You'll go through spruce groves and transition to Alder, all along the way you'll see plenty of gorgeous undergrowth and maybe wild berries.
Late Afternoon take a ride on the famous Alaskan Railroad all the way down to Anchorage. Dinner on your own on the train. Arrive Anchorage about 8pm. Transfer to the Inlet Tower & Suites Hotel. (BL)
►Day 6: Anchorage – Seward – Kayaker's Cove
After an early breakfast, our local guides will meet us for introductions, then we will head south to the beautiful Kenai Peninsula. Our drive will parallel the scenic Turnagain Arm — a mountain-lined and glacier-carved fjord named by an obviously frustrated Captain Cook during his 1778 search for the legendary Northwest Passage. It is a 3-hour drive with a couple scheduled stops including the Alaska Wildlife Conservation Center to talk about the scenery and to use the bathroom. When we arrive in Seward, we hop on a water taxi across beautiful Resurrection Bay to our wilderness accommodations for two nights at Kayaker's Cove.
Late Afternoon:
Kayaker's Cove is situated on a hillside surrounded by lush rainforest with ocean views. This wilderness hostel is reserved just for our group to enjoy. It is common to see sea otters rolling around, sea stars in the tidepools, and you will possibly see whales passing by. You truly feel like you are living the luxury of seclusion. After unloading the water taxi and getting settled, take in the quiet life on the shores of Resurrection Bay. There are hiking trails, fire pit, and the tranquility of nature to enjoy before dinner. (BLD)
►Day 7: Sea Kayaking in Resurrection Bay
Learn the basics of sea kayaking, maneuvering, and water entry and exit. Then spend half of the day in and out of our tandem kayaks as we explore the coastline. In addition to beautiful mountain scenery, sea otters, harbor seals, sea lions, bald eagles, sea birds and harbor porpoises are all possible to encounters. (BLD)
►Day 8: Kayakers Cove –  Tonsina Creek Hike – Renfro's
We take a water taxi back to across the bay to Seward. Participants will have some time to explore the seaside harbor, shop. After a picnic lunch, we will stretch our legs on a beautiful coastal trail.
Afternoon: Tonsina Creek Hike
The hike to Tonsina Creek, a scenic 3 mile trail that takes about 1 hour in each direction, is a local favorite. Locals and visitors alike walk out to the creek itself, and some continue on to Caines Head State Park. From the trailhead, a gradual climb takes us along the shoreline of Resurrection Bay where we will have occasional views of the water through the spruce and hemlock trees. Across the first section of Tonsina Creek is a beautiful metal expansion bridge. From here we might see salmon spawning, and we can't miss the blooming irises that take over the surrounding marsh and meadows. The trail then leads us into a beautiful forest with large cottonwood, hemlock, and spruce. Here, we will see a typical rainforest feature of sphagnum moss hanging from limbs, commonly found in wet northern environments. Finally, we come to a long wooden expansion bridge over another section of the creek, which leads hikers to an easy-to-reach portion of the shoreline. 
Evening:
Check into Renfro's Lakeside Retreat. Enjoy dinner by the lake. (BLD)
►Day 9: Seward – Boat Trip Kenai Fjords
Today you rest your legs and take a six-hour wildlife-viewing cruise to an active tidewater glacier on Kenai Fjords National Park. A tidewater glacier terminates in the ocean. It is common to see chunks the size of cars falling off into the green water.
Wildlife is abundant throughout the national park and tidewater glaciers. This voyage also offers the best opportunity for whale watching in Alaska along with the possibility of seeing porpoises, sea lions, sea otters, seals, bald eagles and puffins.
Before returning to our cabins, we will visit Exit Glacier to discuss the hike to Harding Icefield tomorrow, and the features of this famous glacier.
Overnight at Renfro's Lakeside Retreat (BLD).
►Day 10: Seward – Harding Icefield Trail
One of our favorite hikes anywhere, is today's highlight: Up we'll trek along the very blue Exit Glacier to as far as weather, trail conditions, and participant's skill levels allow. There are many personal summit to enjoy along the way at Marmot Meadows, The Cliffs, and the top which looks over the 800 square mile Harding Icefield. Moose, bears, mountain goats, porcupines, and marmots are all commonly seen on this hike and the glacier and ice field are dramatically beautiful. This inspirational hike will stay with you long after you've left Alaska!
This hike is strenuous for flat landers and for those who are not currently active, but with effort and determination you will complete up to 8 miles round trip in 6-7 hours. This is not a technical hike and it is suitable for anyone in good health with a positive-can-do-attitude.
Celebratory dinner near the trailhead. Return and overnight at Renfro's Lakeside Retreat. (BLD)
►Day 11: Seward – Hope — Anchorage
After breakfast, we drive 1.5 hours to the town of Hope, Alaska.
Here we will enjoy a Class IV whitewater rafter trip through two canyons of the famous Six-Mile Creek. For those who love the thrill of adventure, you can choose to do the 3rd canyon for an additional fee.
Return to Anchorage in time for flights that depart after 9:30pm. (BL)
** Please note: The activities, lodging, guides, and schedule may change without notice as practical considerations arise during program development or onsite. **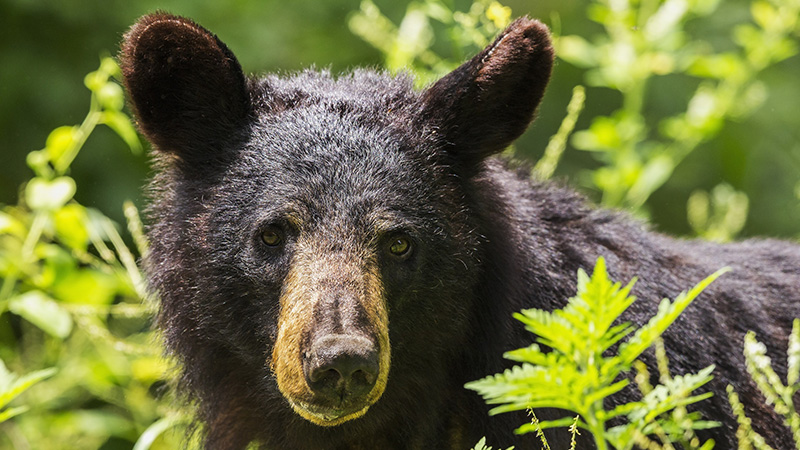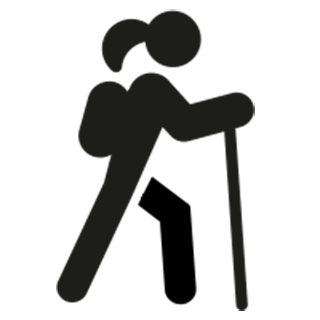 Trip Leader Coming Soon
Trip Leader
Sign Up For The Green Edventures E-mail List
**We respect your privacy. Our website is fully secure and your information is kept 100% private with us**

Go Green Edventures!