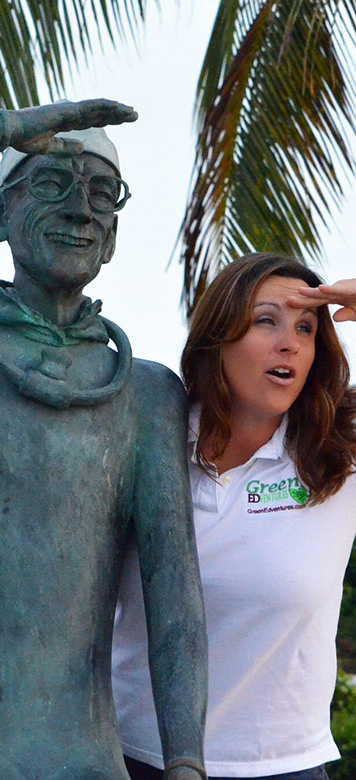 Tara Short – Founder & Director
Tara cultivated her passion for ocean life at a young age through her vivid imagination while playing in her grandparents' swimming pool in suburban Chicago.  She would snorkel & explore this pool playground, often pretending to be in oceanic waters filled with dolphins and colorful fish.
Tara turned her passion for exploration, marine life and environmental preservation in to Green Edventures in 2008.  She designed this carbon-neutral, eco-adventure program to educate students and adults through travel and outdoor activity while supporting local-based businesses and conservation programs.
Through professionally guided tours, it is Tara's mission to facilitate life-changing natural encounters to educate and inspire.
"Having facilitated over 1,000 participants on trips all over the Americas, I know firsthand the positive, life-changing effects that nature has on people," Tara says. " I tell people that I am a teacher and guide, but what I really am, is a matchmaker. I provide the ambiance and set the mood for people to connect with, be fascinated by, and fall in love with the ocean, the rainforest, the desert, and other amazing wild habitats, in hopes that they will want to protect them."
When Tara is not away leading Green Edventurers' Tours, she can be found underwater at the Shedd Aquarium as a volunteer diver on Tuesday mornings in the 90,000 gallon Caribbean Reef Exhibit.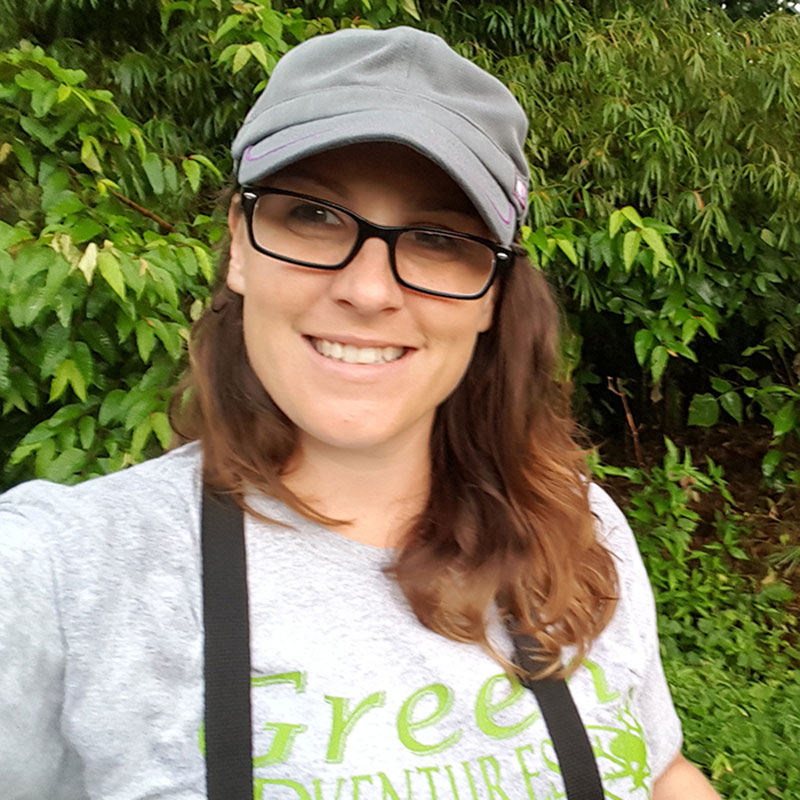 Tara Short
Founder & Director
Email: tara@greenedventures.com
Phone: 715-252-1238
Tara is the Founder & Director and Principal Instructor. She will be your first point of contact at Green Edventures. Tara has 17 years of experience in eco-tourism, guiding and educating students of all ages in the Americas, the Caribbean, and Iceland. She holds a Bachelor's Degree from the University of Wisconsin-Stevens Point in Natural Resource Management with an emphasis in Environmental Education/Interpretation. Tara has worked for notable educational, scientific, and conservation organizations and institutions such as the John G. Shedd Aquarium, Chicago's Museum of Science & Industry, USDA Forest Service in the Chugach National Forest in Alaska, and Wild Studies in the Bahamas. Tara is a PADI Open Water Diver, Advanced Diver, Rescue Diver and has specialty certifications as Underwater Naturalist, Deep Diver, Multi-Level diver and Night Diver.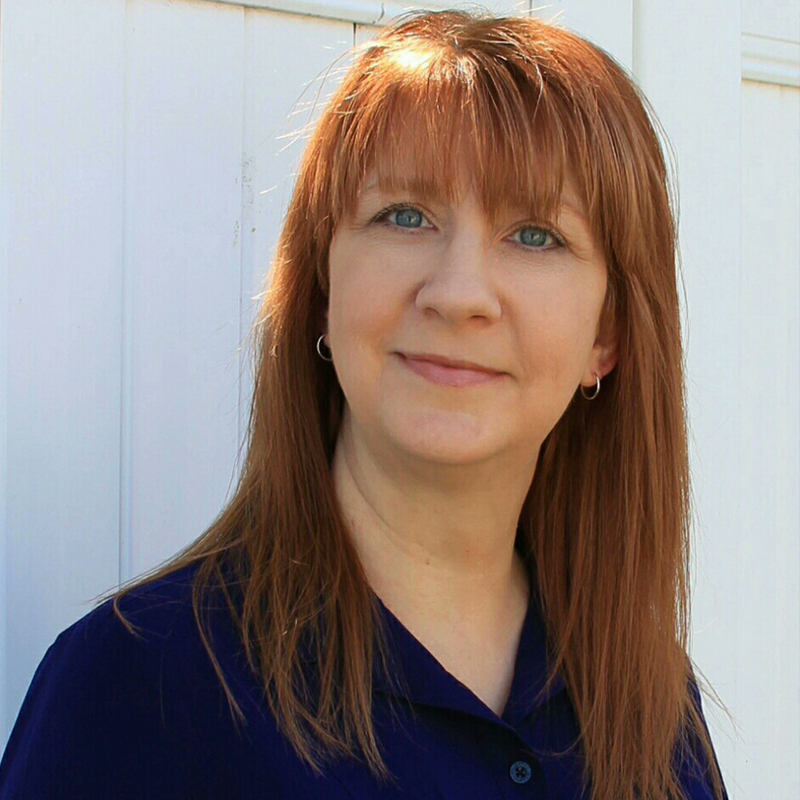 Carrie Williams
Administrative & Payments Assistant
Email: contact@greenedventures.com
Phone: 715-222-9874
Got questions? Carrie's got the answers. Carrie is the organization for all of our administrative needs and is the helpful person behind all of those monthly payment reminders.
Tierney Gannon
Intern – Programs
Email: programs@greenedventrues.com
Tierney has helped develop educational programs for our Baja, Costa Rica, and Florida programs. When she is not teaching for Green Edventures, Tierney is a full-time student at Ohio State University.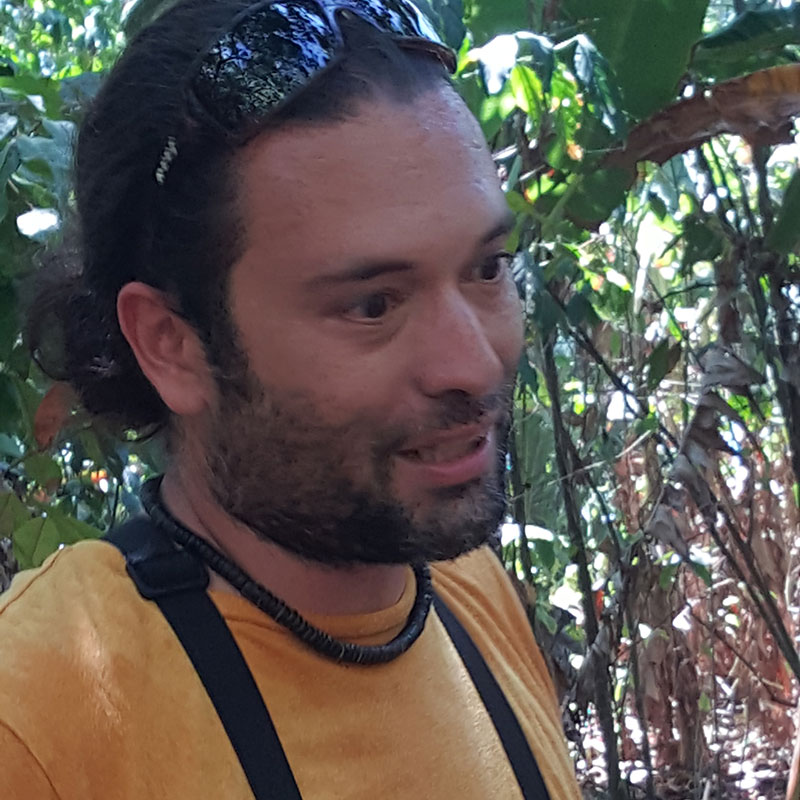 Pepe
Costa Rica / Casa Botonia
Meet Pepe, your guide and future life-long friend! Pepe is a master naturalist that will reveal the story of the rainforest to you one character at a time. Instead of a few dry facts of about animals you find on the trail, Pepe will teach you how every plant, monkey, bird, insect, and reptile is connected to each other via the delicate and intricate community within the rainforest. Pepe is Costa Rican and proud of his beautiful country. His passion for sharing his knowledge of the Tico culture and the amazing symbiotic life of tropical flora and fauna is evidence of how much he loves Costa Rica. Since 1997, he has been guiding people into the rainforests of Costa Rica and Panama. Many of our guests are shocked by now much Pepe knows! — It's almost super human!
Courtenay Rooks
Trinidad & Tobago / Paria Springs Tours
Courtenay "Bushman" Rooks, native to Trinidad, adventurer, naturalist, conservationist, explorer, ecotourism expert, with a long held desired to bring his love of nature to every person through eco adventure tourism. Courtenay guides in rock climbing, mountain biking, birding, hiking, diving, surfing, snorkeling, adventure racing, kayaking. Through personal travels in far flung places like England, Dominica, the Pacific North West of North America, the Mojave Desert, the Cerrado and Amazon of Brazil, Guyana's Amazon, the Savanna Grande of Venezuela and mostly Trinidad and Tobago he has spent nearly 40 years studying natural history of wild places. During this time he gained knowledge, experience, respect and love for these environments and looks forward to sharing his knowledge with Green Edventures guests!
Kristen Hoss
Florida & Baja / Youth Environmental Alliance
Kristen is an engaging and passionate educator who leads the Florida Master Naturalist program in Broward County, Florida. She creates science education and interpretive programs for students of all ages, and provides expertise for ecological surveys and monitoring through her non-profit Youth Environmental Alliance. She has a BS in Ecology and Evolutionary Biology, a Masters in Conservation Ecology and Wildlife Sciences, and more than 28 years in the field of ecology (marine, aquatic and terrestrial) and the management of natural areas and wildlife. Kristen's passion is making a difference in peoples lives, to the environment and to wildlife through working and partnering with like–minded people and organizations that share her vision of promoting sustainability through self empowerment and education.
Chabelo Castillo
Mexico / Fun Baja Diving & Eco-Adventures
Chabelo (Pronounced Chaah Bell-O) is a Divemaster for Fun Baja Diving & Eco-Adventures based out of La Paz. Chabelo has been instructing and leading SCUBA divers for 15 years with Fun Baja and instructing snorkeling and free-diving with Green Edventures for 8 years. Our guests consistently tell us how they appreciate the care and attention he gives to everyone in the group. Chabelo is funny, playful, and loves to share everything he knows about his backyard, the Sea of Cortez and his home, La Paz. Chabelo is talented at finding marine life so participants can see the most of the reef. He is also a sea lion whisperer. With him, you will see and interact with the sea lions in a very special way. Your friends won't believe the pictures!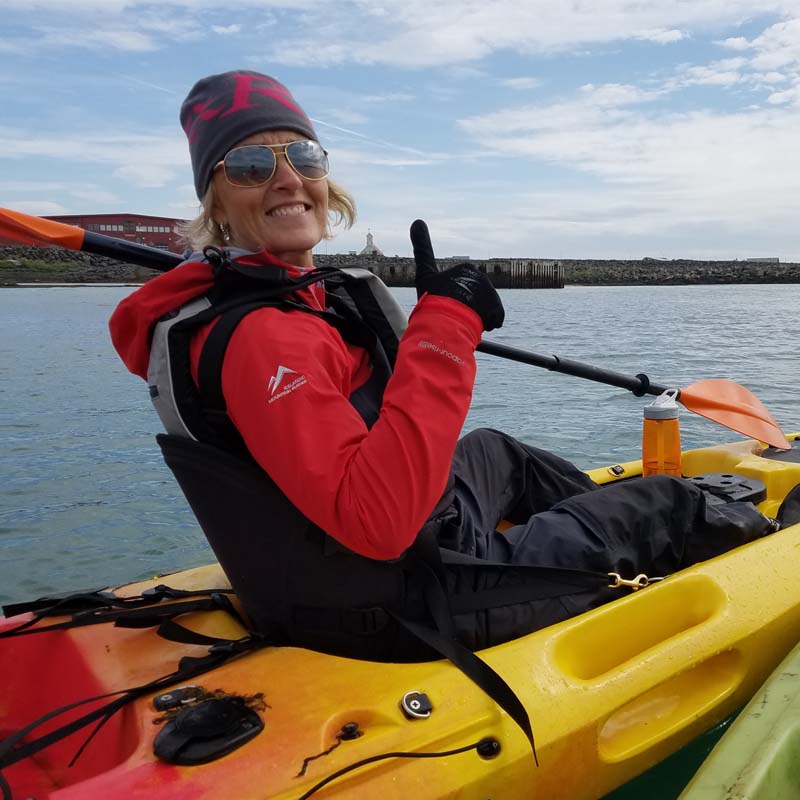 Kristín Jóna Hilmarsdóttir
Iceland / Icelandic Mountain Guides
Kristin (pronounced: kristEEn) has lived in Iceland her entire life, except for the two years she spent in the USA. Kristin loves all kinds of sports, including skiing, cross country skiing, mountain skiing, and alpine skiing and sharing her passion about Iceland with others. She is one of the few women to have hiked across Iceland fording rivers, remote highlands, glaciers, and mountains.  Additionally, she is an aesthetician and teaches pilates. Kristin's secret to health is: "always take the stairs." Our participants love Kristin's humor, caring guiding style, and fun personality.