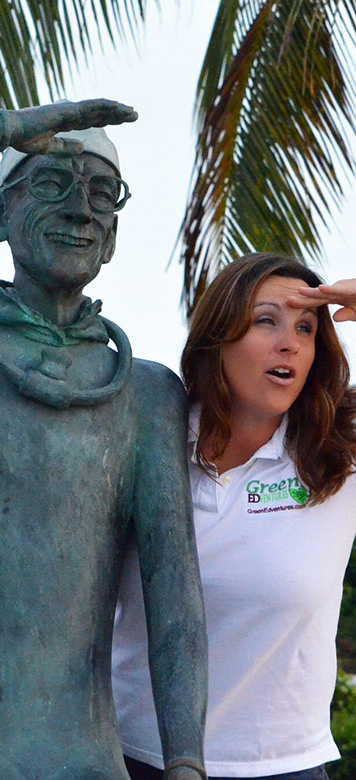 Tara Short – Founder & Director
Tara cultivated her passion for ocean life at a young age through her vivid imagination while playing in her grandparents' swimming pool in suburban Chicago.  She would snorkel & explore this pool playground, often pretending to be in oceanic waters filled with dolphins and colorful fish.
Tara turned her passion for exploration, marine life and environmental preservation in to Green Edventures in 2008.  She designed this carbon-neutral, eco-adventure program to educate students and adults through travel and outdoor activity while supporting local-based businesses and conservation programs.
Through professionally guided tours, it is Tara's mission to facilitate life-changing natural encounters to educate and inspire.
"Having facilitated over 1,000 participants on trips all over the Americas, I know firsthand the positive, life-changing effects that nature has on people," Tara says. " I tell people that I am a teacher and guide, but what I really am, is a matchmaker. I provide the ambiance and set the mood for people to connect with, be fascinated by, and fall in love with the ocean, the rainforest, the desert, and other amazing wild habitats, in hopes that they will want to protect them."
Tara has 17 years of experience in eco-tourism, guiding and educating students of all ages in the Americas, the Caribbean, and Iceland. She holds a Bachelor's Degree from the University of Wisconsin-Stevens Point in Natural Resource Management with an emphasis in Environmental Education/Interpretation. Tara has worked for notable educational, scientific, and conservation organizations and institutions such as the John G. Shedd Aquarium, Chicago's Museum of Science & Industry, USDA Forest Service in the Chugach National Forest in Alaska, and Wild Studies in the Bahamas.
When Tara is not away leading Green Edventurers' Tours, she can be found underwater at the Shedd Aquarium as a volunteer diver on Tuesday mornings in the 90,000 gallon Caribbean Reef Exhibit.
Tara is a PADI Open Water Diver, Advanced Diver, Rescue Diver and has specialty certifications as Underwater Naturalist, Deep Diver, Multi-Level diver and Night Diver.