Trip Leader Lori Anderson shares her Notes from the Field with our Uganda Safari Mountain Gorilla Trekking Women's Travel Group. Join us on this day in the life journey.
• Uganda Day 1 •
Shoebill Stork Day
Today is our first full day in Uganda!
Our Edventure today takes us out onto Lake Victoria in hopes of getting a rare glimpse of the Shoebill Stork. On the list of the 10 rarest birds to see in Uganda, it's number one! They are currently listed as 'vulnerable' and many conservation efforts are in place.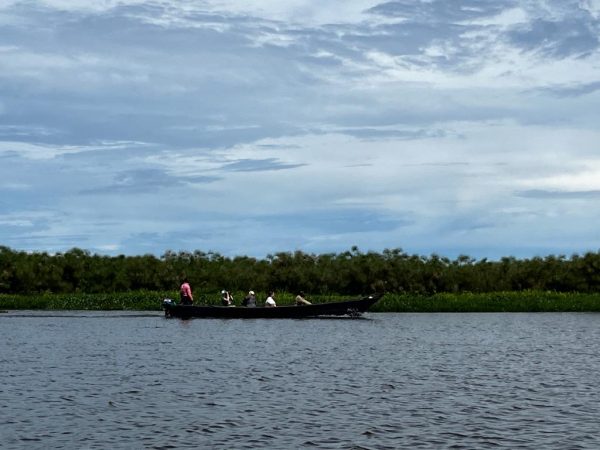 This prehistoric looking bird stands between 3.5 and 4.5 feet tall. Its wingspan is between 7.7 – 8.6 feet.
Our journey begins on the shore of Lake Victoria, within miles of the Equator, as we climb into two large, deep wooden dugout canoes and make our way across the bay to a shallow swamp area.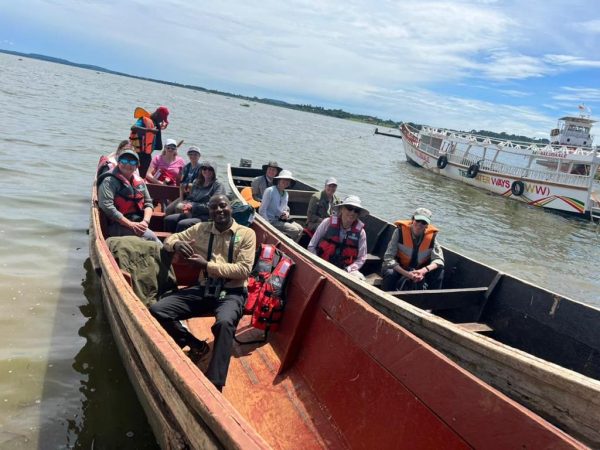 The swamp is surrounded by thick papyrus. When we reach this area, we transfer to smaller wooden canoes. Two boatmen per canoe slowly maneuver us further into the thick swamp. Their only tools to move us forward are wide handmade paddles and very long, strong sticks. They use the sticks to push us forward.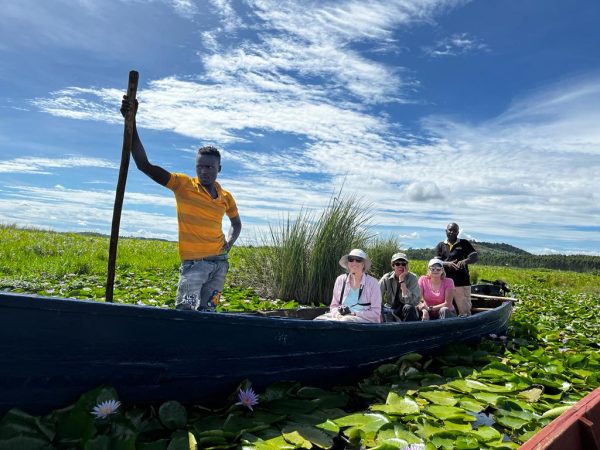 When the vegetation becomes too thick, they jump into the water and pull the canoes forward by hand. Visions of Humphrey Bogart and the African Queen come to mind and I try not to think about leeches.
The tall papyrus are replaced by swamp grasses. The surface of the water is thick with beautiful blooming lily pads. There is no visible channel.
A shoebill has been spotted!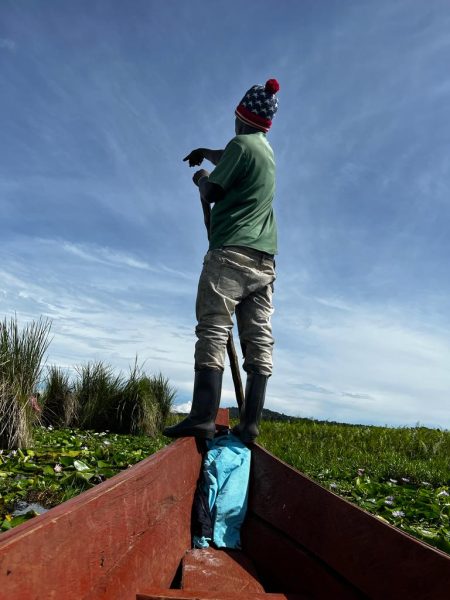 We slowly make our way closer to her. Cameras and binoculars are at the ready as she poses and slowly moves about.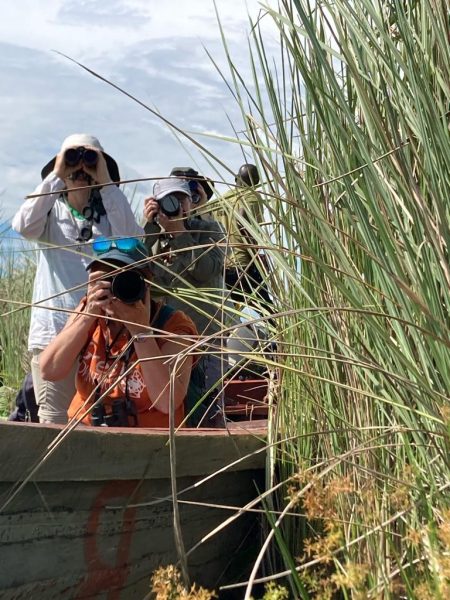 Suddenly, she takes off! It's hard to imagine that this large of a bird can actually take flight! She lands nearby and our boatmen once again work to reposition us.
When we get within a good sight line we all transfer into one boat. We observe her every move. Slowly walking, turning, posing.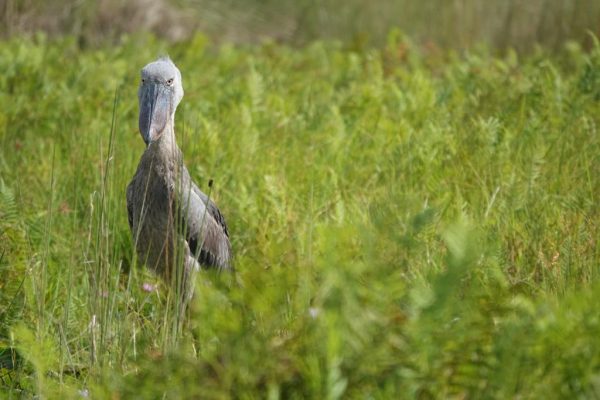 Her method of hunting has her standing as though frozen in place, carefully watching the water below her for any tasty morsel that may swim by.
On the ride back to shore we learn more about Lake Victoria. Its shoreline is shared by three countries – Uganda, Kenya, and Tanzania. We see many other birds – cormorants, egrets, pied kingfishers, African jacana, red knobbed coots, helmeted Guinea fowl, and yellow billed ducks.
Our day ends back at our beautiful lodge.
• Uganda Day 2 •
Rhinoceros encounter
Today our Uganda Safari Mountain Gorilla Trekking Women's Travel Group spent time at a rhino sanctuary!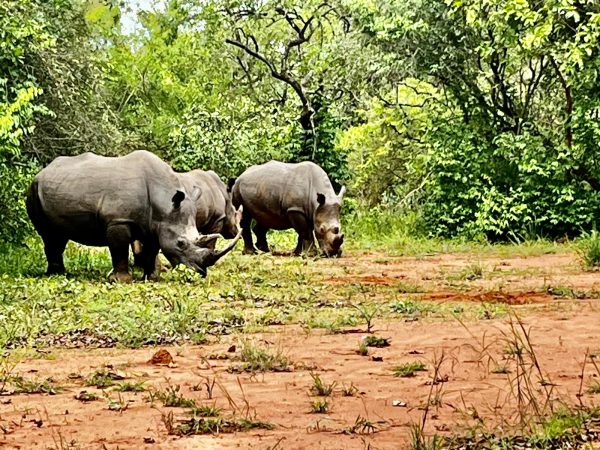 It was an awesome experience as we hiked into the depths of the sanctuary along with a sanctuary guide and ranger. Our guide was able to find four rhinos! A mom with her 1+ year old and two 'teenagers'. We observed them from a distance of about 50', at times backing up, and always heeding the advice of what to do if they should charge.
As we were leaving that area, we spotted a different mom and her 4 month old baby! Rhinos were hunted and poached to complete eradication in this area in the 1970's and 1980's. A strong and comprehensive conservation effort started about 20 years later. They've made great strides!
• Uganda Day 3 •
Morning game drive; Nile River Boat ride
We headed out on an early morning game drive in hopes of seeing lots of wildlife before they took cover from the heat of day.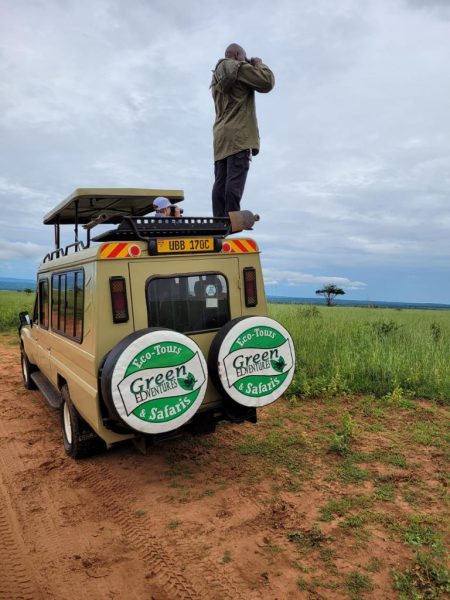 The plan was a good one! We're in Murchison National Park where the topography is a mix of savannah grasslands and areas with a mix of grassland and palms. We saw a variety of antelope – Waterbuck, Uganda Kob, bushbuck, Jackson's Hartebeest, and Oribi. There were hundreds and hundreds of them. A few others from our daily mammal sighting list included elephant, giraffe, baboons, patas monkey, and warthogs.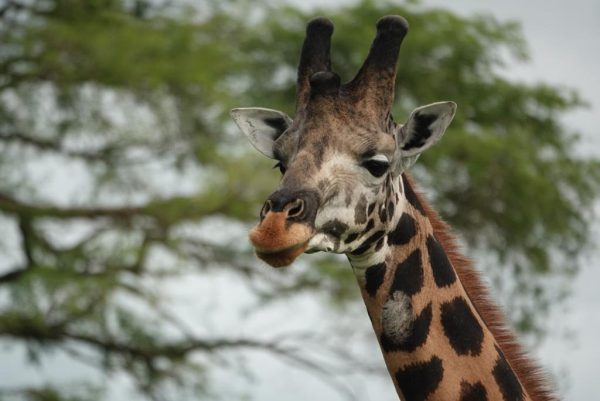 The highlight of the game drive was spotting five lions! They were lounging in the sun. A young kob was standing nearby ready to alert his group. From our vantage point, it appeared he was within pouncing distance. No worries. He was fine.
This sighting means in just two days we have seen four of the Big 5 – Lion, Elephant, Cape Buffalo, and Rhinoceros. The fifth one to find is. . . the leopard!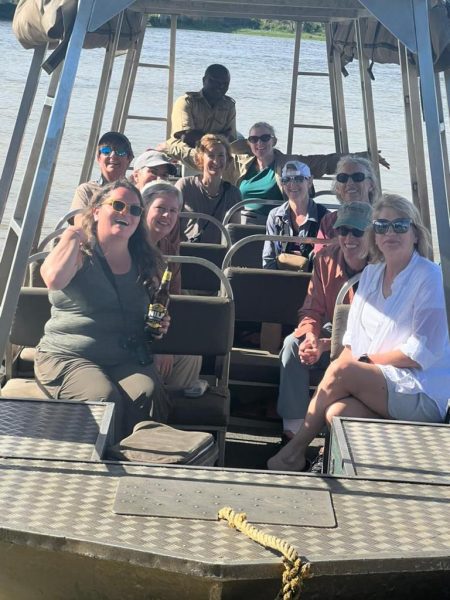 In the afternoon, we took a 3-hour boat tour on the Nile River to the base of Murchison Falls. The wildlife along the shoreline was outstanding!! Large herd of elephants, many hippos, tons of crocodiles, giraffes, and many, many gorgeous birds.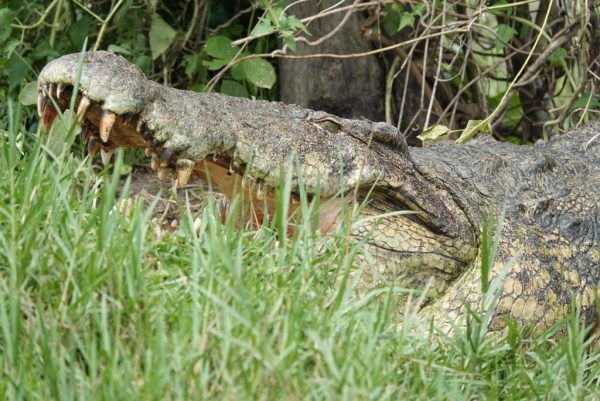 Our bird sighting list over the past two days includes over 115 different birds! To name a few: Gray Kestrel, 2 different species of Kingfishers, African Darter, African skimmers, African Fish Eagle, and many more!
• Uganda Day 4 •
Early morning game drive.  It was a rise-and-shine early kind of day! Our goal was to get out early in hopes of finding the last animal on our Big 5 list! And. . . Patience persevered!
We found a leopard!!!  With the help of a spotting scope we were able to pull him/her into closer view!
Late in the afternoon we went out on another safari game drive. Dusk is another good time of day to search for the big cats.   Once again, patience persevered! We found another leopard!!  We accomplished seeing the Big 5 in just a few days!!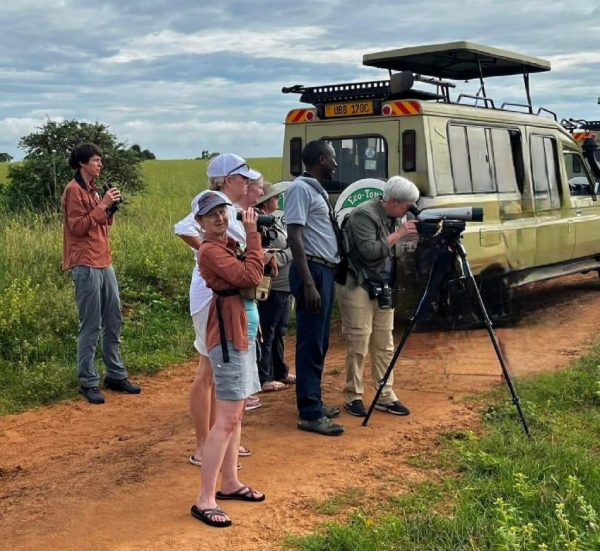 • Uganda Day 5 •
Murchison Falls
Today we left our lodge to head to Murchison Falls. Our beautiful lodges have mosquito netting that not only provides a fairytale atmosphere but are fully functional!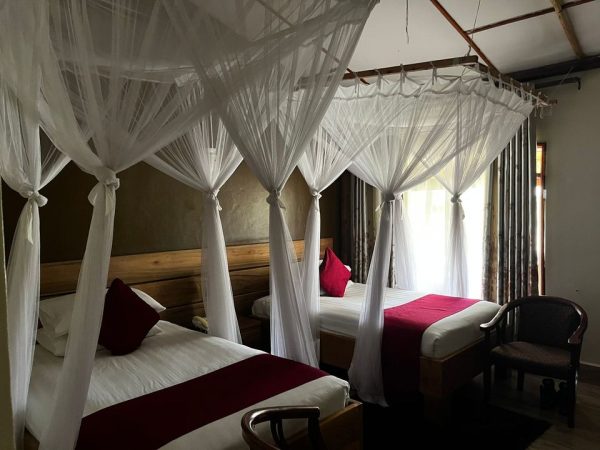 It was rainy on our way through the park. That doesn't affect the animal sightings! We were fortunate to have two male lions cross the road right in front of us!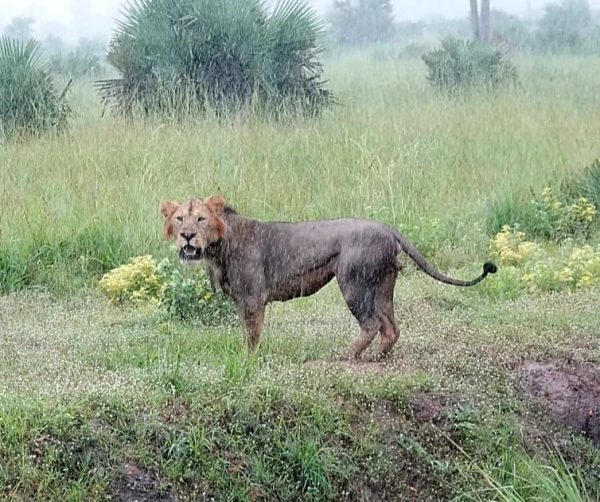 Murchison Falls is the location where the Nile River roars through a narrow gorge 23ft wide then drops 141 ft.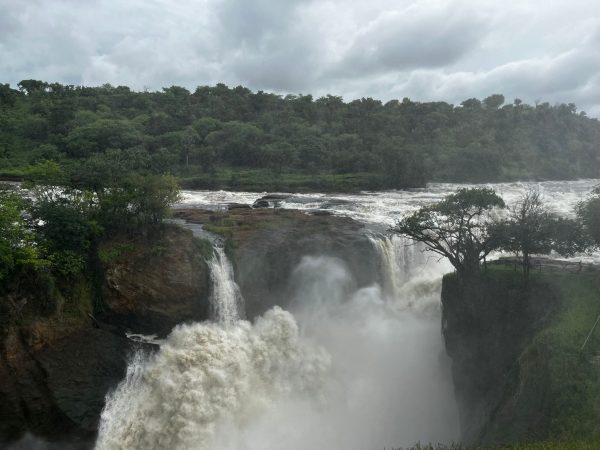 ---
If this trip is on your bucket list, we would love to have you join us next year with our Uganda Safari Mountain Gorilla Trekking Women's Travel Group.
---
• Uganda Day 6•
Part 1: Chimpanzee Day
Today we entered the Kibale National Forest, primate capital of the world and home to over 1400 chimpanzees.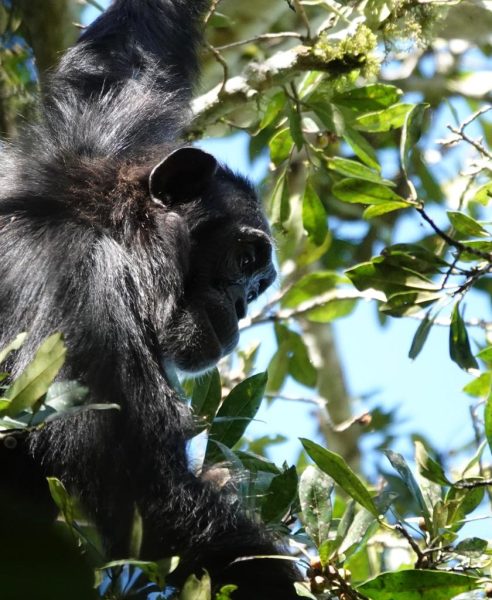 We split into smaller groups and were teamed up with a Kibale Forest guide.
The forest is a tropical jungle. Recent rains left everything damp and the humidity high. At times we walked on an established trail and over boardwalks. At times, our guide took us off the beaten path and directly into the jungle. Low lying areas had us trekking through mud.
The rangers track the chimps by listening for their vocal communication and watching for signs on the ground (droppings and knuckle prints).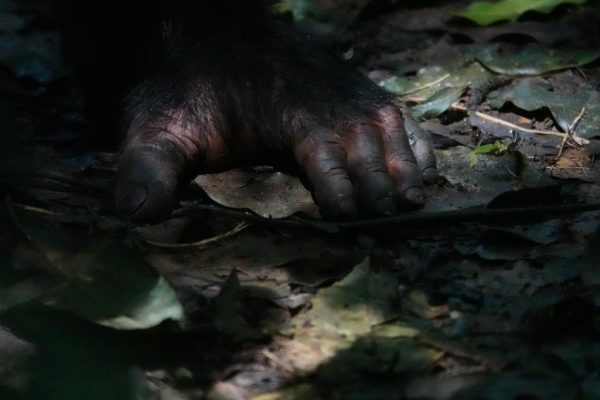 Chimps use a wide variety of vocalizations including hoots, pant-hoots, and screams. The chimps will also pound hard on a tree as they pass by, creating a loud drumming noise. Chimpanzees spend time on both the ground and high up in the canopy. They build a new nest each day, in the trees.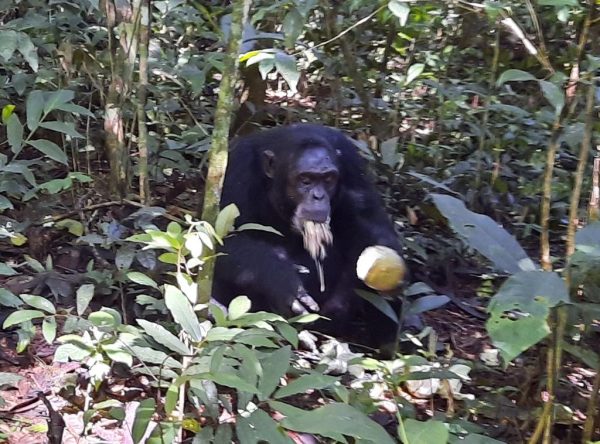 Babies sleeps with their mother; everyone else builds their own nest. Our first sighting was a small family high up at the top of the canopy. A mom and a baby and a young adult.
We continued deeper into the jungle and came upon the alpha male. He took us on a fast paced hike through his home turf, stopping now and again allowing us to get a closer look. Other chimpanzees could be heard all around us.
Chimpanzees!!! They are our closest relative, sharing 98.8% of our DNA!
• Uganda Day 6 •
Part 2: Chimpanzee Day
Our group went on a community walk where they were able to take in a bit of the local culture.
First stop was a coffee farm where we were able to see and participate in the detailed process from coffee bean to coffee in a cup. All led by the local Coffee Queen.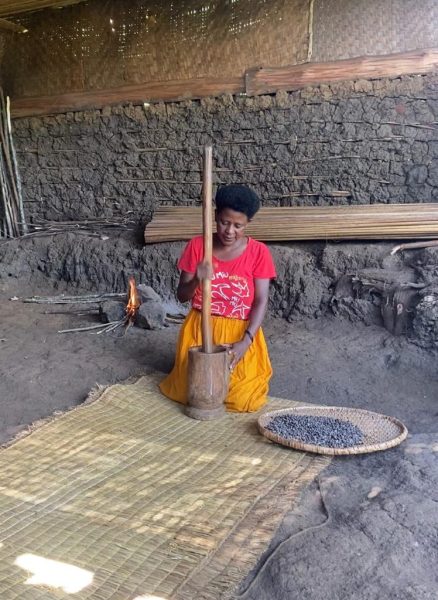 We joined in picking beans, carrying them on our heads, and then taking part in the crushing process.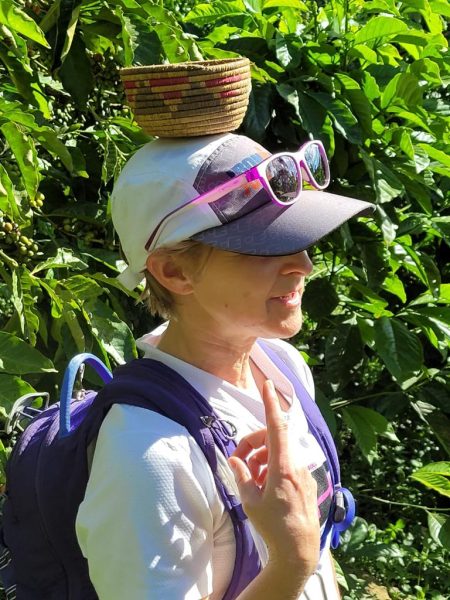 The crushed beans were then roasted over a hot fire, crushed again, and then sifted into a supply of ground coffee. The coffee was made and all were invited to sample.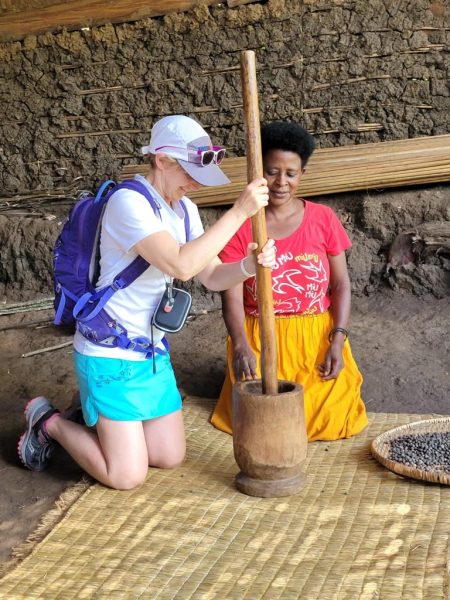 Next, we visited an 84-year-old medicine man. He sat on the ground surrounded by a variety of animal skulls and local plants. Through an interpreter we learned he treats rabies, malaria, and tuberculosis.
Next stop, we visited a hut where a group of women were weaving baskets and provided a hands-on demonstration.
The baskets are weaved using papyrus reeds. They also danced and sang.
Lastly, we saw a demonstration on the making of banana gin!
Fresh bananas are covered with banana leaves stirred with switch grass in a large tub, then squeezed out. This liquid is then left to ferment. Banana juice is ready in one day. As this liquid is left to ferment it turns into banana wine in two days , then banana gin in 10 days.
What a fantastic day with our Uganda Safari Mountain Gorilla Trekking Women's Travel Group!!
• Uganda Day 7 •
Gorilla Trek Day!!
We have all been anxiously awaiting this day!
We're headed into the Bwindi Impenetrable National Forest in hopes of sighting the Mountain Gorillas. We gather at the ranger station where we are greeted by men and women dancers from the local community. They are members of the Bakiga (ba-chee-ga) tribe and are dressed in the bright colors of the Uganda flag. Their songs and dances are joyful and energetic and members of the audience are asked to participate.
Yes!! A few of us join in and there are lots smiles all around. Music and dance. It's a beautiful universal language shared by every culture. My personal advice to you, dear reader. . .NEVER pass up the opportunity to dance!!
A park ranger gives us a short talk on the park area and the massive conservation efforts in place to protect both the land and animals. A percentage of all proceeds are given back to the local community. This process has made enormous strides in reducing poaching; the greatest threat to the gorillas.
Next, we split into groups of six and four. We were introduced to our guide for the day.
She carries a machete. She continued where the park ranger left off, giving us a briefing as to what to expect as we enter the jungle. From a nearby poster board, we're shown pictures of the gorilla family the group of six will be observing today. There are 13 members in the family.
We are each teamed up with a personal porter. They are responsible for carrying our backpacks, and lending a helping hand throughout the trek. At first glance, the use of porters seems to be an unnecessary luxury. It won't be long until we realize they are a necessity. The last person rounding out our entourage is a park ranger.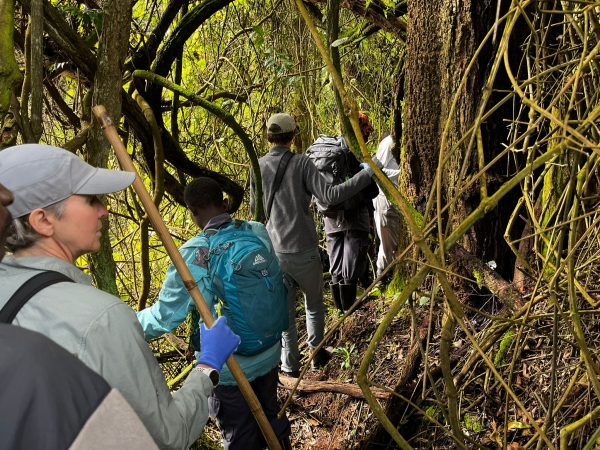 There are already trackers out in the jungle looking for our gorilla family. They start at where they nested down for the night and track from there. The trackers are in contact with our guide, giving her information as to our starting point. We get back in our vehicles and head down the road a few miles.
Once out of our vehicle, we reunite with our porters. We are all handed a bamboo walking stick and off we go! At first, we're following trails created by the forest elephants. We hope not to see any of them as they are very aggressive. Now and then we stop, giving our guide a chance to communicate with the trackers. She gives us more detailed instructions- stay close together, watch your step, take your porters hand when offered, ask for a hand when needed.
We are dressed in long sleeve shirts with our pants tucked into our socks. We're wearing gardening gloves; the kind with rubberized palms. The jungle is unforgiving. Safari ants are a real possibility. LOTS of the plant life has thorns. There is a reason this forest is named 'impenetrable'! Soon, we leave the elephant trails and step directly into the forest. Our guide is using her machete to help clear the way.
The terrain changes to an incline. The humidity inside this tropical rainforest hangs heavy. It's impossible to see the forest floor as it's covered with leaves, ferns, and vines that catch your feet. We carefully watch the steps of our porter in front of us – matching his/her footsteps. We climb up and down and sideways along the mountain side. We're at approximately 7500 feet above sea level. In this environment, it doesn't take long to feel the effects.
When our guide knows we are close to the gorilla family, we leave the porters behind and continue on. The anticipation is high. Soon, we stop. And there, 30 feet in front of us, down the hillside a bit, is a mother and child gorilla. We gather in a tight group, some of us standing, some sitting, and watch them interact with each other.
The gorillas seen on trekking excursions are habituated to seeing humans. The process of habituation is slow; taking three years before the first tourists are involved. Make no mistake- habituation does NOT mean these animals are tame. We remain at the required 30 ft distance. We're advised that the gorillas may move closer to us.
The mom and baby soon move up the hillside, along with another young adult, and we follow. We run into other members of the family. Some are up in trees, some are lounging under bushes. Finally, we come across two moms and two youngsters. Baby boys ages 2 years and 1yr 10months. We sit above them on the incline and are entertained by their joyous antics. The babies climb vines close to us and wrestle on the ground.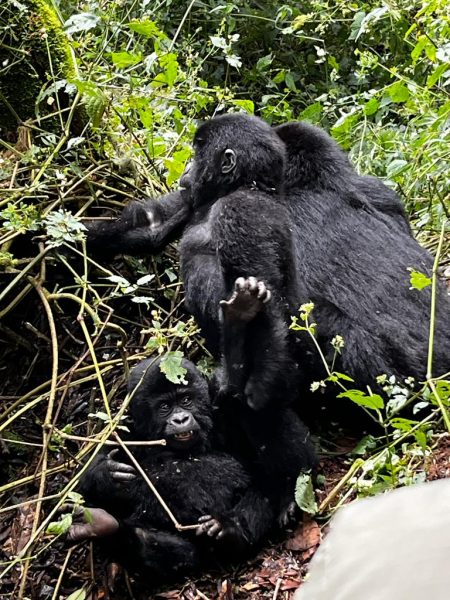 They all leave to the right of where we're at and we scramble down the incline too. It's then we see the dominant male. A humongous silver back!
He was there the whole time! Lounging on his back in the tall grass just behind where the toddlers had played. He got up and crossed directly in front of us, following his family. He was absolutely massive! He made a sharp right and instantly disappeared into the thick forest growth.
Our time with the gorillas was over. Our porters appeared by our sides once again as we made our way back out of this magical, magnificent, and memorable Bwindi Impenetrable National Forest.
---
If Uganda is a trip you dream of, please join our Facebook Interest Group, and receive updates and information on dates for next year.
Click here for details and trip highlights for our Uganda Safari Mountain Gorilla Trekking Women's Travel Group.