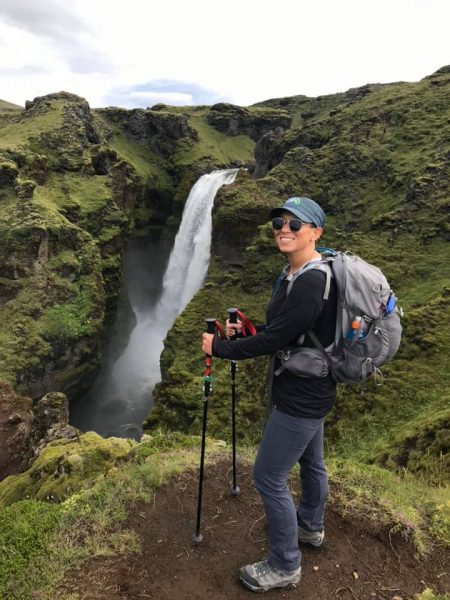 I used to be a beach person. Up until July of last year the majority of my vacations had consisted of beaches, and doing as little as possible on said beach. A couple friends and I decided to go to Iceland on an all women's group adventure. I didn't know it then but this choice would completely alter my…everything. 
10 days in Iceland. You can accomplish a lot in 10 days and boy did we ever. We had a small group of 12 women. And although the group may have been small, the personalities were anything but. We all got along marvelously which I must say was one of my worries before the beginning of the trip. I had not done a group trip since college but by the end of dinner on the first night we were laughing and getting to know one another. And those initial 'first day of school jitters' faded fast. The quaint small-town feel of Reykjavik welcomed us with open arms and friendliness. But the magic of Iceland doesn't really begin until you leave the city. 
We've all seen the carefully curated Instagram photos of the Blue Lagoon, Icelandic horses, and waterfalls. And all of those are guaranteed on this trip. There were too many waterfalls to chase or count. Iceland is magical and that's not just a catch phrase. Stories of trolls and mystical beings permeate the island. The entire experience was one big adventure. I really enjoyed the black sand beach scattered with diamonds and the zodiac boat trip to visit humongous icebergs. We kayaked and enjoyed a plethora of hot springs, and trekked on an actual glacier! I honestly didn't know beaches could have black sand. 
My favorite hike was along the Fimm Trail. Remember when I said I was a beach person? I had done some hikes back home in Indiana…very flat land for the most part. This hike was on a whole new level both literally and figuratively. Thorsmork Valley of the Gods, was some of the greenest green I had ever seen in my life and I had all these incredible new friends sharing it with me. There are countless opportunities for photos – so many pictures to take of the varying landscapes. One minute you're admiring the waterfalls and greenery, and the next you are sharing inside jokes and stories in complete awe with your fellow adventure buddies. 
The land is absolutely breathtaking and my words don't do it justice. But it's the memories and friendships that you won't forget when you're back at home reminiscing to friends and family about the amazing adventure you just experienced. 
Look like a fun trip to you? Join us July 22-31, 2020 and begin your adventure! For more information click on the link below and save $200 if you sign up by Jan. 15th. 
Available NOW! (updated 1/11/2020)
Trips for Men & Women
March 10-17, 2020 Baja Sea of Cortez Snorkeling Wildlfie Safari (4/10 spots)