This chapter of Notes from the Field is a little different. Trip Leader Aimee Lowe asked a participant to write about their experience each day. Continue reading for each day's EDventure on our Women's Roatán Snorkeling & SCUBA Eco Tour from the participant's point of view.
• Day 1 •
Saturday, July 22 (by Patty)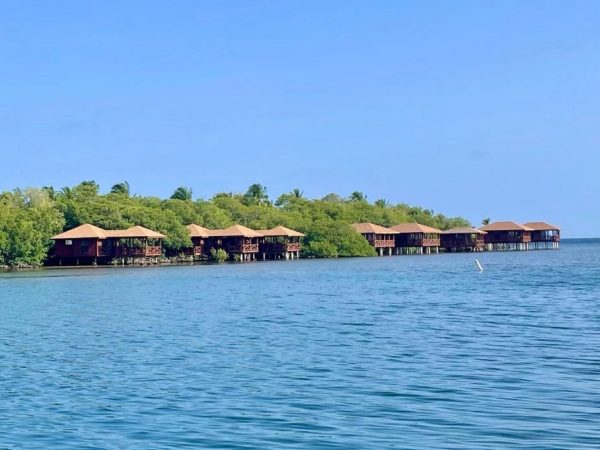 Our journey began at the Miami airport; the 13 travelers hailed from Florida, North Carolina, Virginia, Wisconsin, and Arizona. Ages ranged from twenty-something to seventy-something. As soon as Aimee, our trip guide appeared, the trip excitement began! With her ever-present smile and enthusiasm, introductions were made, and our new Green Edventures rash guards were distributed. The flight from Miami to the airport in Roatán, Honduras took only two hours. Unfortunately, our wait in the customs line was almost as long. But, not to be discouraged, the travel buddies took advantage of the slowly snaking line getting to know each other; some even played games with the young family members standing in the line with us.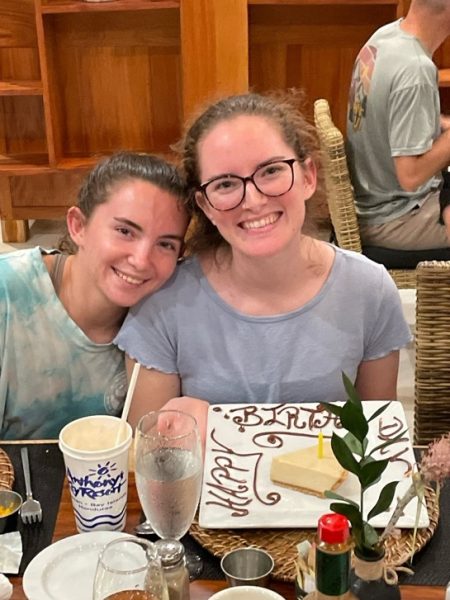 Upon arriving at Anthony's Key Resort, everyone agreed that the wait was worth it!  The surrounding tropical area was beautiful, the facility staff were friendly upon check-in, and the assigned rooms included gazebo/cabanas on the water surrounded by mangrove trees. We felt like were in a tropical paradise!! After organizing our dive and snorkel equipment, we went to our assigned cabins. As a solo traveler, I was fortunate to be paired with a great "roommate" for the week.
Unpacking done and eager to get to know more about the week's itinerary, we gathered around the pool for happy hour and the informal orientation. The energy level at dinner was high! Plus, it was Nicole's Birthday! First day celebration! It was evident new friendships were already forming!! We all went to bed looking forward to the next day when we would be taking our first dives or snorkel trips in Roatán.
• Day 2 •


Sunday, July 23 (by Sharyn)
Day 2 of our EDventure, and we were off and running!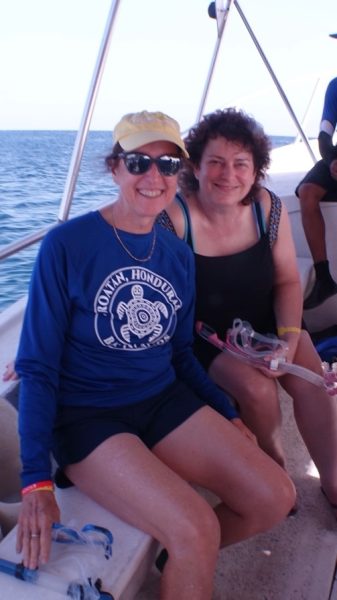 For most of us, Roatán is 2 hours ahead, so our internal clocks woke us up VERY early. The great thing about waking up early however, is that we were able to enjoy the spectacular sunrise from the patio of our over-the-water bungalows!
After a satisfying breakfast, we made our way to "Trevor", our trusty dive boat for the week, where Captain Richard, snorkel guide Calvin, and dive master David, welcomed us aboard. Once we loaded all of our gear onto the boat, we set sail for our first snorkel/ dive site of the day, Wrasse Hole. Like most of our dive/snorkel locations, the site was only 5 minutes away from the dock. After a short briefing for the snorkelers and for the divers, it was time to jump in the water and explore the reef below. The divers dove to a max depth of 85' while the snorkelers headed to the reef flat. Both groups saw tons of amazing coral along with an abundance of fish and other sea life. The water temperature was a delicious 86°. After 50 minutes, we were all back on the boat and heading to Anthony's Key for lunch.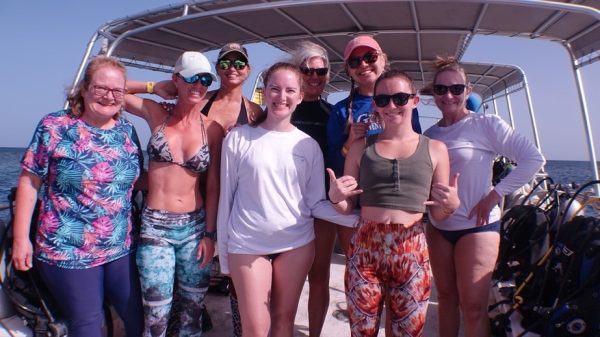 Immediately after lunch, we were back on the boat heading to our second dive/ snorkel site of the day, White Hole. The divers were blown away by the "wall"/ drop off. Its sheer size was breathtaking, but looking out into the blue abyss was a little overwhelming for some of us at first.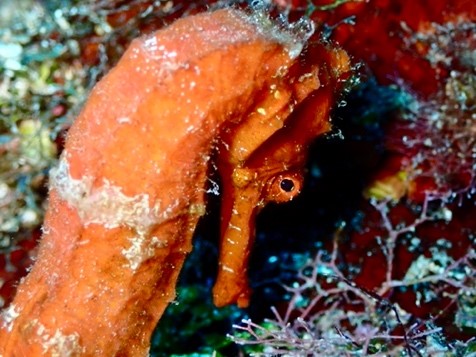 The wall was teaming with life! We were mesmerized by the healthy coral, the giant barrel sponges, the multitude of beautiful fish, the decorator crabs hiding in the soft coral, the HUGE moray eel, and the much-anticipated sea horse!
Invigorated, we returned to our bungalows for a quick shower, and then we were off to our next activity! We met up with Jennifer in the Roatán Institute of Marine Sciences (RIMS) classroom to learn all about coral.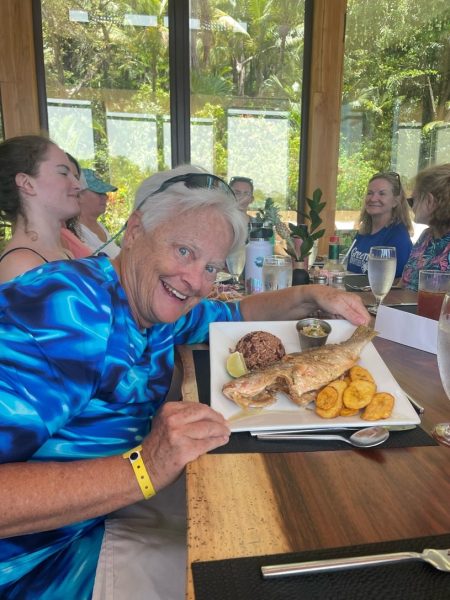 With a new appreciation for the "building blocks of the reef", we celebrated our awesome day with a few drinks at the pool bar before heading to dinner.
Aimee encouraged us to return to the RIMS classroom after dinner for dive master Pete's informative and entertaining Fish ID lecture. We learned how to identify many of the fish we would be seeing this week, but with his charming British accent and magnetic personality, he could have read "The Cat in the Hat", and we would have been equally enthralled.
Exhausted, yet excited about what tomorrow's EDventure would bring, we made our way back to our bungalows on the Key, where we all slept like logs.
• Day 3 •
Monday, July 24 (by Cat)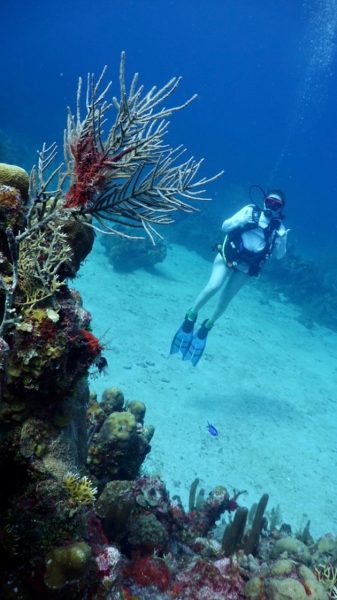 The third day of our Women's Roatán Snorkeling & SCUBA Eco Tour began with an electric energy that could be felt throughout the whole group. Everyone was buzzing with anticipation to get back in the water after an amazing first day on the reefs.
We kicked things off with not one, but two dives/ snorkels! I've been diving for 15 years, and these dives were on the prettiest reefs I've ever seen. The coral, the fishes, the colors – everything was amazing! It was a little windy that day, but that wouldn't become an issue until later.
A professional photographer from AKR accompanied us on our first dive. Props to her for being able to get us together long enough to take a great underwater group photo of our 7 divers!
The best part of the dive could only be compared to what's it like to walk down a street and have stray cats follow you in hopes of scoring a snack. In our case however, it wasn't stray cats, but adorable groupers. It was my first-time experiencing Nassau and Black groupers following us the entire dive. Loved it! It was later revealed that our dive master, David, would occasionally give the fish a little morsel. Very, "every Thursday, I give Pudge the fish a peanut butter sandwich" vibe if you ask me (Lilo and Stitch reference).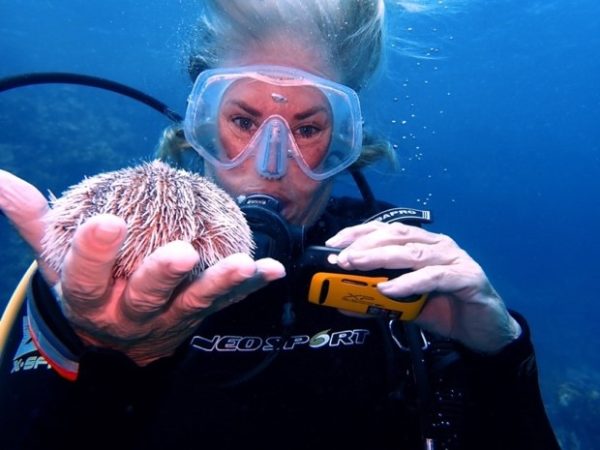 The second dive involved swimming through multiple reef canyons and small tunnels, that made me feel like I was exploring a whole new underwater world. Swimming through a cavern with the sun rays pouring through a "skylight" made me want to start singing "Part of Your World" (another Disney reference). If that wasn't fun enough, we also saw hawksbill sea turtles, moray eels, and SO MANY beautiful fish! Towards the end of the dive, David found a sea urchin, and we all took turns holding it before David used it as a hat.
After our two morning dives, it was time to head to Maya Key to eat lunch and explore the animal rescue area. The ride to Maya Key was not only the longest boat ride of the trip, but it was by far the rockiest. Rollercoaster designers wish they could come up with a similar ride that was as exciting and could make your stomach drop that many times. Aimee was worried that our group members would be discouraged by the bumpy ride, but everyone was having the time of their lives and were hoping for a similar ride on the way back! Green Edventure women rock!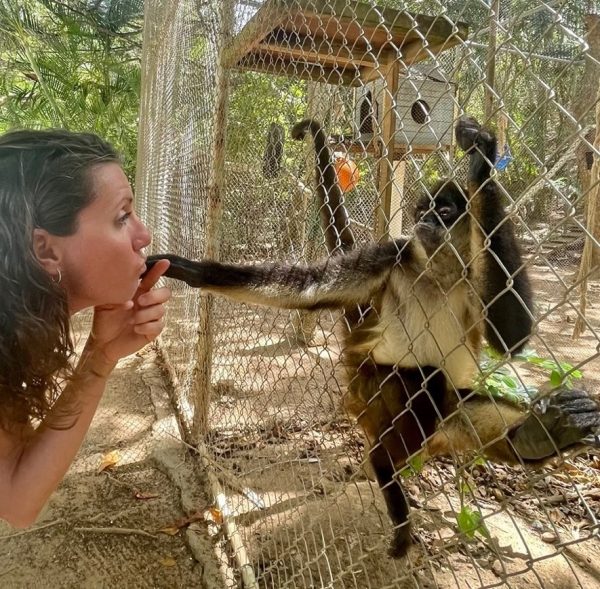 Once we arrived at Maya Key, we were treated to a yummy lunch buffet, after which we had time to explore the island. That's where we all fell in love with a certain male who was quite the character. His name was George, and he was a dark-haired, brown eyed flirt who could make your heart melt. And, if you were lucky, you were invited to hold his hand or even his tail. George is a rescued spider monkey, and one of the biggest flirts I've ever met. Despite spider monkeys' apparently bipolar nature (later revealed to us at another animal sanctuary), George had the calmest demeanor. He just wanted to make kissy faces and hold your hand. What a guy.
The animal sanctuary on Maya Key is also home to macaw parrots, several white-faced capuchin monkeys, a jaguar, and many other cool critters. Before we knew it, our time on the island was up, and we had to head back to AKR. Unfortunately, it was a much smoother ride on the way "home". 🙂
Once we washed up, we met at the restaurant for another delicious dinner. We ended the day in the Roatán Institute of Marine Sciences classroom, where Jennifer taught us about the anatomy of bottlenose dolphins in preparation for our dolphin snorkel the following morning!
• Day 4 •
Tuesday, July 25 (by Jessie)
Waking up a little later already makes for a better start to the day. Keep in mind our later wake up time was 7:30…. While breakfast was as exciting as ever (beans and tortillas anyone?), we chowed down as we mentally prepared for the day. Personally, today was my favorite day – DOLPHIN SWIM DAY! Woo hoo!!
With our snorkel gear in hand, we rode the boat over to Bailey's Key, excited to swim with the resident pod of dolphins. After a short briefing, we walked into the water until we were about waist deep in order to meet our group's volunteer dolphin and her trainer. A 3-year-old, and extremely vocal, bottlenose dolphin named Sandy showed us what it's like to be a dolphin. We gave her multiple rub downs after she demonstrated her method of swimming and her marine mammal anatomy. She was squeaking and whistling our entire session. I think she was saying she wanted to be one of the WWOW (Wild Women On the Water)! Everyone got sweet dolphin kisses from Sandy, with pictures to prove it happened, before she impressed us with her awesome jumps. Everyone agreed that Sandy could join our club. She is now officially a WWOW!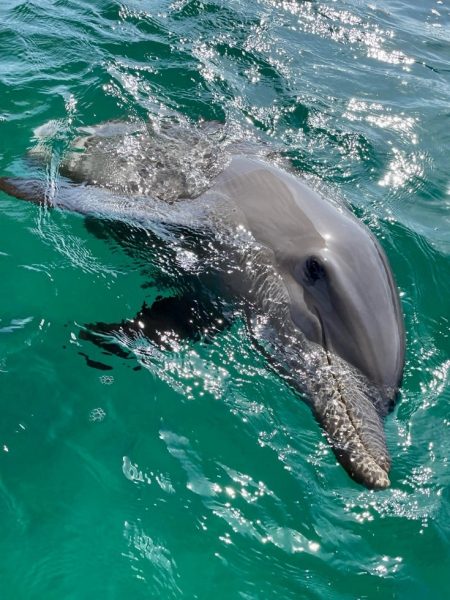 We waded back to the beach and geared up for our dolphin snorkel in the lagoon. Once we entered the water, we swam around looking for the 18 dolphins in the 2 acres of water that is their home. The first dolphin to interact with us was baby Gizmo and his mom. He was so curious about us that he would swim right up into our faces with a big toothy smile. Before long, what felt like the entire pod wanted in on the action, and they began zooming around us. Cat and Sam tried to entice them to play by diving to the bottom and hanging out there. Aimee and Sabrina waved sea grass and leaves at them. I was wearing a zip up wet suit jacket, so I started zipping and unzipping. The dolphins were so curious about the fun and new sound. Several of them swam up trying to figure it out, and a couple of dolphins even mouthed my zipping hand – they couldn't get enough of it and were echolocating on me like crazy!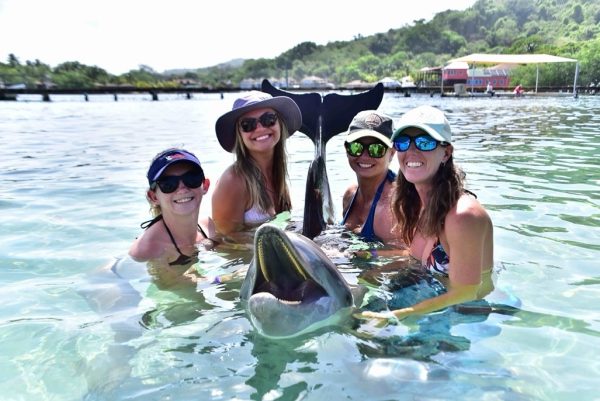 As we left the water, the dolphins followed us into the shallows begging us to stay and play; but sadly, our time was up, and we had to leave.
We rang the scuba tank "bell" on the dock (Finally! We've wanted to do that all week!), and Conner zipped on over, double parking, to pick us up. Since Aimee forgot to tell the resort that we needed to eat lunch early, I ran over as soon as we landed to ask the kitchen if we could eat early, because our island tour started right at lunch time! Luckily everything worked out perfectly, and we were right on time for our tour guide, Angelo, to pick us up – can you say "Family!"
We hopped in the van, and Angelo immediately start teaching us all about Roatán and Honduras. The first stop on our island tour was to see the amazingly cute and cuddly sloths and crazy monkeys at The Hangout! The first monkey we saw loved loved loved Cat! He climbed her like a tree and proceeded to mess up her carefully styled hair – so mischievous! We all got a big hug from a sloth, then stood in an enclosure while sunflower seeds were unknowingly dropped in our hair. The monkeys jumped from head to head to head – not something we expected, but danged if it wasn't fun!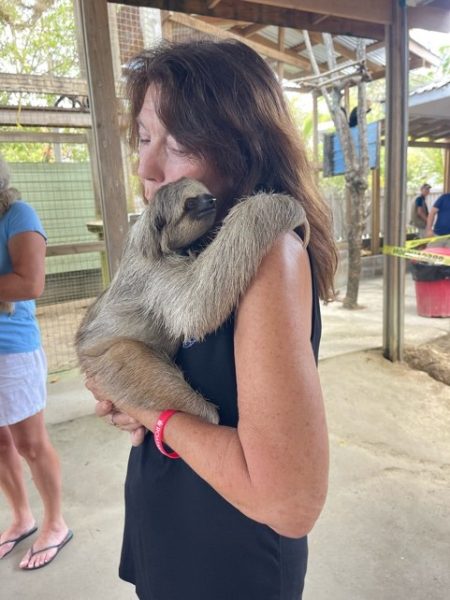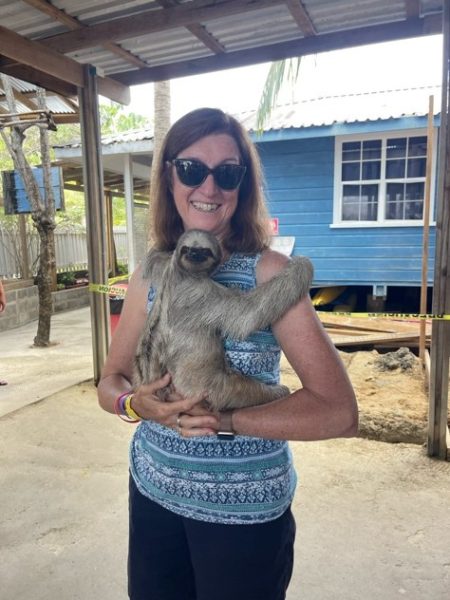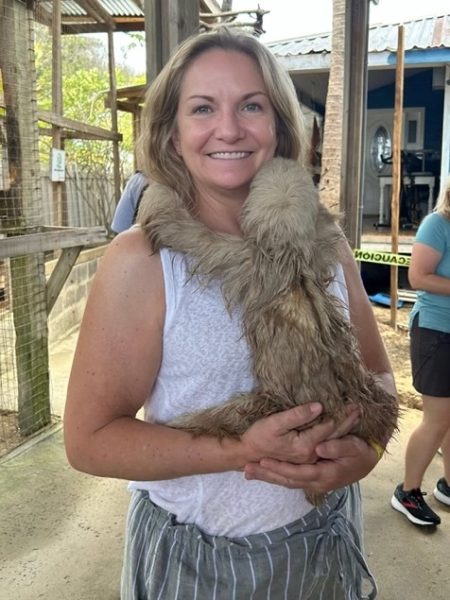 After a stop in the gift shop to purchase some souvenirs, we jumped back into the van with Angelo and drove right down the road to the iguana farm.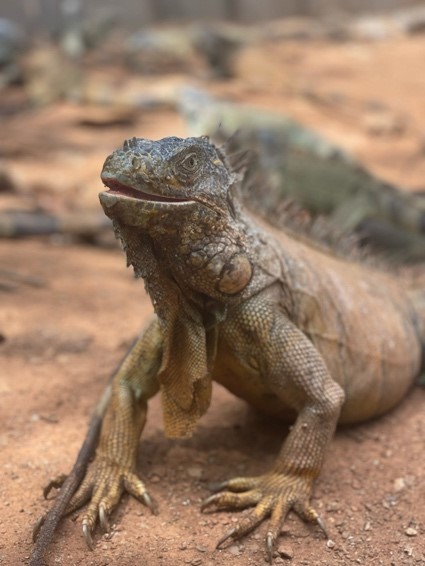 With so many Floridians in our group, they didn't find the iguanas quite as impressive as the sloths. However, (almost) everyone was converted into an iguana lover once we held a cute baby green iguana and fed the adult iguanas yummy branches of leaves. On the way to the dock to feed the huge jack and tarpon fish, Joan decided to do a little arts and crafts on her shorts by sitting in some lovely turquoise wet paint. She wound up getting a new bright and beautiful wrap skirt out of it though! Way to work the system, Joan!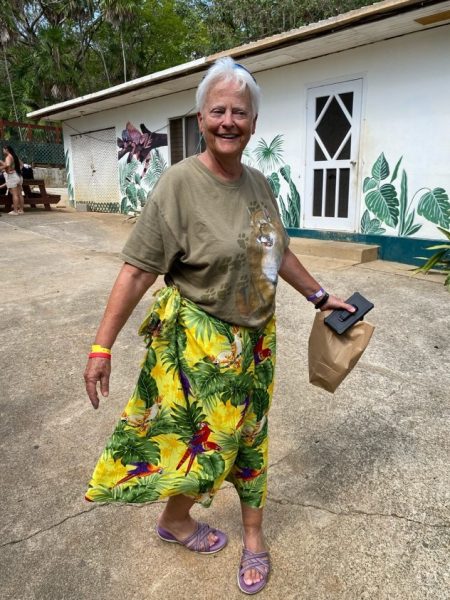 After playing with the iguanas, it was back in the van to head to Punta Gorda! Angelo told the Family stories of how the Garifuna people from Africa kept to their cultural trueness on Roatán. They still have their own flag, dance, food, drink, etc. Their drink, Guifiti, is a type of alcoholic "medicine" that they make from a recipe that is hundreds of years old. This stuff is an aphrodisiac and prevents every illness including COVID, or so we were told.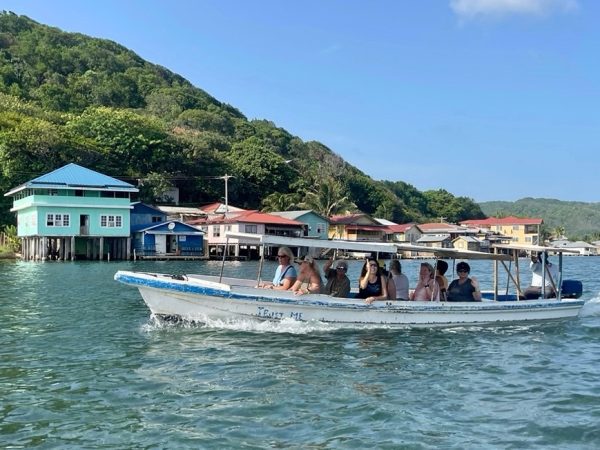 The last big stop on our tour was to take a boat ride through Oakridge – the town that sits in on the water, so "It's all about the boat ride" with Captain Alex! "Here's the grocery store, here's the hardware store, here's Captain Alex's house" (hee hee). The highlight of the ride was cruising through the mangrove tunnels where the Roatán natives hid from pirates centuries ago. "Let's go hide in a mangrove tunnel…"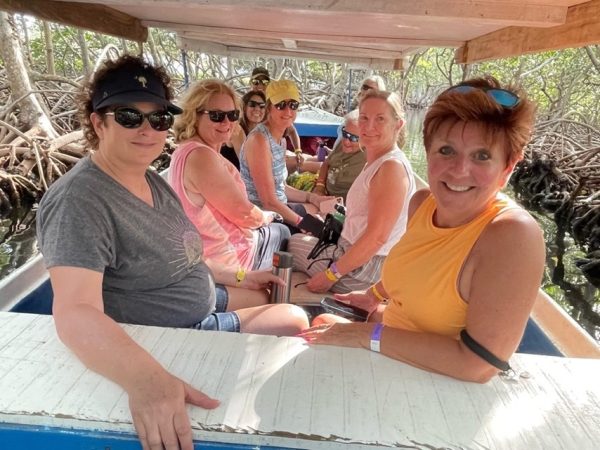 Back on the bus, we found that Angelo bought us some Guifiti. Aimee encouraged all of us to try the Guifiti, and everyone enjoyed it so much, that we stopped back by Porta Gorda and bought our own bottle of Guifiti fixings, so we could make it at home.
Angelo quizzed "The Family" on Roatán history on the way home, and everyone passed with flying colors – Celestial Kingdom, Deep Water, Five Cultures, Blue and White, National Hero!
We made it back to AKR, grabbed some dinner and wrapped up our loonnnggg but absolutely amazing day on our Women's Roatán Snorkeling & SCUBA Eco Tour!
• Day 5 •
Wednesday, July 26 (by Lori)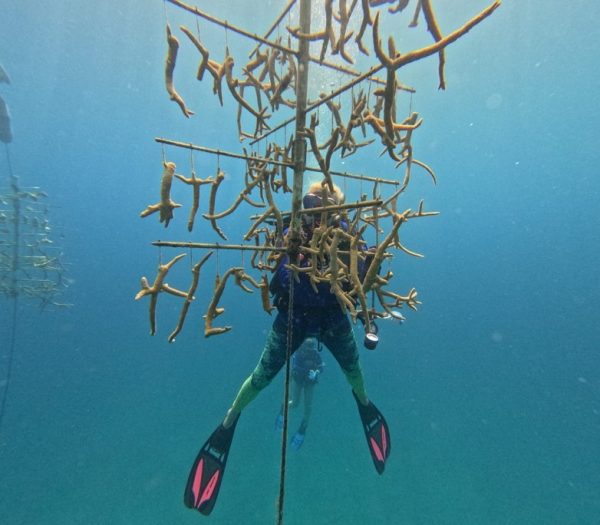 We had a 7 AM breakfast call, followed by a presentation in the RIMS (Roatán Institute of Marine Science) classroom on Coral Restoration. Jennifer, the Education Director at RIMS, spoke about the many benefits of coral reefs and the natural and man-made dangers they face. RIMS has developed a coral nursery using PVC trees adorned with fragments of staghorn and elkhorn coral. These two types of branching corals grow at a faster rate than the massive corals. The trees are suspended in the ocean in about 25' of water. After class, our boat headed out to the restoration "forest". Our divers worked with small wire brushes to clean algae, fire coral, etc, off the PVC pipes, while the snorkelers watched the action from above before heading to a shallow reef to swim amongst the beautiful fishes. There are several trees in the RIMS coral nursery that have been sponsored by past Green Edventures groups and individual Green Ed travel buddies. Seconds after the divers got back on the boat, they found they all had teeny tiny crab like creatures called amphipods attached to their gloves, rash guards, and swimsuits! In a flash, they removed their outer wear and jumped back in the water for a quick rinse! (They may have been screaming "get them off, get them off", but I can't attest to that.)
The boat moved to a second site, so that both the divers and the snorkelers could experience more underwater action.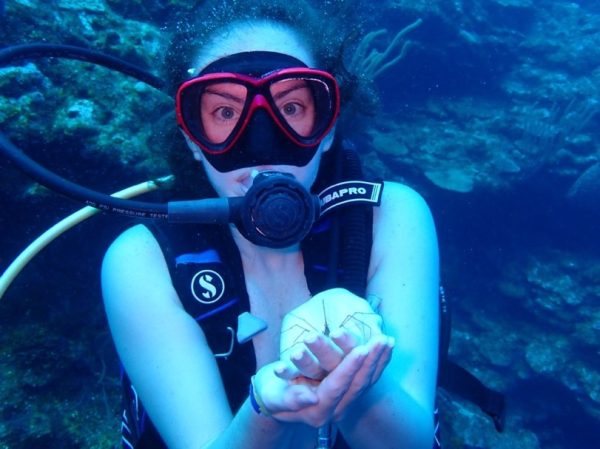 Today's sightings included large schools of blue tangs that swam across the reef stopping often to feed on algae, resembling a herd of grazing cattle. The snorkelers also saw a couple of barracuda up close and personal as well as lots of moon jellyfish. A rare indigo hamlet was spotted, and the sea floor was dotted with a multitude of black spiny sea urchins.
Patty's camera became detached from her wrist when she removed her fins in order to climb up the boat ladder. She sadly watched her camera descend to the ocean floor. Thankfully, we were in relatively shallow water, and dive master David came to the rescue and was able to retrieve it!!
After lunch, we met in the classroom once again for Part Two of Jennifer's lecture on dolphins. We learned about their remarkable intelligence as well as how they communicate and echolocate. It was fascinating to learn that dolphins sleep by resting half of their brain at time, never fully losing consciousness as we do. This class was in preparation for our second dolphin encounter happening tomorrow.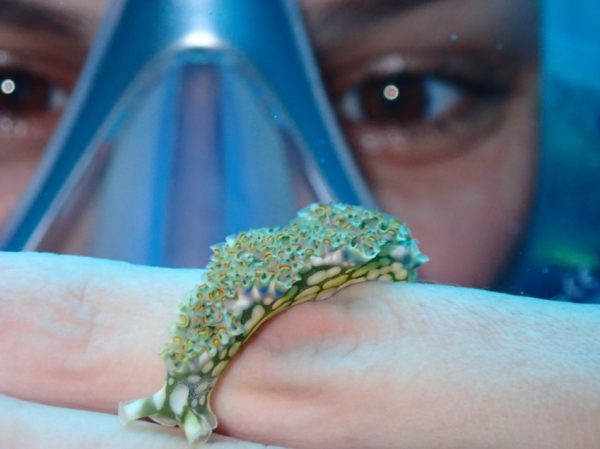 After class, we had a few rare hours of free time! Some of us took a nap, some spent time in the pool, and some sat back and just relaxed in our over-the-water hammocks. This was a great opportunity to recuperate from our fantastic, non-stop, day before the evening festivities began…FIESTA NIGHT!
Fiesta Night is organized by the resort and took place on our little Key. It is a party for everyone at the resort! We started with Happy Hour, followed by a delicious buffet dinner. After dinner, a group of indigenous island people, known as the Garifuna, demonstrated their unique dance and music. We were probably the only ones at the resort who had visited their town of Punta Gorda and were familiar with their history on the island.
Next up was a trio of contests, and the Green Edventures ladies swept them all!
The Hermit crab race was won by Sabrina (via the crab Aimee picked for her)!
The limbo contest was won by Jessie (for the third year in a row!! Jessie loves the Green Edventures Roatán trip so much that this is her 3rd time on the trip with Aimee!)
The dance contest was last and included Jessie, Sam, Cat, Aimee, Lori, and Patty along with several other AKR guests. Despite our best dancing efforts, everyone was deemed a winner anyway! All the winners received $5 vouchers for the gift shop, as well as the pride that comes from knowing that our Green Edventures women dominated in all of the events!
The band continued to play and Green Ed ladies filled the dance floor. The perfect day ended with a few GE adventure buddies jumping off the boat dock in their dresses for a refreshing evening dip!!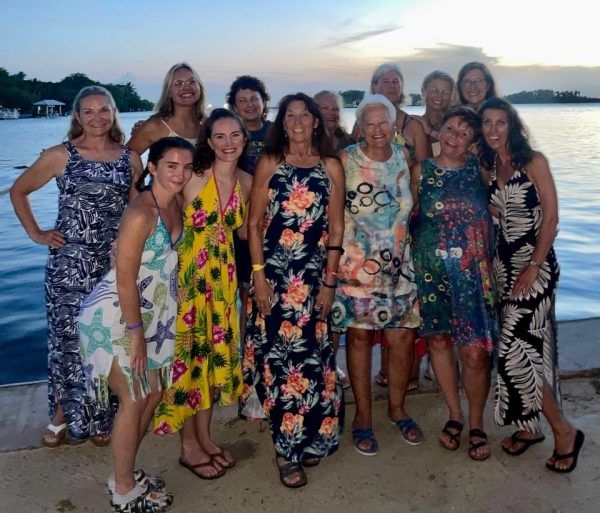 ---
If this trip is on your bucket list, we would love to have you join us next year with our
Women's Roatán Snorkeling & SCUBA Eco Tour
---
• Day 6 •
Thursday, July 27 (by Nicole)
The 6th day of our Roatán EDventure was packed with snorkeling and diving activities, but we also took a short break from the water in order to act out our childhood dreams of becoming dolphin trainers.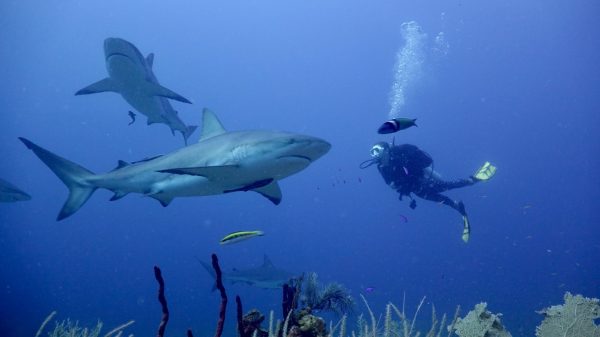 The first activity planned for the day was the shark dive for the scuba divers. As a group of avid shark lovers, we were super excited to swim amongst these beautiful fish. Sergio, "the Italian Stallion", was our fearless leader and dive master. Once we set up our gear, Sergio gave us a safety talk and let us know what to expect during the dive. The briefing was followed by a 30 minute boat ride out to the shark dive site, Cara a Cara. This dive was one of the coolest I've ever been on, as we had the unique chance to see Caribbean reef sharks in their natural environment. We were all pleasantly surprised to see just how calm all of the sharks were even though they were gearing up to be fed. We had the chance to swim along side them, as they navigated the reef.
I was amazed at how close they would come to us (within 6 inches) before they decided we weren't of interest and turned in a different direction!
After about 25 minutes, Sergio signaled us to move out of the way, as he positioned the bucket of fresh fish for the sharks to feast on. Once he opened the bucket, the sharks went into a sort of feeding frenzy which was exhilarating to watch! After the feeding was over, our group was allowed to move towards the empty bucket to search for freshly fallen shark teeth. All of us ended up with a shark tooth to take home as a souvenir!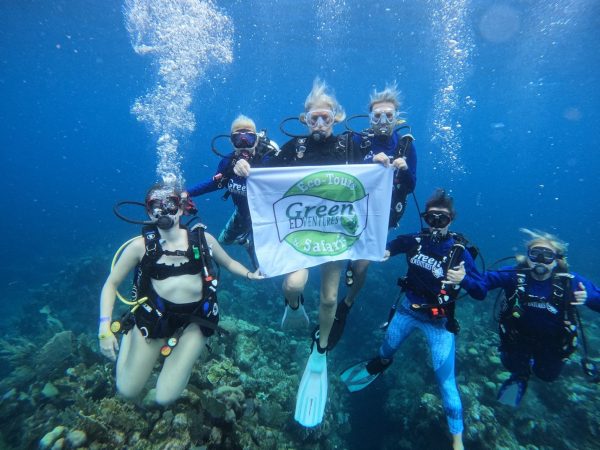 When we returned from the shark dive, we met up with the snorkelers, who also saw a shark during their snorkel! During lunch, they filled us in on the other cool critters they saw while we were underwater.
On the way out to their snorkel site, they saw a HUGE Southern Atlantic stingray! She was about six feet across!!!! Gorgeous!! She was gracefully swimming across a sandy bottom area making it very easy for everyone to see.
The location they went to was different from their previous snorkel sites. It was on a coral patch reef, loaded with individual mounds of coral separated by stretches of sandy bottoms. Previously, they had snorkeled along or over continuous coral reefs. They found it interesting to see the fish varieties and all their fabulous colors in this new landscape, as it was relatively shallow throughout the entire area.
The snorkelers weren't in the water long when David pointed them in the direction of the shark! He spotted a nurse shark, about 4 ft long, lying near the bottom of the sea floor, tucked in near the coral.
They also saw a HUGE lobster ducking in and out of a cozy nook. Next, David found a big lion fish. Lion fish are invasive – we all wish they weren't there at all. That said, there is no denying that they're an impressive sight to see.
Many of those snorkeling today were seeing these creatures in their natural environments for the first time, and they all agreed that it was a great snorkel on a great trip to Roatán!!!!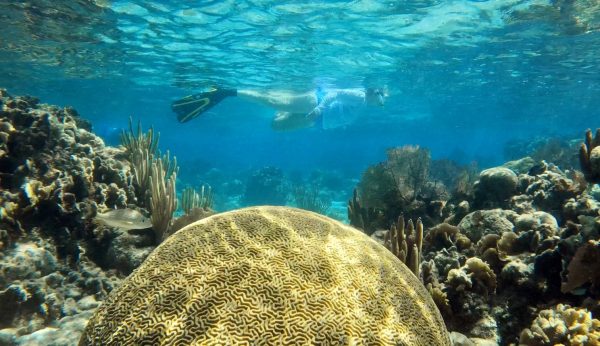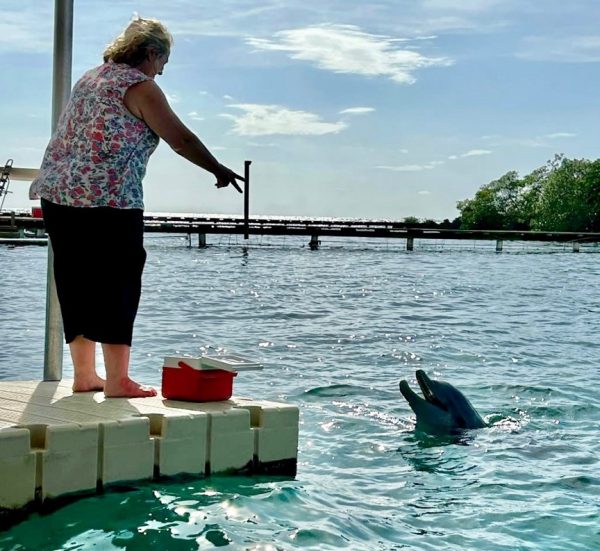 After lunch, we all took the short "taxi" boat ride over to Bailey's Key for another dolphin encounter! This time, we took part in a training session with two of the bottlenose dolphins that reside there. As a part of the training session, we got to meet Rocky and Buzz who are both just over two years old. During the session, we learned some of the hand signals that these juvenile dolphins have been working on mastering. We took turns at the front of the training platform using the hand signals and awarding the dolphins with praises and fish when they performed the correct behavior. It was so interesting to see the difference in these 2 dolphin's personalities during their training. Occasionally Buzz would not perform the correct behavior out of stubbornness, while Rocky exhibited exuberant pride when he performed a behavior correctly. Our group was so thrilled to work with these intelligent animals, and it seemed like they were equally excited to participate!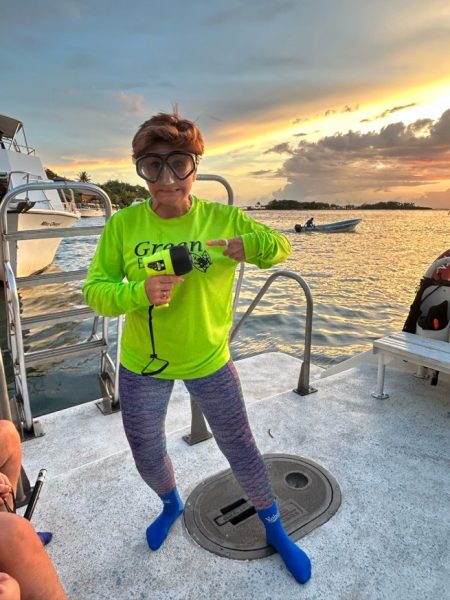 Diving with sharks, snorkeling on a coral reef, AND training dolphins! You would think that the excitement would be over for the day, but no, Aimee had other plans! It was time to get in the water at night! As the sun was setting, we split into our snorkel and dive groups and boarded our boats.
The divers headed to 'Peter's Place' and entered the water just as it was getting dark. It was amazing to see the reef come alive at night! As the fishes were bedding down for the night, the crustaceans were coming out to look for dinner. In addition to seeing tons of lobsters and shrimp, we saw a HUGE channel clinging crab and several basket stars opening up to feed on the tiny plankton floating in the water. My favorite part of the night dive was when we were able to experience bioluminescence!
Once we all turned off our flashlights, we were able to see thousands of teeny tiny plankton light up as we moved through the water. It was the closest thing I'll ever get to performing magic and/or becoming Tinkerbelle.
Upon returning to the resort, we met up with the snorkelers who said they saw about 5 or 6 octopuses; something us divers were jealous of. But, that's the beauty of experiencing the reef from many different areas and depths.
Overall, the 5th day of our trip was jam packed with incredible activities and was, in my opinion, the most magical of all the days we spent in Roatán.
• Day 7 •
Friday, July 28 (by Janice)
The truth as I recall it.
We had an early start to the day after our underwater night expeditions, and all of us were still pining for Rocky, Buck, and Sandy.
After breakfast, we loaded onto our boat for a fun Friday finale. Thankfully it was a very short ride to today's site, as the Green Edventures sea shanty was sung over and over and over and over. Finally, the "the pool was open", and the snorkelers could jump in!
This was the best snorkel on trip! We spotted large parrotfish, big groupers, and multiple large schools of other fish; a great time was had by all!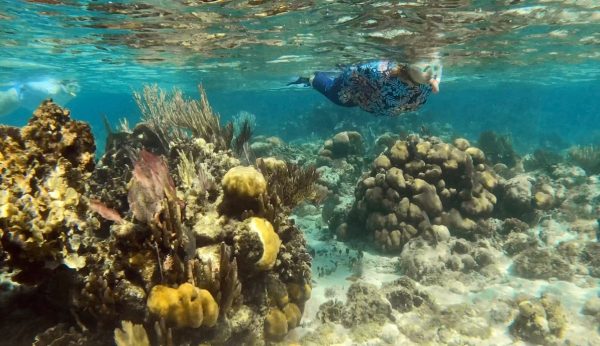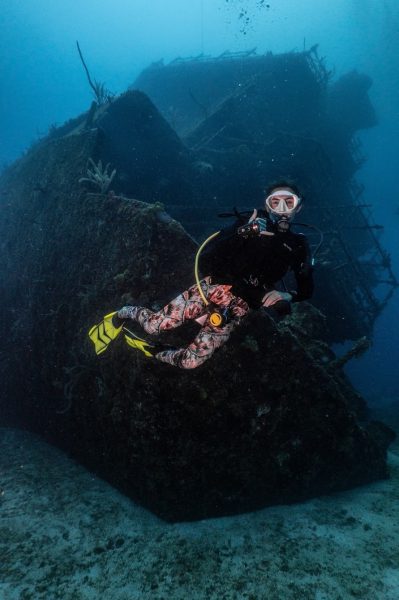 The dive site was close by to where the snorkelers jumped in, but in much deeper water. And OMG, this dive was a wreck (hee hee)! The Odyssey is a freighter that was intentionally sunk in 2002. It lays at depth of 115 feet, partially on its side, with the hull broken open. We followed the mooring line down to the 300 ft long sunken ship. The wreck had eerie, dark, multi-story compartments on the stern which you could swim through. So cool! If you took a peek at the surface, you could observe large schools of fish. Due to the depth, the dive was short, but the exit over the reef was a great way to spend the safety stop!
Captain Richard then raced the incoming storm to the dock…the Captain won. Sadly, it was time to bid a fond farewell to David, Calvin, and Captain Richard. We will miss our great guides!
Since the fish are not the only ones in school, after a quick rinse, some of the ladies went to visit the kids at SOL.
SOL is a type of community center that serves as a safe place for children to go to spend the day in an environment supervised by adults. It's similar to a daycare setting. The children ran into our open arms as we entered the playground area and greeted us with great big hugs!
Their adult supervisor, Kaylin, gave us a tour of the facility. The children came along for the tour! They have a big playground area with an assortment of climbing toys as well as a chicken coop with a couple of chickens! Inside, is a tiny play area, a kitchen and eating area, a library of children's books, and a work area that had a variety of supplies for artwork, etc.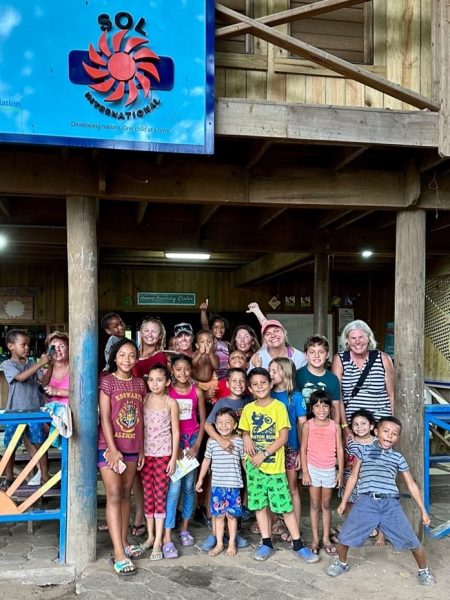 The children were eager to show us around, and they loved having their pictures taken. It was an absolute joy spending this time with them!
On the way back, our professional dolphin and shark photos were purchased by Aimee who drove a hard bargain …. Dolphin kisses…. Sweet.
After a quick lunch, we hopped on the South Shore zip-lining bus, and we were off again! First, we had the opportunity to stop in West End to shop at the Roatán Marine Park Eco-store, a nonprofit store with proceeds going to reef preservation. We made a lot of donations in exchange for t-shirts, rash guards, and hair conditioner in what looks like a mini scuba tank bottle.
We returned to bus to head up up up to the top of the island.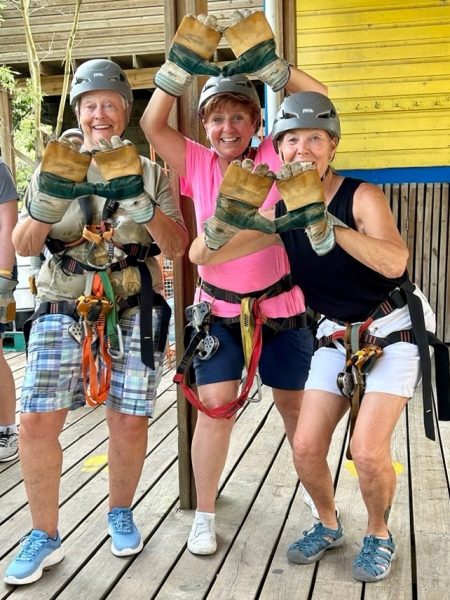 Next, it was time to ZIPLINE! Getting us in the harness was a bit handsy, but we all looked hot in the hard hats and gloves. Literally…hot and sweaty!!!!
We zipped over the canopy both right side up and upside down. Joan…Did you get a lot of tinder matches with your spider monkey profile pic? After 11 zip line trips with fantastic views of the ocean and jungle, and a much-needed water break, we had our 2nd adventure…the truck ride back to the launch point…yes you guessed it…spider monkey!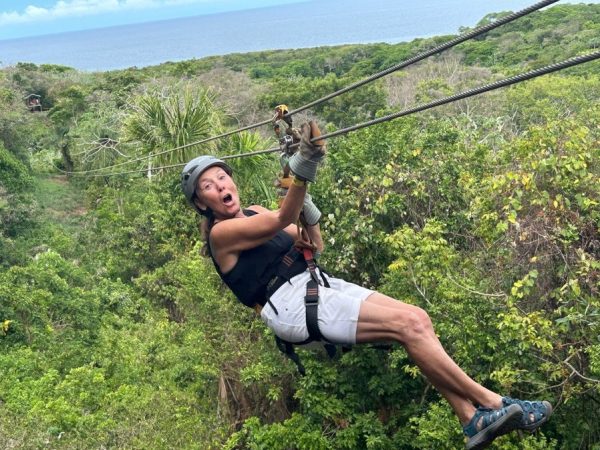 We continued up the hill to the new restaurant found by Dixie to partake in a cold beverage of choice and admire the specular views of the ocean, jungle, and iguanas in the trees. We returned to AKR and had a bit of free time to freshen up.
The last happy hour of the week offered a majestic Roatán sunset at the Frangipani Bar or dolphin lecture in rec room. Happy hours are the best!
Dinner offered a filet minion today and several ladies opted for a special last meal of lobster.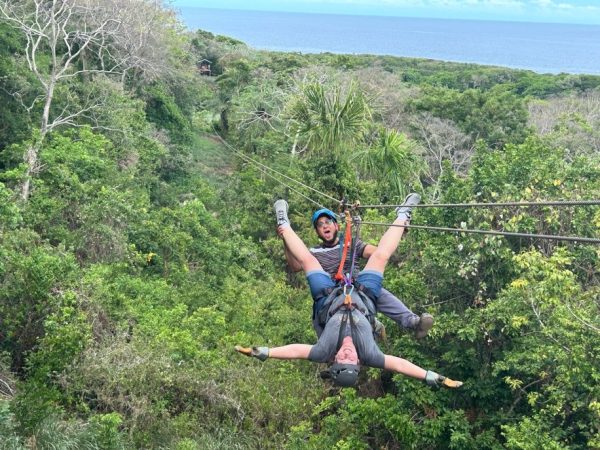 We enjoyed our last classroom visit to make beaded bracelets, play 'Exquisite Corpse' (aka 'Magnificent Creature' in Aimee's mind), and a memory game, while sipping on final happy hour purchases.
After our classroom fun, most of the ladies opted for a local experience at the Booty Barrrrrr in West End. I would say more, but what happens at the booty bar stays at the booty bar.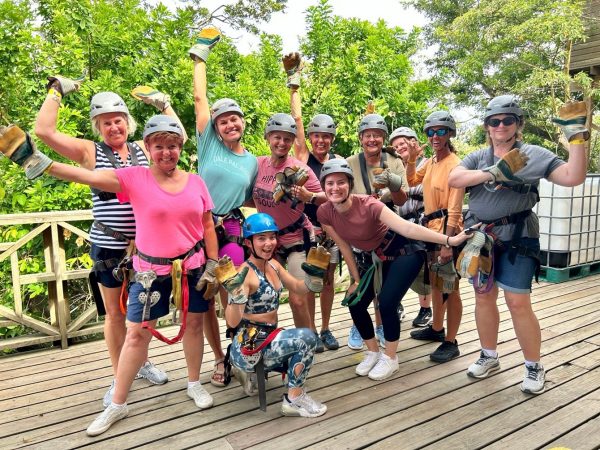 • Day 8 •
Saturday, July 29 (by Sabrina)
Our day started off later than usual on the final day of our Women's Roatán Snorkeling & SCUBA Eco Tour, since breakfast wasn't until 8:30, after getting our bags out by 8:00.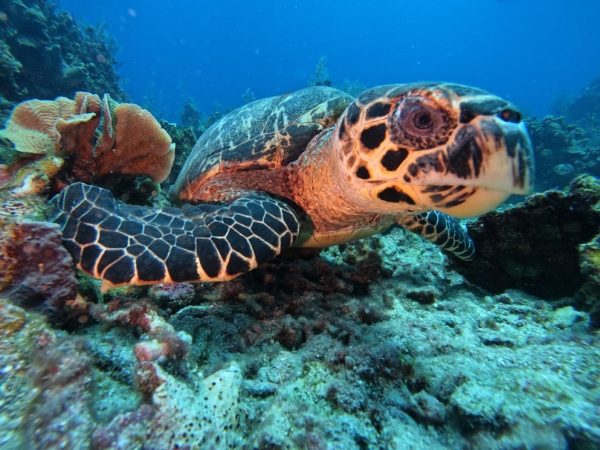 Our waiters were sad to see us leave our last meal, since we kept them entertained with our requests for crispy, crispy, crispy, crispy, crispy, crispy, crispy bacon and more coffee than a group our size should drink. No more donuts, cinnamon rolls, and mango sandwiches for us :(. Jennifer stopped by to wish the "party girls" goodbye, and we thanked her for all the amazing classes that she taught. We all agree that our informational lectures at RIMS made the trip especially enlightening, and we were surprised at how much we learned throughout the week.
We waved and shouted our farewells as we climbed in the van to head to the airport. Goodbye to all the staff that made us feel so special – Conner, David, Calvin, Captain Richard, Stanley, Steven, Ebanks, Erick, Sony, Timothy, Charlie and all the other great people.
Going through Immigration & Customs was surprisingly a breeze but left us with 3 hours to spend in the smallest airport in the Caribbean (not really). The only snafu was Sam losing her glass Guifiti bottle when it was confiscated by the Honduran TSA – it's just potpourri, I promise!
The gate agents began calling our flights, so we all hugged our goodbyes.
We will always remember our EDventure to Roatán, Honduras now that Joan, Edie, Patty, Sabrina, Janice, Dixie, Nicole, Jessie, Sharyn, Sam, Cat, Lori, and Aimee have become Wild Women On the Water – travel sisters in adventure and beyond!
---
If Roatán is a trip you dream of, please join our Facebook Interest Group, and receive updates and information on dates for next year.
Click here for details and trip highlights for our Roatán Trips for Women