Want to learn more about our Roatan Honduras Women's snorkeling and scuba eco tour? Check out this update from Trip Leader Kelly. Then go over to our Green Edventures Roatan Destination Page to learn about upcoming trips.
Green Edventures: Roatan, Honduras
Day 1:
Today we began our Green Edventures Women's Roatan (Honduras) trip. We were treated to spectacular views on our flight from Miami to Roatan.  We were welcomed to Saint Anthony's Key Resort with traditional rum punch and a delicious lunch. After settling into our bungalows we had a poolside snorkeling lesson followed by happy hour and a dinner of blackened red snapper.  We ended the day with a breathtaking sunset and short classroom time. 
Day 2:
We started the day off learning all about coral reefs at the Roatan Institute of Marine Sciences (RIMS), then went snorkeling and diving to see them in person. Everyone loved seeing all of the brightly colored fish and seahorses. We were even lucky enough to see Spotted Eagle Rays! After some funny boat shenanigans we had an Easter egg hunt and a fish identification class.
Video of Snorkeling in Roatan https://www.facebook.com/1572073137/videos/pcb.10224465277490775/1652661328421964
Day 3:
We started the day today learning about corals and coral restoration. Then we took a short boat ride to the coral restoration site. Our divers cleaned the coral trees while snorkelers watched from above. Green Edventures sponsors a coral tree for the restoration. After lunch we met with Cleve's Tours and Adventures. We went to Daniel's Monkey and Sloth hangout, where we held sloths and monkeys! Finally we fed iguanas at the Iguana Reserve. At the end of the tour we ate pastalitos (meat pastry) and drank the sweetest passion fruit juice. Check out incredible animal encounters we had today! Does this sound fantastic? It really is!
Day 4:
We started our day off with two morning dive and snorkel sessions. Then we took a boat over Bailey's Key to spend time with dolphins. After lunch we worked side by side with the trainers to get the dolphins to follow commands. We actually got dolphin kisses as a reward! Our dive guide Jenn taught us all about dolphin behavior, intelligence and the research program at RIMS (Roatan Institute of Marine Sciences). Then it was ISLAND FIESTA time!! There were hermit crab races, a limbo contest, live music, a dance contest and amazing food and drinks. We spent the night dancing and laughing, it was good for the soul!
Watch the Island Fiesta Here: https://www.facebook.com/100000100035763/videos/pcb.5782161951797082/969094407136484
Honduras Day 5:
We started our day off with a morning dive and snorkel session. We had an early lunch and a little free time to do activities like swimming, kayaking, stand up paddle boarding or reading in a hammock. Then we took a boat over Bailey's Key to work with the dolphins again. We learned all about behavior, anatomy, pod social dynamics and training while working HANDS ON with the dolphins. After that we were able to swim freely with 8 dolphins! They loved swimming with snorkelers, especially when they were handed sea grass to play with or when a snorkeler would move swiftly in the water. THIS EXPERIENCE WAS AMAZING and our day wasn't over yet! In the evening we went on a night snorkel and got to see a whole new side of the ocean. We spotted urchin, brittle stars, sea cucumbers, sleeping fish and octopus! The other divers got to swim with sharks!
Watch Video of Dolphin Swim Here: https://www.youtube.com/watch?v=u7yQ_HEJ8Y4
Day 6.
We started our day off with an easy Covid test at the medical facility right at Saint Antony's Key in preparation for our travels tomorrow. Then we went on our last snorkel and dive. We saw so many amazing critters on the reef! Aimee Lowe had collected donations for a local Roatan child daycare that many families depend on. Wet dropped off towels, candy, books, uniforms, pencils and crayons for the kids there. Then we got to play for a while (you know I loved that part)! After lunch we went zip lining and crossed tall rainforest bridges. Our group had so much fun! Our faces and bellies hurt from laughing so much. Lots of us even did some upside down zip lining.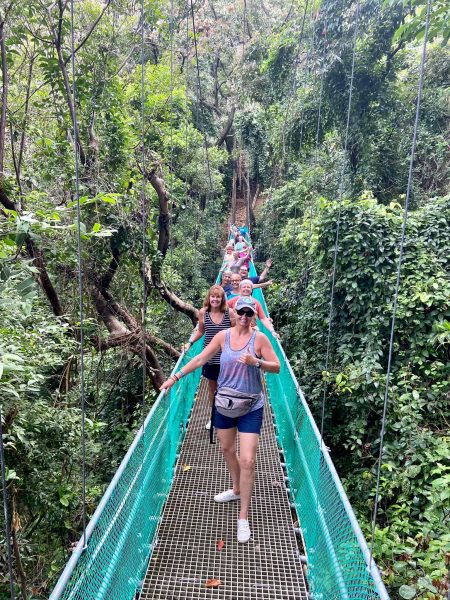 Day 7:
Departures Home
Interested in joining us for a Women's Roatan Honduras Snorkeling & SCUBA Eco Tour? Learn more here.