Recently Trip Leader, Lori Anderson, lead two groups of women on our Dog Sledding and Snow Shoeing Trip. This is a 4-day trip, and we run 2 trips back-to-back. Our first group's trip began on January 18, 2023. Read on to see what you can experience on this Winter Wonderland Adventure!
Cue the snow!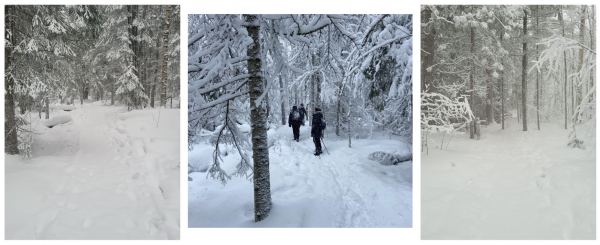 On the first day, we set out for a full day of hiking and snowshoeing the northern woods of Wisconsin. The non-stop snowfall did not disappoint! Our first stop was Houghton Falls. We meandered through the snow-covered trees and up and down the ravines. At times we added grippers to our feet for extra precaution.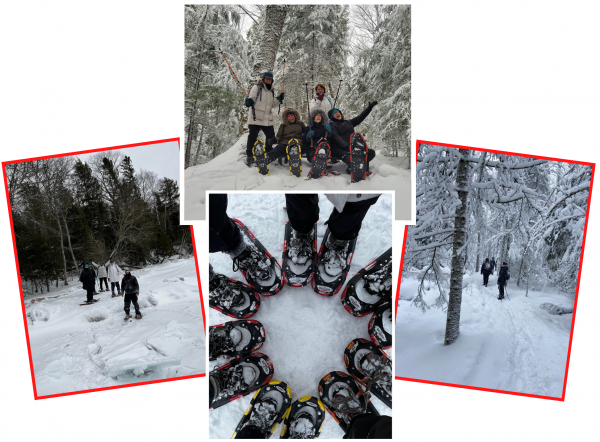 The afternoon trek took us to Frog Bay Tribal National Park — the first tribal national park in the nation! The daylong snowfall made for prime conditions for snowshoeing! The woods were gorgeous and serene! We meandered through the winter fairyland and made our way down to the shores of Lake Superior.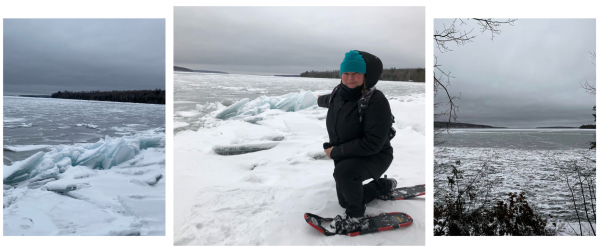 Day 2 was the day to meet the dogs!!
We met with Jen, the owner of the dogsled operation, where she outfitted us with musher mitts and overboots. A short caravan trip over to the trailhead and we were ready to meet the pups! Over 30 dogs were on hand to lead us down the trails. Each litter is named with a theme in mind… country western singers, cheap beer, Pokémon characters, etc.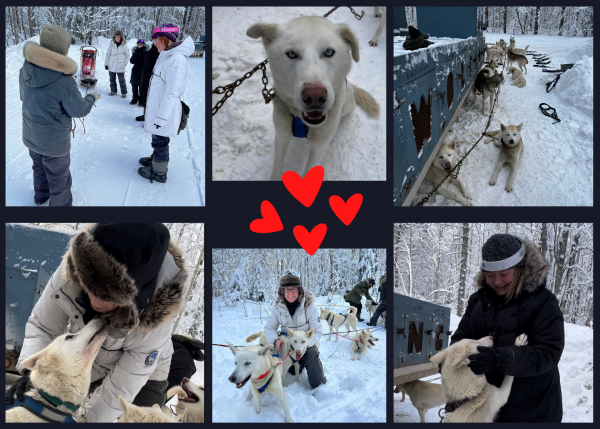 This day is very hands on as everyone learns how to secure them to the side of the trailer, feed them, and attach the harnesses needed to pull the sleds. We're taught how to walk them in 'two wheel' drive to move them to the sleds and how the tug lines work. We're given detailed instructions on how to operate the sled. Everyone will be driving their own sled with a team of four dogs! Jen has prearranged which dog goes with which sled and in which position, based on the load they're pulling and the skills of the individual dog. Some dogs are best in the lead position, some in the wheel position. Some are faster runners. It's a large moving puzzle!
Their excitement fills the air in a loud chorus of barking and howling!! In no time at all, we're off!
As soon as they start to run, all barking stops. The dogs LOVE to run!!!
We wind our way along snow packed trails. Time stands still as we move in and out of the woods. Through pine forests and across meadows. Up and down slow sloping hills. We're in a winter wonderland!!!
Second Group Arrives January 21, 2023
Our second group was at maximum participation with 11 adventure buddies who started their trip on January 21, 2023. Here are the highlights of that trip.
Our travel buddies on this trip were tagged Team Siberian Huskies and Team Alaskan Huskies. Team Siberian (6) came from the southwest corner of Wisconsin and Team Alaskan (5) hailed from southeast Wisconsin, Oregon, Colorado, and Montana!

While one team was hiking and snowshoeing the boreal forests along Lake Superior, the opposite team was dogsledding! Midday, they switched!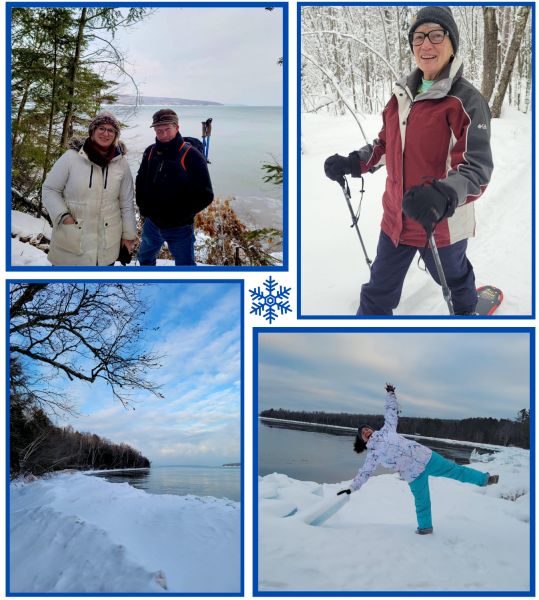 Over 30 dogs are needed to pull all the sleds. A guide is on the front sled with a team of eight dogs. Followed by four participants driving sleds pulled by a team of four dogs. The entourage is completed with another dog guide sled in the back, also hitched to seven or eight dogs. The dogs have great names! Each litter is named using a theme! The Classic Rock litter included Frank Zappa, Meatloaf, and Blondie! The Halloween litter includes Snickers, Boo, and Trick or Treat (Trixie).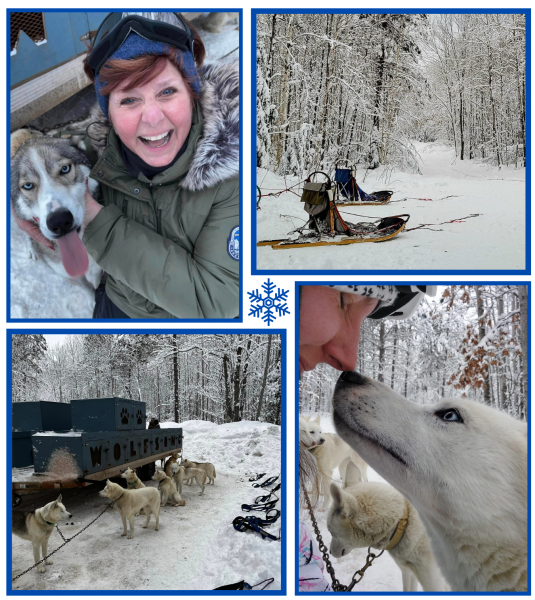 A metal pan with magnetic name tags is used to sort out which dog goes with which sled for the day. It's not unusual for the mushing guides to switch the dogs around while we're out on the trail depending on how they are running for the day.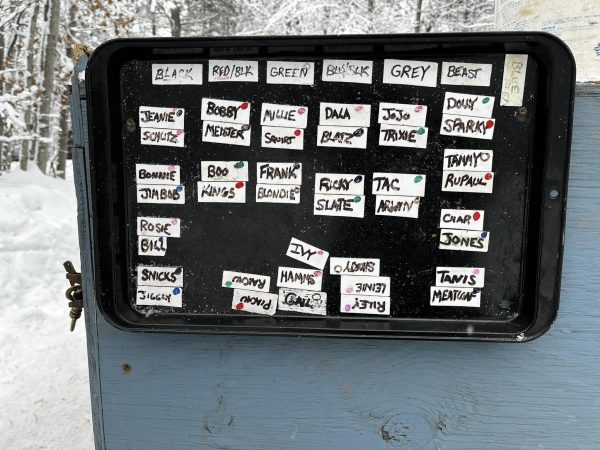 Dogsledding is a high energy, aerobic experience!! It's hands on as we learn to put the harnesses on and then move them, one by one, to the sleds. The dogs are noisy with the anticipation of running but are completely silent once they are pulling the sled.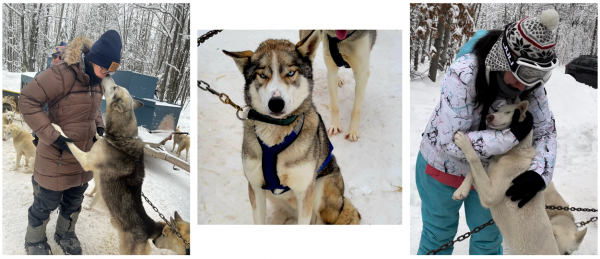 The ride is through miles and miles of snow-covered forest! In and out of the woods, across meadows, around corners, and up and down hills. We quickly become experts at using the drag and foot brakes!

Because of the larger group, everyone will take a turn riding as a passenger. Riding along with one of the guides on the 'big sled' is an experience all of its own!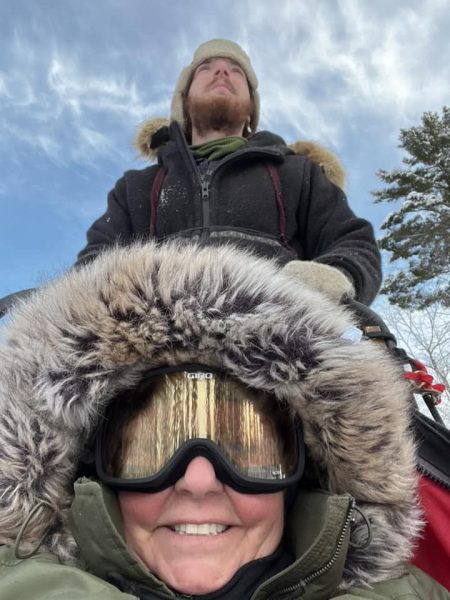 Join us next year!!
Be sure to sign up on our email list to be first to know trip dates for 2024!
If you are looking for other women's travel opportunities, go to Women's Adventures and learn more about all our eco tours.