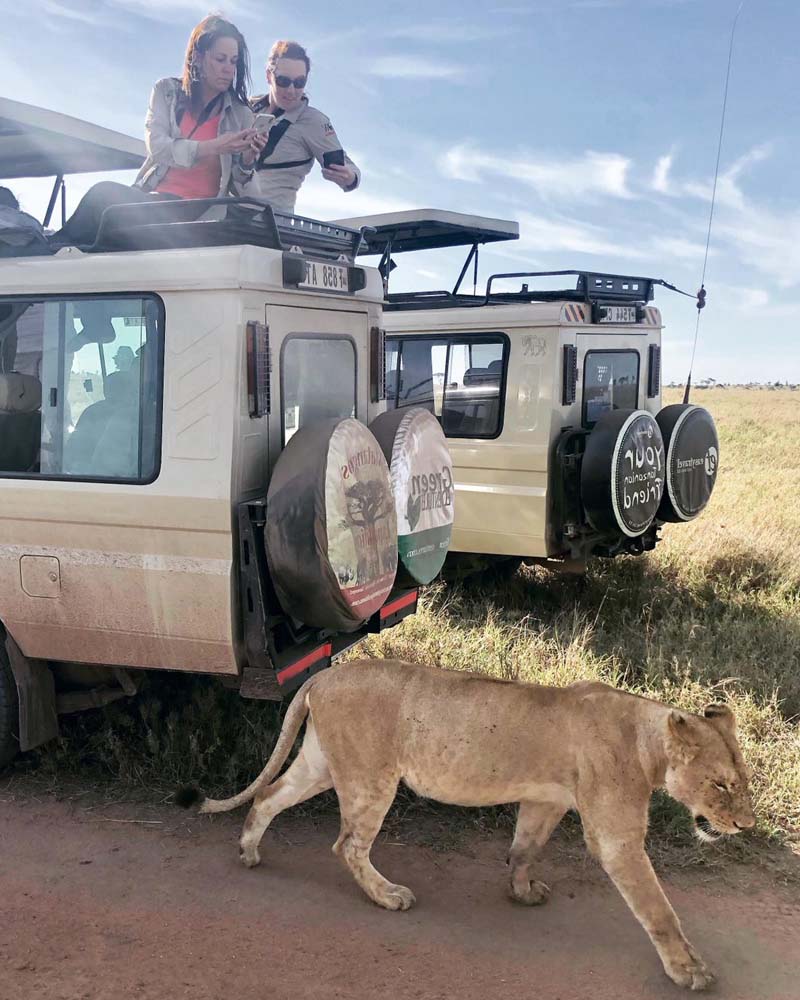 Tanzania Women's Adventure Safari Best of Northern Circuit (May 9-19, 2023)

  Tanzania, Africa

  11 Days

  05/9/2023

  05/19/2023
  Easy Physical Activity
Scroll Down For The Itinerary
Have you dreamed of going on an African Safari, but you are unsure how to do it? Let us take the intimidation out of travel to Africa. Join our group of like-minded adventure buddies on our photo safari to Tanzania for a life-changing adventure on the Serengeti.
Ladies! Grab your safari hat, binoculars and don't forget your camera because your friends are not going to believe your stories on our Tanzania women's adventure safari! Tanzania is a place that is accessible to any type of traveler and is perfect for the first-time traveler to Africa.
Straight out of the pages of a National Geographic Magazine, Tanzania offers ordinary women the chance to live like an explorer. Our Tanzania adventure safari is a story-book experience of the best of the Northern Circuit. This journey is a combination of game drives through wildlife parks, and cultural experiences with tribal people who are living the same way their ancestors have lived here for centuries.
The magic of Tanzania, and the stuff of legends, is the Serengeti. As you drive through the vast expanse of grassland in a 4×4 safari jeep on our Tanzania women's adventure safari, you might find yourself humming tunes from the Disney cartoon, The Lion King. Massive herds of wildebeest, zebras, and gazelles travel a route considered one of the largest migrations in the world. You may even find yourself getting a little teary-eyed at the intangible beauty you are witnessing.
Equally as impressive as the game parks and conservation areas is the interaction you will have with tribal communities like the Maasai, Hadzabes, and Datoga tribes. From pastoral nomads to traditional hunter-gatherers, you will feel like you have stepped in a time machine taking you back centuries as you learn about each tribe and participate in dancing and other cultural activities.
What you can expect from this adventure!
-Witness the Great Migration of wildebeests and zebras and the Big 5 that follow.
-Experience iconic places like Ngorongoro Crater, the Serengeti, and Olduvai Gorge.
-Stay at a variety of tented lodges next to protected areas including 3 nights in the Serengeti National Park.
-Detailed pre-trip support from your US Contact will help you prepare for your adventure.
-Facebook group will help you meet your trip mates before you arrive in Arusha.
-24/7 onsite support from your US Trip Leader and local guides.
-Need help with flights? Our partner travel agent has you covered.
-Sign up solo or with your best bud.
Now is your chance to experience the Africa you have dreamed about with a supportive group of adventurous women and Adventure Buddies. All skill levels welcome. No experience necessary. Solo women travelers, friends, sisters, partners, mothers and daughters. All women ages 18+ are welcome.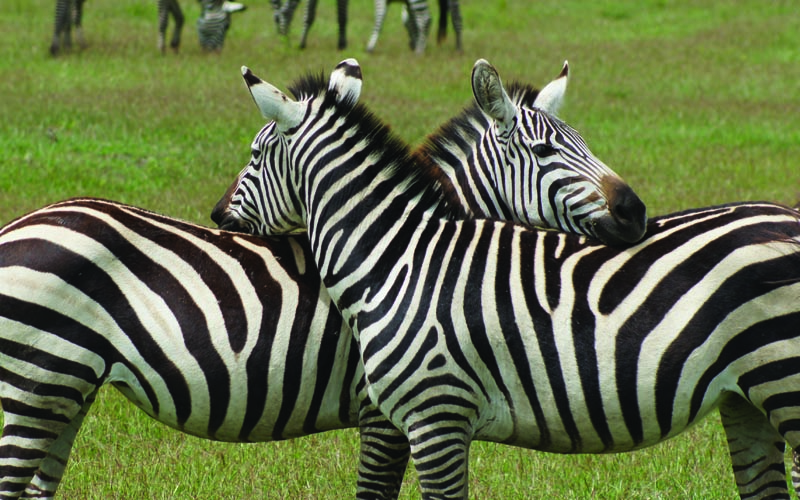 Trip Highlights:
Experience Luxury Safari Tent Camping in the Serengeti National Park and a variety of other unique lodges near national parks and conservation areas.
Go to sleep and wake to the sounds of the wild Serengeti.
Be moved as you witness one of largest migrations on Earth of wildebeest, zebras, and gazelles.
See big cats including prides of lions and elusive leopards, and stealthy cheetahs.
Enter the Ngorongoro Crater, a 25 km wide dormant-volcano-bowlful-of-30,000-animals.
Dance with the Maasai, exchange stories with the Datoga women, and learn to shoot bow and arrows with the Hadzabe.
Explore the Olduvai Gorge, a site which influenced what scientists know about human evolution.
Opportunities for shopping for indigenous African handcrafts, Tanzanite, and art.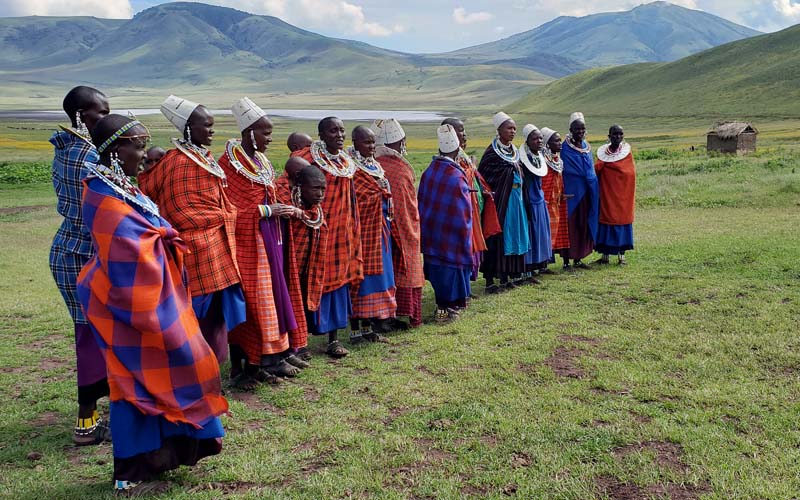 Under the African Sky: Safari Camping
Our women's wildlife safari includes luxury camping within the Serengeti National Park. You will wake and go to sleep to the sounds of lions, hippos, and other big animals that come near the camp. The tents are spacious and more like hotel rooms than tents. Each sleeping tent has two beds with mattresses and linens. comfortable lounge chairs that you would expect to find in a home study, and electricity to charge your cameras and other devices. Attached is an enclosed bathroom with flushing toilet, sink, and a shower.
Nearby is the dining tent with attached common area with comfortable furnishing to share your day's adventures with your fellow Adventure Buddies.  Alcoholic beverages, and sodas can be purchased. Meals are prepared by a chef and full service crew and served formally in the dining area.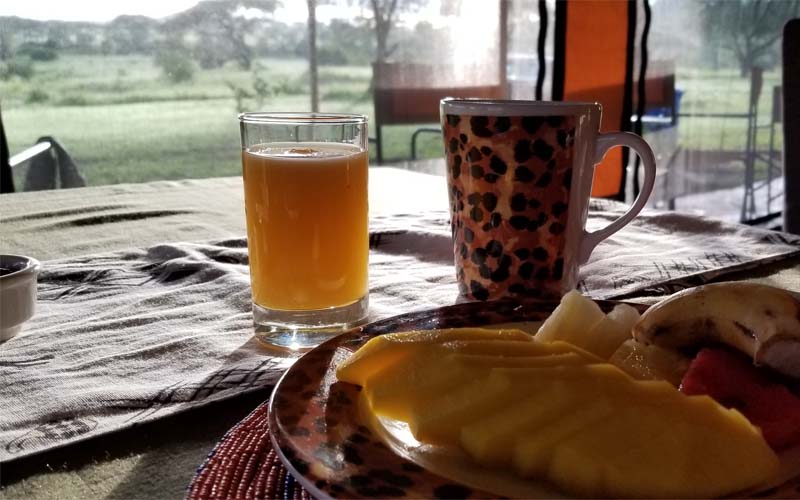 Included:
Lodge safari according to the itinerary
Transportation in a 4×4 safari vehicle
Professional, English-speaking guide
US-based Green Edventures Trip Facilitator for pre-trip and onsite support.
Overnight accommodation according to the itinerary
Meals according to the itinerary (full board ).
Packed lunches for game drive days.
Bottled water
All national park fees , concession fees, WMA
Airport transfers
Cultural activities
Excluded:
Airfare
Optional activities
Alcohol and bottle flavored drinks
Visa Fee ($100 USD)
Gratuity ($500 per person)
Personal spending money
Travel insurance
Supplemental Information: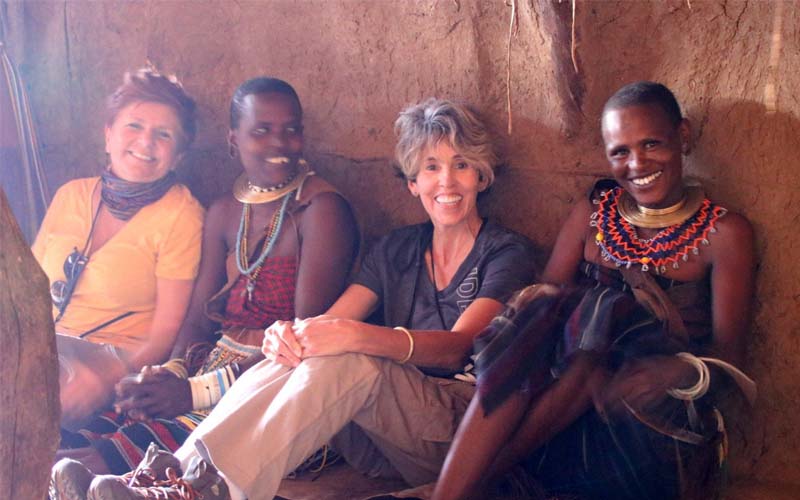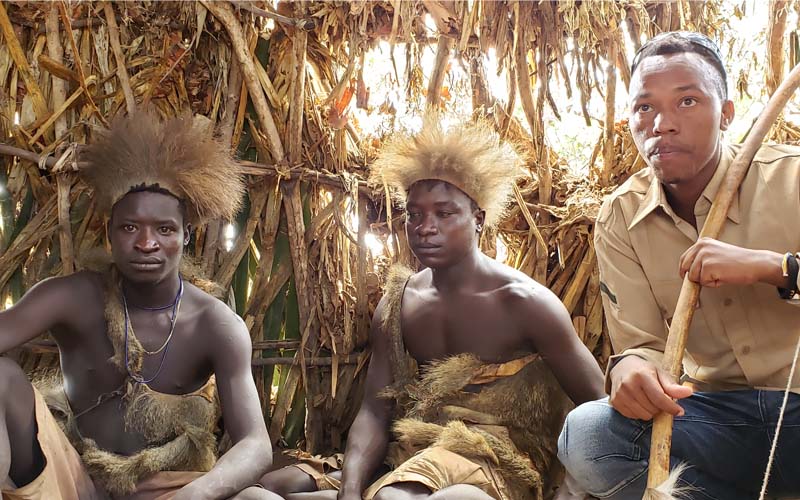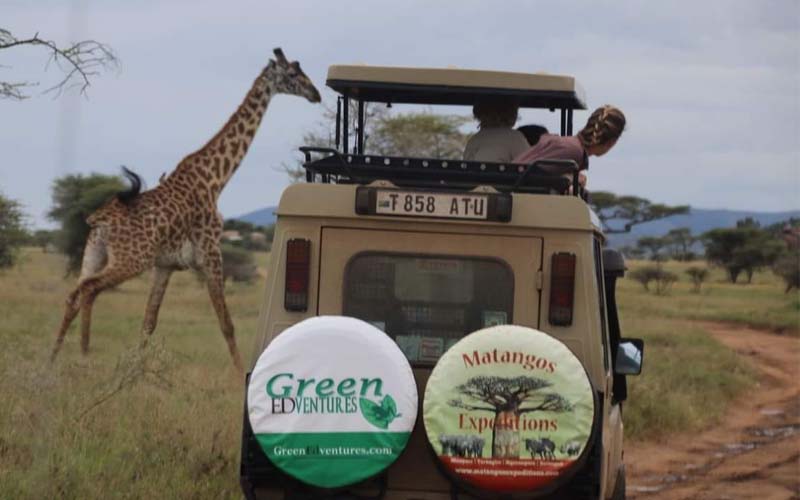 Package Price: $5825
Deposit: $800
Installments: 3 equal installments due February 9, March 9, April 9, 2023.
Spots Available: — See below for real-time availability and sign up!
Travel Documents:
A passport valid for 6 months of travel beyond departure date
A tourist visa is (purchase in Tanzania)
Travel insurance is available and recommended. Purchase trip insurance within 15 days of your initial trip deposit. Select cancel-for-any-reason add on for the most optimum coverage.
Cancellation Policy
Terms & Conditions
Lake Duluti Lodge
Arusha NP
Bouganvillea lodge
NGNP
Mbugani Camps serengeti katikati tented camp
Ndutu
Lake Eyasi
Lake Manyara
JRO
maramboi tented lodge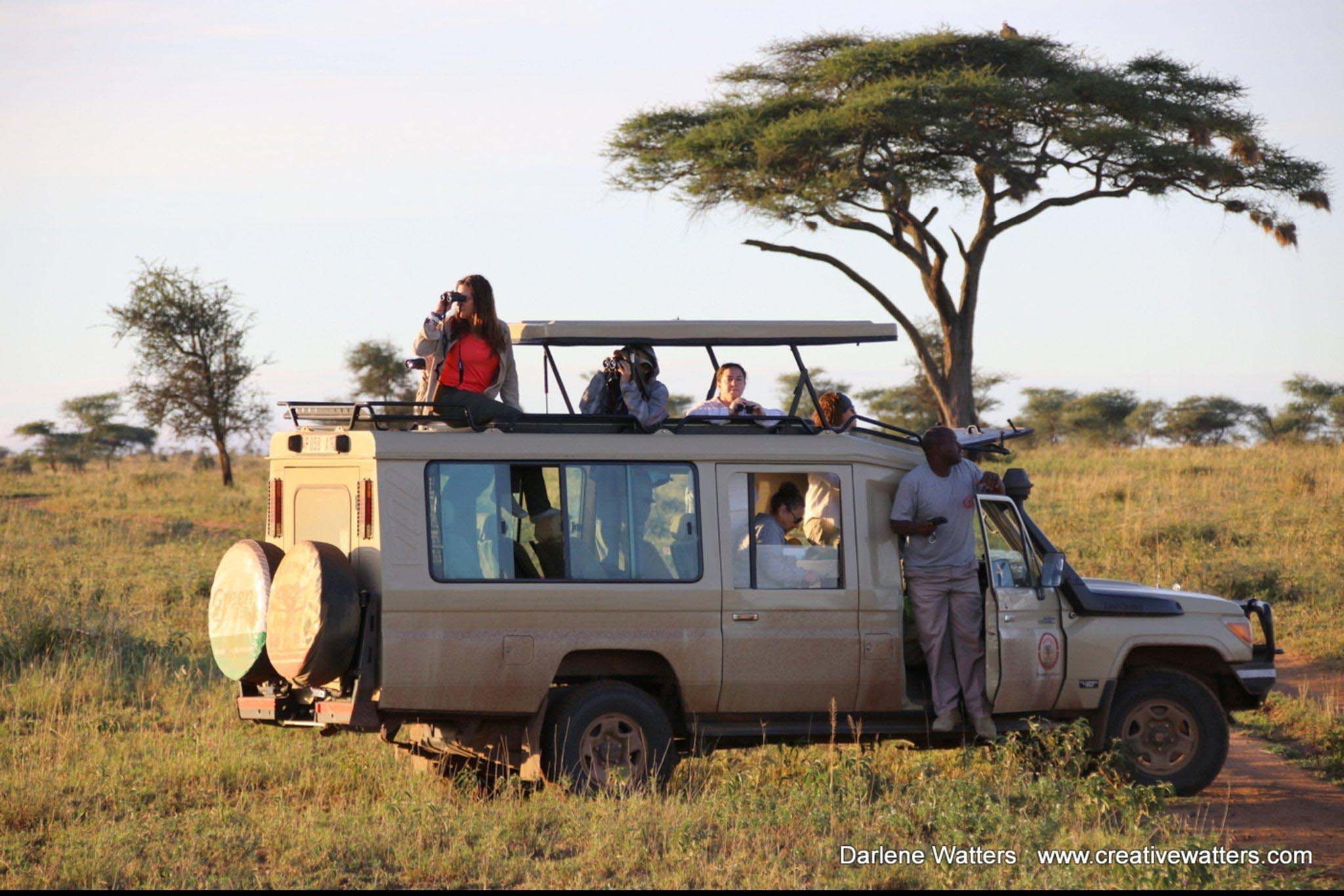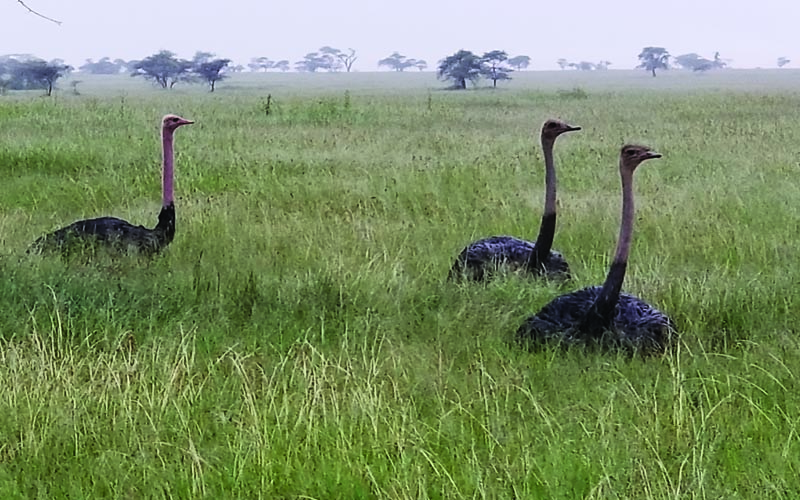 The adventure begins and ends in Arusha, Tanzania. We will experience the best of the Northern Circuit starting from Arusha National Park (1 night) and continuing on to, Ngorongo Crater Conservation Area (2 nights), Serengeti National Park (3 nights), and Lake Eaysi (2 nights), Lake Burunge area (1 night), and Tarangire National Park (1 night). We will explore wooded savannas, grasslands, and highland forest. Lodges are 4-star with delicious food and comfortable accommodations within the parks and protected areas. You may wake to the sounds or roaring lions. – No joke.
►Day 1: Welcome to Tanzania  & Transfer to Arusha

Arrive at Kilimanjaro International Airport. After customs, you will be met by your tour leader and driver. As a group, we will transfer to Lake Duluti Lodge for dinner and meet and introductions. (D)
►Day 2: Arusha National Park

After breakfast, your guide will show you around Arusha Town and then head into the Arusha National Park for your first game drive of the safari.
Arusha National Park is lesser travelled by tourists and has a lot to due with its perfect mix of flora and fauna and diversified landscapes. Passing the "small Serengeti" during a game drive, you are likely to spot peaceful herds of buffaloes, shy bushbucks on the edge of the forest as well as warthogs and zebras. Heading towards the Ngurdoto Crater you will soon find yourself in a lush rainforest – a great place to spot the athletic black and white colobus monkey as well as the elegant mitis monkey. The Ngurdoto Crater is basically a smaller version of the Ngorongoro Crater and has a diameter of about 3 km. With a bit of luck you might even spot buffaloes in the swamps on the crater floor. Halfway through the game drive, our guide will find a place for the group to enjoy a picnic lunch before continuing on into the park. – Transfer to Karatu for dinner and overnight at Marera Valley Lodge. (BLD)
►Day 3: Ngorongoro Crater Conservation Area
Today we explore one of the most popular parks in Tanzania, and an unforgettable highlight of this adventure. The Ngorongoro crater is an inactive volcanic crater with breathtaking views from both the rim and within the crater itself. As we descend by safari jeep, we pass through all of the conservation area's various habitats from dense mountain forests and woodlands, to grasslands, lakes and swamps.
The huge crater floor is spotted with large herds of zebras, wildebeests, elands, Grant's and Thomson's gazelles. As we get closer to the game, lions can be seen as well as the occasional herd of elephants and the endangered Black Rhino.  Rare species like serval cats, hyenas, jackals, and cheetahs may be spotted, and your guide will help you adjust your eyes to watching game and looking for behaviors that may indicate if predators are around.
Not only do mammals reside in the conservation area, Ostriches, Kori Bustards, Crowned Cranes, White Backed Vultures, Black Kites, Cattle Egrets, Tawny Eagles, Augur Buzzards and Lesser Flamingos can be seen at Lake Magadi.
When we have seen all we can see in the Ngorongoro Crater, we will transfer to Bouganvillea Safari Lodge for dinner. Overnight at Bourganvillea Safari Lodge. (BLD)
►Day 4: Introduction to the Serengeti & The Great Migration

After breakfast we will do an all day game drive into the Serengeti and work our way toward camp. The Serengeti National Park is undoubtedly the best-known wildlife sanctuary in the world, unequaled for its natural beauty and scientific value. More than two million wildebeest, half a million Thomson's Gazelles, and a quarter of a million zebra, it has the greatest concentration of plains game in Africa. The great quantity of wildebeest and zebra form the cast of a spectacular event – the annual Serengeti migration.
The next several days will be exploring the Serengeti National Park in search of the migration, prides of lions, herds of buffalo, smaller groups of elephant and giraffe, leopards, and cheetahs. – Overnight at Mbugani Camp. (BLD)
►Days 5 & 6: Serengeti to Ndutu

At breakfast you will be talking about all the wildlife sounds you heard in the night! Was that lion? Did I hear a hyena? 
Over the next two days, we will continue to explore the Serengeti and follow the migration from our base camp. This extra time in the Serengeti will allow you to become acclimated to the sights, sounds, and rhythms of safari life. These days are full of adventure as we explore the endless plains and let nature provide the show. 
– Dinner and overnight at Mbugani Camp for 2 nights. (BLD)
►Day 7: In the Footsteps of Leaky & Introduction to the Maasai
After breakfast, we embark on another game drive in Ndutu passing through Olduvai Gorge, one of the most important paleoanthropological sites in the world. This place was made famous by Louis Leaky and has given the scientific community valuable understanding of early human evolution. Our discovery into anthropology will continue with a visit to a Maasai Village.
The Maasai are an indigenous African ethnic group of semi-nomadic people located in northern Tanzania. Due to their distinctive customs, dress, and residence near the many game parks of East Africa, they are among the most well-known African ethnic groups internationally. At the Maasai Village cultural experience, a member of the Maasai tribe will share traditions and culture of the Maasai through dancing, and storytelling, and other experience. You will visit their home, school, and have an opportunity to buy handcrafts.– Dinner and overnight Lake Eyasi Safari Lodge. (BLD)
►Day 8: The Hadzabes and Datoga Cultural Experiences at Lake Eyasi

Today we step back in time to meet the people of the past, the Hadzabes and Datoga tribes.
The Hadza people, or Hadzabe'e, are an ethnic group in central Tanzania, living around Lake Eyasi in the central Rift Valley and in the neighboring Serengeti Plateau for over 50,000 years. Hadzabe people are among the last of the true hunter-gatherers and are a connection to the transition of a time when humans became farmers. While traditionally considered an East African branch of the Khoisan peoples, primarily because their language has clicks, modern genetic research suggests that they may be more closely related to the Pygmies. The Hadza are not closely related to any other modern people.
Visiting the Datoga tribe will complete your cultural experience at Lake Eyasi. Contrary to the Hadza people, The Datoga are skilled farmers and craftsman. The Datoga themselves blend in with their environment, their dress being the color of the reddish brown soil. Only on closer inspection will they appear colorful with their reddish, patched leather dresses, bead work, and brass bracelets and necklaces. A prominent decoration is tattooing of circular patterns around the eyes.
After an exciting morning interacting with tribes of Lake Eyasi we then return back for hot lunch at the Lake Eyasi Safari Lodge for dinner and overnight. (BLD)
►Day 9: Late Start – Transfer to Lake Burunge

Wake up for breakfast, spend a half day relaxing at the lodge, take our early lunch at the lodge, then after lunch proceed to Lake Burunge Tented Lodge.
Believe it or not, being on safari is tiring. This day will give you reprieve from road travel to enjoy the environment and amenities of the amazing lodges you will be staying at. Sit by the pool, watch animals pass by your tent, get a massage, read a book, take time to journal.
Overnight at Burunge Tented Lodge. (BLD)
►Day 10: Tarangire National Park & Boabab Trees

Morning game drives into The Tarangire National park for a day tour and return for late lunch, at Maramboi Tented Lodge.
Tarangire National park with its Baobab crested landscape is scenically one of the most beautiful parks. Baobab trees tower above the savannah and these age-old trees play a vital role in the eco system as they act as homes for bees, birds and bats. In addition, they provide nourishing fruit and supply animals such as elephants with indirect water especially during the drier months.
Cats are also very much present in the park and lions can be found soaking up the sun on the river banks, whereas leopards are sometimes spotted resting in the baobab trees. Rarer species include Cheetahs and African Wild Dogs.
At Tarangire National Park, keep your binoculars close as the park also boast with 550 different bird species. The most commonly seen birds include Yellow Collared Lovebirds, Red Billed Hornbills, Southern Ground Hornbills, Lilac Breasted rollers, Ostriches, many kinds of raptors as well as several kinds of water birds just to name a few. (BLD)
►Day 11: Shopping & Transfer to Kilimanjaro Airport

After breakfast, we proceed back to Arusha and on to Kilimanjaro Airport for flights home. Stop for excellent shopping along the way. (BL)
** Please note: The activities, lodging, guides, and schedule may change without notice as practical considerations arise during program development or onsite. **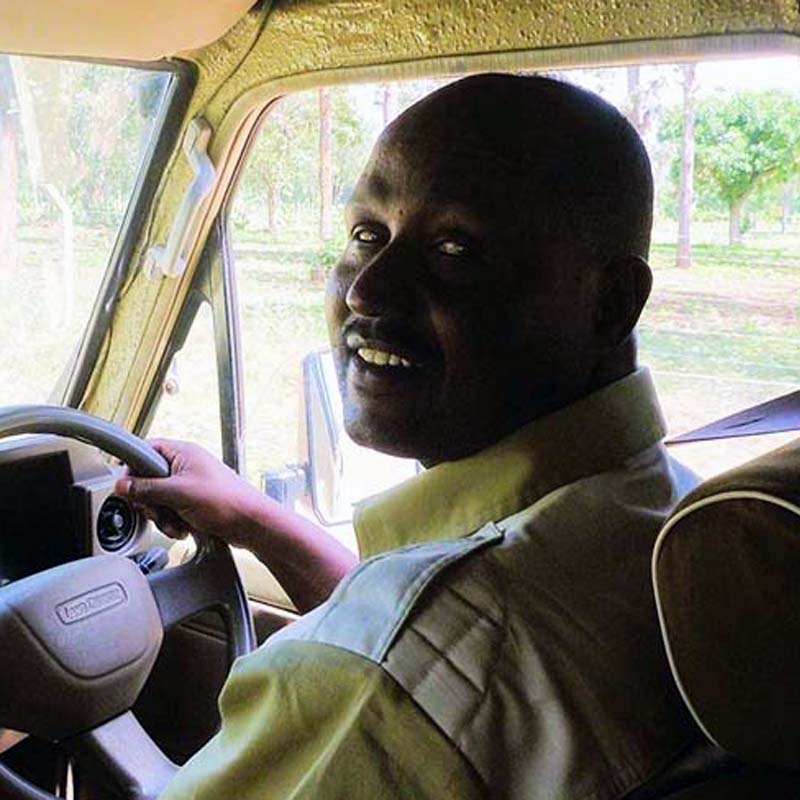 Baraza Salaho
Driver Guide / Tanzania
Baraza Salaho is Tanzanian and a safari guide for over 20 years! He has worked with clients from all over the world and has a lot of knowledge that he loves to share about the parks, animals, culture and birds. — He speaks more than 5 Tanzanian languages plus English. Baraza is the owner of his family run safari company and we are honored to have him lead the Green Edventures Tanzania Safari. He is a caring guide and strives to give each of his clients the best safari experience possible.
Sign Up For The Green Edventures E-mail List
**We respect your privacy. Our website is fully secure and your information is kept 100% private with us**

Go Green Edventures!