Join us on a day in the life journey, as Trip Leader Tara Short shares her Notes from the Field on our Women's Roatan Snorkeling & SCUBA Eco Tour Trip Report.
 •

DAY

1 •
We are finally in paradise!! We all met in Miami this morning and flew together as a group to Roatan.
We arrived on the island about 12 pm and we were in reception at the resort by 1:30 pm
We enjoyed lunch in the new dining room with giant floor to ceiling glass windows that look out at the bay.
Our rooms are located on a key that is only accessible by water taxi. It's a short 2 min motor across the channel to the key. Everyone loves their accommodations. They are cute, self-contained air-conditioned bungalows that look out into the water. Each has a deck with hammocks that sway in the cool tropical breeze.
On the key is a pool, bar, and spa. We had about 2 hours to relax. Some people played on SUP boards and others took laps in the pool.
Tomorrow is an early start and a full day of snorkeling and diving!!
• Day 2 •
The Underwater City
We start every day on our Green Edventures Women's Roatan Snorkeling & SCUBA Eco Tour with a pink sunrise and a delicious hot breakfast at a waterfront restaurant.
There are quite a bit of moving parts this morning. We have scuba divers who are either taking courses to finish up their certification or taking refresher to be reacquainted with scuba skills.
While they are working directly with instructors, the rest of us are going out on a boat to snorkel or dive on a reef.
As with all Green Edventures trips that involve snorkeling, we start off with a snorkel checkout to make sure everyone's gear fits properly, and to introduce them to the ocean environment. Everyone reacts differently to the sensation of wearing a mask and having their face in the water. Our trip leaders (in this case Kristen) walks everyone through a tried and true process that helps make the land to sea transition enjoyable and stress free. That's why our trips are great for beginners.
After the snorkel checkout from the beach, we took a boat to a dive site called Bikini Bottom. Scuba Divers did a warmup dive before exploring. John, our dive leader, was kind, articulate and patient and described during our briefing what to expect. On a white sand carpet about 15 ft down, he had each one of us demonstrate clearing a mask that has water in it, and recovering a regulator before moving on to deeper water with a dive profile that went to 45ft.
From below, I could see the snorkelers were floating above us, being led by Jen from the Roatan Institute of Marine Science.
Together, but separate, we explored a hidden city. Not one made from concrete and steel, but from the work of tiny animals called corals. This city is so big that it can be seen from outer space. It's hard to believe though that something so large can be so rare.  Coral Reefs worldwide can all fit in the state of Texas!
For the next few days, we will learn about the animals and witness some of the social intra species interactions that make this underwater city thrive with life in a place where there should be no life!
Corals are found in the Green Belt between 23 degrees north and 23 degrees south latitude.
This is also a region where tropical rainforests thrive, hugging mother earth's waistline. Rainforests are the most biologically diverse ecosystems on land. Coral reefs are their underwater counterpart. The yin and yang, and life forces of the planet.
The uncanny thing is that the waters where corals thrive are warm and nutrient poor. Some of our world's most productive ocean systems are cold (holds more oxygen) and nutrient rich (lots of nitrogen) for plants that are the basis of the food chain.
Corals are tiny anemone-looking organisms that physically are pretty simple. They have three parts: fleshy body called a foot, a ring of tentacles with a simple mouth in the middle.
Corals are pioneers, collaborators, and socialists.
These organisms float as plankton when they are larvae and settle on rock. As animals they need food and oxygen. To survive, they invite a single called algae to live in within their soft bodies. The algae makes food from sunlight and CO2 (photosynthesis) and produces oxygen for the polyp. The coral polyp sits in a limestone skeleton that it created by extracting calcium and carbon from seawater and deposits it as calcium carbonate. It is part of a colony where hundreds or thousands of other corals reside. They live in apartments without doors. Although individual polyps cannot move from their place in the colony, each neighbor is connected by a living skin that coats the limestone skeleton. If one side of a coral colony is able to catch plankton, it shares the nutrients with the entire community through the skin connecting them.
I wonder if they communicate or feel too?
A coral reef is made up of thousands of coral apartment buildings. Each species has names of the land counterpart they resemble, staghorn coral, leaf lettuce coral, finger coral, brain coral, and so on.
These socialists house not just algae in their bodies they are home for thousands of other organisms!!!
Some of the residents live on a reef for their entire lives and some for only part of their lives. Each species and individual fulfilling a role in the local community and economy where it lives, and indirectly land-based life forms, humans not excluded.
Coral reefs provide food and medicine to people.
Even though they make up 0.2 percent of the ocean the whole world depends on coral reefs whether or not they are in your backyard, or 2000 miles away!!
The reef we are exploring in Roatan is part of the Meso-American barrier reef. It is the second largest barrier reef in the world next to the Great Barrier Reef. It stretches from Mexico to Guatemala.
After doing two dives / snorkels in the morning we were back to the dock and at lunch by 1 pm. There was free time to relax in a deck hammock and an optional visit to Bailey's Key. Kristen walked the group around the key. They saw the resident dolphins, learned about iron shore, and made it back to the classroom for a presentation on coral reef ecology by Jen. We ran a bit long because of great questions from the group. They liked the information so much that most of us stayed for a second talk about fish ID led by one of the five instructors. Of course, there was time between classes to run to one of the resort bars for a tasty beverage!
That's just our first full day folks!!
• Day 3 •
Today is a day about options
Morning:
Some divers and snorkelers started their day at 7:45 am to go out for the first dive of the day. The scuba divers found a seahorse!
At 9:30 am the rest of the group met up to go to a second snorkeling location called Black Rock. The snorkelers enjoyed a beautiful shallow reef full of fish such as parrotfish, damselfish (included disco fish!), French angel, surgeonfish, tangs, and wrasses to name a few.
We even saw a group of friendly reef squid that allowed us to get up close on our Women's Roatan Snorkeling & SCUBA Eco Tour.
We searched along the rocky iron rock, black rock that was once a coral reef now exposed shoreline. Chitons hold fast to the substrate. These prehistoric mollusks use their teeth to scrape algae from the surface. We moved to the deeper wall where 10ft became 60ft. We watch the scuba divers from above. Suddenly a huge hawksbill turtle appeared that seemed very calm around everyone. The dive master took video of it and on the way up he speared an invasive lionfish.
When all we're back on the boat we headed over to Maya Key for a BBQ picnic and several optional activities. Some went with Kristen right out on the reef for a quick snorkel. Some went to the pool for a dip and then lunch.
After lunch we explored the key and learned about the Mayan artifacts found there. There are also animals housed here that were rescued from the pet trade.
Around 3 we got back to the resort. Enjoyed foo foo tropical drinks at the open-air bar before going to our presentation by Jennifer about the resident dolphins.
Then a three course dinner at the restaurant.
Kristen led an impromptu plankton lesson off of the dock, then it was back to the key for everyone for a good night's sleep.
• Day 4 •
Part 1: Unless
We started our morning with a presentation by Jen at the Roatan Institute of Marine Sciences about coral restoration efforts in Roatan and the Caribbean in general. Corals are under a significant amount of human caused stresses and these endangered habitats are disappearing worldwide thanks to warmer oceans and rising seas resulting from global warming, runoff from land, boat anchors, careless tourists, and fishing practices.
It usually takes 10 years for a reef to bounce back from a natural event such as a warmer water cycle or hurricane. These natural threats coupled with human induced stress is too much for these otherwise resilient creatures. Scientists have been able to speed up the coral's regenerative abilities by planting coral fragments out on the reef. The corals are placed within spawning range of a colony of the same species furthering the chances of reproductive success and therefore survival of the species.
We all left that presentation full of hope for the world's reefs. Science and technology, and human ingenuity might just save some of the biodiversity in our oceans, and us.
Then we headed off to our dive / snorkel of the day at a site called Tomcat Channel. The SCUBA divers did the walk to about 75ft. The snorkelers did the too shallow part of the reef. Jen collected some elkhorn coral fragments (by permit only) and brought them back to the boat.
In the boat we learned how to attach each fragment to a piece of monofilament and secure it. Those fragments will then be hung on coral trees where they will grow until they are ready to be planted (fixed with epoxy) to the wild reef.
Each person had a hands-on experience with prepping these coral fragments for their job saving their species from extinction.
When handling corals they get stressed and secret a clear mucus. I had never touched coral for obvious reason, but Jen let us know that in this case it was ok.
We had to get back to the resort by 11:30 am because we had a 12:30 pm departure for an island tour scheduled. Jen asked me if I would like to stay back and help put our prepped fragments on a coral tree.
I said, "yes."
I had seen photos of the trees, but I have never seen them in person.
It only took a few minutes by boat to get to the channel where the coral trees were planted.
We slipped below the surface to a white sand bottom and clear blue water. The trees are PVC pipes with branches. With the canopy of the trees in about 20ft of water.
I followed Jen to a tree with a tag that says Green Edventures Sea Sisters. This is the tree that the group from last year sponsored!!
I watched Jen secure the basket of coral fragments. Each fragment's monofilament is threaded through one of five predrilled holes in the tree and secured with a metal piece that is crimped on with pliers. Each fragment has about 1.5 inches of clearance from its branch. The excess filament is then cut off.
When it was my turn I realized Jen is the pro. Threading in a bit of a current while maintaining buoyancy suspended in inner space is not that easy. Then you need to find the little piece of metal in your palm and move it up to the fingertips of the same hand because your other hand is holding the monofilament in place.
I didn't want to kick the tree or fragments. I had an image of a bull in a China shop.
With a little practice I was on a roll.
We headed back to the boat floating through the other coral trees. Groupers hung in some of the tree branches.
Jen tapped her pliers on the PVC. Later she said she did that to try to get the attention of jacks that come when they hear the sound.
I looked down at the white sand and noticed dozens of cans littering the sea floor. How can we be a species that is so deeply divided in our ethics. Some of us care too much, and some of us don't care at all.
Only one side of the divide will save our planet and it's the people who understand that the health of the planet is directly related to our own.
"UNLESS SOMEONE LIKE YOU CARES A WHOLE AWFUL LOT, NOTHING IS GOING TO GET BETTER. IT'S NOT." 

– The Lorax
 Part 2: Community
In the afternoon we left the resort and took a private tour on the island to learn about history and cultures. Our driver guide told us about the mix of people who live on the island with origins from England, Nigeria, Mayan, and Spanish. He emphasized that people on Roatan work together and get along even though they come from different cultures.
Roatan is an indigenous Mayan word that means celestial kingdom. Honduras is a Spanish word meaning depth, surrounded by deep waters.
We visited two animal sanctuaries. None of these animals were purchased. They were all victims of the pet trade and surrendered. We met iguana, capuchin monkeys, and three toed sloths.
On our way to our next activity. We passed through the town of Punta Gorda where the Garifuna live. The Garifuna people are a people of mixed free African and indigenous American ancestry that originated in the Caribbean Island of Saint Vincent.
The final destination was Oakridge, a seaside town on the south part of Roatan that is also known as little Venice. Like it's Italian namesake. Houses here are built on an island and are on stilts. People move from place to place through canals instead of roads. We took one of those boats through the town and into a canopy of mangroves once used by the Mayans to hide from invading pirates.
We had a very long day and a big day ahead tomorrow so our guides made sure we arrived right on time for dinner. I was able to snap a sunset photo too.
If this is a trip that interests you, check out our upcoming Women's Roatan Snorkeling & SCUBA Eco Tours.
• Day 5 •
The wind picks up in the afternoon so it's important to get your best dives and snorkeling in, in the morning. I'm pretty sure we accomplished that and more.
There are resident dolphins that live at Anthony's Key that are part of a research program and yes, they are in human care. I'll have to talk more about this later for those that might have concerns. I did too, but not anymore.
These dolphins routinely go on open water dive training sessions, and they come back home even when they can leave. Some leave and come back home. There was even the case of an older male dolphin on his free will came to live with these residents. He even fathers a couple of the babies. We learned a lot during a classroom session presented by Jen. So, when we got to meet these dolphins, we were prepared.
Our in-water intro started with a physiology lesson about the dolphin. Our dolphin was Tilly. The REAL fun is when we got to wear our mask and fins and snorkel with the pod!! There we're about 6-8 dolphins including a baby that chose to interact with us on their own terms. It was like being in a crowd of people talking, but in this case the crowd was a pod of dolphins. I didn't just hear them, I felt them! They navigate their world using sonar in the form of clicks. Those clicks bounce off of anything they are investigating, including you!
It was exhausting and fun to free dive and wait for a friendly soul to pop up in the view of your mask as if to say, "What are you doing?" "Why do you swim so slow?" "Why can't you hold your breath longer?"
After about 1.5 hours with the dolphins, we did a quick transfer to our boat to go on a snorkel and dive.
Return to the resort for lunch about 12 pm.
At 2:30 pm all of the SCUBA divers went out on another dive and the snorkelers elected to poke around in the shallows right off of the key.
The dive was a notable one for those of us keeping species list. Two life listers for me were the frog fish and toad fish. We also saw big groupers, snapper, both species of angelfish, a southern stingray, and a scrawled file fish.
Dinner was an island fiesta with BBQ, crab races, and entertainment by the Garifuna dancers.
If this is a trip that interests you, check out our upcoming Women's Roatan Snorkeling & SCUBA Eco Tours.
• Day 6 •
Blue to Black
Part 1: Blue 
"When I was a boy and I would see scary things in the news, my mother would say to me, Look for the helpers. You will always find people who are helping."

– Fred Rogers
Over the past couple of days on Green Edventures Women's Roatan Snorkeling & SCUBA Eco Tour, we have fallen in love with the reefs off of Roatan, and learned about the human-caused environmental issues that are causing a rapid decline in coral species. Some of the topics can seem scary and overwhelming and make you feel hopeless, but we have to stay positive and we have to help!
I'm the morning, the divers in the group assisted the Roatan Institute of Marine Science's efforts is restoring Roatan's Coral Reefs. The snorkelers got to see the coral dive sites and that was exciting for them too.
The first stop was at Front Porch dive site. Here 25 trees of PVC are suspended between white sand and the surface in a channel. The rigs are set up on a pulley system so that if a big storm or hurricane were to come through, the trees can be lowered closer to the bottom to avoid damage caused by surges and land debris. Of the 25 trees, 15 were donated. I am happy to report that Green Edventures and our participants have sponsored 4 of the trees!!
On the trees are coral fragments that will grow and then be planted out on the reef. More on that later.
Each tree has a specific species with a known genome. In a few years, this data will be used to survey the genetic makeup of the reef to see if the coral gardens are a true representation of the wild corals.
Our jobs as helpers today were to start by picking up trash at 50 ft. We spent about 20 minutes collecting cans and plastic litter.
Then we ascended to 25 ft and traded our mesh bags of trash bounty for scrub brushes and cleaned scrubbed the coral trees to remove the algae. On a wild reef animals like urchins and parrotfish do this job. Too much algae will smother the coral polyps and inhibit their ability to get sunlight. Too much algae can harbor bacteria too.
It was easy to lose track of time scrubbing the trees. I looked at my gauge and saw that I was down to about 800 psi. It was time to come up to the surface.
On the surface interval when divers off gas before their next dive, Jen talked to us about coral out planting. She showed the process on clearing a spot on the reef, mixing and setting the epoxy and explained how to plant a fragment. The corals are not planted base down, standing like a potted plant. Instead, the back or flat side of the colony is sacrificed, and the coral is affixed laying down. It is sun loving and will begin to form branches that reach up and out.
The two types of corals being out planted are elkhorn and staghorn because they grow fast, provide habitat, and important wave energy absorption that protects people and property during storm surges.
Dive / snorkel Shallow Aguila
The dive site where the corals are planted is a reef named for a shipwreck. The shallow part of the reef is in about 10 feet of water. The wreck can be seen from the surface but sits at 110 feet.
The snorkelers hung out on the shallow reef. Kristen and Jen went diving to prepare planting sites, and the SCuBA divers took a short tour to the wreck and would return to help plant corals.
The dive was beautiful. The highlights were seeing the wreck in the big blue, a sea horse that loved to pose, and an eagle ray that swam with me for a few seconds.
When we returned to the shallows, Jen handed us a piece of coral and each of us divers had a chance to plant it onto the reef.
Jen from Roatan institute of Marine Sciences hands Green Edventures Founder, Tara Short a fragment to plant on the reef.
All of us from snorkelers to divers helped in the coral restoration process. This makes us mothers of corals and part of the worldwide movement of scientists, recreational divers, volunteers, and educators helping to save wild reefs from extinction.
The restoration project is mapped and monitored. In a few years we can return to that place to see a thriving habitat that is home to fish, invertebrates, and plants, all thanks to 15 women from all walks of life who cared, came together, and helped.
We can't give up.
We can't lose hope.
If this is a trip that interests you, check out our upcoming Women's Roatan Snorkeling & SCUBA Eco Tours.
Part 2: Black 
We headed out at 6 pm to a shallow reef and watched the sky go from pink, to orange, to red, and to black.
Life on land was going to sleep, but below the waterline a shift change was happening. Animals that spend the sunlight hours on the reef now retreat to sublets they share with nighttime counterparts. These nigh swimmers have adapted to a world without light.
Eels hunt the dark reefs using their highly developed sense of smell. Parrot fish hide sleep covered in a mucus that hides their smell, making them invisible to hunting eels.
It seems counter intuitive to get into the ocean at night but it's a cool sensory immersion. You can only see what your flashlight illuminates right in front of you. It's quiet. There are no crunching sounds of parrotfish or brine shrimp, and no boat traffic.
On this night there was barely a breeze on the surface.
I looked up to see the Big Dipper.
A few notable species include sea eggs (related to urchins and sea stars), grunts, crab, brittle star, octopus, sleeping parrotfish, and shrimp.
If this is a trip that interests you, check out our upcoming Women's Roatan Snorkeling & SCUBA Eco Tours.
• Day 7 •
Part 1: I'm in!
"I'm in!" I exclaimed when Kristen asked me if I was doing the shark dive. The words came out of my mouth while my mind was lifting a finger, a gesture to interrupt.
It was too late.
My heart made the decision. I was going to do this dive.
The Shark Dive is an optional dive that is separate from our advertised tour. Those that don't go on the Shark Dive will snorkel on a beautiful patch reef instead.
Our dive master joined us in the Shark Dive boat to make sure that we had the TLC and attention we had been getting all week.
At 6:30 am, five of us from Green Edventures checked in at the dive shop and set our gear by our tanks on the dive boat. The plan was to be back at the boat at 7:30 am for departure.
As the boat motored away from the dock, I felt like I was strapped into a rollercoaster car clicking on the tracks about to plummet over the first drop.
There was no turning back.
The dive master, Sergio, gave a thorough briefing about the dive site called Cara-a-Cara Marco's Place. He was so calm and clearly described what to expect. These are great qualities for a guy that dives with sharks for a living and is the one carrying the bucket of fish for the shark feeding.
Yes, it's shark feeding. There are ethical considerations about this and here are a few of the reasons why the Shark dive continues to be offered:
1) historically this area is known for reef sharks, so they are not introduced because of the food.
2) the feeding has not changed hunting or mating habits. Females have returned to the dive sites with mating scars. There are times of the year when the dive cannot be done because the sharks have migrated.
3) there is only one operation that offers the dive. It's limited to 30 minutes each day (regulations are 90 mins) and limited to only 12 divers.
I took a giant stride off of the platform and plunged into clear blue water. When the bubbles cleared, I could see all the way to the bottom at 70ish feet.  A big black silhouette of a shark cruised over the sand and patches of coral.
There wasn't any surface current or waves. In terms of conditions, this was a nearly perfect day for diving here. It's not always like this.
I dropped down the mooring line in the crystal-clear water. Equalizing my ears with every foot until I landed softly at a sandy spot to wait for my dive buddies.
When everyone arrived the dive leader signaled that we could swim with the sharks.
My friends . . .
If you have read this far. . .
This was one of the most magical and spiritual moments of my life. I completely forgot about my fears (mostly about depth) and felt total peace.
Then joy.
Then tears of joy.
Followed by gratitude.
There are 500 species of sharks. The Caribbean Reef shark is one of the least aggressive species that feeds primarily on fish but also will eat squid, octopus, rays, and mollusks. They can grow to 10 ft long and weigh 150 pounds more or less.
It's a humbling experience to be surrounded by animals that could tear you to shreds. We are not part of their food chain so they don't look at us as food.
As a matter of fact, I felt completely invisible. It was only when a shark heading straight for me and at the last minute adjust course to avoid a collision, was it clear that it (they) was (were) aware of the divers sharing the space.
Sharks were everywhere. It's typical on this dive to have 10-15. I noticed that all of them were female!
Later I learned that sharks are usually segregated by gender and only mix during breeding season.
I watched a shark cruising toward me at eye level on my left and felt the wake of a shark passing by me on my right.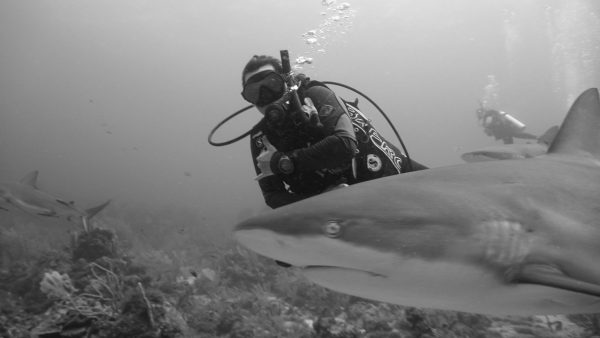 Sharks circled above, below, and at my side.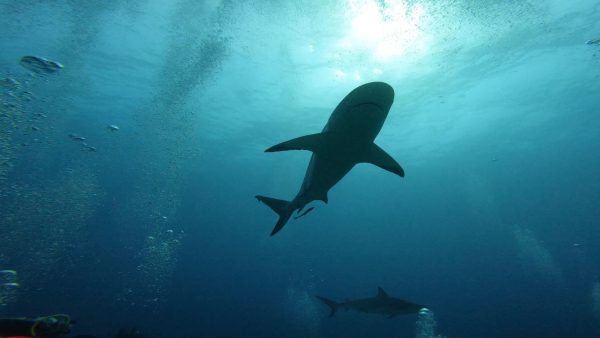 I looked at the details of individuals. One had a mouth deformity that looked like a crooked grin. Maybe from a hook??
Some had curious eyes that looked right into mine. Others were zombie-like, only swimming, in a holding pattern waiting for the feeding to start.
The dive leader tapped on his tank to get our attention. It was time to gather on the sand.
I knelt on one knee next to Nikki, one of my dive buddies. It was important in this next part to not make sudden movements or flail hands when the sharks were feeding. I kept my GoPro and hands close to my chest and tried to balance in a slight current.
Sergio took the fish bucket to a central spot. Cracked the lid so the smell of dead fish leaked into the water, and he quietly swam away unnoticed by the sharks.
I could feel the electricity charging the ions in the water like a battery. The sharks formed a cyclone around the bucket. The circling got faster and faster until a large one smashed the bucket like a battering ram. Another large shark followed and got her head stuck in the bucket for only seconds because she slammed it on the rocks, and it busted into more than a dozen pieces and fragments.
The feeding lasted for less than 2 mesmerizing minutes.
I will never forget the electricity I felt that was generated by those sharks. It felt like the air during a hot summer lightning storm.
Sharks have a sensory organ called Ampullae of Lorenzini (singular Ampulla) are electroreceptors, sense organs able to detect electric fields. They form a network of mucus-filled pores in the skin of cartilaginous fish. These receptors help sharks detect / smell food and navigate.
I wonder if that's what I felt?
When the frenzy died, we were able to swim around and look for sharks' teeth. I looked at my air gage which read 1000 psi. It was almost time to go.
I wish could have stayed forever in the company if these beautiful sharks.
Caribbean reef sharks are not endangered but they are threatened. Sharks are important for keeping reefs healthy. These wolves of the sea are keystone species that all life from corals to dolphins depend on.
All of us can help protect sharks by never buying shark fin soup. (Google the barbaric delicacy if you are interested in learning more). Buy sustainably caught or farmed seafood and never fish caught in gill nets. Sharks are often victims of bycatch in shrimp trawls and gill nets.
And if you are afraid to explore the wild ocean let your curiosity out way those fears. Let me or companies like Green Edventures Tours or Women's Adventures by Green Edventures Tours take you to the places we love so we can help you fall in love with it too.
Not everyone did the Shark Dive. As I mentioned before, this dive is an optional add on. The rest of the group got to explore a beautiful patch reef. I asked Trip Leader Kristen Hoss to describe what that was like.
"Snorkeling in the patch reef was a relaxing and magical experience, fishes abound as they gracefully swim through the outstretched arms of colorful soft corals and purple sea fans. Squid darted around once we appeared to them from the aquamarine waters that blanket the reef. We glided for 2 hours above the magical world of color, clarity and connectedness."
There was a little bit of time between the morning water activity and lunch for participants to go visit SOL Community Center. I asked Trip Leader Kristen to describe that experience:
"SOL was a fun time of "tutu" aka piggy back rides and giggling children eager to connect with us through play and showing off their acrobatic skills amongst their playground and artful creations made from up-cycled tires, tubing and bicycle parts. Surrounded by colorful walls made by the children using repurposed plastic and glass bottles, decorated by bottle caps, children of all ages seek tutoring, counseling and an opportunity to excel thanks to the services provided by SOL. SOL, serves the community, filling an educational gap and helping students to move beyond middle school to college thanks to scholarships offered through the foundation that is 100% supported by donations."
Part 2: Wheeeeeeeee!!!!
I was still on a high after the shark dive when we arrived at the canopy zip line tour. The guys that harnessed us up were fun and full of energy. There were 11 lines ahead of us. A few highlights include a chance to fly upside down. It was so freeing to just let go! I liked watching my friends zip by on parallel lines. It was especially lovely to take in the sights of beautiful Roatan rainforest and sea from a higher point of view.
After flying through the canopy we took a suspension bridge Eco walk led by a naturalist who talked about the plant and bush medicine. He was so passionate about teaching us.
I really can't imagine a better Earth Day than this one. It makes me think that I should schedule an Earth Day trip every year because this trip completely sums up our mission of helping to protect people, places, and ecosystems through tourism. Additionally this all woman adventure hosted brave and inspirational women who stepped outside their comfort zones to explore the wild ocean!
There were women on this trip who snorkeled and SCUBA dived for the first time! Everyone supported each other on the night snorkel. All of us brought positivity and flexibility to the table each morning.
On the way to the breakfast someone spotted a seahorse right at the dock. It was so shallow it could be photographed above water!
We gathered together one last time at The Roatan Institute of Marine Sciences classroom to talk about our favorite memories and closed with what we can do to protect wild reefs.
My final message to all was that travelers have to share what they know. Help others fall in love or take action through their photos and be inspired with personal stories. We are the greatest influencers to those that know us.
---
If Roatan is a trip you dream of, please join our Facebook Interest Group, and receive updates and information on dates for next year.
Click here for details and trip highlights for The Women's Roatan Honduras Snorkeling & SCUBA Eco Tour.