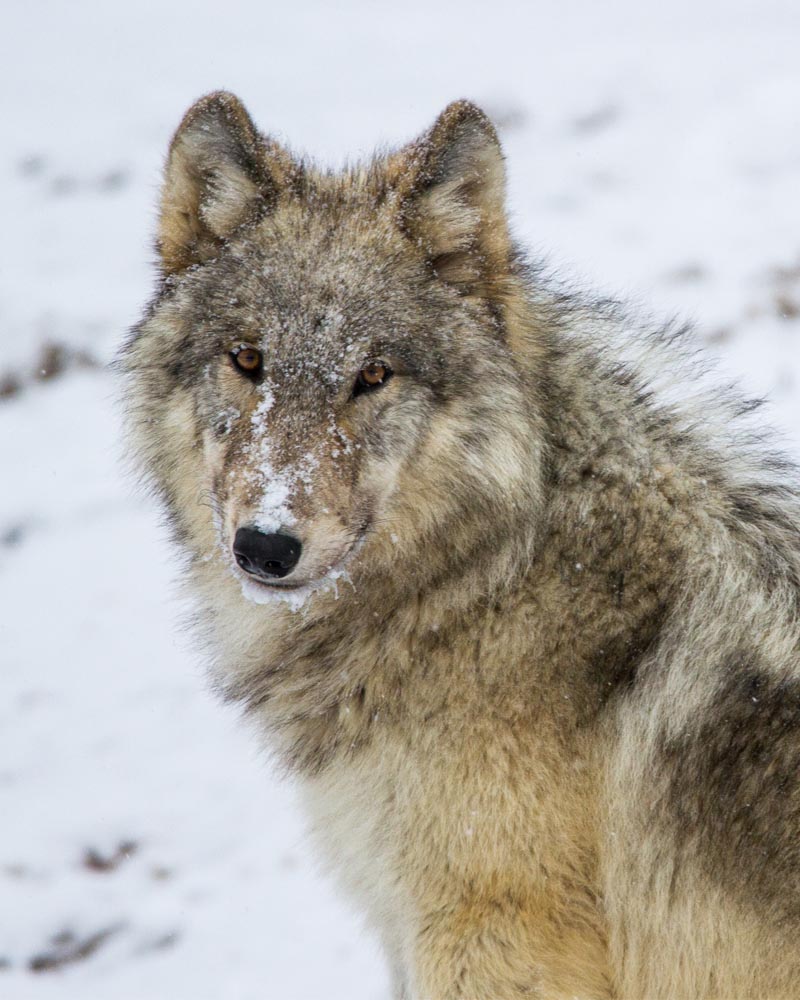 Yellowstone Winter Wolves Wildlife Safari Women's Adventure

Montana / Wyoming

  6 Days

  TBA

  TBA
  Women Only
  Easy Physical Activity
Scroll Down For The Itinerary
Follow the call of the wild and have a "howling" good time with our pack as we explore a winter wonderland in search of Grey Wolves and other iconic wildlife of the Greater Yellowstone Ecosystem.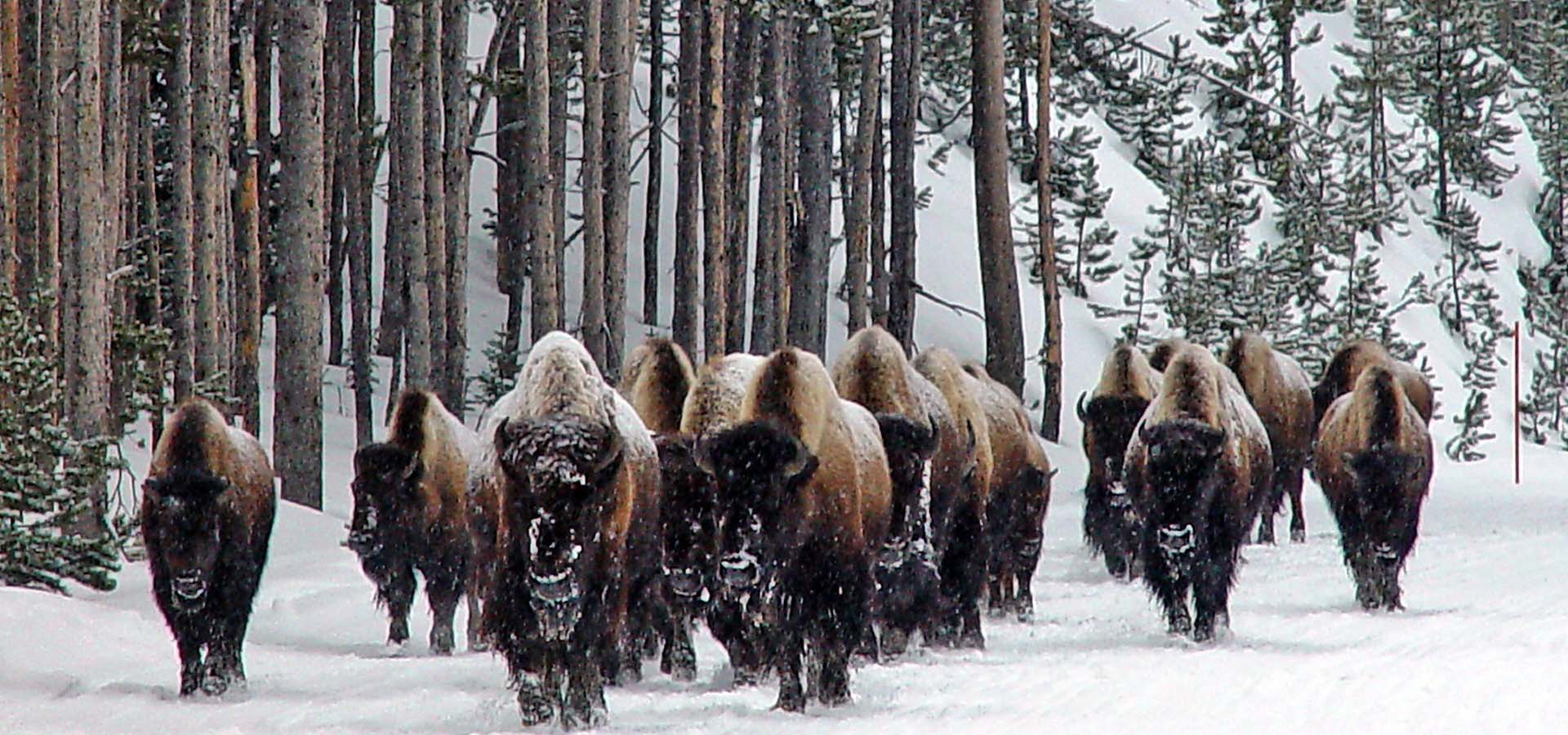 Our Yellowstone Winter Wolves Women's Adventure ​ will prowl the Northern Yellowstone Range in search of Grey Wolves. Participants will see, photograph, and learn about wolves in the wild, and gain a better understanding of the complexity of wolf conservation in the United States.
Join us on our Yellowstone Winter Wolves Women's Adventure for an unforgettable multi-day winter wolves and wildlife safari. We'll spend 4 full days exploring the Greater Yellowstone Ecosystem, focusing on the Northern Range of Yellowstone National Park, some of the best wolf habitat in the lower 48 States!
Why Wolves of Yellowstone?
Who hasn't tried to imitate a lone wolf howling at the moon? Humans have been both fascinated and fearful of wolves for centuries. In the 1920s the last wolf pack of Yellowstone was eradicated by the US Government because the philosophy at the time was that less wolves meant more deer and elk. As time played out, the opposite became true and without wolves, the ecosystem was off balance. In the 1990s wolves from Canada were introduced by wildlife biologists into Yellowstone, and since then, Yellowstone has become a setting to study the importance of Grey Wolves as a keystone species which many other species relies on for survival.
On this Yellowstone Winter Wolves Women's Adventure we hope to ignite your fascination with wolves. Participants will observe wolves in their natural habitat and learn about their physical and behavioral adaptations that make them an apex predator in the ecosystem, including their complex social structures and cooperative hunting skills. Participants will meet experts in the field who are studying the wolves of Yellowstone. We want participants to learn first-hand about the issues affecting the conservation of wild wolves and why we need to protect them.
More than wolves! Our Yellowstone Winter Wolves Women's Adventure are small groups, each departure is limited to just 9 participants. We will explore together like an extended family in the warm company of like-minded women and led by expert local guides. With Yellowstone as their backyard, you can be assured that our naturalist will introduce you to all of the wildlife in the park and surrounding areas. You can expect to see bison, moose, elk, pronghorn deer, bighorn sheep, swans, eagles, coyotes, foxes, and ermine.
Our Yellowstone Winter Wolves Women's Adventure is for anyone who would like to learn about wolves and the ecology of Yellowstone National Park. The Yellowstone Winter Wolves Women's Adventure is open to women ages 18 and older. Winter in Yellowstone is often a challenging and cold environment.  Daytime Temperatures are often below 30 degrees F and can reach below zero in this high elevation (more than 5000') environment.  Tours typically encounter snowy, icy, wet, and cold conditions.  Please view the packing list below and come prepared to spend time outside in the cold experiencing the Greater Yellowstone Ecosystem!
COVID Policy Update 10/6/2020
For the safety of all passengers in the group. Participant will need to provide a negative COVID PCR test within three days of travel.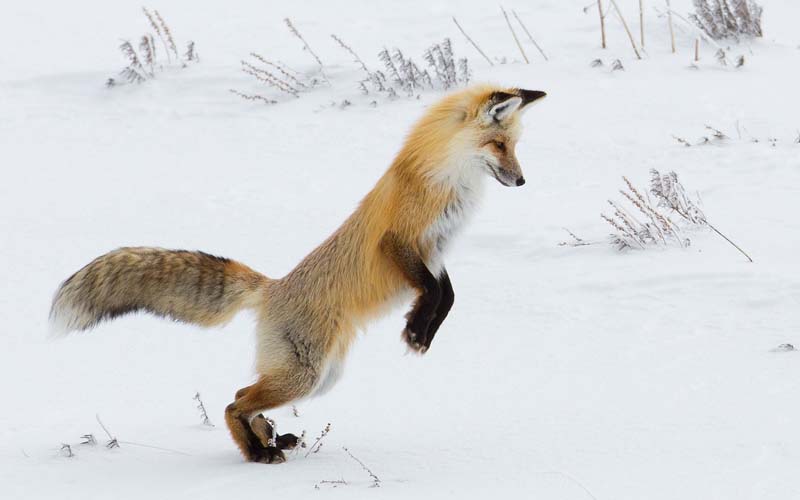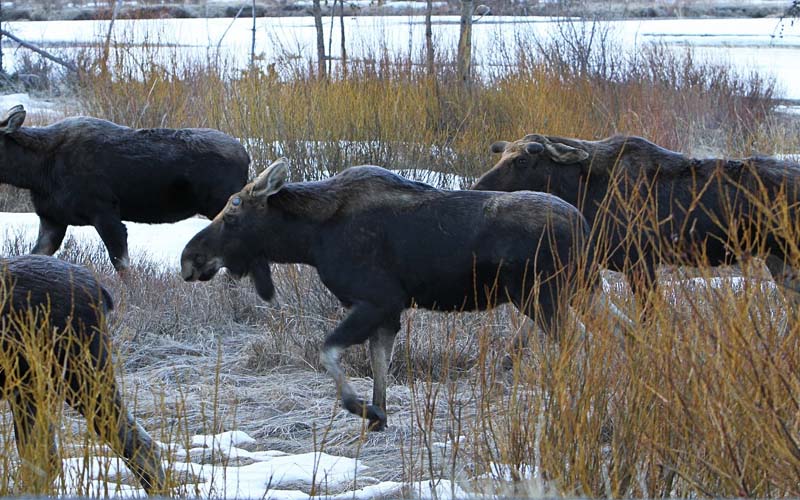 Trip Highlights:
Spend 4 full days in search for wolves, elk, bison, and other charismatic mega-fauna.
Learn the basics of photography mechanics and professional in field photography instruction.
Experience 3 days exploring in custom 4×4 safari vehicles.
Board a private Yellowstone Snowcoach for a full day expedition searching for wildlife and scenic vistas in Yellowstone's snowy interior, with a possible stop at Old Faithful.
Get moving! Visit frozen waterfalls, study track and sign, and explore Mammoth Hot Springs on foot, and/or by snowshoe with your guide.
Meet the experts. Enjoy a private dinner presentation from a Yellowstone Wolf Biologist, learning about the latest updates on Wolf Research in Yellowstone.
Make a difference. 2% of your land fee goes to wolf conservation efforts.
Immerse yourself in the winter splendor of Yellowstone's stunning landscape and wildlife, an intimate experience you won't forget.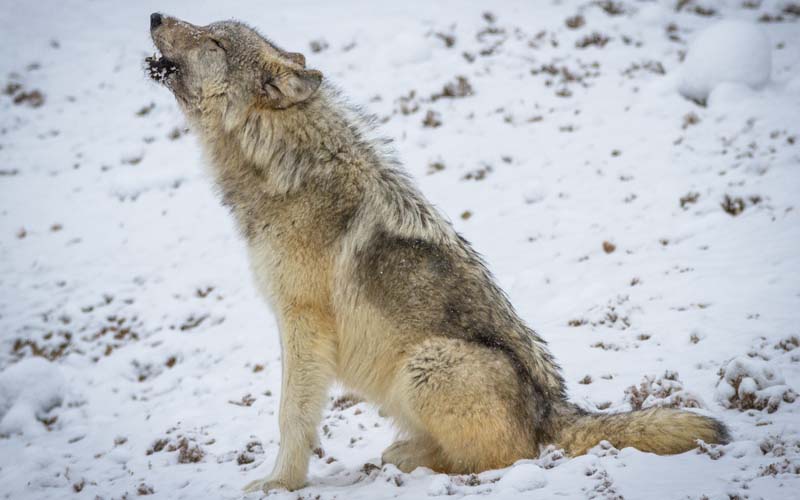 Included:
All scheduled activities, permits, park fees, and taxes.
5 nights double occupancy lodge (3 star hotels).
Expert local guides.
Transport in 4×4 safari style vehicles (all window seats)
All meals from dinner on day 1 to breakfast on day 6.
Use equipment: of high quality optics, and snowshoes.
Two evening educational presentations.
Excluded:
Airfare to Bozeman, Montana
Gratuity 10% minimum ($335)
Travel insurance
Supplemental Information: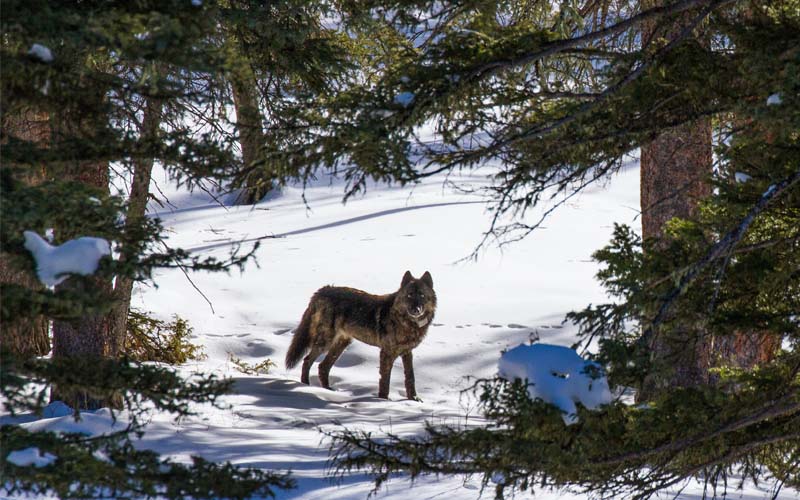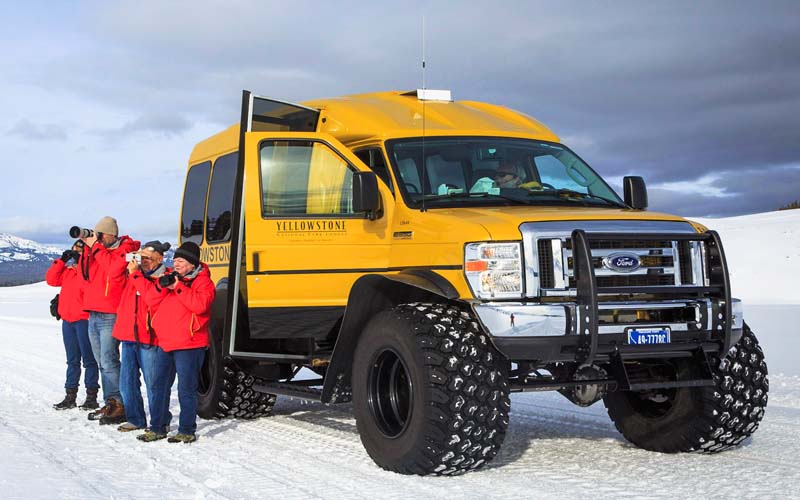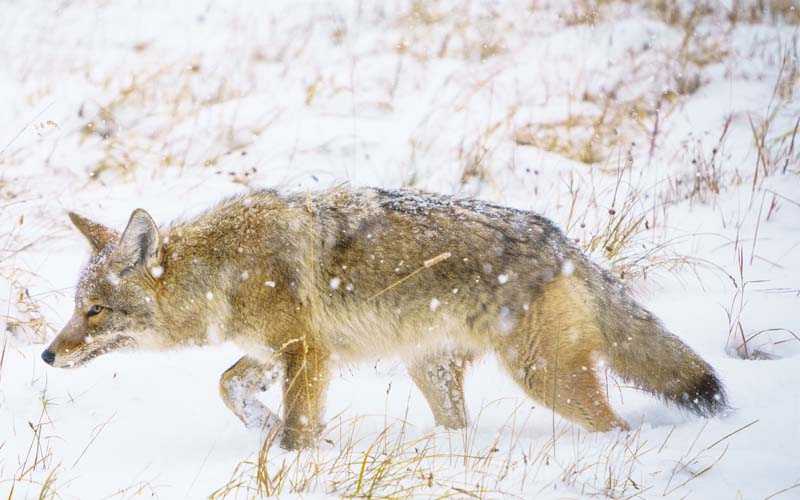 Mammoth Hotel
Bozeman Hotel
Paradise Valley
Mammoth Hotsprings
Gardiner, MT
Lamar Valley
Undine Falls, Yellowstone
Old Faithful Geyser Basin
Price: $3395
Deposit: $695
Deposit due by: now
Installments: 3 payments due November 1st. December 1st, and January 1st.
Spots Available: 2/9–  Use our chat feature to check real-time availability and to ask other trip-related questions. Availability is not updated automatically.
Minimum / Maximum Group Size: 9/9
Cancellation Policy:
A full cancellation policy is available before submitting payment: Cancellation Policy
In the unlikely event that Green Edventures is unable to fill the trip, a full refund will be given. If COVID-19 related issues close the park, the trip will be postponed. Participants will have the option to take a full travel credit, or cancel with a full refund minus the deposit and any unrecoverable costs.
Travel insurance is available and recommended.
Keep scrolling for the full itinerary.
This adventure begins and ends in Bozeman, Montana.
►Where Do We Stay?
Night 1: Bozeman: Element Hotel or similar.
Night 2: Yellowstone: Mammoth Hot Springs Hotel or similar.
Night 3: Yellowstone: Mammoth Hot Springs Hotel or similar.
Night 4: Yellowstone: Mammoth Hot Springs Hotel or similar.
Night 5: Bozeman: Element Hotel or similar
►Day 1: Arrival Bozman
Arrive in Bozeman to start your Yellowstone Winter Wolves Adventure! Your Naturalist Guide will meet you for a welcome dinner, where you will get to know other guests and prepare to explore winter in the American Serengeti. It's one of the quietest times of year to visit Yellowstone, meaning we will be among a dedicated few experiencing the park during this incredible time of year. (D)
►Day 2: Bozeman, Paradise Valley, Mammoth Hot Springs, Yellowstone's Northern Range, Gardiner​
Departing Bozeman this morning we'll experience the winter vistas of the Paradise Valley. As we follow the Yellowstone River up towards Yellowstone National Park, numerous opportunities to view wintering wildlife abound, including pronghorn, deer, rough legged hawks, bald eagles, bighorn sheep, elk, and bison. After an early lunch just outside the park in Gardiner our next stop is the Travertine terraces of Mammoth Hot Springs. As the evening's safari travels eastward through the Northern Range of Yellowstone National Park we will pass through the territories of four known wolf packs. We'll end the safari with an evening in the Lamar Valley, before returning to Gardiner for dinner and to prepare for the next day. Overnight at Mammoth Hotel or Similar. (BLD)
►Day 3: Yellowstone – Lamar Valley, – Cooke City – Gardiner​
We rise early for a full day of wolf and wildlife watching in Yellowstone's Northern Range! Winter is a busy time for wolf watching, and we will be in contact with other wolf watchers including Yellowstone Wolf Project Crews who are out in the field observing wolf behavior. We'll also enjoy views of Yellowstone's diverse wildlife, including the largest remaining wild herd of American Bison, our National Mammal. After lunch in Cooke City, we return to the Park, stopping to glass for moose along Soda Butte Creek and bighorn sheep and mountain goats high atop peaks in the Absaroka Mountains. Wolf Activity peaks at dawn and dusk so we will head back out to the park for an evening safari before heading back to Gardiner. Our tour today also includes a private presentation by a Yellowstone Wolf Biologist. Overnight at Mammoth Hotel. (BLD)
►Day 4: Private Snowcoach in Yellowstone's Interior​
Today we board a private SnowCoach to explore the wildlife and snowy landscapes of Yellowstone's interior. Depending on recent wildlife activity we'll head towards the Hayden Valley and Grand Canyon of the Yellowstone, or make our way towards the wildlife hotspot of the Madison River and the Old Faithful Geyser Basin. Overnight at Mammoth Hotel. (BLD)
►Day 5: Yellowstone's Northern Range and Transfer to Bozeman
Our final day in Yellowstone starts early as we continue our search for Yellowstone's winter wildlife. As an Apex predator, wolves provide a bounty for scavengers like golden and bald eagles, ravens, magpies coyotes, foxes, and even small mustelids such as ermine and martin. The cascades of Undine and Wraith Falls await us after our morning safari. In the afternoon we'll return to Bozeman via the Paradise Valley, stopping to observe eagles, herds of pronghorn, bighorn sheep, elk and other wildlife. Enjoy a farewell dinner with your guides, including a presentation by the Greater Yellowstone Coalition. Overnight at Element Hotel or similar. (BLD)
►Day 6: Departure from Bozeman​
Depart from Bozeman, MT. Your hotel can arrange shuttle service to the airport. For those wishing to extend their trip, our partners recommend a visit to the Museum of the Rockies, or skiing at nearby Bridger Bowl!
** Please note: The activities, lodging, guides, and schedule may change without notice as practical considerations arise during program development or onsite. **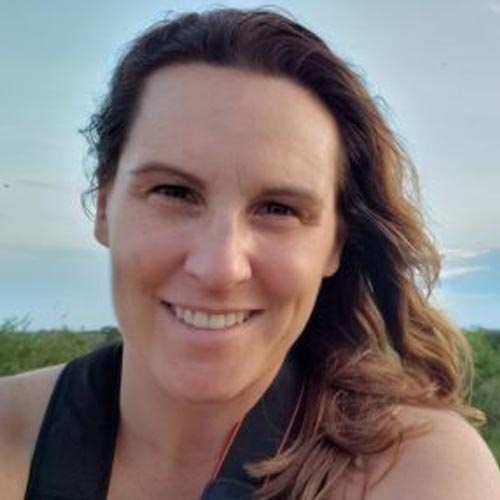 Tara Short
Trip Facilitator / CEO Green Edventures Tours
Tara is the Founder & CEO of Green Edventures Tours. She has 20 years of experience curating and facilitating educational adventures in the Americas, the Caribbean, Africa, and Iceland. She holds a Bachelor's Degree from the University of Wisconsin-Stevens Point in Natural Resource Management with an emphasis in Environmental Education/Interpretation. Tara has worked for notable educational, scientific, and conservation organizations and institutions such as the John G. Shedd Aquarium, Chicago's Museum of Science & Industry, USDA Forest Service in the Chugach National Forest in Alaska, and Wild Studies in the Bahamas. Tara is a PADI Open Water Diver, Advanced Diver, Rescue Diver and has specialty certifications as Underwater Naturalist, Deep Diver, Multi-Level diver and Night Diver. She holds current Wilderness First Aid & CPR Certifications.
Sign Up For The Green Edventures E-mail List
**We respect your privacy. Our website is fully secure and your information is kept 100% private with us**

Go Green Edventures!