Women's Wisconsin Dog Sledding Adventure (January 27 – 30, 2024)

Bayfield, Wisconsin

  4 Days

  01/27/2024

  01/30/2024
  Women Only
  Moderate Physical Activity
Scroll Down For The Itinerary
Experience the thrill of driving your own sled team of Huskies in northern Wisconsin! Dip through snowy valleys, and wind through woodland trails in the wake of wagging tails, flapping tongues, and pure joy.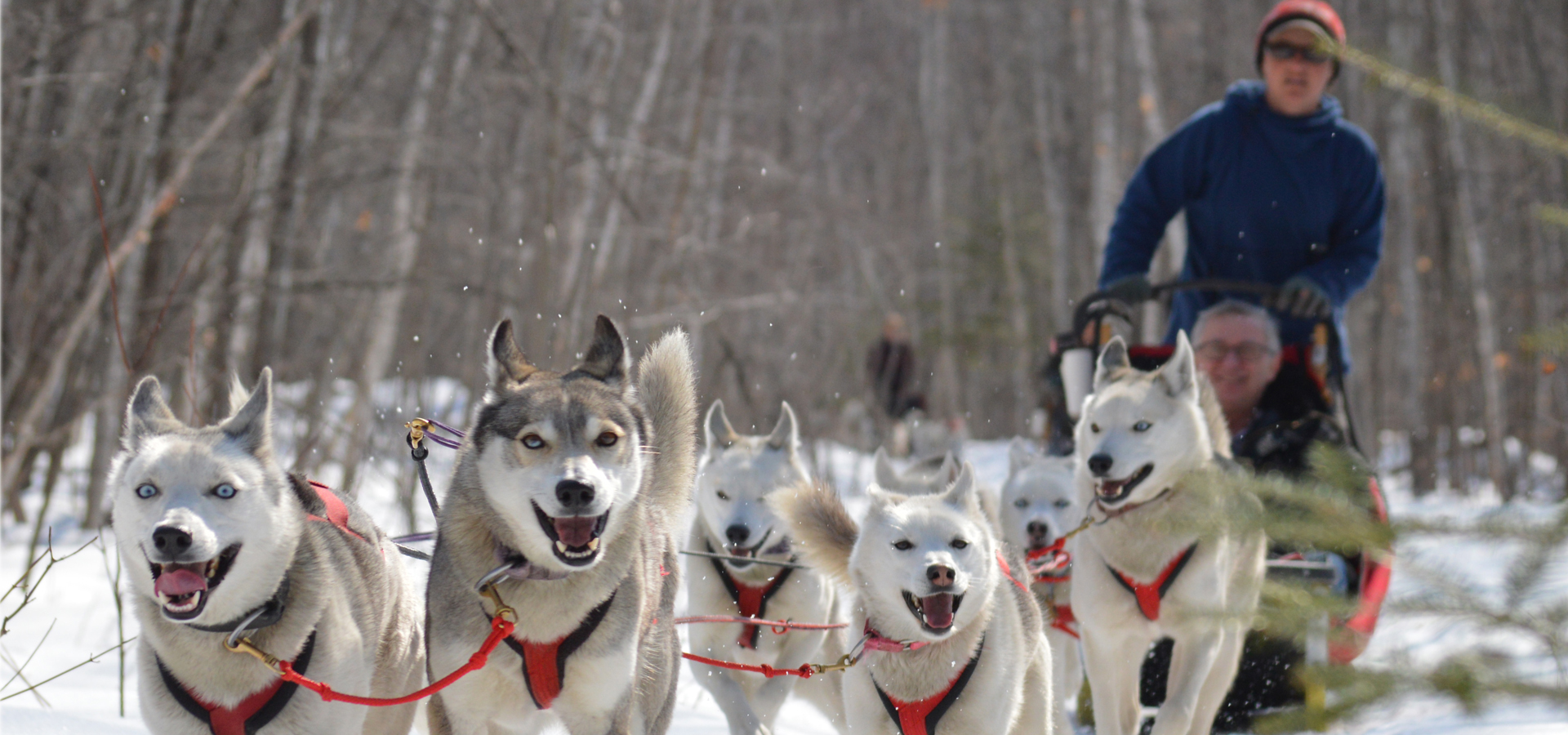 Ladies, check dog sledding off of your bucket list. Take a trek up to Northern Wisconsin for an extended weekend of outdoor winter adventures on the snowy coast of the mighty Lake Superior.  On our Women's Wisconsin Dog Sledding and Snowshoeing Adventure will feel like an artic explorer as we discover the Northwoods by dog sled and hike to hidden Lake Superior Ice Caves on snowshoes.
"This is the real deal! " — That what our partners have to say about their dogsledding tours.
Our partners on our Women's Wisconsin Dog Sledding and Snowshoeing Adventure are a woman-owned and operated kennel is comprised of 42 Seppala Siberian Huskies which are direct descendants of Togo and Balto who helped deliver the life saving serum to the children of Nome during the outbreak of Diptheria in 1925.
From start to finish, participants will be involved in all stages of mushing. Every trip begins with participants meeting each dog and learning about them.   Then, your guides will teach you how to harness dogs and hook up the teams. Once everyone, and every dog is ready, we head out on some of the most beautiful forested trails in Northern Wisconsin.
Not just a walk in the woods.
Led by a local naturalist and guide, participants on our Women's Wisconsin Dog Sledding and Snowshoeing Adventure will take on two totally different worlds by snowshoe. An introductory forest hike at sunset will immerse you into a wintery world after dark where you will uses your senses to navigate and search for signs of wildlife. On a separate adventure, participants will walk three miles on frozen lake ice to secluded ice caves. Ice caves are formed by ground water that becomes frozen when it comes into contact with cold air. As the water is pulled through the sediment it forms crystals of varying shapes and colors.
Who should sign up?
The Women's Wisconsin Dog Sledding and Snowshoeing Adventure is open to women ages 18 and older. Anyone in good health, and who is moderately active can enjoy the activities listed on the itinerary.   Dog sledding can be done by nearly anyone.  Snowshoeing is 3-4 hours, over level terrain, and 2-3 hours over rolling terrain at a moderate workout level. Temperatures ranging from the low 30's to below zero. Windy conditions could create extreme cold depending on wind direction. Please view the packing list below and come prepared to spend time outside in the cold
Accommodations:
On our Women's Wisconsin Dog Sledding and Snowshoeing Adventure participants all have single rooms in 2 bedroom cottages with one bathroom.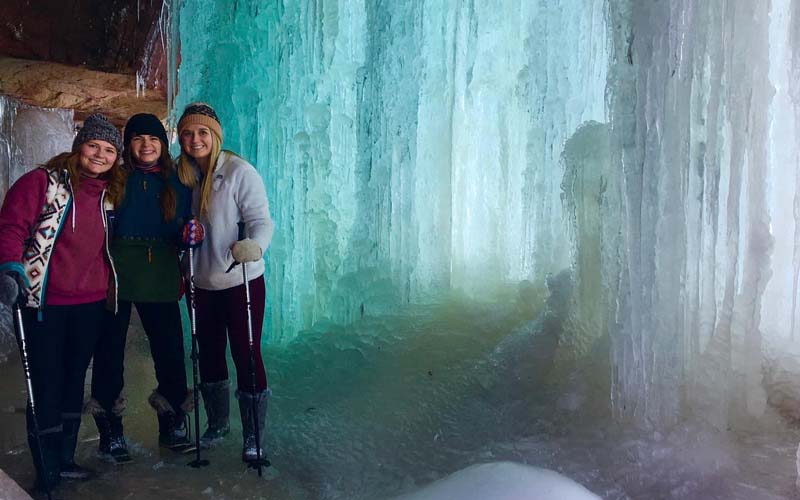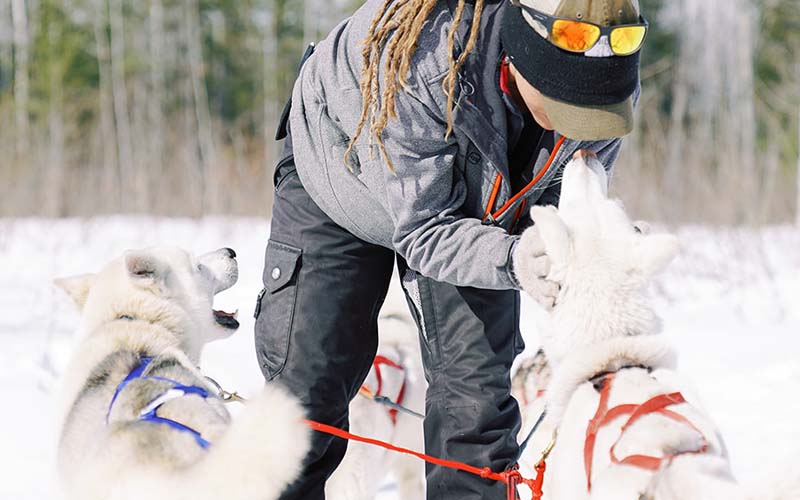 Trip Highlights:
Experience Lake Superior's peaceful winter wonderland.
Learn to drive your own dog sled team!
Heighten your senses on sunset snowshoe night hike.
Discover Lake Superior's mainland ice caves.
Stay in cozy 1 or 2 bedroom cottages.
Scan the clear winter sky for constellations and maybe even northern lights.
Eat food from local restaurants catered right to your cottage.
Relax. All the planning is done for you!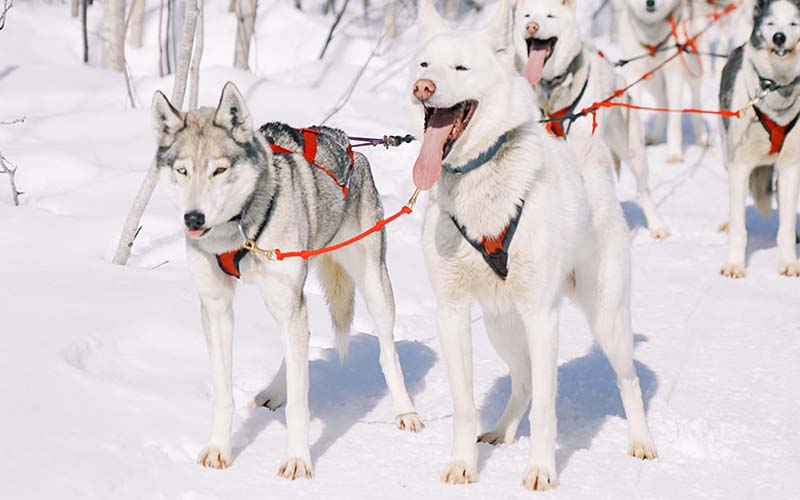 Included:
2 dog sledding sessions.
2 guided snowshoeing hikes
3 nights in 1 or 2 bedroom cottages.
Expert local guides.
2 dinners
3 lunches
3 breakfasts
Use of snowshoes
Excluded:
Transportation to Bayfield, WI.
Local transportation between activities.
Gratuity 10% minimum of total package.
Travel insurance
Alcohol or bottled beverages.
Supplemental Information: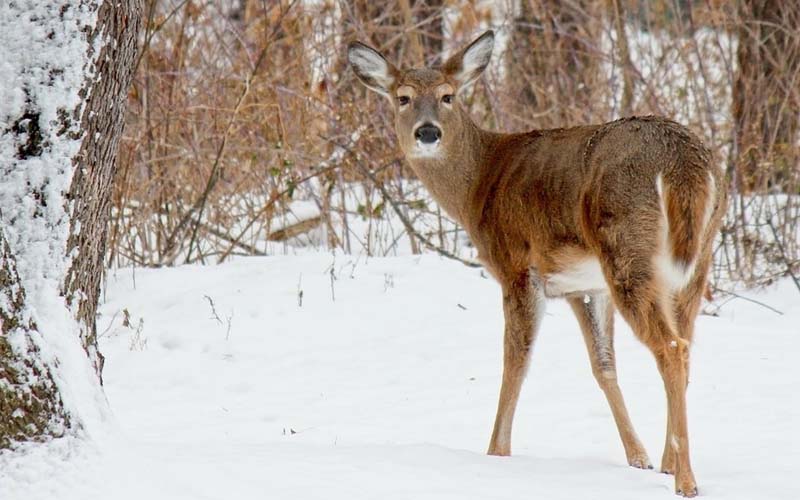 Package Price: $2295 per person
Deposit: $550  – Due October 15, 2023
Prices are subject to change at any time and can only be locked in after deposits are made.
Installments: 2 equal payments of balance due November 15 and December 15, 2023.
Spots Available: See below for real-time availability.
Participants will be in two teams of no more than 6 participants.
Travel insurance is available and recommended.
Keep scrolling for the full itinerary.
Green Edventures' Policies:
In the unlikely event that Green Edventures is unable to fill the trip, a full refund will be given.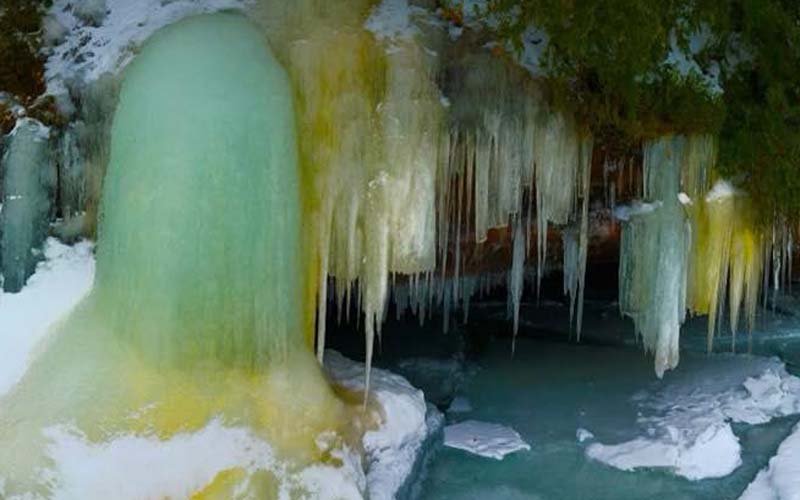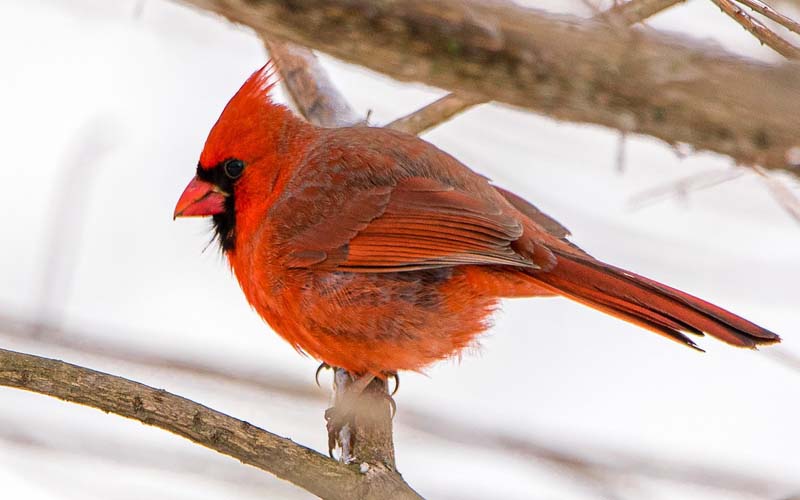 This adventure begins and ends in Bayfield, Wisconsin.
►Where Do We Stay?
Night 1: Woodside Cottages, Bayfield, Wisconsin.
Night 2: Woodside Cottages, Bayfield, Wisconsin.
Night 3: Woodside Cottages, Bayfield, Wisconsin.
►Day 1: Welcome to Bayfield
Arrive at Woodside Cottages between 2 & 4pm to avoid traveling at night in the winter. If weather permits we will sit outside by a campfire and talk about the plans for the following day and socialize. Dinner will be pizza and salad. Participants will dine in individual cabins. ​(D)
►Day 2: Morning Mushing & Evening Sunset Show Shoeing Hike
Participants will make their breakfast in their cabins with pre-supplied fixings and eat before meeting time.
Morning Mushing 9am -1pm
As soon as you meet the dogs, you will be just as excited as they are to get on the trail! Your guides will introduce you to the dogs, teach you to harness them up, and then show you what it takes to drive your own team of four huskies.  Everyone will have about 1:45 hours of time driving their own team. This hands-on trip will have two guides on sleds with a rider, and four sleds driven by participants.  Every participant will be a rider for about 15 minutes. A hot, and hearty lunch will be served on the trail.
Late Afternoon: Sunset Snowshoe Hike
Participants will meet our local guide for a snowshoe hike on one of the many forest trails in the area. As the sun sets, your eyes will become accustom to the dark and your senses heightened. We will listen for owls. Look toward the sky for stars and hope for clear skies and northern lights. Hike out with headlamp or without. Tour length is 2-3 hours of snowshoeing over rolling terrain. This is a moderately paced workout.
Dinner will be catered by a local restaurant. Participants will dine in their cabins. Meals: BLD
Notes: Participants will shuttle between activities in their own vehicles.
►Day 3: Morning Lake Superior Ice Caves Snowshoe Hiking & Afternoon Dog Sledding
Breakfast in cabins.
Morning: Red Cliff Lake Superior Ice Caves 8am-12pm
This adventure showcases the magical multicolored ice formations found along Lake Superior's winter shoreline. We begin at Frog Bay Tribal Park winding our way through a majestic, old-growth hemlock/cedar forest, then cross over the frozen Frog Creek coastal wetland. Tracks of otter, fox, fisher and coyotes are common here. Then we venture onto a frozen Lake Superior, following the shoreline south towards Red Cliff Bay. This tour offers views of 9 of the Apostle Islands. As we move down the shoreline, red sandstone rock outcrops begin to rise up and tower up to 100 feet above the lake. These cliff formations are the source of the "Red Cliff Indian Reservation" name. Groundwater seeps year round from the sandstone, and in winter creates amazing ice formations. Pictures best describe their beauty. Several caves have been carved into the sandstone for us to explore. 
Note:  Tour length is 3.5 – 4  hours snowshoeing over level terrain. Temperatures ranging from the low 30's to below zero. Windy conditions could create extreme cold depending on wind direction. Packed lunch provided.
Afternoon: Dog Sledding 3:00pm-5pm
Experience the thrill of dog sledding one more time. Drive your own team, or ride along. Harness, hook-up, feed, and love the dogs! 
Evening: Dinner catered by local restaurant. Participants will dine in their cabins. Meals: BLD
Note: Participants will shuttle in their own vehicles between activities. 
►Day 4: Departure
 Participants will have lunch in their cabins. Snowshoes are available for those who would like to play a little longer on the property. If ice condition permit, we can caravan over to the Famous Ice Road in WI and drive on Lake Superior. Check out 10:00am (B)
** Please note: The activities, lodging, guides, and schedule may change without notice as practical considerations arise during program development or onsite. **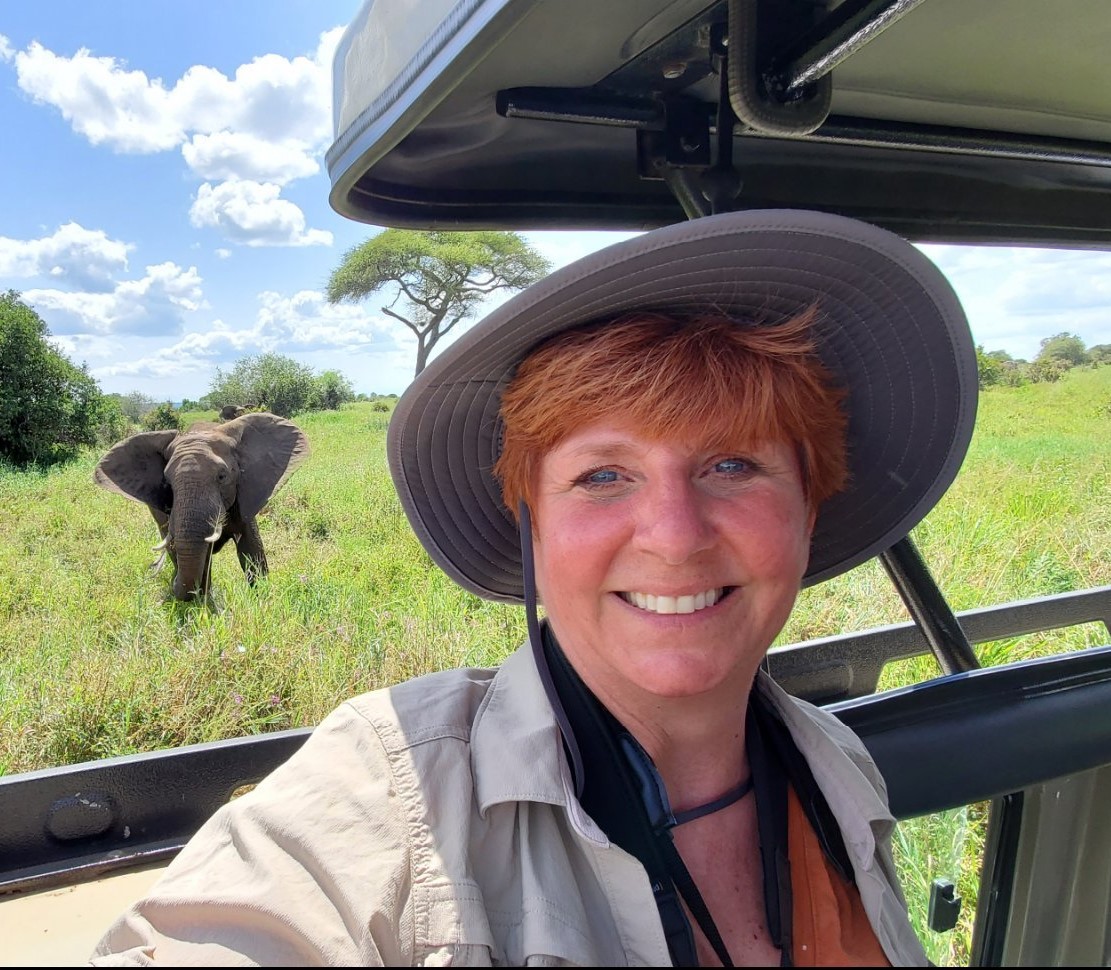 Lori Anderson
Trip Leader
E-Mail: info@greenedventures.com 
Lori started her Green Edventures journey in 2019 going on trips such as Tanzania, Idaho, Northwoods WI, Yellowstone, WI Dog Sledding, Uganda, Iceland Multi-sport and Laugavegur, Baja, Roatan and Alaska. In 2021 she led our Northwoods WI Women's Trip, and in 2022, she Co-Led two WI Dog Sledding Trips, Tanzania Women's trip and Co-Ed trip, Idaho Salmon River Rafting and a Northwoods WI student trip.
She has been traveling since the age of 11 where she took her first trip out of the country to Canada, since then, she hasn't stopped. For Lori, it isn't always about the destination, she wants to travel anywhere and everywhere! She loves all forms of travel – road trips, plane trips, cruises, guided tours, self-guided/planned trips, outdoor/indoor, beach or mountain, hiking or theater, solo or partner or group – you name it! But her favorite part of travel is meeting new people along the way and hearing their stories!
You can read more about Lori here: Meet Trip Leader Lori Anderson
Sign Up For The Green Edventures E-mail List
**We respect your privacy. Our website is fully secure and your information is kept 100% private with us**

Go Green Edventures!