Iceland: Women's Adventure Tour

  Iceland

  This trip is no longer available. Check out this similar Women's Iceland Adventure.

  N/A

  N/A
  Women Only
  Moderate Physical Activity
Hey Viking Princess! This is the Iceland trip you have dreamed about. Let us help you explore Iceland's natural treasures by paddle, saddle, and on foot while you connect with nature in the company of a great group of women.
Discover Iceland and discover yourself on our Iceland women's adventure tour. Explore the natural wonders of the magical Snaefellsnes Peninsula, the waterfalls and glaciers of the south coast, and trek in the valley of Thor.
Now is your chance to experience the Iceland not many travelers will ever venture out of Reykjavik to see and share it with a great group of adventure buddies. — If you are looking for an active adventure that combines Iceland's popular treasures with hidden gems and outdoor adventure, then the Iceland womens adventure tour is for you!
Women on our Iceland womens adventure tour will experience a variety of short day hikes tailored to the group's interest and skill levels, sea kayaking in the North Atlantic, glacier trekking, riding Icelandic Horses, and soaking in hot springs like the Blue Lagoon, and local pools. We stay in countryside guest houses and summer cabins. Throughout the trip, fresh lamb, cod, and trout is available. — Are you swooning already?
The Iceland womens adventure is open to all women. No previous experience required. Join us as a solo traveler, with a partner, or with a friend. There are no forced single supplements. On our fun and active Iceland women's tour, you will have instant travel buddies, lots of belly laughs and future-lifelong friends. The Iceland women's adventure tour will be a positive life-changing adventure you will remember forever.
We have partnered with Becoming an Outdoors Woman to offer this active educational travel Iceland womens adventure tour for women of all ages and backgrounds.  If you are looking for an active adventure with a like-minded group of travelers and future life-long friends, this is the trip for you. All skill levels welcome. No experience necessary. Solo female travelers, friends, sisters, partners, mothers and daughters. All women ages 18+ are welcome.
This Iceland womens adventure tour is 10 days and is similar to our 9-day trip, with the added bonus of a night in Thorsmork conservation area for hiking. There are a variety of hikes to choose from. 
Love to hike? Want a REAL challenge? Extend your stay in Iceland and join us on the Laugavegur Trek, a 40 mile through-hike in the highlands August 2-8, 2020.
What others have said about our Iceland women's adventure tour.
"I wanted to send you an email thanking you for this past Iceland trip. I have never done anything like that before and I was very uncertain about how it would be. I can honestly say that week and a half I spent with you and the rest of the group was the best time of my life. I learned so much about Iceland and even more about myself. It has made me want to do even more trips like this, hopefully through Green Edventures if the opportunity presents itself again." – Miranda M., WI (2019)
"Empowering, enlightening, and exciting all rolled into a wonderful trip to Iceland. From hiking the majestic mountains, exploring beautiful waterfalls, kayaking the sea, walking on black sand beaches, and experiencing the amazing glaciers , not a moment that wasn't wonderful. This fabulous trip composed by Tara and the ever energetic local guide Kristin, was one of the best! A great group of women -some very athletic and some not ( me!) enjoyed a very memorable trip." Susan L. (2019)
Trip Highlights:
See the lesser traveled parts of Iceland including the Snaefellsness Peninsula, and spend time in small towns and hamlets.
Get up-close to puffins and shore birds on a North Atlantic Boat Tour.
Experience Iceland's treasures: The Golden Circle: Strukkur Geyser, Gullfoss Waterfall.
Learn about Viking history  at Þingvellir National Park.
Don your crampons and get on ancient ice for a glacier trek.
Feel blue! Take a thrilling zodiac trip into a glacier Lagoon to photograph towering icebergs.
Explore the black sands and epic basalt columns of Vik, Reynisfjara, and Dreyholaey Nature Reserve.
Paddle paradise via a 2- hour adventure kayaking trip through marshes into to the Atlantic Ocean.
See geothermal energy in action, powering the country, and growing food in green houses.
Relax in the Blue Lagoon and lesser known community lagoons and pools.
Ride Icelandic Horses on a black sand beach.
Hike to a hot river through a steaming valley.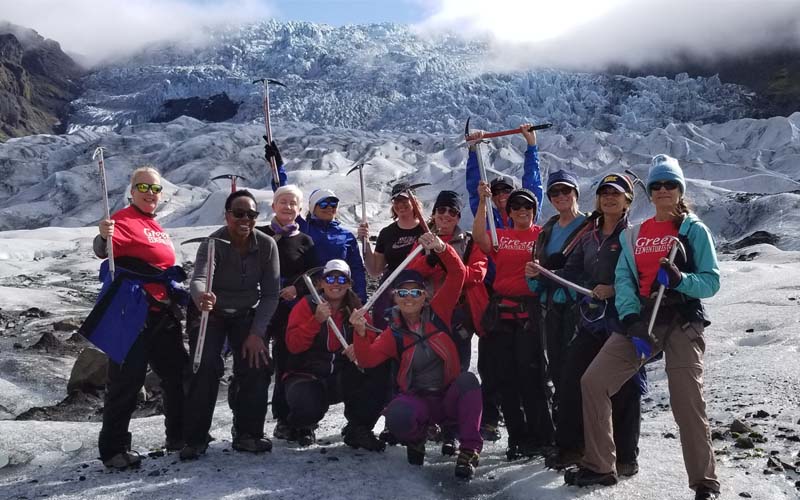 Included:
Stops at breath-taking waterfalls, geysers, and black sand beaches.
A variety of guided hikes with unbelievable beauty.
Entrance to the Secret Lagoon hot pool.
2 hour kayaking adventure.
Guided glacier hike in Skaftafell National Park.
Zodiak Boat trip into a glacier lagoon.
Ride Icelandic Horses on a golden sand beach.
See puffins and experience Viking Sushi on a North Atlantic Boat trip.
Entrance to the famous Blue Lagoon.
All breakfasts, 2 lunches.
English speaking Icelandic driver and guide for 8 days from day 2 to day 9.
Return trip group transfer from Reykjavik on day 9 to Keflavik International Airport.
Lodging in cute guesthouses, cabins, B&B style accommodations: 8 nights in double twin rooms with clean shared facilities (6 nights) private facilities (3 nights). 1 night in a park hut in Thorsmork is dormitory (sleeping bags provided) and will include other travelers (men and women).
Excluded:
Airfare to Reykjavik
Airport transfer from Keflavik to Reykjavik day 1.
Most meals except breakfast & 2 lunches.
Gratuities
Personal spending money.
Travel Insurance
Supplemental Information: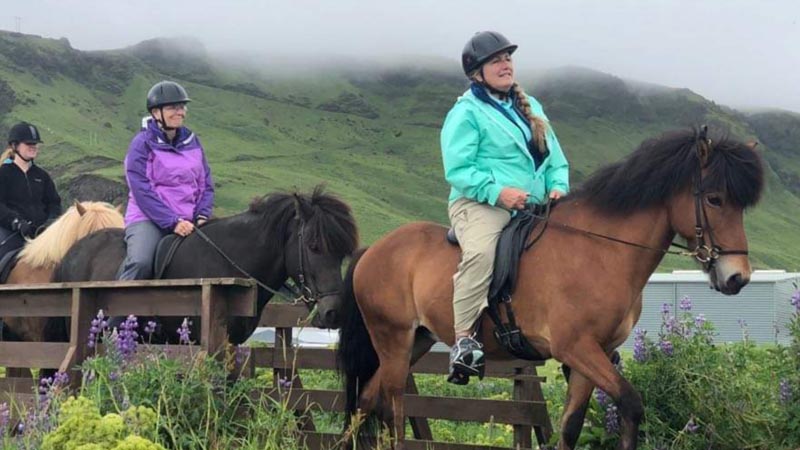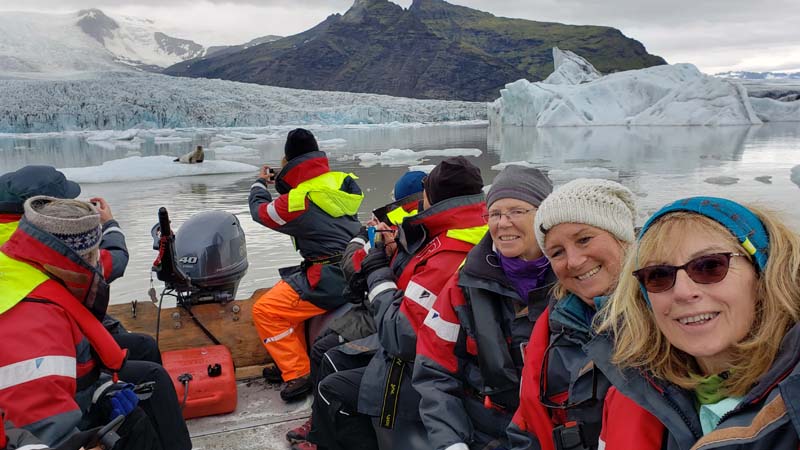 Price: $4425
 Deposit due by: February 15, 2020 or until spaces are filled.
Installments: Four installments of $956 due March 15, April 15, May 15, June 15.
Spots Available: 4/12 —  Use our chat feature to check real-time availability and to ask other trip related questions. Availability is not updated automatically.
Other Women's Adventures in Iceland you may be interested in: Iceland 7-Day Iceland Laugevegur Ladies Hike, or 9-Day Iceland Multi-Sport Adventure,
All payments are non-refundable. In the unlikely event that Green Edventures is unable to fill the trip, a full refund will be given.
Travel insurance is available and recommended.
The Iceland womens adventure tour begins in Reykjavik and then we venture out into the countryside. We spend two nights on the Snaefellsnes Peninsula, known as mini Iceland. Here we are introduced to geology in Snaefellsnes National Park, and ride Icelandic Horses on golden sand beaches. Then we pass through the Golden Circle area to learn about history and geothermal energy. The Golden Circle has, Thingvellir National Park, Geysir, Gullfoss waterfall, and hotsprings to soak in.  After one night, we drive east, along the coast stopping at various beautiful waterfalls and hiking scenic trails. The south coast is a scenic wonderland. Cascading waterfalls give way to raging rivers, massive glaciers terminate in black sand deserts, and the wild ocean pounds on high impact beaches in the shadow of giant trolls. The grand finale to our Iceland womens adventure tour is Thorsmork. To access this conservation area, we have an exciting drive through glacier rivers! We spend one night and two days hiking in one of the only forested areas in Iceland.
►Day 1: Arrival at the Keflavik International Airport (KEF) – Explore Reykjavik.
Arrival at Keflavik airport anytime. Transfer to Reykjavik on your own. Group dinner in town (not included) and overnight in guesthouse. Overnight at Reykjavik.
►Day 2: Reykjavik – Snaefellsnes Peninsula
Early morning departure from Reykjavík. We set course to Snæfellsnes, a volcanic peninsula that stretches out from the Icelandic west coast and is divided by a chain of mountains that lies from east to west. The peninsula is dominated by the majestic Volcano Snæfellsjökull. We head straight to the beautiful town of Stykkishólmur where we will go on the Viking Sushi Boat Trip on the Breidafjörður Bay at 11:00 am. After the boat trip, lunch (not included) in town. After lunch, we explore the northern coast of the peninsula, visit the village of Grundarfjörður and enter the National Park. Stop and walk to a black beach. Overnight in Hof Snæfellsnes on the south coast of Snæfellsnes for 2 nights.
►Day 3: Snæfellsnes-Borgarfjörður-Þingvellir
Today we will explore the South coast of the Snæfellsnes peninsula. Our first activity will be 2-hour horse riding tour from Lýsuhóll. After the riding tour we drive to Hellnar where we have lunch at the tiny beach café (included). Our next stop is at the hamlet of Arnarstapi where we walk among the basaltic rock formations. We stop at Búðir to visit the beautiful little black church, the yellow sand beach and the rock lava formations and If we have time, we will explore the gorge Rauðafellsgjá. before return to Hof for second night.  (B,L)
►Day 4: Thingvellir, Gullfos and Geysir
We return south towards the National Park of Thingvellir where we walk along the faults and fissures of the area that make evident the rifting of the earth's crust and hear about the major historic events that have taken place at this UNESCO world heritage site. From there a short drive brings us to the famous greenhouse Friðheimar where we have their renowned tomato soup for lunch (included). After lunch, take a bath in the secret lagoon nearby (bring your own towels) and we visit two of Iceland's most famous natural treasures the waterfall Gullfoss and the Geysir hot spring area. The famous hot spring is the namesake of all sprouting hot springs, and his neighbor, the reliable Strokkur geyser, spouts hot water up as high as 15 – 30 m, every 5 – 10 min. Overnight in guesthouse in Selfoss. (B,L)
►Day 5: South Coast – Kirkjubæjarklaustur
Our first stop today will be the the beautiful waterfall Seljalandsfoss and we will walk behind it. A little bit further east we stop at the black beach of Reynisfjara and the beautiful village of Vík where we can take a short walk on the black beaches, admiring the power and beauty of the Atlantic Ocean. The high cliffs dominate the black beach below and just off the coast pillars of rock rise from the Ocean's surface. Legend says that these are trolls that turned into stone after staying up past sunrise. After an hour drive across the vast sand desert of the south and the lava field of Eldhraun, one of the biggest lave flow coming from one single eruption, we take a walk at the gorgeous Fjaðrárgljúfur Canyon before heading for our accommodation near Kirkjubæjarklaustur. (B)
Day 6: Skaftafell National Park, Fjallsárlón & Jökulsárlón Glacier Lagoons
Today we head further east for an adventurous day. We enter the Skaftafell National Park where we will hike up to the Svartifoss waterfall. We continue to Fjallsárlón lagoon where we will go on an exciting boat trip among the floating icebergs. After lunch we head for the famous Jökulsárlón Glacier Lake, filled with icebergs and we will walk along the picturesque Diamond Beach before returning to our accommodations in Kirkjubæjarklaustur for the second night. (B)
►Day 7: Glacier Walk – Thorsmork Valley
After breakfast we depart the guest house. Our first top will be Sólheimajökull, a glacier. At the base we will be equipped with crampons and ice ax and a specialist glacier guide takes us on a walk up to and onto the glacier. After this unique experience we drive into the Valley Thorsmork, named after the pagan god Thor. The valley is an oasis located between three glaciers Mýrdalsjökull, Tindfjallajökull and Eyjafjallajökull. The roads become very rough and multiple rivers must be crossed to get to our mountain hut in Básar. We will have time for a hike before making our barbecue dinner. Accommodation will be sleeping bag (provided) accommodation in a cozy dormitory park hut. (B D)
►Day 8: Hiking in Thorsmork Forest Valley
In the morning we will be hiking in the valley. There are numerous possibilities and our guide will choose hiking trail according to weather condition. In the afternoon we take another exciting drive across all those glacier rivers again in order to reach the road that will take us to our country guesthouse Vatnsholt. (B).
►Day 9: Selfoss- Kayaking to North Atlantic- Hike to Hot Spring-Reykjavík
We drive to the small village of Stokkseyri where we will paddle on a sea kayak through narrow canals, down the river and out to the sea. the sea. On our way, back to Reykjavik we stop at of the geothermal village of Hveragerði for a short hike among the numerous hot springs and boiling mud pools of Grændalur or Reykjadalur, a magical place. Arrival in Reykjavik in the afternoon. Overnight in guest house Snorri.​ (B)
►Day 10: Blue Lagoon & Airport Transfer
Transfer to Keflavik airport for a return flight.  On the way we will stop at the Blue Lagoon to have a relaxing 2-hour bath its spa-like milky hot water. Considered one of the 25 wonders of the world, the geothermal water originates 6,000 feet below the surface, where freshwater and seawater combine at extreme temperatures. It is then harnessed via drilling holes at a nearby geothermal power plant, Svartsengi, to create electricity and hot water for nearby communities. On its way to the surface, the water picks up silica and minerals, before emerging at a soothing 38°C (100°F). Perfect for a relaxing and re-energizing bath.(B)
** Please note: The activities, lodging, guides, and schedule may change without notice as practical considerations arise during program development or onsite. **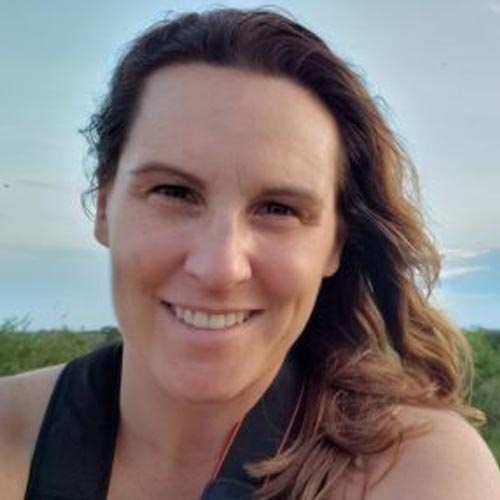 Tara Short
Trip Facilitator / CEO Green Edventures Tours
Tara is the Founder & CEO of Green Edventures Tours. She has 20 years of experience curating and facilitating educational adventures in the Americas, the Caribbean, Africa, and Iceland. She holds a Bachelor's Degree from the University of Wisconsin-Stevens Point in Natural Resource Management with an emphasis in Environmental Education/Interpretation. Tara has worked for notable educational, scientific, and conservation organizations and institutions such as the John G. Shedd Aquarium, Chicago's Museum of Science & Industry, USDA Forest Service in the Chugach National Forest in Alaska, and Wild Studies in the Bahamas. Tara is a PADI Open Water Diver, Advanced Diver, Rescue Diver and has specialty certifications as Underwater Naturalist, Deep Diver, Multi-Level diver and Night Diver. She holds current Wilderness First Aid & CPR Certifications.
Sign Up For The Green Edventures E-mail List
**We respect your privacy. Our website is fully secure and your information is kept 100% private with us**

Go Green Edventures!