Baja Women's Snorkeling Adventure + Gray Whales Tour – (March 3-10, 2023)

  Baja-Sur, Mexico

  8 Days

  March 3, 2023

March 10, 2023
  Women Only
  Easy Physical Activity
Scroll Down For The Itinerary
Let us help you fall in love with the Sea of Cortez through guided, close encounters with some of its wild residents. Snorkel with playful sea lions and gentle whale sharks, and have joyful interactions with baby gray whales. If you can float, you can do this trip! Your friends won't believe your pictures.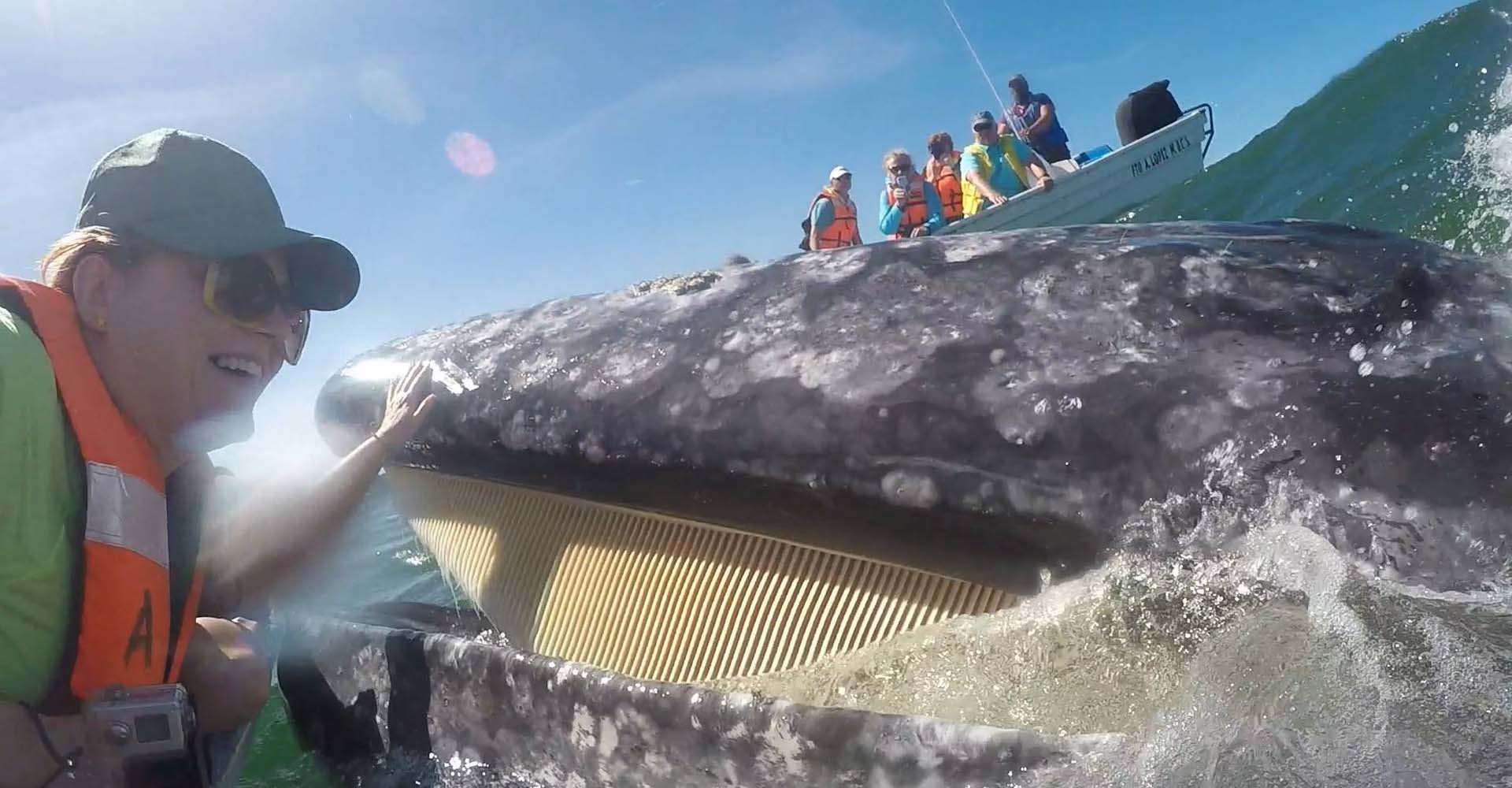 ​This Baja women's snorkeling adventure and gray whales tour is for any woman who dreamed of being a marine biologist as a little girl, or for those of you who wanted to be National Geographic Explorers. Live the trip of your dreams, and share it with a group of like-minded women.
Ladies! Join us on our annual migration to La Paz for our baja women's snorkeling adventure and gray whales tour that is close to home with amazing animal encounters. Your friends won't believe your pictures!  Our Baja womens adventure and Gray Whales tour is the perfect combination of R&R and guided activities. You will learn to snorkel with big animals in the Sea of Cortez like sea lions and whale sharks, and have amazing up-close encounters with Gray Whales in Magdalena Bay.
Have you ever looked a whale in the eye? On this Baja women's snorkeling adventure and gray whales tour we spend one night and two days in Puerto Lopez Mateos, the gateway to Magdalena Bay. Here, we will meet Gray Whales up-close and personal. Baby gray whales are like puppies. They come right up to the boat to check you out.
Also on our Baja women's snorkeling adventure and gray whales tour, spend four unforgettable nights glamping on Ensenada Grande beach — a billion-star resort, of which The Travel Magazine has dubbed as "absurdly beautiful" and swimming in its water is like "swimming in a bottle of Curacao." Far from roughing it, think of the camp as a tent resort. Enjoy chef-prepared meals with fresh ingredients brought in daily, a variety of beverages, and the support of a full crew.
From our camp on Ensenada Bay, we have quick access to the best of Espiritu Santo Island.  Each day on our Baja women's snorkeling adventure and gray whales tour is filled with fun, bucket-list activities like snorkeling with wild sea lions at Los Islotes and getting gill-to-snorkel with the largest fish in the world, the whale shark. Topside activities include hiking through pristine desert, and sea kayaking along towering volcanic arches.
This exciting Baja women's snorkeling adventure and gray whales tour is an active educational travel adventure for women of all ages and backgrounds. Now is your chance to experience the Sea of Cortez and our billion star hotel in a safe and supportive group of adventurous women. Led by a Green Edventures' Naturalist and expert local guide, enjoy the luxury of remoteness with delicious food, comfortable accommodations, and fun outdoor adventures like snorkeling, kayaking, whale watching, snorkeling with sea lions, and snorkeling with gentle whale sharks with new friends. All skill levels welcome. No experience necessary. Solo women travelers, friends, sisters, partners, mothers and daughters. All women ages 18+ are welcome.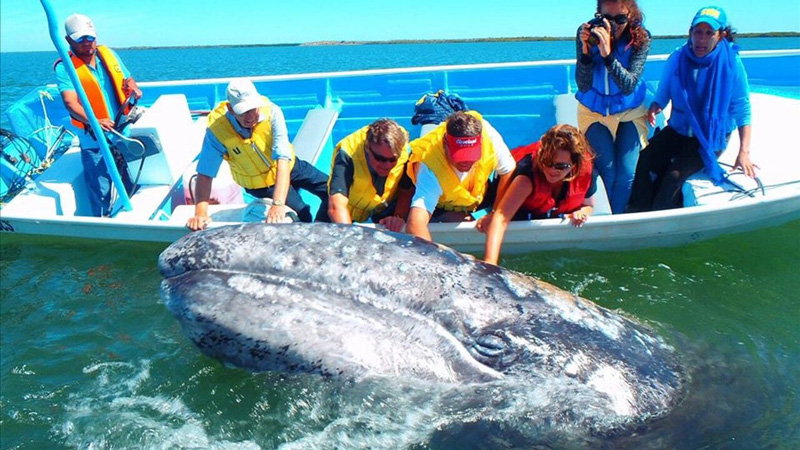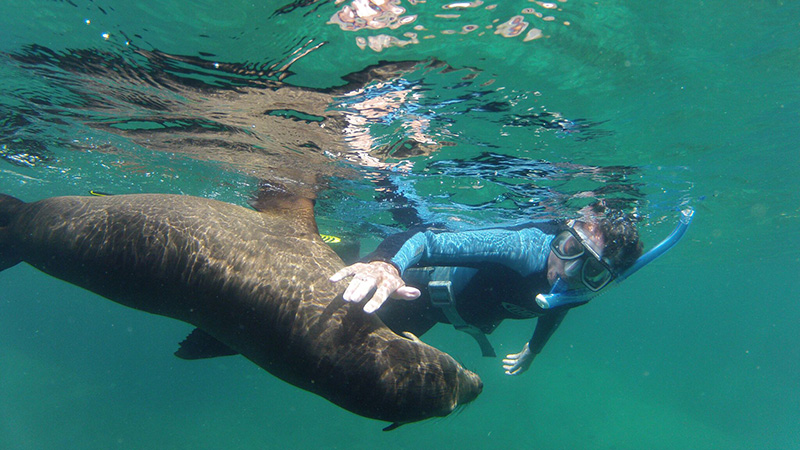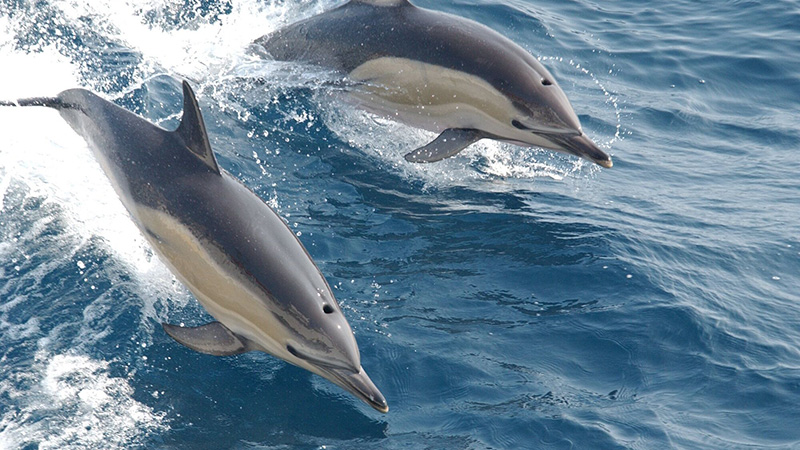 Trip Highlights:
Learn to snorkel & free-dive in a place Jacque Cousteau named, "The Word's Aquarium."
Glamp on one of the world's most beautiful bays – it's not roughing it at all.
Guided snorkeling trips in small groups to explore coral reefs, rocky reefs, and sandy bays.
Sea kayak along volcanic rocks, sea caves, and arches to get up close to shore birds and sea lions.
Spend a day having close encounters with Gray whales at Magdalena Bay.
Plunge in and play with 400 wild and friendly sea lions.
Taste tequila! This tequila talk will introduce you to different types of tequila and the tequila making process.
Informal evening presentations about ecology and conservation.
Snorkel with whale sharks!! These gentle giants are the largest fish on Earth.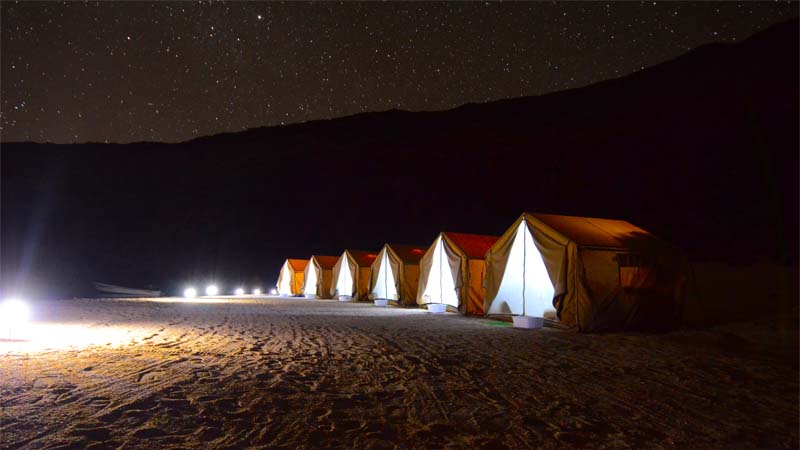 Included:
All scheduled activities listed on this page including snorkeling, kayaking, hikes, and gray whale watching trip.
7 nights of lodging.
Group ground transport from San Jose del Cabo Airport (SJD).
Authentic delicious and healthy meals from dinner on arrival day to breakfast on departure day.
24/7 Onsite support from a Green Edventures Program Manager and/or Rep & Local Guide.
Excluded:
Personal spending money.
Alcoholic beverages.
Gratuity ($300 per person)
Special travel
Airfare to Los Cabos Airport (SJD)
Travel Insurance
Supplemental Information: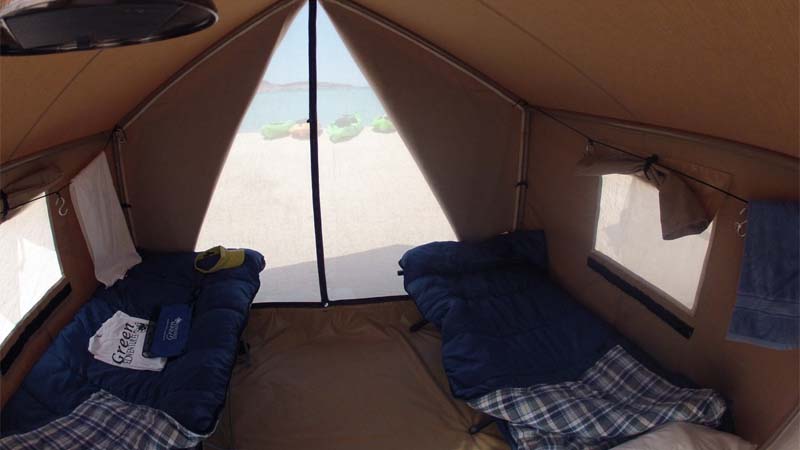 Early Bird Price: $3195
Deposit: $700
Installments: 3 equal installments December 3, January 3, and February 3, 2023.
Spots Available: — See below for real-time availability and sign up!
Travel Documents: A passport is required.
Travel insurance is available and recommended.
The trip begins and ends at Los Cabos Airport. From here, we transfer 2.5 hours to La Paz for one night. Early the next morning we drive 3 hours north to Puerto Lopez Mateos for 1 night and for whale watching activities. From here, we travel back to La Paz, and take a boat to Espiritu Santo Island for 4 nights camping, snorkeling with sea lions, and whale sharks. The final night is spent in La Paz. Group transfers from La Paz to Los Cabos airport on the final day. 
►Where Do We Stay?
Night 1: Hyatt Place, La Paz.
Night 2: Hotel Misiones, Insurgentes.
Night 3: Camp
Night 4: Camp
Night 5: Camp
Night 6: Camp
Night 7: Hyatt Place, La Paz.
►Day 1:Welcome to La Paz, The Gateway to the Sea of Cortez
Flights arrive to San Jose del Cabo which is the airport that services Cabo San Lucas. Participants are transported via 15-passenger air conditioned vans to La Paz. Trip duration is about 3 hours with a stop halfway for bathrooms. Overnight at Hyatt Place, La Paz. Dinner in La Paz. (D)
►Day 2: Transfer to Lopez Mateos for Whale Watching at Magdalena Bay
We will depart the hotel in La Paz at 7 a.m., stopping for a bathroom break about 1.5 hours into the trip north. The transfer is 3 hours from La Paz to Puerto Lopez Mateos. The group will go whale watching in the morning and again after lunch. Overnight in Puerto Lopez Mateos (2 star bungalows). (B,L,D).
►Day 3: Whale Watching & Transfer to Island Camp
Morning:
We arrive early in at the docks in Puerto Lopez Mateos for another round of whale watching in Magdelena Bay. After whale watching, we will have lunch and then head for La Paz.
Afternoon:
The trip from Costa Baja Marina in La Paz to our camp on Isla Partida (adjacent to Espiritu Santo) is 26 miles by boat. We will arrive at the beach camp before sunset. The crew will already have camp set up for us. Dinner will be served and we will settle into our paradise for the next few nights. (B,L,D)
►Day 4: Hike at El Cardonel & Snorkeling at El Corralito
Morning:
Snorkel School in Ensenda Grande Bay. This shallow area is like a pool for us to teach some snorkeling skills and to make sure that your gear is working properly. After a short instruction, we move to a shallow hard coral reef to explore the fish and invertebrates that live there.
Afternoon
We hike at El Cardonel. El Cardonel is a bay that is south of our camp with access to a .75 mile hiking trail that goes to the other side of the island. Along the way, your guide will identify plants and tell you about island geology. 
Evening:
Learn about, and sample, tequila 
►Day 5: Snorkeling at Las Cuevas & Kayaking Trip
Morning:
Las Cuevas provides us the opportunity to see a lot, with very little effort. There are caves and cracks to explore along the shoreline where inverts like soft corals, barnacles cling and blennies hide. The rocky reef tapers to about 20 ft where mixed schools of surgeonfish, goatfish, and grunts cruz.
Afternoon:
The wind and tide will determine our kayaking plan. We use sit on top kayaks to explore the coast in a relaxing paddle. Espiritu Santo Island is a volcanic island and the geology provides a beautiful scene of red cliffs on blue water. 
►Day 6: Snorkeling with Sea Lions 
Today you play with underwater dogs!!
This activity is sure to be a highlight of the week and your life! Juvenile sea lions will dart past you, play chicken, blow bubbles. They might climb on your back, nibble on your snorkel or tug on your fins. Just like puppies, sea lions are a delight to interact with. Be careful not to smile too much, because your mask will fill with water. 
The afternoon activity will be determined by the participants' interests. There are dozens of other snorkeling sites and other places to hike. In the evening we will have a presentation by a local artist. 
►Day 7: Snorkel with Whale Sharks
Today you swim with the biggest fish in the world! 
We say goodbye to the camp and crew and head back toward La Paz. The whale shark sanctuary is regulated by the National Park. Once we are given permission to enter we begin to look for an animal to swim with. Your guide will brief you on the rules and instruct you on how to enter the water and swim with these amazing gentle giants. 
Return to La Paz and move into Hyatt. Participants will shop for souvenirs and explore the La Paz with dinner in town. 
►Day 8: Group Transfer to the Airport.
After a delicious breakfast buffet at the hotel, we will load the vans to start our journey to the airport in San Jose del Cabo.
** Please note: The activities, lodging, guides, and schedule may change without notice as practical considerations arise during program development or onsite. **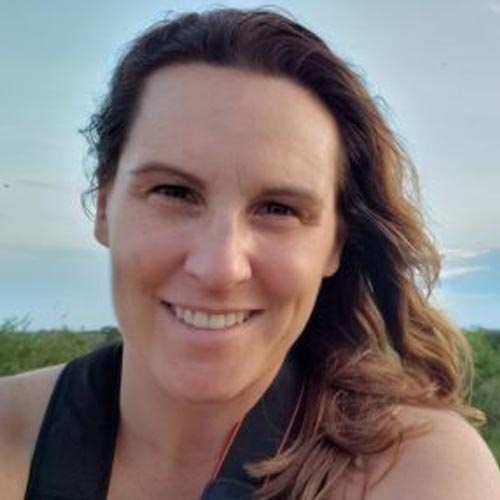 Tara Short
Trip Facilitator / CEO Green Edventures Tours
Tara is the Founder & CEO of Green Edventures Tours. She has 20 years of experience curating and facilitating educational adventures in the Americas, the Caribbean, Africa, and Iceland. She holds a Bachelor's Degree from the University of Wisconsin-Stevens Point in Natural Resource Management with an emphasis in Environmental Education/Interpretation. Tara has worked for notable educational, scientific, and conservation organizations and institutions such as the John G. Shedd Aquarium, Chicago's Museum of Science & Industry, USDA Forest Service in the Chugach National Forest in Alaska, and Wild Studies in the Bahamas. Tara is a PADI Open Water Diver, Advanced Diver, Rescue Diver and has specialty certifications as Underwater Naturalist, Deep Diver, Multi-Level diver and Night Diver. She holds current Wilderness First Aid & CPR Certifications.
Sign Up For The Green Edventures E-mail List
**We respect your privacy. Our website is fully secure and your information is kept 100% private with us**

Go Green Edventures!