Description
Costa Rica is a land of unspoiled natural wonder! Many tourists visit San Jose each year, but only a handful of travelers ever see the Osa Peninsula!
Lesser known, and a bit more complicated to get to, the southwest corner of Costa RIca is one of the most bio-rich places on EARTH and one of the few places in the world where all three species of monkeys, big cats, and tapirs still roam…wild! Here lush jungle meets black sand beaches, scarlet Macaws streak across blue skies, and your natural rhythms are restored by sunrises and sunsets…
Now is your chance to experience the real Costa Rica in a safe and supportive group of adventurous women, led by an expert Tico Naturalist. Enjoy the luxury of remoteness with delicious food, comfortable accommodations, and fun outdoor adventures with new friends.
Trip Highlights:
Wildlife of course! See and learn about monkeys, birds, reptiles, and amphibians.
Feed sloths, pet a porcupine, and shake hands with a spider monkey at a wildlife sanctuary.
Learn about lowland rainforest ecology. – Hint, the plants steal the show!
Glamp at the edge of two National Parks in raised platform tents and eco-lodges.
Go kayaking in hidden mangroves to see reclusive birds, and possibly crocodiles!
Spend an evening learning to make crafts led by members of a local women's cooperative! Learn to make your own coconut oil from scratch!
One day choose your adventure: Zip-line through the canopy, shop in Puerto Jimenez, relax at the beach, or visit a chocolate farm.
Price INCLUDES a roundtrip scenic flight in prop plane over Costa Rica's wild coastline.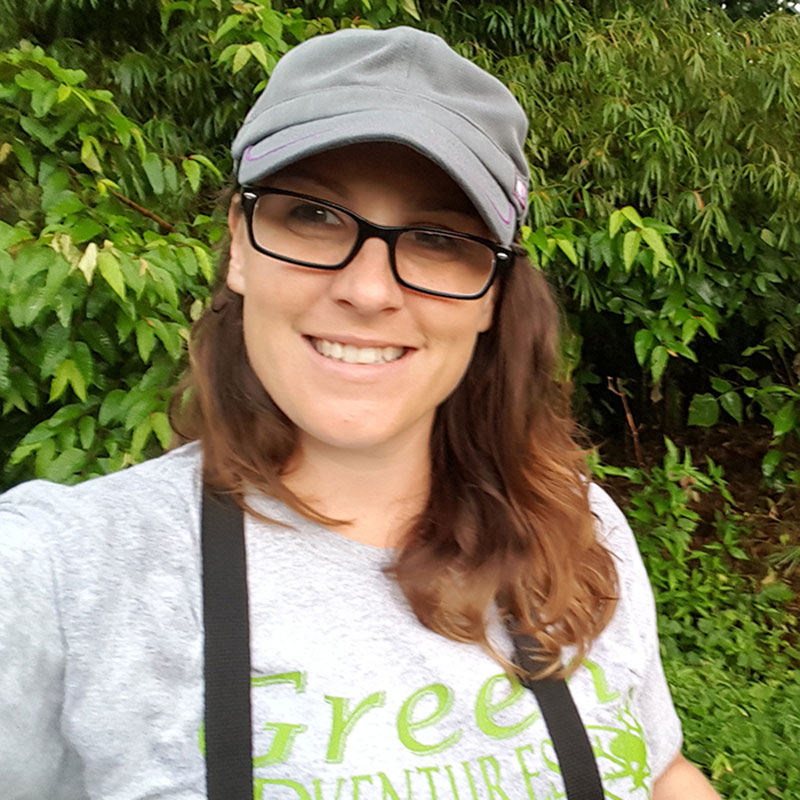 Tara Short
President / Trip Facilitator - Green Edventures
Tara Short is the President of Green Edventures as well as the Trip Facilitator on this tour. Tara has 17 years of experience in eco-tourism, guiding and educating students of all ages in the Americas, the Caribbean, and Iceland. She holds a Bachelor's Degree from the University of Wisconsin-Stevens Point in Natural Resource Management with an emphasis in Environmental Education/Interpretation. Tara has been a naturalist for the John G. Shedd Aquarium, a Ranger for the National Forest Service in Alaska, and a marine science educator for Wild Studies in the Bahamas. Tara is a snorkeling instructor, PADI Open Water Diver, Advanced Diver, Rescue Diver and has specialty certifications as Underwater Naturalist, Deep Diver, Multi-Level diver and Night Diver.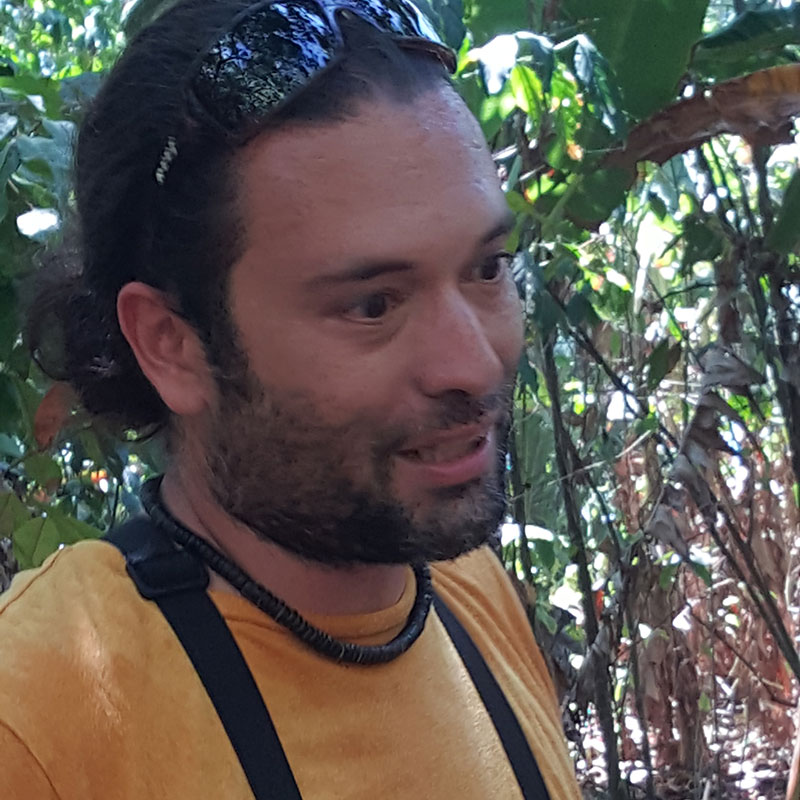 Pepe
Guide / Costa Rica
Pepe is Costa Rican and proud of his beautiful country. Since 1997 he´s been a passionate nature guide, specializing in birds and miniature orchids. He loves sharing his knowledge of the Tico culture and the amazing symbiotic life of tropical flora and fauna. Pepe is a master at his craft. He will reveal the rainforest and its inhabitants to you along a forest trail via a story that weaves together all of the characters in a most amazing way. Some people say that going on a tour with him is like watching a National Geographic documentary in real life!
►Where Do We Stay?
Night 1: Vida Tropical, Alejuala
Night 2: Finca Saledero 
Night 3: Finca Saledero

Night 4: Finca Saledero
Night 5: La Leona Eco-Lodge
Night 6: La Leona Eco-Lodge
Night 7: Auga Dulce, Puerto Jimenez
Night 8: Agua Dulce Puerto Jimenez
►Day 1: Arrival in San Jose – Transfer to San Jose Area Guest House – Orientation & Group Welcome Dinner
Participants will arrive from the U.S. at Juan Santamaria International Airport in Costa Rica's capital city of San Jose in late afternoon. We will be greeted at the airport and taken a 15-minute taxi ride to the neighboring city of Alajeula. That evening we will have dinner, and an introductory meeting. It won't be a late night since tomorrow we have an early flight to the coast.
►Day 2: Scenic Flight to the Osa Peninsula and Boat Taxi to Saladero Lodge – Travel to the Puerto Jimenez Boat Trip Across Gulfo Dulce Move into Saladero Eco Lodge
Morning:
We will depart from San Jose in the VERY early morning and enjoy a scenic 50-minute flight over mountains blanketed in thick forest to Puerto Jimenez on the Osa Peninsula. We will take taxis to the nearby dock to meet our boat for an exciting tour of the Golfo Dulce where we will likely encounter marine mammals, birds, and sea turtles.
Afternoon:
Our home for the next three nights, Saladero Eco Lodge nestled on a calm beach suitable for swimming and surrounded by towering, untouched rainforest. We will meet the owners and friendly staff, have lunch in the open-air dining room, and take an orientation tour of the grounds and garden led by your host Harvey. Later, we will take a tour on one of the Lodge's primary rainforest trails into Las Piedras National Park in hopes to see birds and other wildlife.
►Day 3: Bird Walk & Mangrove Paddle – River Kayak and Mangrove Adventure – Rainforest Night Hike
Day Tour:
With the calls of howler monkeys and birds, the stirrings of the rainforest make it easy to start the day early with your guided bird walk! After a breakfast, we will wait for high tide to begin our 3 hour adventure of exploring the unique mangrove and river ecosystems by kayak. Pulled deep up the river by boat, we board our kayaks and paddle around hidden coves and giant mangroves in search of birds and maybe even a crocodile! Then when we have seen, all that we can see, we let the river take us gently out, back into the waters of the gulf.
Evening:
Rainforest night hike.
►Day 4: Rainforest and Reef Wildlife – Visit a Wildlife Sanctuary for up close animal encounters! Dive in and snorkel a shallow coral reef!
Morning:
Breakfast at 7am. We will travel by boat or kayak to the Fundacion Santuario Silvestre de Osa (Osa Wildlife Sanctuary) for a 1.5-hr tour. Here, will learn about the efforts to rescue and care for orphaned wildlife or those that have been victims of the animal trade. If we are lucky, we may be visited by one of the free-roaming spider monkeys that call the Sanctuary "home."
Afternoon:
After lunch back at the Saladero Eco Lodge, we will make our way by kayak or boat to the Los Mongos reef a short distance away. Have your underwater cameras ready to capture images of this amazing marine ecosystem!
►Day 5: Black Sand Beaches & the Wild Pacific & La Leona Eco-Lodge – Boat transfer to Puerto Jimenez – Taxi Ride to Carate Beach – Black Sand Beach Hike – La Leona Welcome & Insect Trap
Morning:
Breakfast at 7am. We leave Saladero Eco Lodge and enjoy the 45-minute boat ride back to Puerto Jimenez. We will stop in town for a snack and travel 2-hours by taxi through agriculture land and secondary rainforest to the coastal town of Carate on the south side of the Osa Peninsula. Once we ride as far as the taxi can take us, we will drop our backpacks off with the horse cart that and continue on foot to La Leona Eco Lodge. This is a 45-minute hike down the picturesque volcanic black sand beach where the rainforest meets the Pacific Ocean to La Leona Eco Lodge.
Afternoon:
After we have lunch and make ourselves at home in our luxury raised platform tents, we will relax for the afternoon until we take a night hike after dinner.
Evening:
Presentation and discussion.
►Day 6: Monkey Camp Hike & Coconut Oil Workshop – Morning Hike near Corcovado National Park – Coconut Oil Making Class
Morning:
After a hearty breakfast, we will take a 3 hour hike up the trail to monkey camp. This trail goes behind La Leona and eventually summits on a ridge that overlooks the lush forest, cascading waves, and endless Pacific Ocean. Be on the lookout for poison dart frogs, bats snoozing in leaves, and any of the four species of monkey who frequent the area.
Afternoon:
Enjoy the beach and La Leona Lodge hammocks before we begin go make our own coconut oil from scratch. Led by a local woman from a nearby village, you will see what it takes to make coconut oil that you will get to take home.
Evening:
Night hike.
►Day 7: Beach Resort & Women's Cultural Exchange – Beach Hike – Taxi Transfer to Puerto Jimenez – Cultural exchange with local women of Puerto Jimenez
Morning:
Sleep in. Wake gently on your own, or get up early for guided bird hike at dawn. We will enjoy a leisurely morning, taking in the last bit of the jungle camp. Come to breakfast with your backpack packed and ready to load onto the horse cart, it will go ahead before we do. Mid-morning we hike back up the beach to meet our taxis and return to Puerto Jimenez. Lunch will be packed to go and eaten on the way.
Evening:
We will meet with an NGO that is helping local women via tourism. This is an opportunity to learn how to make and buy crafts, cultural exchange, and to help support women-owned businesses. Dinner with the NGO.
►Day 8: Choose Your Adventure! Choose an adventure or relax at the beach resort…
Morning:
Enjoy the amenities of the resort or choose of the many optional half day trips from the hotel such as a visit to a family-run cocoa plantation, a zipline tour, go shopping in Puerto Jimenez, or choose from other activities. There is an additional fee for optional activities and transportation, and some may require a minimum of 2 people.
Evening:
Farewell dinner.
►Day 9: Departure Day – Early morning flights from Puerto Jimenez to San Jose. Late afternoon flights from San Jose back to the USA
Please note: The activities and schedule may change without notice as practical considerations arise during program development, or onsite for the safety of participants.

This program includes hiking on uneven forest trails, black sand beaches, and a few steep inclines in hot and humid tropical conditions. The hikes are naturalist-led walks that go at a slow pace. Participants should feel comfortable standing for at least 2.5 hours and walking 2-3 miles (1 to 2 times per day). There are also water-related activities that require basic swimming. Don't have experience hiking, kayaking, or snorkeling? That is ok! Here's an opportunity for you to gain some new outdoor skills in an amazing environment! The pacing and rigor of the activities are casual and focused on stopping a lot to talk about, photography, and observe wildlife.
US Citizens: You will need a passport that is valid for the length of stay and a blank page for entry stamp. Please visit The US Department of State Website: https://travel.state.gov/content/passports/en/country/costa-rica.html
Included:
All scheduled activities listed on this page.
8 nights of lodging
ground transport from Juan Santamaria International Airport.
In-country flights from San Jose to Puerto Jimenez in the Osa Peninsula.
Delicious and healthy meals from dinner on arrival day to breakfast on departure day, except for lunch on day 8
24/7 Onsite support from a Green Edventures Program Manager and/or BOW Rep & Local Guide.
Excluded:
Personal spending money.
Lunch on day 8 & optional activity on day 8.
Gratuity of $100.00 USD.
Costa Rica departure tax ($30) – which is normally included in the price of your airline ticket as of 2016.
Travel-related costs or delays, and optional travel insurance (highly recommended for travel in the winter months due to the chances of weather-caused cancellations or delays).
A non-refundable $500 deposit per person paid via PayPal is required to join this trip.
All payments are non-refundable if cancelled by the participant. Participants are highly encouraged to purchase travel insurance to cover unforeseen circumstances that may interrupt or cancel the trip.
Join our mailing list for more information about this tour and others.