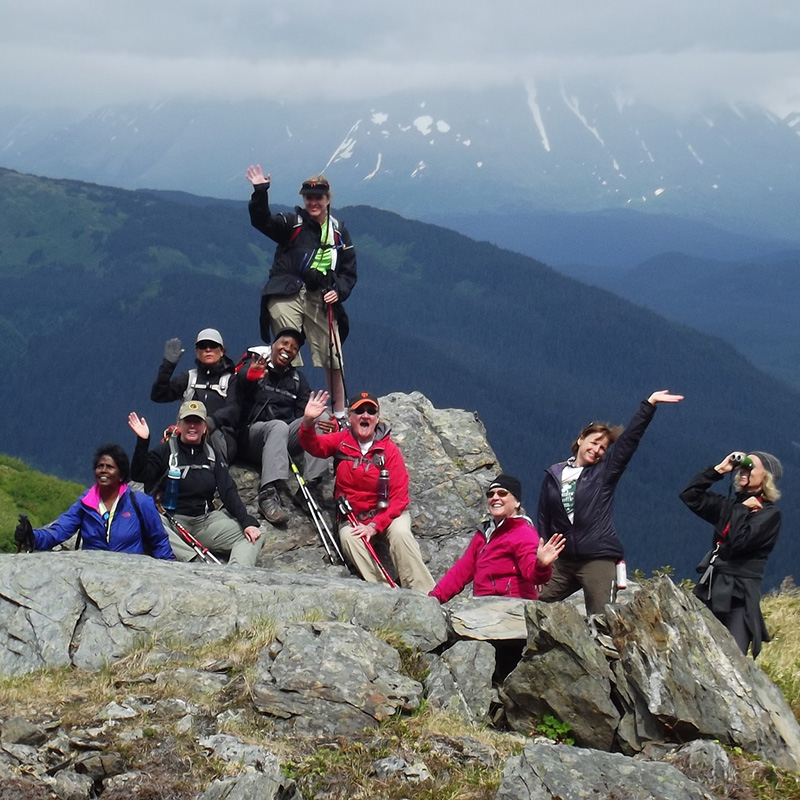 Alaska: Women's Kenai Hiking & Multi-Sport Adventure – (June 26th – July 2nd, 2019)

  Alaska

  7 Days

  06/26/2019

  07/02/2019
  Women Only
  Strenuous Physical Activity
If you want to see Alaska like a local and access wild places that make your heart sing, then this is the adventure for you!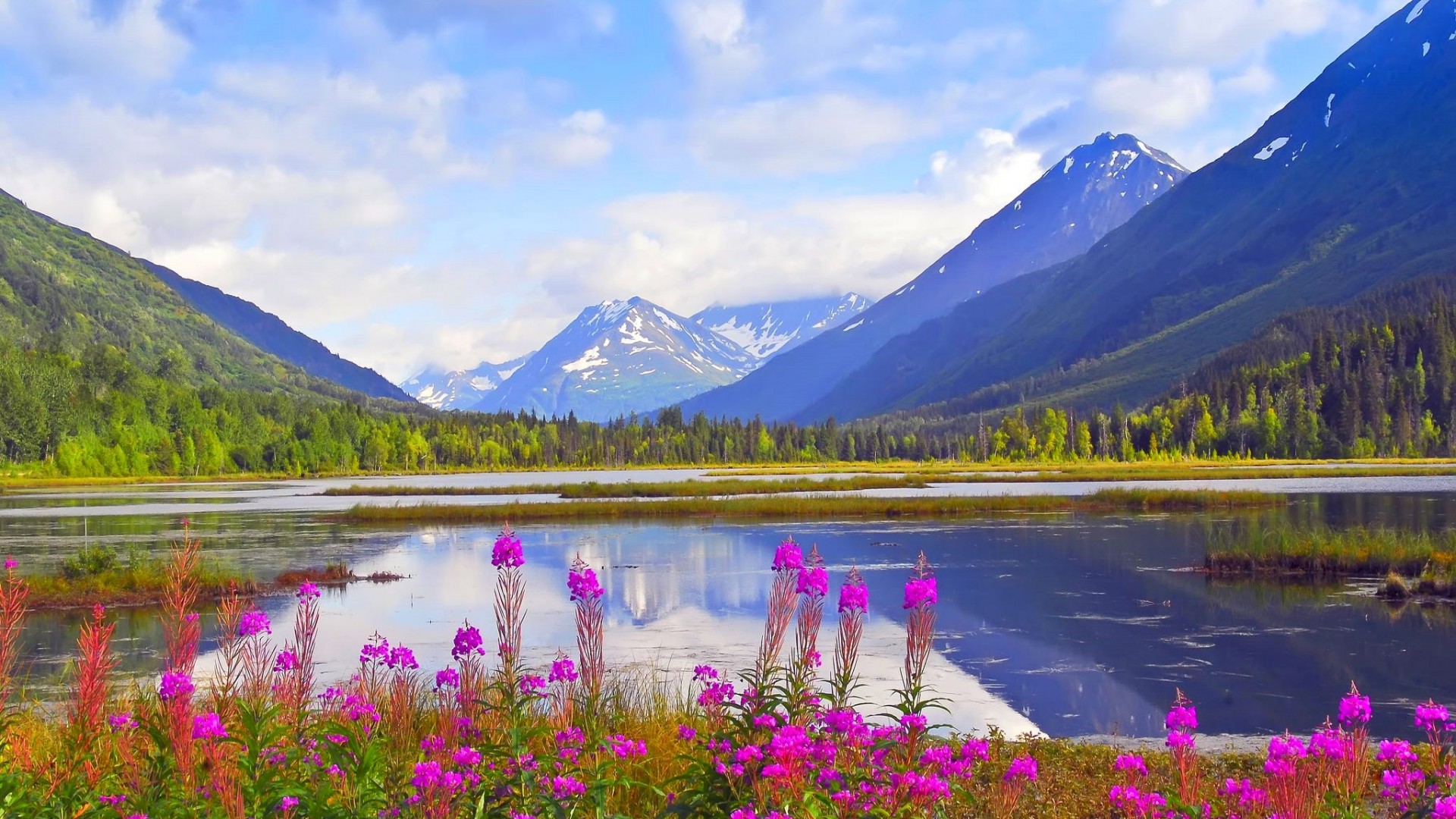 The Alaska womens hiking adventure on the Kenai Peninsula offers the active traveler big rewards for a little physical effort. Here, wilderness is accessible to anyone with a desire to stretch their legs on a dirt path to get out and explore one of the United States' treasures. And as Lonely Planet best describes this place, "in every forgotten corner you'll be close to the natural world, the mountains, the lakes, the rivers and the people that make Alaska wild."
Approximately the size of Maryland, the eastern Peninsula is dominated by large ice fields, the jutting Kenai Mountains and the icy waters of Resurrection Bay. To the west it flattens out, with rolling hills, large lakes and a long coastline. We will explore this wild country by foot from city streets to Alpine tundra, from temperate rainforest to glacial icefields. We will dip our paddles in emerald water from sea kayaks and feel the heart pounding rush of adrenaline on raging rapids.
Dramatic scenery and fun outdoor activities is not this adventure's only attractions, as Kenai Explorer also includes opportunities to see and photograph wildlife. The coast is prime habitat for large mammals like bears, moose, mountain goats, and whales, sea lions, and porpoises.
Alaska will be a place that will make you want to go back again and again. You have to live it, to believe it.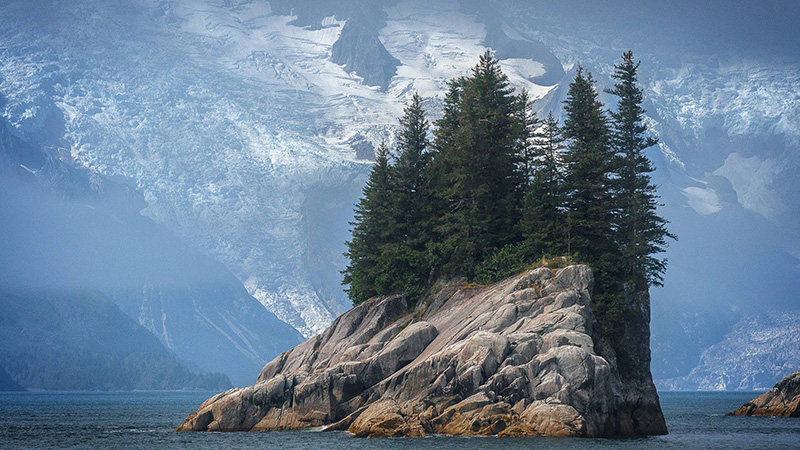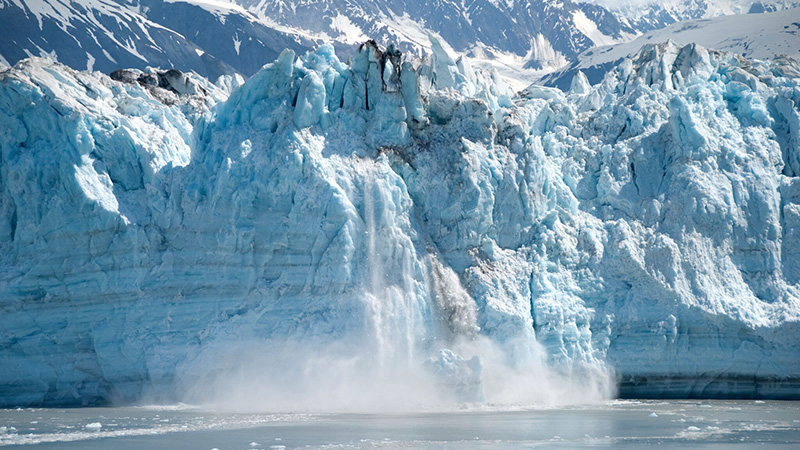 Trip Highlights:
A variety of exceptional 2 to 6-hour scenic day hikes over mixed terrain that will reward you with breath-taking scenery.
Make sure you bring a camera for excellent wildlife viewing opportunities throughout the trip.
Replenish your appetite with great food! Fresh, homemade, multicourse meals and deserts.
Dip your paddle in emerald green wildlife-rich waters of Kachemak Bay while sea kayaking among diving sea birds, curious seals, and shy otters.
An evening trip to the Sea Life Center will introduce you the ecology of Alaska's marine life and some of the conservation efforts around Alaska.
A 6-hour boat trip into the wild Kenai Fjords to see calving glaciers, whales, sea lions, and marine birds.
A thrilling roller coaster ride on whitewater through narrow canyons and over natural steps on the Class IV Six-Mile Creek.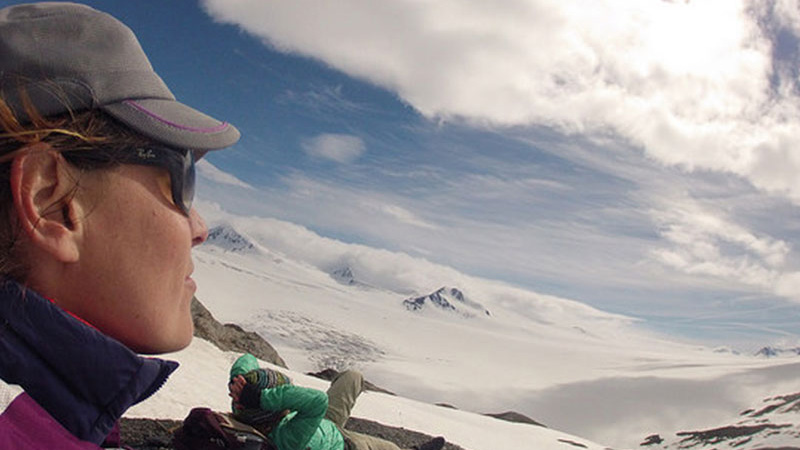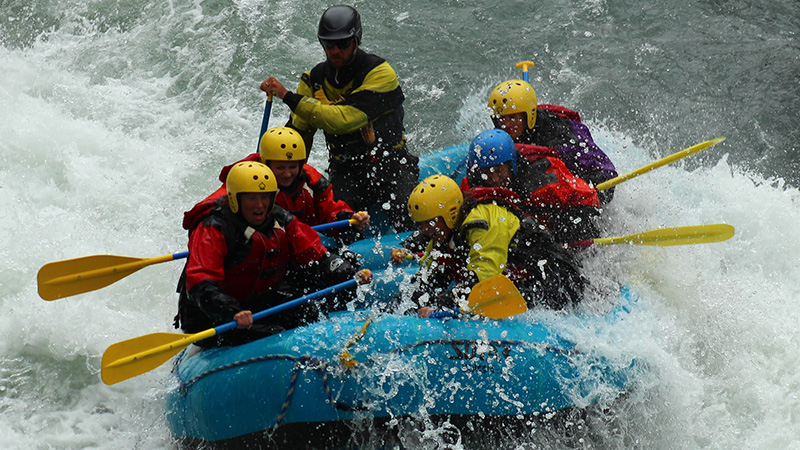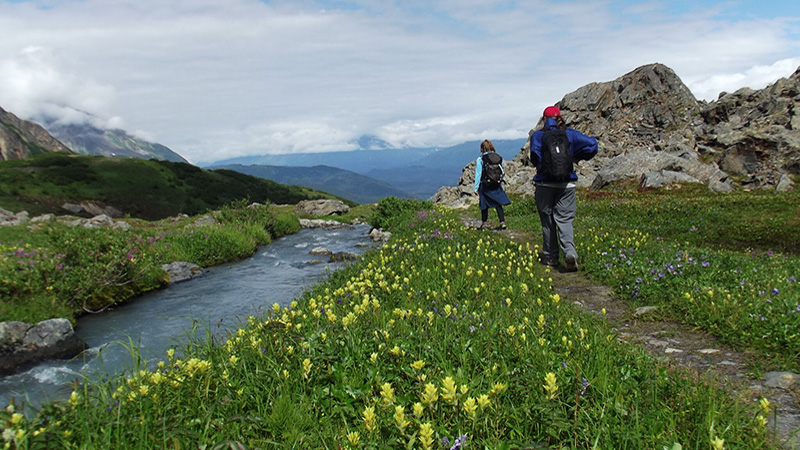 Anchorage Airport
Seward Boat Harbor
Mt. Marathon Jeep trail
Homer
Hope
Seward
Exit Glacier Rd.
Alaska Sea Life Center
Cabins at Otter Cove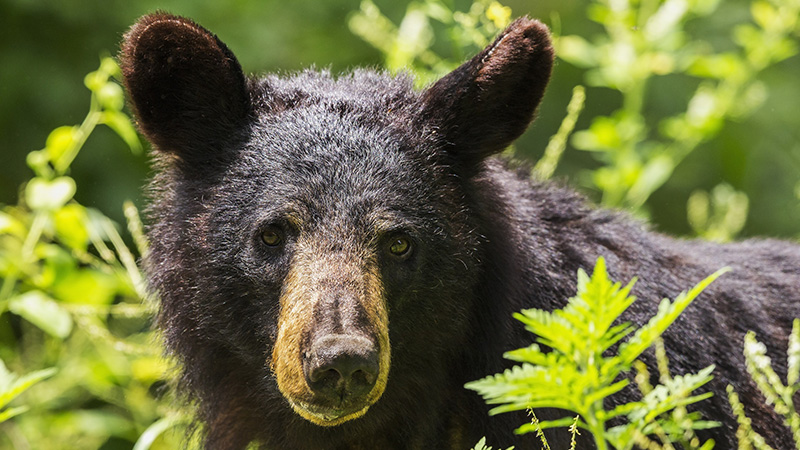 Tara Short
Trip Facilitator / Guide
Tara has 17 years of experience in eco-tourism, guiding and educating students of all ages in the Americas, the Caribbean, and Iceland. She holds a Bachelor's Degree from the University of Wisconsin-Stevens Point in Natural Resource Management with an emphasis in Environmental Education/Interpretation. Tara has worked for notable educational, scientific, and conservation organizations and institutions such as the John G. Shedd Aquarium, Chicago's Museum of Science & Industry, USDA Forest Service in the Chugach National Forest in Alaska, and Wild Studies in the Bahamas. Tara is a PADI Open Water Diver, Advanced Diver, Rescue Diver and has specialty certifications as Underwater Naturalist, Deep Diver, Multi-Level diver and Night Diver.
►Day 1: Anchorage – Seward
Arrive anytime. Your first night will be at the Inlet Hotel in Anchorage. The Inlet Hotel has a free shuttle to and from the airport. Breakfast is included. Dinner on your own. Once everyone's flight times are confirmed those of us in Anchorage for dinner can get together. Most flights get in late from the lower 48.
►Day 2: Seward – Kenai Fjords Campground – Mt. Marathon Bowl
After an early breakfast, our local guides will meet us for introductions, then we will head south to the beautiful Kenai Peninsula. Our drive will parallel the scenic Turnagain Arm — a mountain-lined and glacier-carved fjord named by an obviously frustrated Captain Cook during his 1778 search for the legendary Northwest Passage. It is a 3-hour drive with a couple scheduled stops to talk about the scenery and to use the bathroom. Just outside of Seward we venture off the main highway to the Lake Kenai where we check into our cabins and freshen up.
Afternoon:
From city streets to alpine tundra in 2 hours! Travel up 1800 feet to the alpine glacier bowl passing through lush, misty emerald green temperate rainforest. Things level out at "the bench" where wildflowers bloom, and then alder becomes thick, and finally the footpath becomes squishy tundra flanking a snowmelt creek. As we climb the switchbacks, Seward becomes a little dot in the valley. On a clear day, half way up, nearly all of Resurrection Bay can be seen. Even on the cloudiest of days, this is a one of the best hikes in Seward. This hike is about 3.5 – 4-hours roundtrip.
►Day 3: Seward – Boat Trip Kenai Fjords
Today you rest your legs and take a six-hour wildlife-viewing cruise to an active tidewater glacier on Kenai Fjords National Park. A tidewater glacier terminates in the ocean. It is common to see chunks the size of cars falling off into the green water.
Wildlife is abundant throughout the national park and tidewater glaciers. This voyage also offers the best opportunity for whale watching in Alaska along with the possibility of seeing porpoises, sea lions, sea otters, seals, bald eagles and puffins.
Before returning to our cabins, we will visit Exit Glacier to discuss the hike to Harding Icefield tomorrow, and the features of this famous glacier.
►Day 4: Seward – Harding Icefield Trail
One of our favorite hikes anywhere, is today's highlight: Up we'll trek along the very blue Exit Glacier to an overlook of the 800-square mile Harding Ice Field. The ice field is the focal point of Kenai Fjords National Park and the source of its many glaciers. Moose, bears, mountain goats, porcupines, and marmots are all commonly seen on this hike and the glacier and ice field are dramatically beautiful. This inspirational hike will stay with you long after you've left Alaska!
This hike is moderate to strenuous for flat landers and for those who are not currently active, but with effort and determination you will complete the 8 miles round trip in 6 hours. This is not a technical hike and it is suitable for anyone in good health with a positive-can-do-attitude. Return to cabins at Lake Kenai.
►Day 5: Seward – Homer – Otter Cove
After breakfast, we drive 3 hours to the seaside community of Homer at the peninsula's southwestern tip. Here we will have some free time to visit the town's museum and art galleries or to hike along the beach before hopping a water taxi to our remote waterfront cabins in Kachemak Bay State Park.
The cabins at Otter Cover are situated on a hillside surrounded by lush rainforest with ocean views. It is common to see sea otters rolling around alongside the pier, and you will possible see whales passing by. You truly feel like you are living the luxury of seclusion.
►Day 6: Otter Cove – Sea Kayaking in Kachemak Bay
Learn the basics of sea kayaking, maneuvering, and water entry and exit. Then spend the entire day in and out of our tandem kayaks as we explore the bay, fjords and several uninhabited islands. In addition to beautiful mountain scenery, sea otters, harbor seals, sea lions, bald eagles, sea birds and harbor porpoises are all possible to encounter. The afternoon a hike to a scenic overlook where several of the volcanoes of the Alaska Peninsula and Aleutian Islands are visible.
►Day 7: Otter Cove – Homer – Hope (Rafting) – Anchorage
We take a water taxi back to Homer and continue to the gold rush community of Hope. Here we will enjoy a Class IV whitewater rafter trip through two canyons of the famous Six-Mile Creek. For those who love the thrill of adventure, you can choose to do the 3rd canyon for an additional $60. Tour ends at 7 pm. Participants will be dropped off at the airport or hotel in Anchorage.
** Please note: The activities, lodging, guides, and schedule may change without notice as practical considerations arise during program development or onsite. **

Included:
All scheduled activities: guided hikes, 6-hour boat tour, river rafting, and kayaking trips.
6 nights lodging. (1 night hotel, 3 nights in 3-person cabins with shared facilities), 2 nights in 4-person shared cabins with shared a short distance from the cabin.)
Local driver & guides.
Transport in a 15 passenger van for the duration of the trip.
Most meals from breakfast day 2 to lunch day 7. Excludes 2 dinners. Meals are served camp style, prepared by your guide, with the help of participants.
Excluded:
Airfare to Anchorage, Alaska.
Meals on day 1.
Optional excursions or museum entrances.
Gratuity of $200-$220 per person due to local guides.
Dinner night 6.
Supplemental Information:
Price: $2495
Deposit: $695
Deposit due by: January 15th, 2019
Installments: 3 equal payments of $600 are due on the 15th of February, March, and April, 2019
Spots Available: 9/11
All payments are non-refundable if cancelled by the participant. Participants are highly encouraged to purchase travel insurance to cover unforeseen circumstances that may interrupt or cancel the trip. In the unlikely event that Green Edventures is unable to fill the trip due a full refund will be given.
Sign Up For The Green Edventures E-mail List
**We respect your privacy. Our website is fully secure and your information is kept 100% private with us**

Go Green Edventures!