The Galapagos Islands Explorer – University of Richmond

  Galapagos, Ecuador

  10 Days

  TBD

  TBD
  Moderate Physical Activity
Scroll Down For The Itinerary
Discover the Galapagos Islands on an journey that will get you up close to amazing animals and habitats of this archipelago through outdoor adventure & science.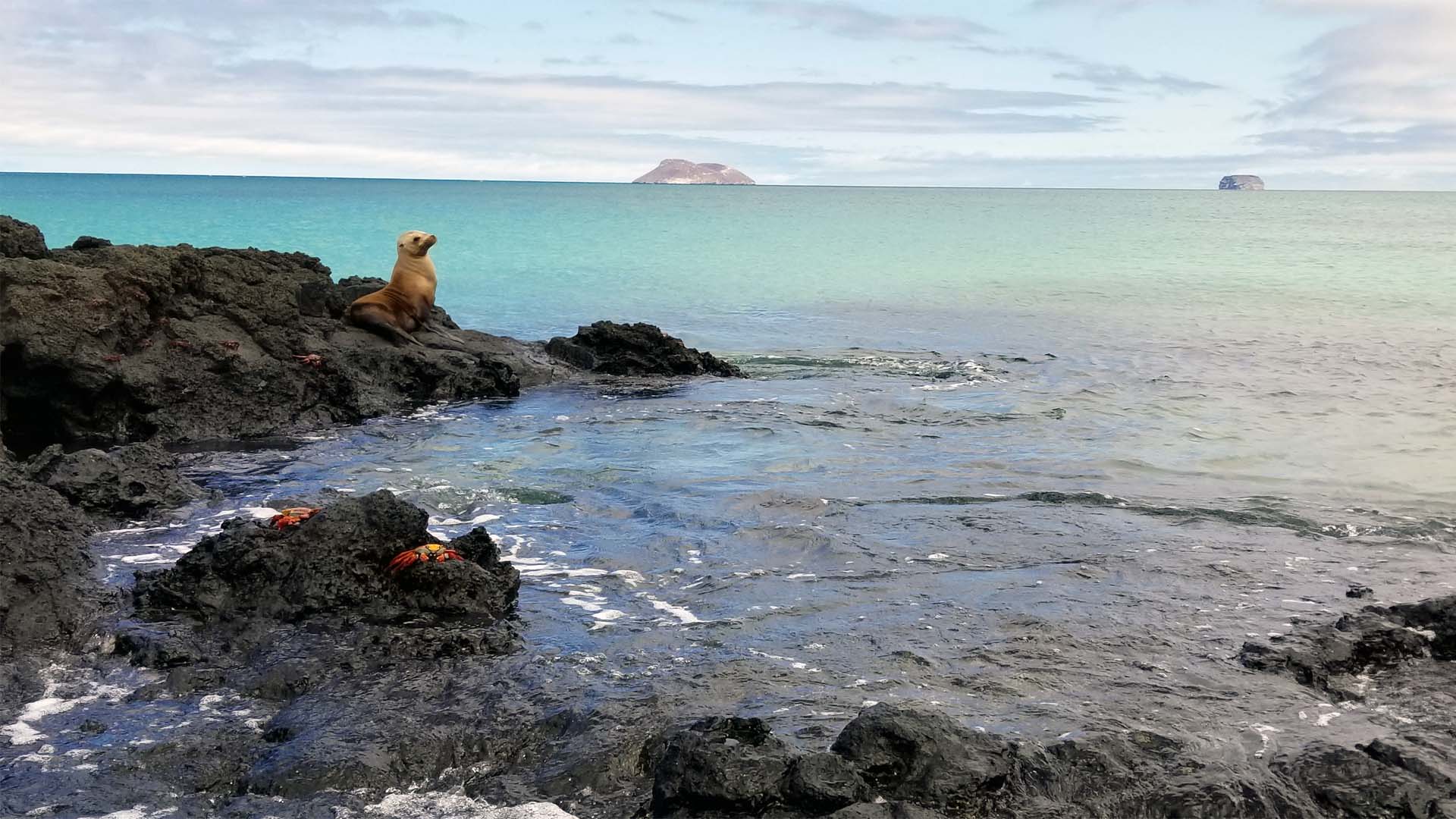 Teachers join us on an unforgettable journey to the Galapagos for Professional Development adventure that takes you in the footsteps fo Darwin. 
Daily excursions include snorkeling trips, birding, and nature walks will introduce you to various habitats from humid highland forests, to lowland marine desert, and white sand beaches. Wildlife we anticipate to see include: 2 species of giant tortoises, marine iguanas, land iguanas, various sea turtles, white tipped sharks, eagle rays, flamingos, blue-footed boobies, Darwin's finches, and possibly penguins.
No previous experience required. Our Galapagos professional development trip is designed for the beginner in mind. It is the perfect balance between land and water actives, educational programmings, and outdoor adventure and R&R. The Galapagos Explorer professional development for teachers is based in Santa Cruz, and includes several day trips by catamaran to the islands of North Seymour, The Plazas, and Bartolome Island. Mid way through, we move to Isabela Island to and spend 2 nights exploring above and below the waterline.
As a land-based trip, you will have the freedom and flexibility to explore, shop, and people watch in Puerto Ayora at the end of each day. The hotel in Puerto Ayora in Santa Cruz is located conveniently within walking distance of Tortuga Bay, the Charles Darwin Research Station, the fishing port, markets, and other cultural points of interest.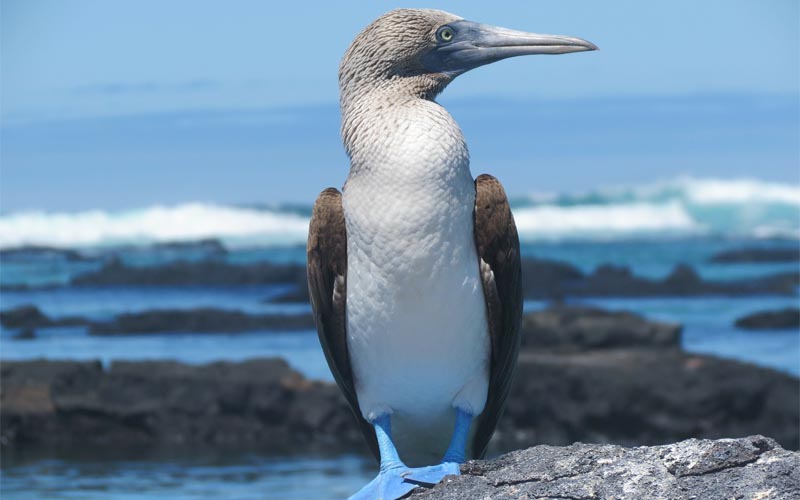 Trip Highlights:
Visit 4 different islands in the archipelago to learn about how species have adapted to survive in these extreme environments.
Hike trails through other-worldly habitats like the Scalesia Forest, these trees are giant Daisies, and they are so abundant in the highlands, they have an eco-zone named after them.
Snorkel a variety of sites on different islands with amazing marine life like schools of fish, sea turtles, marine iguanas, white tipped reef sharks, sea lions, and possibly manta rays or penguins.
See giant Galapagos Tortoises in their nature habitat.
See a variety of bird species like Blue-footed Boobies, Magnificent Frigate Birds, Flamingos, and all of the species of finches Darwin researched to help him write Origin of Species.
Guided city tour of the historic district of Quito to learn about the architecture, culture, and history of the city.
Visit the Mitad del Mundo (Middle of the World) exhibit and participate in science experiments that can only be done at the Equator.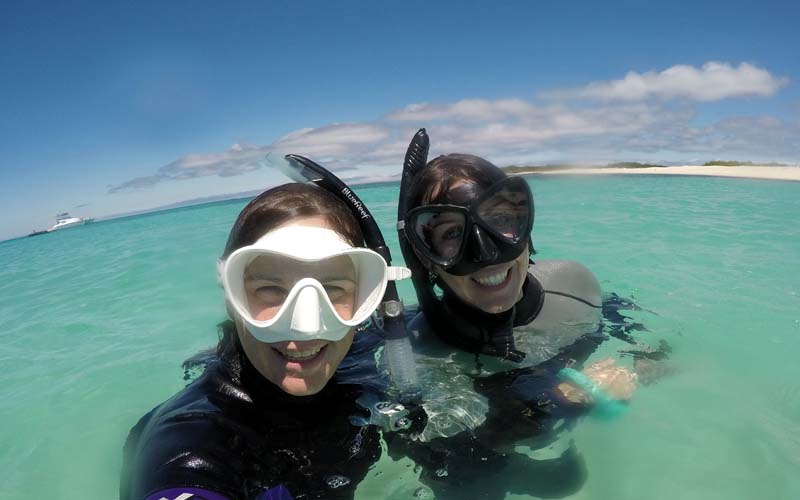 quito
Galapagos
Baltra Island
Santa Cruz Island
Islabela
Bartolome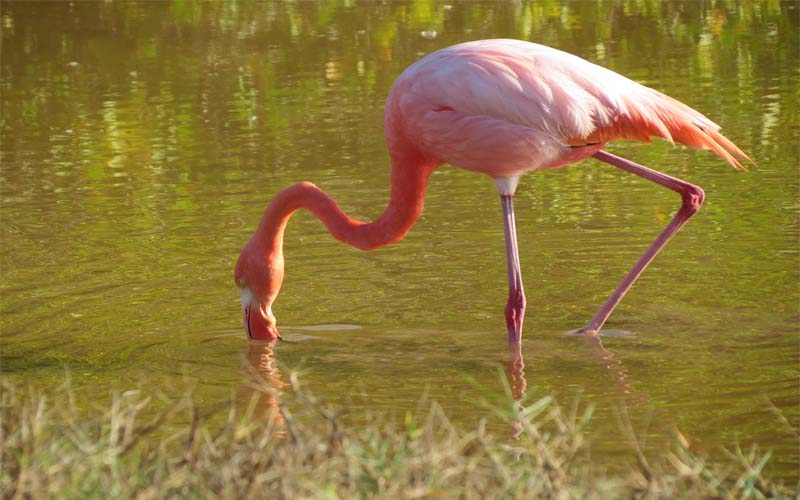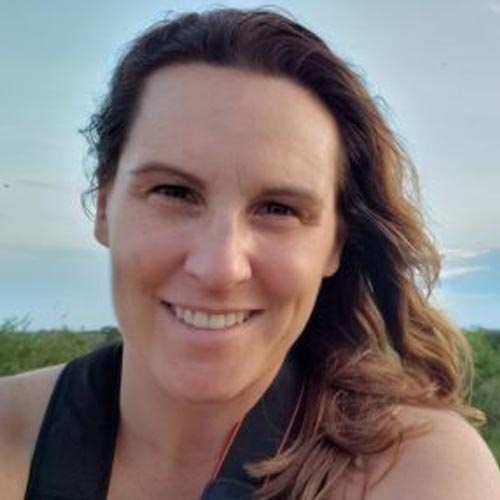 Tara Short
Trip Facilitator / CEO Green Edventures Tours
Tara is the Founder & CEO of Green Edventures Tours. She has 20 years of experience curating and facilitating educational adventures in the Americas, the Caribbean, Africa, and Iceland. She holds a Bachelor's Degree from the University of Wisconsin-Stevens Point in Natural Resource Management with an emphasis in Environmental Education/Interpretation. Tara has worked for notable educational, scientific, and conservation organizations and institutions such as the John G. Shedd Aquarium, Chicago's Museum of Science & Industry, USDA Forest Service in the Chugach National Forest in Alaska, and Wild Studies in the Bahamas. Tara is a PADI Open Water Diver, Advanced Diver, Rescue Diver and has specialty certifications as Underwater Naturalist, Deep Diver, Multi-Level diver and Night Diver. She holds current Wilderness First Aid & CPR Certifications. 
►Where Do We Stay?
Day 1: San Jose Puembo
Day 2: Silberstein Hotel
Day 3: Silberstein Hotel
Day 4: Silberstein Hotel
Day 5: Silberstein Hotel
Day 6: Silberstein Hotel
Day 7: Isamar Hotel
Day 8: Isamar Hotel
Day 9: City Art Hotel
►Day 1: Travel to Ecuador

Fly to Quito, Ecuador. Typically, flights will arrive late at night and participants should have dinner at the airport on the way to Ecuador. Overnight at Hotel San Jose Puembo, or similar. Note, travel parameters will be provided.
►Day 2: Travel from Quito to the Galapagos
Fly from Quito, Ecuador to the Galapagos National Park. After landing in Baltra we will transfer to Santa Cruz via the Itabaca Canal to our bus waiting on the other side. As we journey to Puerto Ayora, we leave the lowland desert and climb in elevation, and experience the changes of vegetation. On top of the road we will stop to visit two sink holes, part of the geomorphological decline of the volcano. There we will walk through the Scalesia Forest. Afterwards we will visit El Chato, the tortoise sanctuary where tortoises roam freely in their native habitat. Participants will walk through the trails and take photos of the birds and tortoises.The sanctuary also has an underground lava tube to explore. Lunch at El Chato. Overnight at Silberstein Hotel or similar and then dinner. (B.L.D)
►Day 3: Tortuga Bay Snorkeling & Charles Darwin Research Station
After breakfast, we experience our first adventure to Tortuga Bay. Participants will walk the paved path through the arid zone with its giant cacti ending up at Tortuga Bay, a white sand beach where sea turtle nest, marine iguanas sun bathe and shore birds feed. We continue down the beautiful beach to the mangroves and tidal pools. These calm waters give us a perfect place to learn snorkeling skills. Floating along the rocks in two feet of water is very rewarding. Many invertebrates like octopuses can be found here, and it will be an opportunity to snorkel with swimming Marine Iguanas!
After lunch at the hotel and a short break, your guide will take you to the Charles Darwin Research Station and the home of the giant tortoise breeding center, opened in 1964 and the only place where we can see Saddle Back Giant Tortoises. Here are more opportuniteis to photograph birds, reptiles, and to learn about the ecology of the Galapagos. (B,L, D)
►Day 4: The Plazas & Punta Carrion

The group departs at 8 AM from the hotel by bus, heading north towards to Itabaca Channel, followed by hopping on the catamaran to cruise to Plaza South Island. It is one of the smaller islands of the Galapagos which visitors are able to reach, located close the eastern coast of Santa Cruz. After 1 ½ hours, Plazas welcome travelers with a bright colorful red and green carpet of Sesuvium, an endemic plant, spread over the Island, joined with the loud, friendly barking of several sea lion families which have settled down on the shore of the channel between North and South Plazas where the yacht anchors. The turquoise water of the ocean jars perfectly with the white shining beaches and the black lava rocks of the coast.
Once on the island, the hike is easy and goes alongside relaxing sea lions and Land Iguanas which are a round most of the Island.  This leads to the highest cliff where swallow-tailed gulls cross the air screaming.  At the same time, tropical birds, blue-footed boobies, and other marine frigate birds glide gently in the wind. The view from the highest point over the ocean and the powerful waves breaking at the cliffs is an experience that visitors will not forget.
Afterwards the trip continues to Punta Carrion where lunch is served on board the ship. This is a great spot to for your first boat-based snorkel and swim among rays, sharks and hundreds of colorful tropic fish.
Return to hotel for dinner. (BLD).
►Day 5: Day Trip to Bartolome Island – In search of Galapagos Penguins
An early departure (6:00am) will take us back to the Itabaca Channel where we will board our day trip catamaran. We will then motor to the island of Bartolome off James island. Bartolome named by captain Fitzray has been called the open book of geology of the archipelago. A walk inland will take us to a famous viewpoint while we walk along crater lava tubes and different formations. In our return we'll snorkel schools of reef fish and if we are lucky, with Galapagos Penguins. Lunch on the boat. Dinner at hotel. (BLD)
►Day 6: Seymour Island Adventure
You will be picked up from the hotel at 8am and taken back to the Itabaca Channel (you will get to know this route well) where the staff of your boat will be waiting for you. The trip will take around one hour and close to your arrival you will be able to spot grey shapes from the Bursera Graveolens trees, that almost never carry any leaves. Seymour was created many million years ago due to the elevation of tectonic plates and the island has a flat shape with many small cliffs that serve as home for the local seabirds. Swallow-tailed gulls and frigate birds overfly the island, frigate males showing their big red throat pouches to find their mate. Meanwhile along the path, many blue footed boobies will be nesting or executing their mating ritual in which they dance and whistle in a very unique way. It is also common to see these birds flying near the coasts looking for food and dive into the water at high speed, a stunt that they are only able to perform due to a special waterproof protection on their wings. Seymour is probably the island which best represents the known Galapagos species, as you will also be able to see sea lions, sea and land iguanas, pelicans, royal frigate birds and many others.
Return to the hotel at 4pm. Dinner at hotel. (BLD)
►Day 7: Transfer by Speed Boat to Isabela Island & Tintoreras Tour

After a two-hour speed boat ride, we will arrive to Puerto Villamil in the south of Isabela, the largest island of the archipelago. This island might be your favorite for its diversity, but we will let you decide.
Embark on a short navigation to Las Tintoreras, a chain of small islets located in the south of Puerto Villamil, Isabela. This biodiverse site is home to the white-tipped sharks (Tintoreras), sea lions, marine turtle, iguanas, manta rays, and more. Galapagos sea lions, marine iguanas, blue-footed boobies, sea turtles, pelicans, and Galapagos Penguins can all be found in this site. It is also one of main breeding sites for marine iguanas, and a great spot to get a close-up with them. After a hike around the islet, get back on the boat and cool off by snorkeling in the waters nearby. Swimming next to multicolor fish, starfish, sea urchins, and with luck stingrays, sharks, and sea lions is a major highlight in this adventure. Return to hotel for dinner. (BLD).
►Day 8: From Blue to Black- Day Tour of Lava Tunnels & Snorkeling

This morning we will ride on a fast boat to the west of Isabela, towards Cabo Rosa where the area known as the Tunnels is found. This is an extensive lava flow formed by long and numerous lava tubes with collapses that result on beautiful basaltic arches surrounded by pristine turquoise waters. Here, we will have a short walk looking for marine life and birds from the land and then snorkel.  This site is home to sea turtles, albatrosses, flamingos, iguanas, sea lions, blue-footed boobies, royal frigate, manta rays, penguins, sea lions, sea turtles, a variety of birds, lobsters, sea snakes, among other species. — a great last excursion in the Galapagos. Dinner at the hotel. (BLD).
►Day 9: Depart GNP – Quito Historical City Tour 

Early breakfast at the hotel and then take a speed boat back to Santa Cruz. Once in Santa Cruz the bus will take us to the Canal Itabaca and from there will take another bus to the airport. From the airport in Quito we will have a short rest before going on historical city tour of Quito. Dinner in the historic center. (BLD).
►Day 10: Mitad del Mundo – Transfer to Airport

The Mitad del Mundo (Middle of the World) is found in Pomasqui on route to the airport. On the way there, you will have the opportunity to stop off to taste the exotic flavors of the helado de paila, a type of ice popsicle made with local fruit following recipes more than 50 years old. The monument of the Middle of the World houses an ethnographic museum, which gives an introduction to the different ethnic groups that live in Ecuador. Outside the monument, you will have the unique photo opportunity to pose for pictures with one foot in each hemisphere! The monument is part of a large complex surrounded by local handicraft stores. You will also find busts of members of the French Geodesic Mission who visited Ecuador in 1736.
Another big tourist attraction is the Intiñan interactive outdoor museum. Here you will discover and participate in various physical phenomena that only occur on the equator, then you will have a small stop in the point view of Pululahua Crater before going to the airport. (BLD)
** Please note: The activities, lodging, guides, and schedule may change without notice as practical considerations arise during program development or onsite or a determined by the Galapagos National Park and other authorities.**

Included:
All guided activities and equipment.
Double occupancy rooms 3 star hotels.
Most meals (minus 1 lunch).
Purified drinking water.
Galapagos Transit Card
Galapagos National Park Fee
Airfare from Quito to Galapagos.
Local guide and tour leader.
Excluded:
Airfare to Quito
Travel Insurance (approximately $136 with ExactCare Plan)
1 dinner, 1 lunch
Personal spending money.
Gratuity
Bottled beverages
Price: TBD
Deposit: TBD
Deposit due by: December 15th
Installments: TBD
Spots Available: 14
All payments are non-refundable if cancelled by the participant. Participants are highly encouraged to purchase travel insurance to cover unforeseen circumstances that may interrupt or cancel the trip. In the unlikely event that Green Edventures is unable to fill the trip due a full refund will be given.
Travel parameters will be provided.
Travel Documents:
Valid Passport
Sign Up For The Green Edventures E-mail List
**We respect your privacy. Our website is fully secure and your information is kept 100% private with us**

Go Green Edventures!