Sea Of Cortez: SCUBA Diving Packages & Day Trips

  Baja-Sur, Mexico

  7 Days

  You choose start date

  You choose end date
  SCUBA Diving
Scroll Down For The Itinerary
Reef fish, sea lions, manta rays, invertebrates, morays, garden eels, turtles, hammerheads sharks, whale sharks, whales, pelagic fish — all of these adds up to just one thing — Sea of Cortez SCUBA Diving!
Voted one of the top diving spots year after year, there are few placesleft in the world where an entire archipelago is virtually free of commercial fishing, leaving the waters left to those who want to swim and watch the action unfold in the deep, clean waters of the Sea of Cortez…
Trip Highlights:
Highlight 1
Highlight 2
Highlight 3
Highlight 4
Highlight 5
Highlight 6
Highlight 7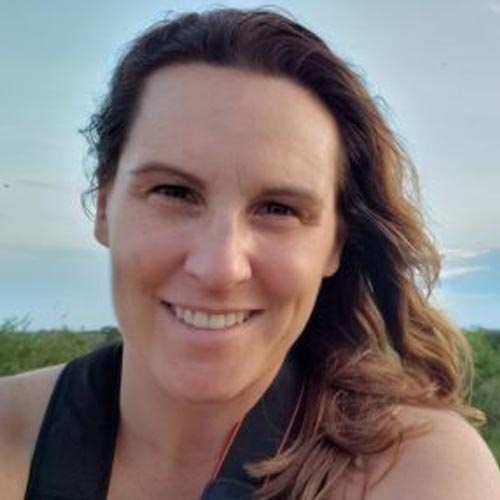 Tara Short
Trip Facilitator / CEO Green Edventures Tours
Tara is the Founder & CEO of Green Edventures Tours. She has 20 years of experience curating and facilitating educational adventures in the Americas, the Caribbean, Africa, and Iceland. She holds a Bachelor's Degree from the University of Wisconsin-Stevens Point in Natural Resource Management with an emphasis in Environmental Education/Interpretation. Tara has worked for notable educational, scientific, and conservation organizations and institutions such as the John G. Shedd Aquarium, Chicago's Museum of Science & Industry, USDA Forest Service in the Chugach National Forest in Alaska, and Wild Studies in the Bahamas. Tara is a PADI Open Water Diver, Advanced Diver, Rescue Diver and has specialty certifications as Underwater Naturalist, Deep Diver, Multi-Level diver and Night Diver. She holds current Wilderness First Aid & CPR Certifications.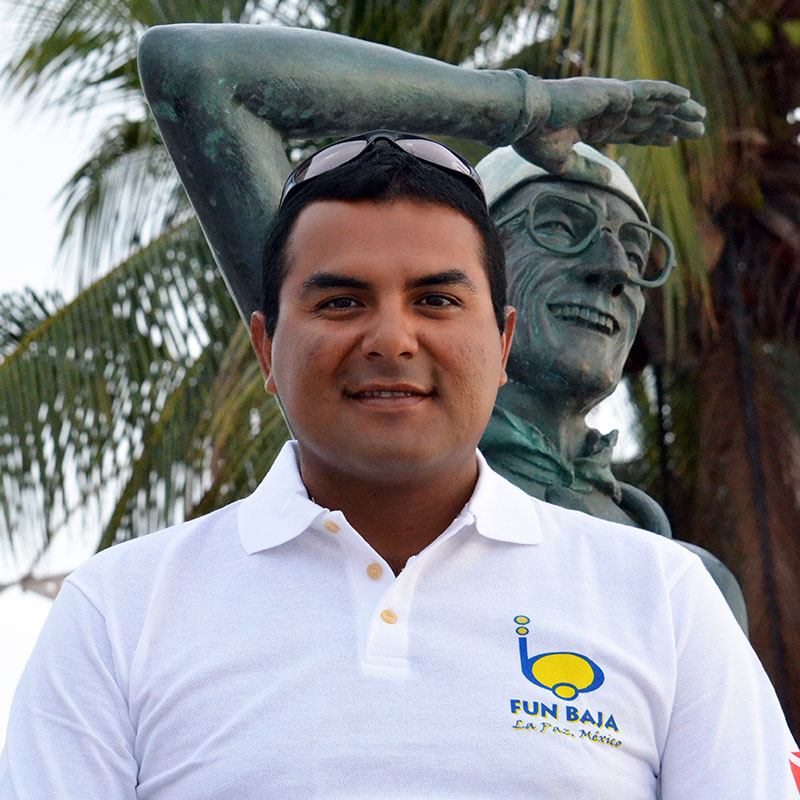 Chabelo
Divemaster / Fun Baja Diving & Eco-Adventures, LaPaz, Mexico
Chabelo (Pronounced Chaah Bell-O) is a Divemaster for Fun Baja Diving & Eco-Adventures based out of La Paz. Chabelo has been instructing and leading SCUBA divers for 15 years with Fun Baja and instructing snorkeling and free-diving with Green Edventures for 8 years. Our guests consistently tell us how they appreciate the care and attention he gives to everyone in the group. Chabelo is funny, playful, and loves to share everything he knows about his backyard, the Sea of Cortez and his home, La Paz. Chabelo is talented at finding marine life so participants can see the most of the reef. He is also a sea lion whisperer. With him, you will see and interact with the sea lions in a very special way. Your friends won't believe the pictures!
►Where Do We Stay?
Day 1:
Day 2:
Day 3:
Day 4:
Day 5:
Day 6:
Day 7:
Day 8:
Day 9:
Day 10:
►Day 1: Arrival Day and Transfer to La Paz
Fly into Los Cabos or La Paz airports. Transfer to hotel, camp, or MV Valentina.
►Day 2: Swanee Reef – La Reyna
With a max depth of 35 ft, great visibility, coral heads, and walls covered with gorgonians and hundreds of schooling fish Swanne Reef is an amazing dive site. Rivers of Mexican Goatfish and spottail grunts rest here during the day then venture over the sand flats to hunt at night. This site is where the famous wreck of the "Salvatierra" hit bottom some 35 years ago. You can still find the deep gauge left behind by the big ferry, now barely visible because it is so overgrown by corals and sea fans. The top of this reef is only 6 ft deep and it is covered with living coral with a wide variety of creatures including nudibranchs, octopi, and Signal Blennies.
La Reyna
Here we will dive a shipwreck and encounter rivers of Skip Jacks and bait balls as we explore the rocky reef protruding out of the water three miles north of Cerralvo Island. Sea lions lounging on the enormous rocks can be seen fishing in the schools of fish. In depths of 80ft (25m) a large reef is populated by hard and soft corals, large schools of brightly colored tropical fish, rays, green, zebra and jeweled morays. Giant Manta Rays are irregular visitors to this site and come here to seek the services of the cleaning stations.
►Day 3 & 4: Los Islotes & El Bajo
Los Islotes
Dive with 400 wild and playful sea lions. These underwater "dogs" are like curious puppies. They dart past you, nibble on your fins, and get whisker-to-dive mask with you for great photos and videos. Habitats include rocky reef, hard corals, soft corals, pelagic and sandy bottom. Fish species include large schools of Pacific Creole fish, parrotfish, Mexican Hogfish, triggerfish, wrasses, hawkfishes, snappers, groupers, Mexican Barracudas, Mobula Rays and Blue Spotted Jawfishes.
El Bajo
This site features hammerhead sharks, whale sharks and marlin. There are three seamounts while the pinnacles of the reefs are still 59 to 72 feet deep. While here we will focus on drift drives from one of the pinnacles to 98-feet aiming to see hammerhead sharks.
►Day 5: Punta Lobos & Whale Island
Punta Lobos
In July, the mobula rays begin to congregate at this unique dive site of rocky reef and gorgonians (soft corals) and by October their numbers increase to the thousands! Sometimes there are so many mobulas, they block out the sun. This is a truly thrilling and spectacular site to see in the Sea of Cortez.
Whale Island
This is small island off the west coast of Isla Espiritu Santo featuring several dive-through caves. One of the caves has a pocket of air allowing divers to surface inside the rock. Between the islands lies a sand shelf containing a large "garden" of conger eels. These peculiar creatures feed by extending their bodies vertically from holes in the sea floor, swaying in the currents while feeding on the plankton. Schools of rays and pods of dolphins can be seen passing this tranquil dive site. Dives are 40-60ft and are suitable for novice divers.
►Day 6: Bay of La Paz & La Paz Night Out
The Bay of La Paz is perfect place to find juvenile whale sharks and schools of dolphins to snorkel with. Whale sharks are most commonly found in the bay during the winter months, but we have spotted them as late as July. SCUBA diving is not allowed with the whale sharks, but snorkeling with them is still a thrill and for many divers a once in a lifetime opportunity. We can't guarantee Whale Sharks at any time of year, but we have the pictures to prove that they are here!
Afternoon:
Check into the hotel. Relax by the pool or go shopping on the Malecon.
Evening:
Dinner in La Paz
►Day 7: Departure and transfer to Airport
Group transfers to the airport begin after a hearty buffet breakfast at the hotel restaurant. Flights depart after 2pm.
** Please note: The activities, lodging, guides, and schedule may change without notice as practical considerations arise during program development or onsite. **

Included:
All activities listed on this page.
Hotel room. (double occupancy)
Breakfast and lunch on activity days.
Dinner on camping nights.
Park fees – Tanks & weights – Guide
Excluded:
Personal spending money.
Gratuity.
Transportation to La Paz.
Rental gear.
Price: $0000
Deposit: $000
Deposit due by: January 1st, 2019
Installments: $000 due date, date, date, and date, 2019
Spots Available: 14/14
All payments are non-refundable if cancelled by the participant. Participants are highly encouraged to purchase travel insurance to cover unforeseen circumstances that may interrupt or cancel the trip. In the unlikely event that Green Edventures is unable to fill the trip due a full refund will be given.
Travel Documents:
Sign Up For The Green Edventures E-mail List
**We respect your privacy. Our website is fully secure and your information is kept 100% private with us**

Go Green Edventures!