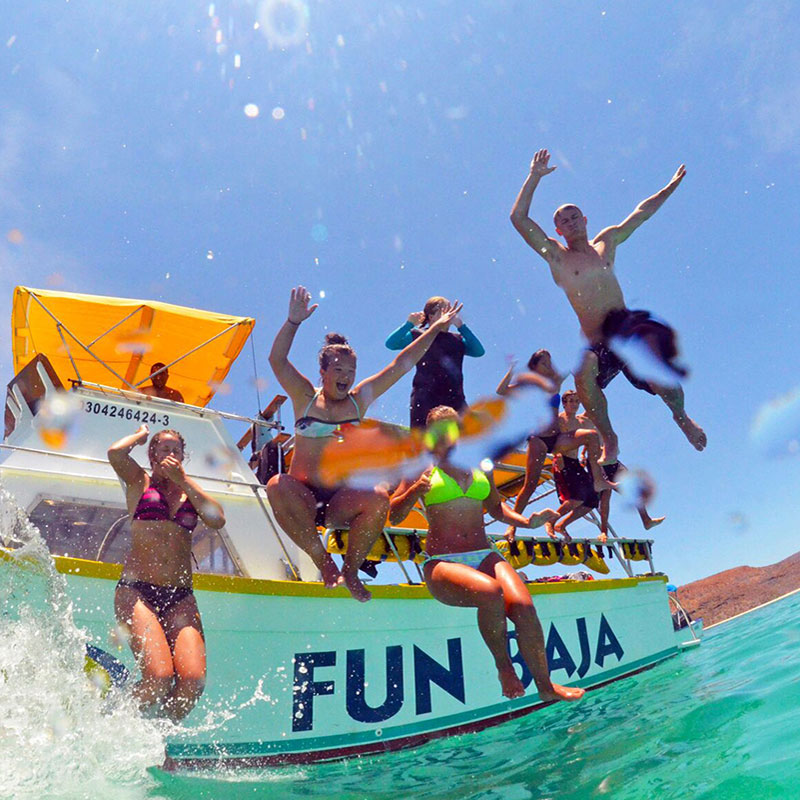 Baja Mexico: Sea of Cortez Discovery – Summer Student Adventure!

  Baja-Sur, Mexico

  8 Days

  Various (June -August)
  Easy Physical Activity
Scroll Down For The Itinerary
A week-long island adventure in the Sea of Cortez designed to teach students about marine ecology through exciting outdoor adventures and amazing animals encounters.
"What truly amazes me about the Gulf of California is how alive it is. Its islands— populated not by people but by seabirds, sea lions, and lovely, life-asserting desert plants—give an impression of wilderness far beyond the proximity of the U.S. and mainland Mexico. Despite serious over fishing for some species, the Gulf is largely a safe haven. For us it is a safe haven too, an easily accessed place to marvel at wild abundance, wide horizons, and intense desert beauty." – Author & Scientist Carl Safina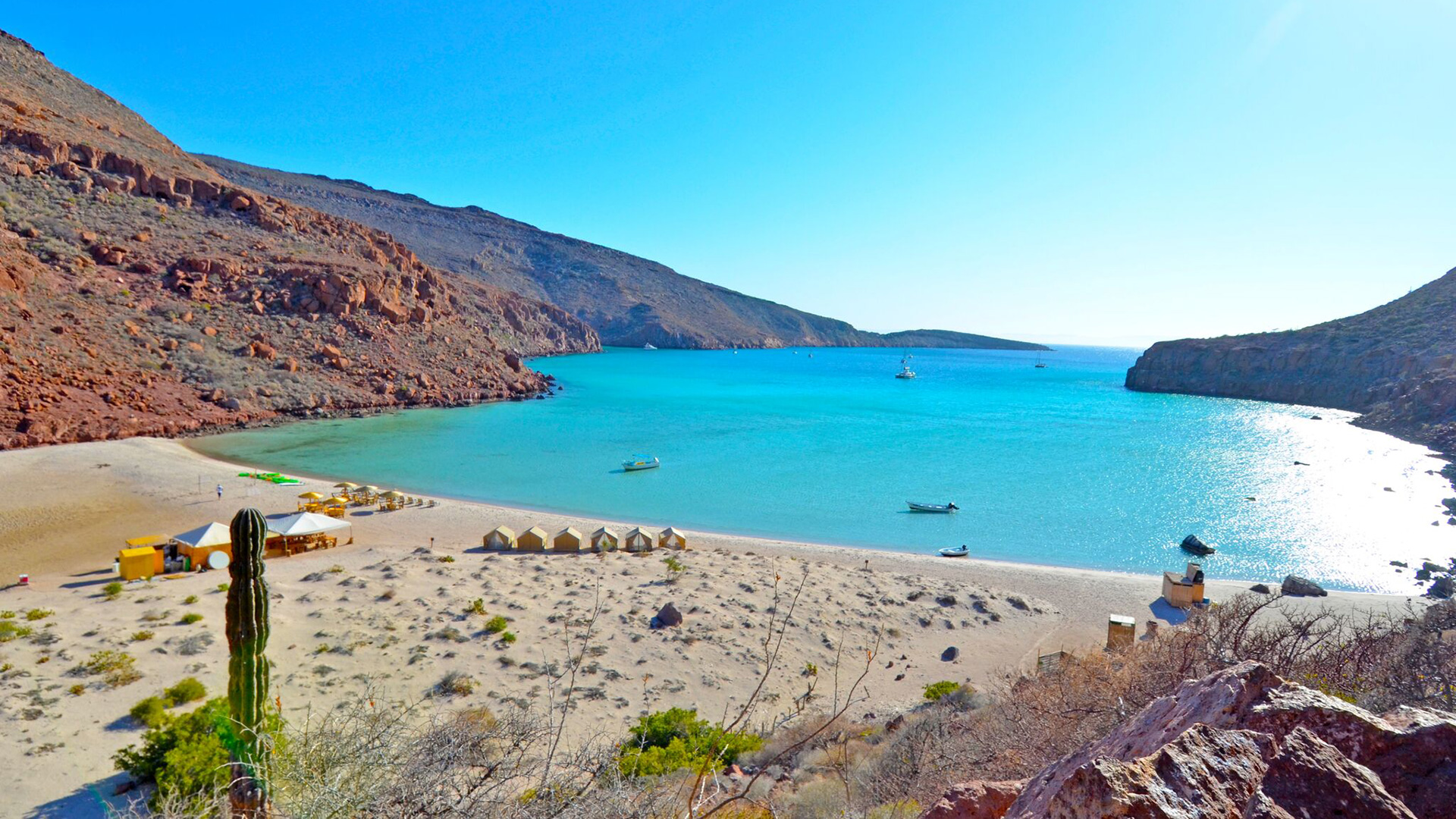 Teachers and science students, join us for an unforgettable Sea of Cortez Marine Biology adventure in La Paz, Baja Sur, Mexico.. Snorkeling day trips combined with student centered research projects, and evening presentations will teach young adventurers about the ecology of the Sea of Cortez, and ways to protect the world's waters no matter where on Earth they live.
Science student will explore a variety of habitats from shallow bays, rocky reefs, coral reefs, and even open water. including amazing encounters with wild sea lions and mobula rays. Topside adventures include kayaking and various hiking. Hands on conservation projects such as coral reef restoration, REEF fish surveys will make students active participants in helping in the conservation of the Sea of Cortez.
Why the Sea of Cortez for Marine Biology?
Just 7 million years ago, the Baja Peninsula began to separate from mainland Mexico. Sea water from the Pacific filled the low-lying basins to form the Gulf of California, or the Sea of Cortez. It is one of the youngest marine systems, but due to the constant sunlight, deep nutrient up welling, and mixing of tides and currents, it is an oasis for marine life, and one of the most biologically diverse places on Earth! There are over 900 species of fish, 30+ species of marine mammals, 170 species of shore and marine birds, and 1700 species of invertebrates.
This is an educational adventure for science students that most people only dream about. Your friends won't believe your pictures.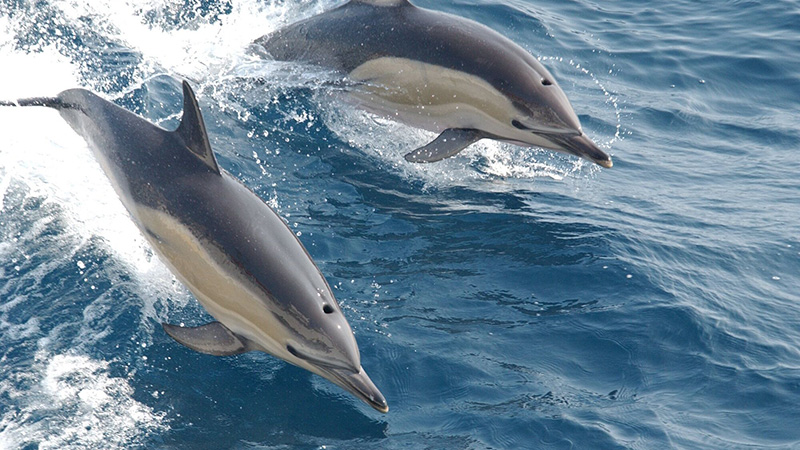 Trip Highlights:
Learn to snorkel and explore coral reefs, rocky reefs, and sandy bays.
Work with coral reef scientists and participate in coral reef restoration.
Dive in with playful wild sea lions.
Experience beach-life while glamping on an uninhabited island.
Kayak through sea caves and along rugged desert coast.
Hike through pristine desert and learn about seemingly otherworldly creatures that have adapted to this extreme environment.
Daily whale watching and dolphin spotting boat trips at sunset.
See the sky full of billions of stars, unhindered by light pollution.
Optional add on SCUBA diving or Discover SCUBA! (Additional Fee)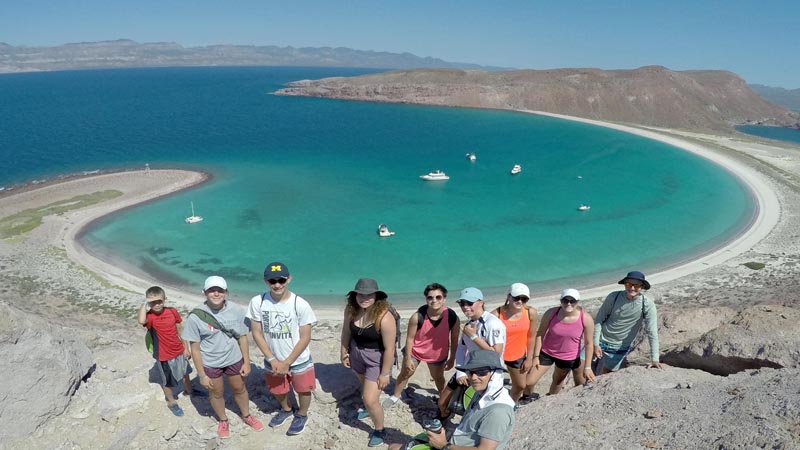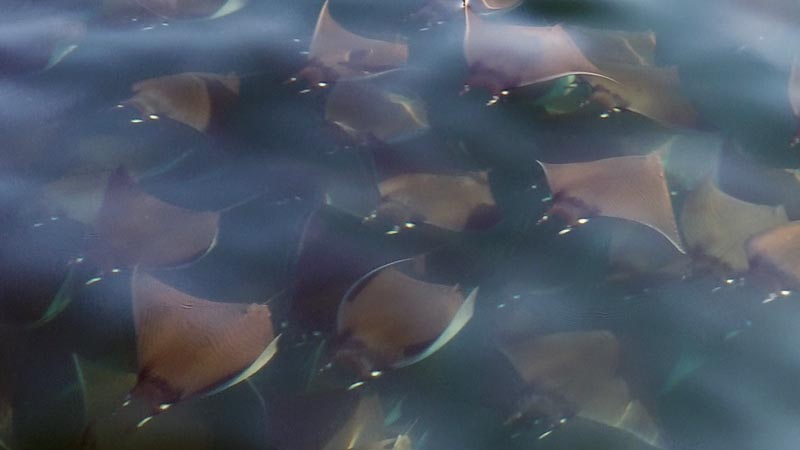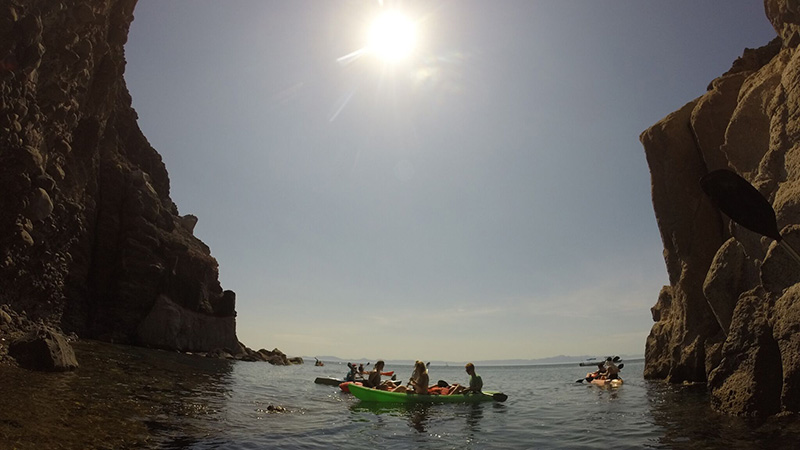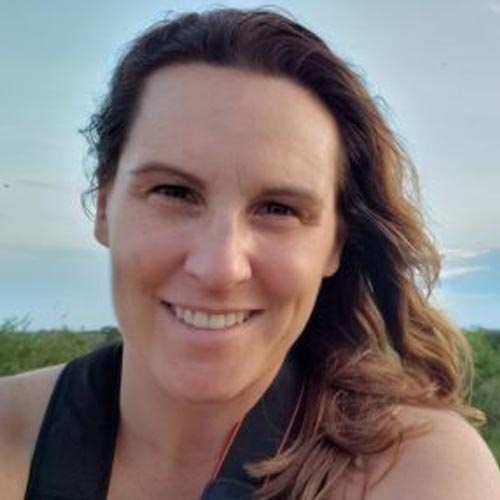 Tara Short
Trip Facilitator / CEO Green Edventures Tours
Tara is the Founder & CEO of Green Edventures Tours. She has 20 years of experience curating and facilitating educational adventures in the Americas, the Caribbean, Africa, and Iceland. She holds a Bachelor's Degree from the University of Wisconsin-Stevens Point in Natural Resource Management with an emphasis in Environmental Education/Interpretation. Tara has worked for notable educational, scientific, and conservation organizations and institutions such as the John G. Shedd Aquarium, Chicago's Museum of Science & Industry, USDA Forest Service in the Chugach National Forest in Alaska, and Wild Studies in the Bahamas. Tara is a PADI Open Water Diver, Advanced Diver, Rescue Diver and has specialty certifications as Underwater Naturalist, Deep Diver, Multi-Level diver and Night Diver. She holds current Wilderness First Aid & CPR Certifications.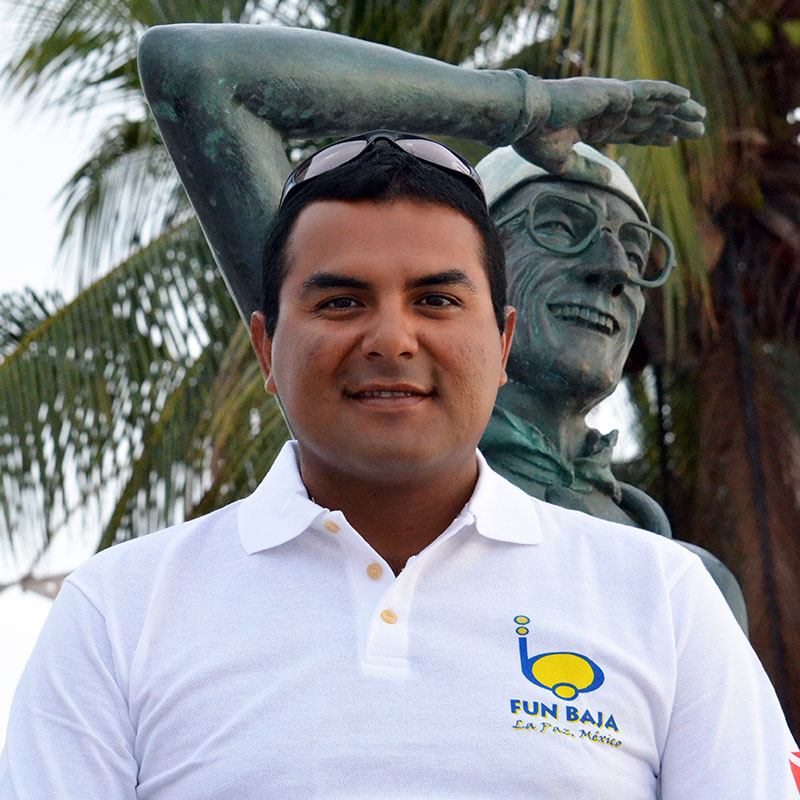 Chabelo
Divemaster / Fun Baja Diving & Eco-Adventures, LaPaz, Mexico
Chabelo (Pronounced Chaah Bell-O) is a Divemaster for Fun Baja Diving & Eco-Adventures based out of La Paz. Chabelo has been instructing and leading SCUBA divers for 15 years with Fun Baja and instructing snorkeling and free-diving with Green Edventures for 8 years. Our guests consistently tell us how they appreciate the care and attention he gives to everyone in the group. Chabelo is funny, playful, and loves to share everything he knows about his backyard, the Sea of Cortez and his home, La Paz. Chabelo is talented at finding marine life so participants can see the most of the reef. He is also a sea lion whisperer. With him, you will see and interact with the sea lions in a very special way. Your friends won't believe the pictures!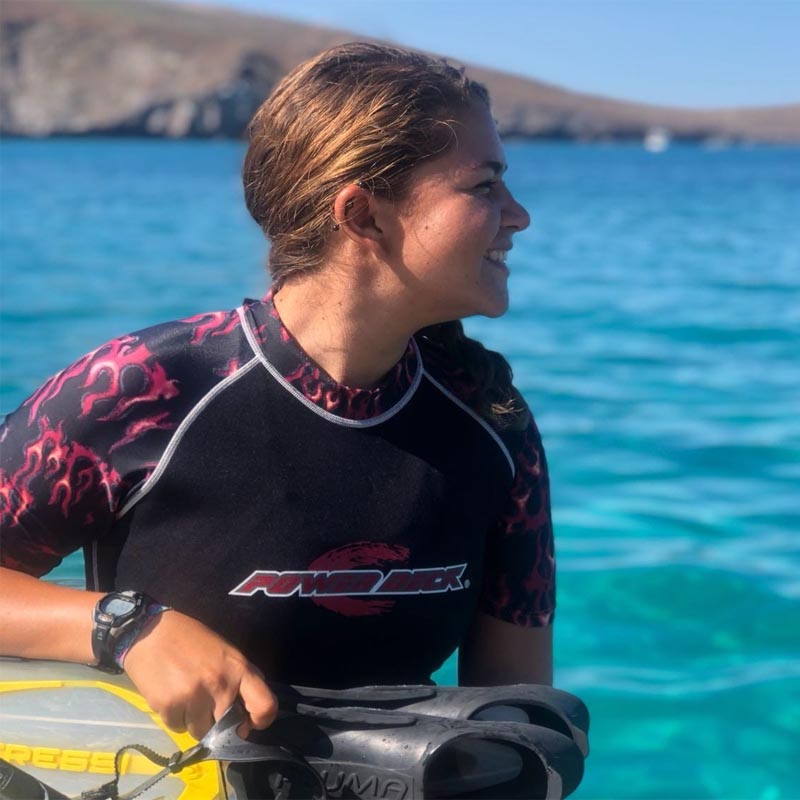 Elsy Olivares
Guide / Baja
Elsy (aka Alex) is a Marine Biologist from Michocan, Mexico. She is funny, energetic, and loves to share her knowledge of science with students. Students can easily relate to Elsy's passion for all things saltwater, adventure, music, and her love of travel. She is a great role model for students, especially those interested in pursuing marine science degrees.  Elsy is both educator and guide for our Sea of Cortez programs in partnership with Fun Baja, and tour leader for our Costa Rica student programs. Elsy holds a Bachelor's of Science Degree in Marine Biology, and a Master's Degree in Marine Resources Management. She is the founding member of the Research and Conservation Program of the Yucatan (PICMMY). She is a PADI Rescue Diver.
►Where Do We Stay?
Night 1: Camp
Night 2: Camp
Night 3: Camp
Night 4: Camp
Night 5: Camp
Night 6: Hotel in La Paz
Night 7: Hotel in La Paz
►Day 1: Arrival to Los Cabos, journey to Espiritu Santo Island.
Groups arrive from the US at Los Cabo Airport (SJD) between 11am-2pm. We'll board the 15-passenger vans and drive 1.5 hours north toward La Paz with a stop for lunch in San Bartolo. After lunch we'll continue north another 1.5 hours. In La Paz, we head toward the marina and the Fun Baja Dive Shop. Here, dive gear is issued and the boats are loaded for the journey to Espiritu Santo Island, your home for the next five nights! We will arrive at camp before dark, just in time for a fabulous dinner! The tents will already be set up and ready for you to move in.
►Day 2: Snorkeling in Ensenada Grande and Las Cuevas.
Morning:
Participants will learn basic snorkeling skills and then free-diving techniques in the shallow bay of Ensenada Grande.
Afternoon:
Participants will use their snorkeling skills to explore the rocky shoreline at Las Cuevas and their free-diving skills to see garden eels in the sandy flats at 25ft.
Evening Presentation:
Survival of the Finnest: Fish are the most abundant vertebrate animals which dominate nearly every habitat in the hydrosphere. Why are they so successful?
►Day 3: Cross Island Sunrise Hike and Snorkeling at El Candelero Island
Morning:
We depart camp at about 6am, when the stars are still in the sky, and light is about to break. The hike is relatively flat with a few boulders to scramble up or slide down. The trail terminates at the opposite side of the island and reveals stunning views of the eastern side of the island, especially as the sun comes over the horizon. We will return to camp at about 830am for breakfast. The remainder of the morning will be free time to work on projects, journals, or to rest.
Afternoon:
Escape the heat and jump into the cool water at Isla El Candelero. This tiny island is a great spot to get up close to birds like cormorants, gulls, and pelicans; as this island serves as a small rookery.
Evening Presentation:
Gulf of California: Introduction to an ocean oasis: 40 minute slide show presentation that introduces students to oceanography and the physical processes which formed the Gulf of California and the biotic and abiotic factors that make it one of the most biological diverse marine systems on the planet.
►Day 4: Snorkeling at El Candelero & Kayaking Trip
Morning:
Snorkeling at El Candelero. This tiny island is a great spot to get up close to birds like cormorants, gulls, and pelicans; as this island serves as a small rookery. Below the surface are big schools of angel fish, snappers, and parrotfish. In the nooks and crannies of the reef are blennies, eels, and many invertebrates.
Afternoon:
Students will learn about geology of Espiritu Santo while they paddle the coastline in sit on top kayaks. They will identify basic rock formations and paddle into sea caves and though arches. We pass by "bachelor island" where the bull sea lions haul out during mating season.
Evening
time for research projects
►Day 5: Coral Reef Restoration & Optional SCUBA Diving
Morning:
Work along a scientist who is researching corals of the Gulf of California. Students will assist in coral restoration projects.
Afternoon:
SCUBA diving or discover SCUBA (non certified divers). Those who are not SCUBA diving will have options for other activities such as snorkeling or kayaking.
Evening:
Research projects.
►Day 4: Sea Lions at El Pardito and San Francisquito Island Adventure
Morning – Late Afternoon
Today is an exciting adventure across the Bay of La Paz to experience snorkeling with sea lions of El Pardito and then hiking on the beautiful island of San Francisquito.
Evening Presentation:
Empty Ocean: Human caused environmental issues threatening biodiversity of the global ocean.
►Day 7: La Paz: Meet with Local Environmental Activists & Cultural Day
Morning:
Meet with local environmental activists working on projects to help protect the Sea of Cortez. Possible presentations by scientists, as well as non-traditional science disciplines such as filmmakers, artists, and storytellers who work to study, document, and preserve the Sea of Cortez.  — Actual presentation will be determined by the availability of the speakers that day.
Afternoon:
We will visit some of the cultural attractions of La Paz, then shopping for souvenirs along the malecon.
Evening:
We'll gather once last time at Rancho Viejo Restaurant for a mouth watering dinner of their famous arrecherra style meat with fresh salsas and tortillas.
►Day 8: Departure Day
Morning:
We will meet in the hotel restaurant for a hearty breakfast for your big travel day. Depending of departure times and arrival times of the next group, your group may depart La Paz as early as 9am. You will journey by 15-passenger van to Los Cabos Airport. Flights depart after 4pm.
** Please note: The activities, lodging, guides, and schedule may change without notice as practical considerations arise during program development or onsite. **

Included:
All activities listed on this page.
Group ground transport from Los Cabos Airport.(SJD)
Group meals from lunch on arrival day to breakfast on departure day.
All activities and lodging.
Excluded:
Personal spending money.
Airfare from your departure city to San Jose del Cabo Airport.(SJD)
Gratuity of $100.00 per person.
Price: $2095 plus airfare (Approximately $2950 per student)
Deposit: $300-$400
Installments: equal monthly installments. Final payment is due 30 days prior to travel.
Spots Available: 25
Travel Documents:
Students will need a valid passport to travel to Mexico that is valid for the duration of the stay and has one blank page. Participants are also required to have a notarized form signed by both parents providing permission for minor children to travel.
All payments are non-refundable. In the unlikely event that Green Edventures is unable to fill the trip, a full refund will be given.
Travel insurance is available and recommended.
Sign Up For The Green Edventures E-mail List
**We respect your privacy. Our website is fully secure and your information is kept 100% private with us**

Go Green Edventures!