Uganda Mountain Gorilla Trekking Eco Tour & Wildlife Safari (April 14-25, 2022)

  Uganda, Africa

  12 Days

  04/14/2022

  04/25/2022
  Trekking Varies Moderate – Strenuous. Read our FAQ.
Scroll Down For The Itinerary
Take a walk on the wild side in this rustic road adventure to the Pearl of Africa – Uganda. See Africa's big game and have dream encounters with wild Mountain Gorillas and Chimpanzees.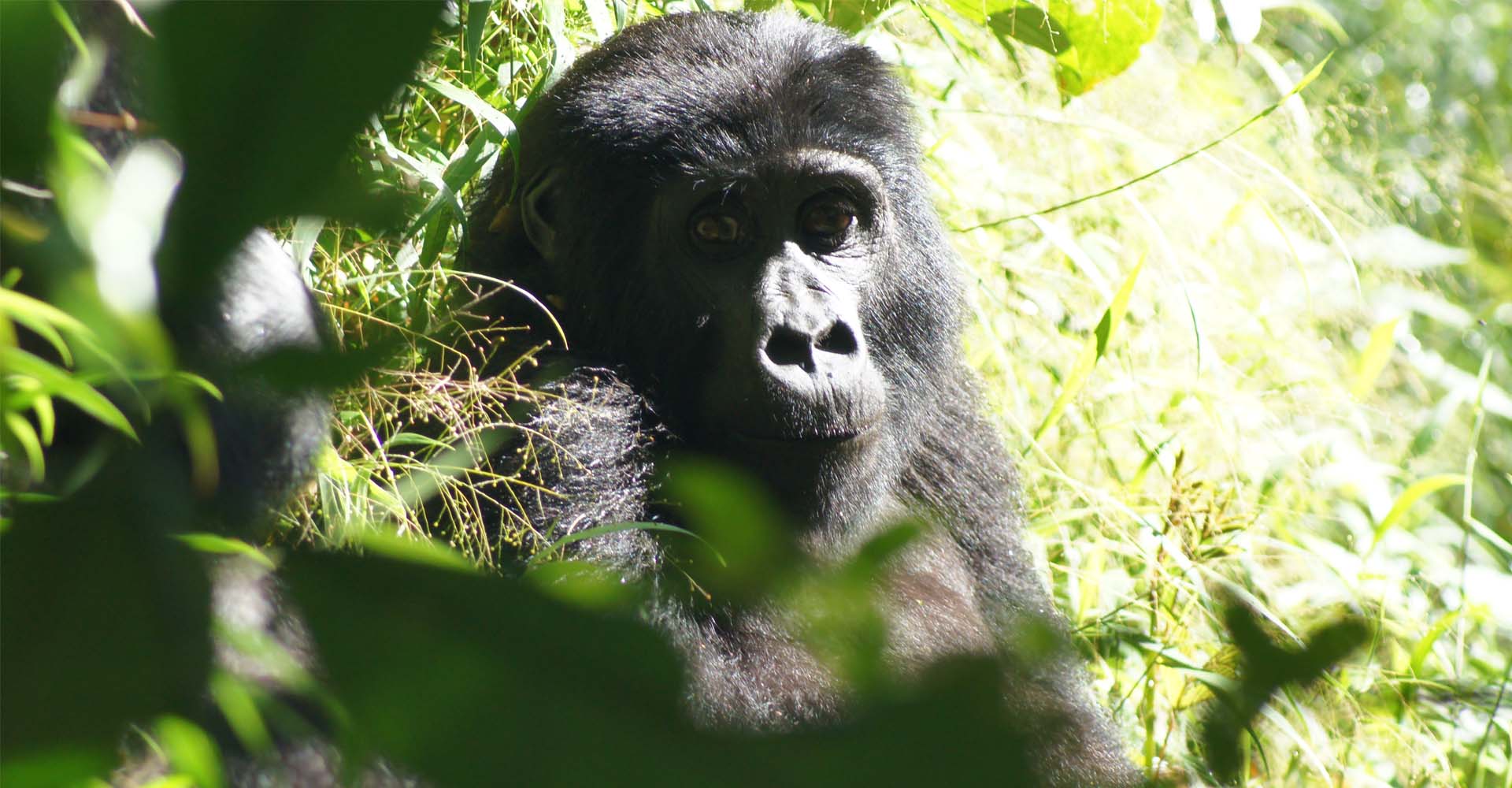 Straight out of the pages of a National Geographic Magazine, our Uganda Mountain Gorilla Trekking Eco Tour & Wildlife Safari ​provides ordinary people a chance to live like explorers This epic journey is a combination of game drives through wildlife parks and on the ground up-close encounters with some of the world's most endangered animals like rhinos and mountain gorillas.
Grab your safari hat, binoculars and don't forget your camera because your friends are not going to believe your stories on this Uganda Mountain Gorilla Trekking Eco Tour & Wildlife Safari. The adventure begins in Entebbe and follows a game circuit north, west, and returns south to Entebbe. We will explore wooded savannas, grasslands, tributaries of the Nile River, and mountain tropical cloud forest. Lodges are 4-star with delicious food and comfortable accommodations.
Unlike its more popular cousins Tanzania and Kenya, Uganda is known for its friendly people, and high concentrations of animals in smaller game reserves. On our Uganda Mountain Gorilla Trekking Eco Tour & Wildlife Safari you will see Africa's iconic animals, but the primates are the highlight of this African Safari! There are 24 species of primates here. The grand finale is a ranger-led small group trek into the home of highly endangered wild Mountain Gorillas & Chimpanzees!
Join us on our Uganda Mountain Gorilla Trekking Eco Tour & Wildlife Safari. This is an educational travel adventure for travelers of all ages and backgrounds. Now is your chance to experience the Africa you have dreamed of with a like-minded group of travelers.
The game drives portion of Uganda Mountain Gorilla Trekking Eco Tour & Wildlife Safari is easy. No experience necessary. For trekking, participants should be healthy, know their limits, and be able to walk 4-6 miles on rolling and uneven terrain which could be steep and slippery depending on the conditions. Hiking trails on this Uganda Mountain Gorilla Trekking Eco Tour & Wildlife Safari for gorilla and chimpanzee trekking vary from easy, medium, and strenuous. Trails assignments are based on the participants' abilities, but subject to park rangers' authority and number of trekkers that day.  During gorilla trekking, each participant has a porter who will carry her day pack, and always there to lend a helping hand. If you have concerns about hiking during our Uganda Mountain Gorilla Trekking Eco Tour & Wildlife Safari please contact us to discuss. Solo travelers, friends, and family are welcome on this trip. Kids ages 16+ are invited to attend with an adult.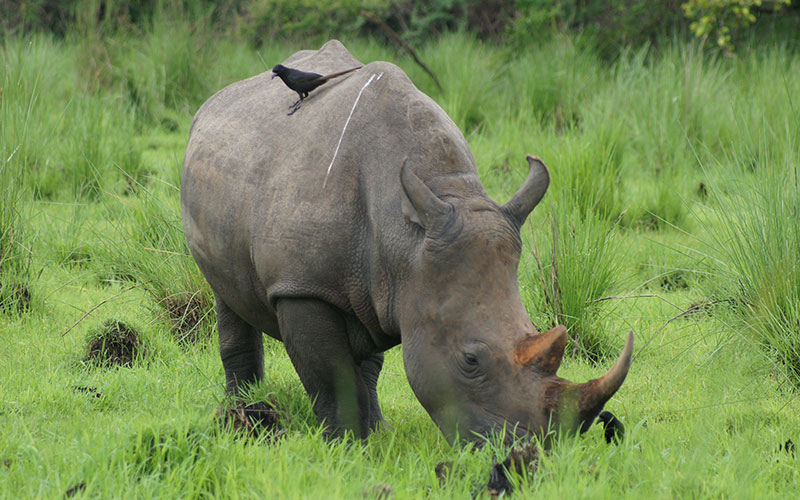 Trip Highlights:
Walk with the last rhinos in Uganda in their natural habitat.
Experience spectacular game drives in Uganda's National Parks full of amazing mammals, reptiles, and birds!
Go Big! Photograph the largest mammals: elephants, giraffes, cape buffalo, and hippos in the wild.
Get close to our closest genetic animal relative, on a chimpanzee tracking expedition in the Kimbale National Forest.
Stay at lodges in beautiful locations near national parks and in the country-side.
See tree-climbing lions of Ishasha in Queen Elizabeth Nation Park.
Life-changing up close encounters with endangered mountain gorillas in the Bwindi Impenetrable Forest.
Get close to Chimpanzees at Kibale National Forest.
See historic wonders like the Nile and Lake Victoria.
Birders, expect to see over 200 species including the Shoebill Stork.
Included:
Expert english speaking local guide & driver.
US based Green Edventures Trip Facilitator for pre-trip and onsite assistance.
Round trip group transfer from Entebbe International Airport to hotel in Kampala.
11 nights lodging in wilderness lodges and hotels.
All meals from dinner night 1 to lunch day 12 include bottled water.
Ground transportation via 4 wheel drive safari vehicles.
1 gorilla viewing permit (1 hr).
1 chimpanzee viewing permit.
Shoebill Stork Lake Victoria day trip.
Boat trip on the Nile at Muchison Falls.
Boat trip on Lake Mburo.
All game drives listed throughout itinerary.
Excluded:
Airfare to Entebbe, Uganda.
Tourist Visa ($50)
Gratuities
Personal spending money.
Travel insurance
Special travel & incidentals
Bottle beverages such as sodas and alcohol
Supplemental Information: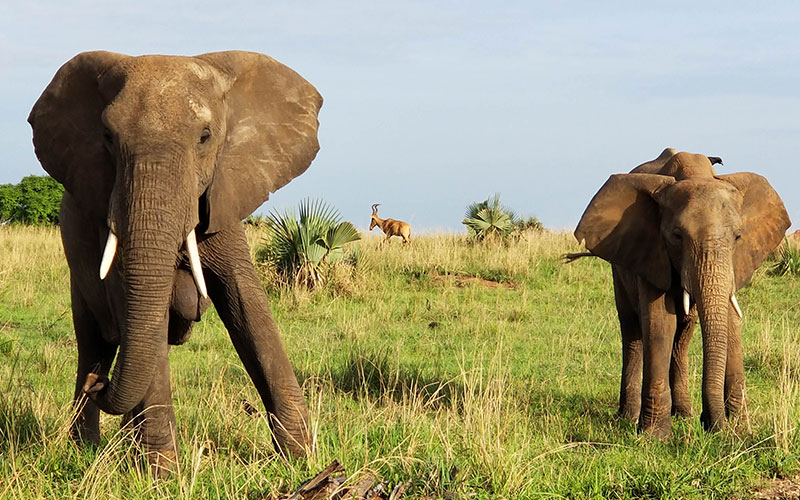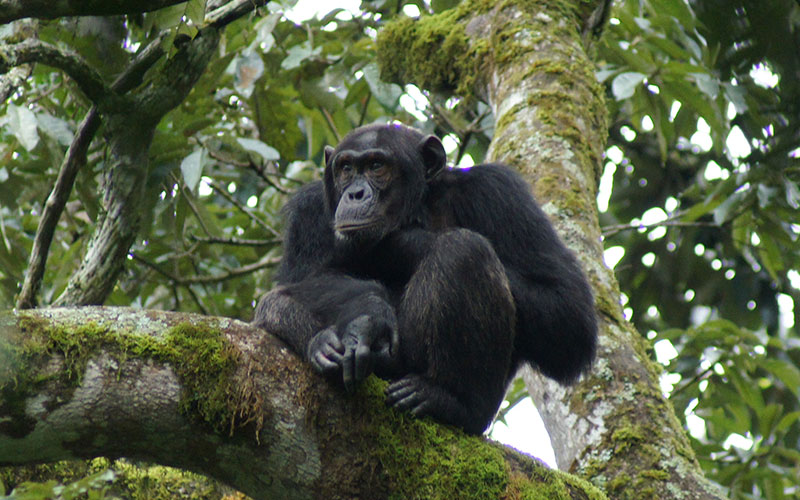 Murchison Falls National Park
Mabamba Swamp
Kimbale National Park - Chimpanzee Tracking
Queen Elizabeth National Park
White Rhino Sanctuary
Bwindi Impenetrable forest - Mountain Gorilla Tracking
Lake Mburo
Package Price: $5895
Deposit: $995
Installments: 4 installments, with final payment due March 28th.
Min/Max Group Size: 9/16 —  No more than 6 passengers to a vehicle.
Click "Book Now" to see real time availability and to sign up.
Travel Documents:
A passport is required
A tourist visa is required
Proof of Yellow Fever Vaccination is required
Proof of COVID Vaccination Required
Travel insurance is available and recommended.
Cancellation Policy
US Embassy Information 
US State Department Information
This adventure begins and ends in Entebbe, Uganda. We cover a lot of ground, over 1000 miles in 12 days! The Safari circuit travel from the shores of Lake Victoria in Entebbe (2 nights), toward  Murchison Falls National Park (3 night). We continue east toward the Nile with stops at Kibale National Park (1 night), Queen Elizabeth National Park (1 night), Bwinidi Impenetrable Forest (2 nights), and Lake Mburo National Park (2 nights). 
►Day 1: Arrival at Entebbe International Airport- Uganda
Arrival at Entebbe international airport where you will be greeted by our guide or representative and then transferred to your hotel. Overnight at Papyrus Guest House.
►Day 2: Mabamba Swamp Shoebill Stork Safari
Depending on the arrival of flights the day before, this excursion will begin either early morning around sunrise or later in the afternoon before sunset. From the hotel, your guide will take you through the markets of Entebbe and then down to one of the beaches of Lake Victoria where the adventure begins. In a simple wooded motorized boat, we will cruise across the vast expanse of a tiny portion of Africa's largest lake to Mabamba Swamp. Mabamba Swamp is a large tract of marshlands with various channels through it, and it provides the perfect habitat for 260 bird species including Shoebill Storks. Stork-like, but related to pelicans, you don't have to be a "birder" to be impressed with seeing a Shoebill. These prehistoric looking birds stand over 3ft tall!  There are only 5-8000 individuals remaining in Uganda and the surrounding countries. From this day forward, you will be the envy of every hardcore birder you meet if you tell them you saw a Shoebill.  Overnight at Papyrus Guest House.
►Day 3: Ziwa White Rhino Sanctuary & Transfer to Murchison Falls
We start driving northwest to Murchison Falls National Park with visit to the Ziwa Rhino Sanctuary. The drive takes us through the famous Luwero triangle to the sanctuary in Nakasongola which is a privately-owned White Rhino breeding sanctuary. The sanctuary is home to the last rhinos in Uganda with a mission of restoring them in Uganda's protected areas once the breeding population reaches over 14 individuals. Led by a ranger, you will trek on foot within the sanctuary to see white rhinos in their natural habitat. When you spot the rhinos, your ranger will teach about the individuals you are observing while you take in the fact that you are standing on the same ground as wild rhinos.
In the afternoon, we continue toward Murchison Falls National Park. This protect area has a variety of vegetation ranging from riparian and tropical rain forests, marshes to broad savannahs which are both wooded and grassland, all of which harbor different wildlife. Overnigt at Kabalega Wilderness Lodge.
►Day 4 & Day 5: Murchison Falls National Park & Nile Hippos
Today we our first game drive of the adventure. Named for the falls where the Victoria Nile surges through a narrow gap and cascades over a massive 141 feet drop, Murchison Falls is a small national park with big diversity of animals. In one photo, you could have 3 species of the big 5! — It will be your favorite game drive of the trip!
Murchison has 76 mammal species including African Elephants, Cape Buffalo, and Rothschild's Giraffe. Other game includes African antelopes like the leaf eared Oribi, Jacksons Hartebeest, Water and Bushbuck, the beautiful Uganda Kob, Bohor Reedbuck, and Common Duiker. The park is home to 450 species of birds like: Casqued Abyssinian Ground Hornbill, Denham's Bustard, large eagles like the Bateleur, Martial, Brown Snake among others and large flocks of vultures.
In the afternoon, a boat cruise to the bottom of the falls will reward you with eye-level viewing of hippos bathing in the Nile. You will see a variety of natural behaviors and hear them grunt, splash and snort as they hang out in hippo schools along the shoreline. Lurking close by are Nile Crocodiles hunting for unsuspecting wading birds and other wildlife that come to the water to cool off in the midday heat. Overnight at Pakuba Safari Lodge.
►Day 6: Transfer to Kibale Forest National Park
After breakfast we will checkout of the lodge, and transfer to Kibale forest National Park. The drive is a long 8 hours with stops, but interesting as you pass through small towns, green plantation and traditional homesteads. Overnight at Chimpanzee View Guest House.
►Day 7: Chimpanzees of The Kibale Forest National Park
Early morning, we assemble at the park headquarters for the briefing before a ranger leads you into the magnificent forest. The Kimbale Forest is a tropical forest where all human disturbances fads away and it's just you and the sounds of nature.  The ranger will locate the chimps by listening to their pant-hooting calls, looking for the fresh nests where they spent the previous night, and the direction of their fresh knuckle imprints in the mud while leaving their nests. The other primates expected on the walk included the red colobus, black and white colobus and the red-tailed, Blue, L'hoest's monkey and the Grey-cheeked Mangabey.  In the afternoon enjoy a guided nature walk through the Bigodi wetland sanctuary /and visit the women's crafts project KAFRED. Chimpanzee View Guest House.
►Day 8: Transfer to Queen Elizabeth National Park- Ishasha Sector
Today we have breakfast at ease then start our drive further south of Uganda towards the Impenetrable Bwindi Forest National Park. Driving duration is 6 hours today including a game drive in Ishasha. Ishasha, is a remote and beautiful part of Africa, with a wonderful scenery. As it is always said, remote destinations still harbor the best wildlife! Proof of this is Queen Elizabeth National Park Ishasha Sector, the second largest in Uganda. It is host to wildlife among which on lucky days your guide will spot tree climbing lions in figs, acacia or Albysia trees! Nowhere in Africa do you stand a better chance of seeing this than in this Ishasha sector. We shall find a spot for lunch then check in at our respective place of stay as we await a rewarding late game drive which will produce close encounters of more wildlife in this section of the park. Dinner and overnight stay at Ishasha Jungle Lodge.
►Day 9: Queen Elizabeth National Park Game Drive & Bwindi Impenetrable forest
After breakfast, we start with a game drive which will give us more chances of seeing the tree climbing lions and bigger opportunities of seeing the leopard this morning before setting off to Bwindi Impenetrable National Park. On the drive we will find game coupled with stopovers to look out for interesting savannah birds; These may include Black Lored and Arrow-marked Babbler, ovambo Sparrow Hawk, African Cuckoo Hawk, Stout, Wing snapping, Zitting, and Trilling Cisticolas, Violet-backed Starling, Brown and Banded Snake Eagle, Holub's Golden Weaver, Lesser and Greater Honeyguide, Grassland and Plain Backed Pipit, Fork-tailed Drongo, Blue-naped Mousebird and many more. After this, we shall continue and drive to Bwindi where we stay at Bakiga Lodge.
►Day 10: The Mountain Gorillas of Bwindi Impenetrable Forest National Park
This will be a day to remember! Like chimp trekking, a ranger will provide a safety and orientation briefing before the group is assigned a troop to visit. The ranger and scouts will lead groups of visitors with porters into the forest in search of habituated Mountain Gorillas. Habituated troops are used to people observing and are less likely to become territorial when approached. When sighted, your expected to stay 21 feet from the gorillas, however, many times, gorillas have moved close to their human observers, and even touched them. Time spent observing the troop is limited to 1 hour. It is a phenomenal experience to watch wild Mountain Gorillas as they forage and care for their young, and as the babies trundle down the hills and in the grasses for fun!! Evening, return to the hotel for relaxation, depending on how you feel, an evening community walk is always rewarding to learn how the people living near the gorillas go about their daily lives. Overnight at Bakiga Lodge.
►Day 11: Transfer to Lake Mburo National Park
After a morning breakfast we head North West to Lake Mburo National Park. This is the best stopover between the gorillas and Entebbe Airport
Via a boat cruise, we will have more opportunities for wildlife viewing and photography including: schools of hippos, crocodiless, different bird species and large mammals like the Cape Buffaloes, Zebras, Topi, Impala, Water and Bussbuck, Oribi the giant Eland, among others. If we are lucky, this is a good spot for the Leopard and Hyeanas. After dark, there will be time for a late drive in search of some nocturnal species. Overnight stay at Rwakobo Rock Lodge.
►Day 12: Lake Mburo & Departure-
Early morning game drive as we depart Lake Mburo National park may spot some zebra, buffaloes, kobs and many others in the open acacia woods. Continue to Kampala with a stopover at the equator and the royal drum makers in mpigi. Airport drop off.
** Please note: The activities, lodging, guides, and schedule may change without notice as practical considerations arise during program development or onsite. **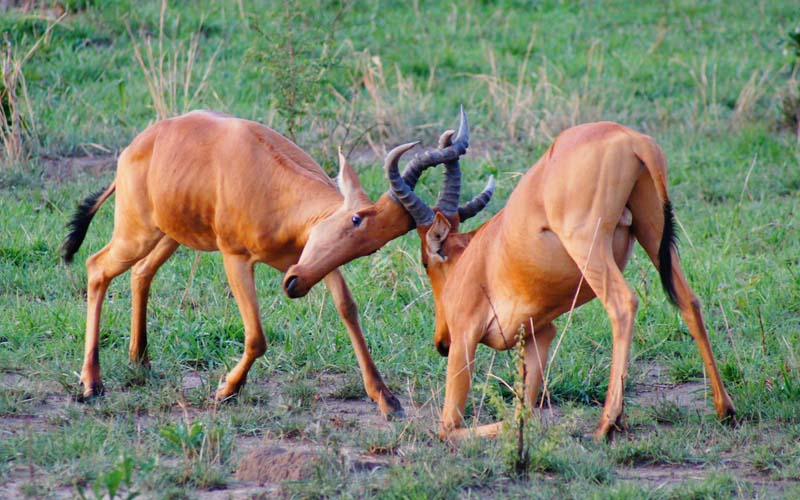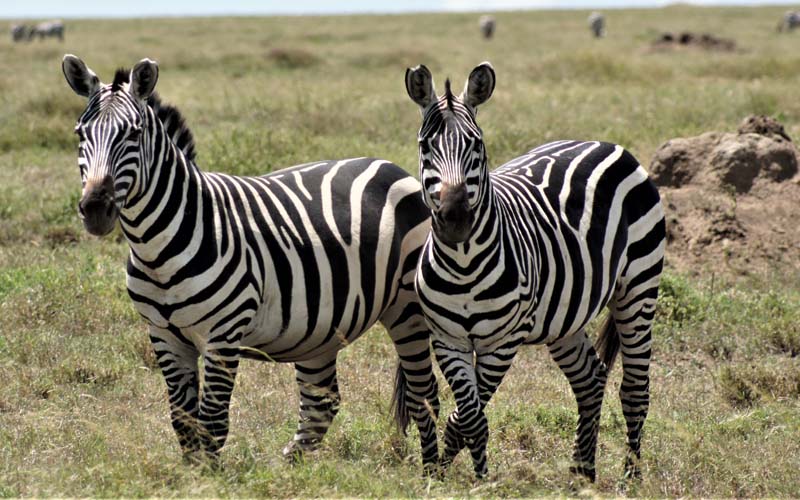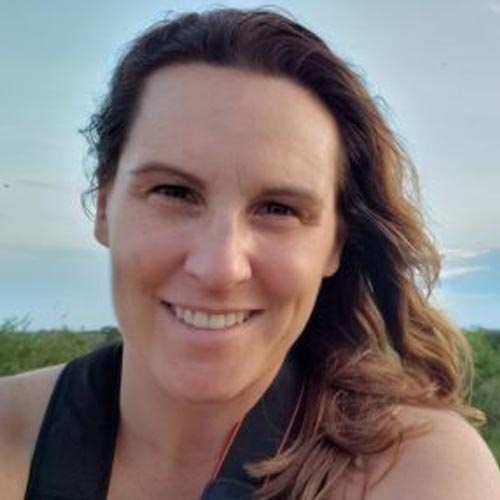 Tara Short
Trip Facilitator / CEO Green Edventures Tours
Tara is the Founder & CEO of Green Edventures Tours. She has 20 years of experience curating and facilitating educational adventures in the Americas, the Caribbean, Africa, and Iceland. She holds a Bachelor's Degree from the University of Wisconsin-Stevens Point in Natural Resource Management with an emphasis in Environmental Education/Interpretation. Tara has worked for notable educational, scientific, and conservation organizations and institutions such as the John G. Shedd Aquarium, Chicago's Museum of Science & Industry, USDA Forest Service in the Chugach National Forest in Alaska, and Wild Studies in the Bahamas. Tara is a PADI Open Water Diver, Advanced Diver, Rescue Diver and has specialty certifications as Underwater Naturalist, Deep Diver, Multi-Level diver and Night Diver. She holds current Wilderness First Aid & CPR Certifications.
Paul Tamwenya
Guide / Uganda
Paul Tamwenya is probably one of the most interesting people you will ever meet in your life. Not only is he an expert at wildlife ID and behavior, he is sensitive to the needs of his clients. Great care and detail go into his safaris to ensure each person is having their best experience. Paul is the principal guide for his safari company which he created in 2009, and the founder of a non-profit called Birds of a Feather which helps the children from his hometown by providing school supplies and environmental education. Paul is a graduate of tourism management with more than 12 years experience guiding wildlife and birding tours in Uganda. He also provides guide training and is an inspirational speaker.
Sign Up For The Green Edventures E-mail List
**We respect your privacy. Our website is fully secure and your information is kept 100% private with us**

Go Green Edventures!