Description
Teachers explore wild Costa Rica, and gain field experience and tools that help you connect your classroom to the natural world.
Visited by only a handful of travelers to Costa Rica, here is one of the few places in the world where four species of monkeys, scarlet macaws, big cats, and tapirs still roam wild. National Geographic named the Osa Peninsula one of the most biologically diverse places in the world! Your students will have a Costa Rica experience far from the crowds of more accessible places. Get up close to some of the rainforest's coolest creatures including a life-changing visit to a Wildlife Sanctuary.
With its diverse landscape of volcanos to beaches, Costa Rica is celebrated as one of the Earth's most biodiverse locations. The heart of this biodiversity lies in the Osa Peninsula, which is our primary destination. Located in the southern part of the country and extending into the Pacific Ocean, the Osa Peninsula is bordered by the Golfo Dulce ("Sweet Water") to the east and the Pacific Ocean to the west.
During this trip, teachers will:
1. Gain valuable field experience that can be taken back to the classroom
2. Connect science in meaningful ways to the natural world
3. Develop a lesson or project inspired by their immersion experience
Trip Highlights:
Wildlife of course! See and learn about monkeys, birds, reptiles, and amphibians.
Hike primary rainforest trails led by your expert and fun Tico guide.
Feed sloths, pet a porcupine, and shake hands with a spider monkey at a wildlife sanctuary.
Learn about lowland rainforest ecology. – Hint, the plants steal the show!
Glamp at the edge of two National Parks in raised platform tents and eco-lodges.
Go kayaking in hidden mangroves to see reclusive birds, and possibly crocodiles!
Price INCLUDES a roundtrip scenic flight in prop plane over Costa Rica's wild coastline.
See a working coffee plantation and learn about the coffee harvesting process.
Visit a sulfur volcano at the Poas National Park.
Explore the La Paz Waterfall Gardens, a haven for injured wildlife and a beautiful place learn more about Costa Rica's animals and plants.
Emily Brown
Instructor – Henry Doorly Zoo & Aquarium
Emily has been with Omaha's Henry Doorly Zoo and Aquarium for 11 years overseeing teacher professional development, school programs, curriculum development, and teaching Middle School Zoo Academy.  She has her Bachelor's degree in Biology and a Master of Arts with an Emphasis in Science Teaching, both from the University of Nebraska-Lincoln.  Emily has led teacher professional development trips to South Africa, Costa Rica, and Trinidad & Tobago.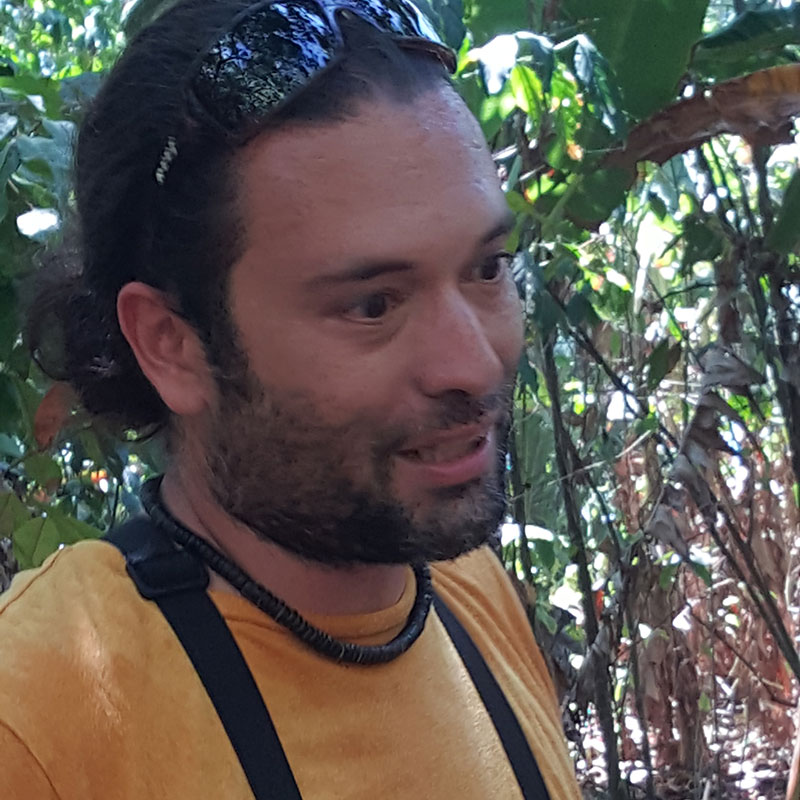 Pepe
Costa Rica / Casa Botonia
Meet Pepe, your guide and future life-long friend! Pepe is a master naturalist that will reveal the story of the rainforest to you one character at a time. Instead of a few dry facts of about animals you find on the trail, Pepe will teach you how every plant, monkey, bird, insect, and reptile is connected to each other via the delicate and intricate community within the rainforest. Pepe is Costa Rican and proud of his beautiful country. His passion for sharing his knowledge of the Tico culture and the amazing symbiotic life of tropical flora and fauna is evidence of how much he loves Costa Rica. Since 1997, he has been guiding people into the rainforests of Costa Rica and Panama. Many of our guests are shocked by now much Pepe knows! — It's almost super human!
►Where Do We Stay?
Night 1: Hotel or B&B/Hostel Alajuela
Night 2: Saladero Eco-Lodge (Near Piedras Blancas National Park)
Night 3: Saladero Eco-Lodge (Near Piedras Blancas National Park)
Night 4: La Leona Eco-Lodge (Near Corcovado National Park)
Night 5: La Leona Eco-Lodge (Near Corcovado National Park)
Night 6: Hotel or B&B/Hostel Alajuela
Night 7: Hotel or B&B/Hostel Alajuela
►Day 1: Arrival in San Jose – Transfer to Vida Tropical – Orientation & Group Dinner
Groups will arrive from the U.S. at Juan Santamaria International Airport in Costa Rica's in late afternoon. A 10-minute taxi ride will take us to the neighboring city of Alajuela, where we will have dinner, have an introductory meeting, and spend the night. Tomorrow we fly to the Pacific Coast!
►Day 2: Flight to the Osa Peninsula – Travel to Puerto Jimenez – Boat Tour of Gulfo Dulce – Move into Saladero Glamping Camp
Morning:
We will depart from San Jose in the early morning and enjoy a scenic 50-minute flight over mountains blanketed in thick forest to Puerto Jimenez on the Osa Peninsula. We will take taxis to the nearby dock to meet our boat for an exciting tour of the Golfo Dulce where we will likely encounter marine mammals, birds, and sea turtles.
Afternoon:
After our tour, we will be dropped off at our home for the next three nights, Saladero Eco Lodge. We will meet the owners and friendly staff, have lunch in the open-air dining room, and take an orientation tour of the grounds. Later, we will begin your introduction to the rainforest on one of the Lodge's trails adjacent to Las Piedras Blancas National Park.
►Day 3: Mangrove Paddle & Jungle Night Hike
Day Tour:
With the calls of howler monkeys and birds, the stirrings of the rainforest make it easy to start the day early! After a 7am breakfast, we will begin our 4-5 hour adventure of exploring the unique mangrove and river ecosystems by kayak.
Evening:
Rainforest night hike to find amphibians, reptiles, and other creatures of the night.
►Day 4: Wild Life Sanctuary – Transfer to Carate Beach & La Leona Eco-Lodge
Morning:
Breakfast at 7am. We will travel by boat to the Fundacion Santuario Silvestre de Osa (Osa Wildlife Sanctuary) for a 1.5-hr tour. Here, we will learn about the efforts to rescue and care for orphaned wildlife or those that have been victims of the animal trade. If we are lucky, we may be visited by one of the free-roaming spider monkeys that call the Sanctuary "home."
Afternoon:
We leave the Wildlife Sanctuary and enjoy the 45-minute boat ride back to Puerto Jimenez. We will stop in town for a snack and travel 2-hours by taxi through agricultural land, over gravel hills, and traversing rivers. Once we ride as far as the taxi can take us, we will drop our backpacks off with the horse cart that and continue on foot to La Leona Eco Lodge. This is a 45-minute hike down the picturesque volcanic black sand beach where the rainforest meets the Pacific Ocean to La Leona Eco Lodge.
►Day 5: Rainforest Ridge Hike to Monkey Camp
Morning:
After a hearty breakfast, we will explore the ecosystem behind La Leona Lodge which boarders the Corcovado National Park. Be on the lookout for poison dart frogs, bats snoozing in leaves, and any of the four species of monkey who frequent the area.
Evening:
Night hike around the property.
►Day 6: Osa – San Jose – Alajuela
Morning / Afternoon:
After breakfast, we will enjoy our final hours at La Leona with a hike or group meeting to work on projects. After lunch, we will hike back up the beach to meet our taxis and return to Puerto Jimenez. If time allows, we will do some shopping in town, and then catch our Nature Air flight back to San Jose. Taxis transfer the group back to Vida Tropical for 2 nights.
Evening:
Dinner in Alajuela.
►Day 7: Coffee Plantation, Poas Volcano, & Waterfall Garden Tour
Morning:
This is a full day exploring a nice mix of places outside of San Jose. The day starts with a visit at a working coffee plantation where you will have a hearty breakfast and drink local coffee after learning about coffee harvesting and production. The next stop is to enter the clouds and see an active volcano. Finally, you will end your day at the waterfall garden. This is a much more manicured experience from what you did on the Osa Peninsula for 6 days, but the contrast is very educational and a worthwhile experience you will enjoy. Lunch is served at the waterfall garden.
Evening:
Dinner in Alajuela.
►Day 8: Flights from San Jose back to the U.S.A.
Breakfast at Vida Tropical. Taxi transfer to the airport.
Please note: The activities and schedule may change without notice as practical considerations arise during program development, or onsite for the safety of participants.

This program includes hiking on uneven forest trails, black sand beaches, and a few steep inclines in hot and humid tropical conditions. The hikes are naturalist-led walks that go at a slow pace. Participants should feel comfortable standing for at least 2.5 hours and walking 2-3 miles (1 to 2 times per day). There are also water-related activities that require basic swimming. Don't have experience hiking, kayaking, or snorkeling? That is ok! Here's an opportunity for you to gain some new outdoor skills in an amazing environment! The pacing and rigor of the activities are casual and focused on stopping a lot to talk about, photography, and observe wildlife.
US Citizens: You will need a passport that is valid for the length of stay and a blank page for entry stamp. Please visit The US Department of State Website: https://travel.state.gov/content/passports/en/country/costa-rica.html
Included:
All scheduled activities listed on this page.
Lodging & most meals.
Guided activities.
Ground transportation.
Transfers.
Airfare from Omaha
Excluded:
3 dinners in Alajuela. (Arrival night & nights 6 & 7)
Personal spending money.
$80.00 gratuity per person.
The cost of this program is $3,500.
A non-refundable deposit of $500 and application are due March 31, 2017.
A second payment of $1,500 is due April 30, 2017.
Final payment of $1,500 is due May 31, 2017.
All payments are non-refundable if cancelled by the participant. Participants are highly encouraged to purchase travel insurance to cover unforeseen circumstances that may interrupt or cancel the trip.
Registration & payment processing for this tour is handled through the Henry Doorly Zoo
Join our mailing list for more information about this tour and others.