Description
An adventure designed to help you fall in love with the Sea of Cortez through guided up close encounters with amazing animals including bucket-list experiences with wild sea lions, Gray Whales, and whale sharks!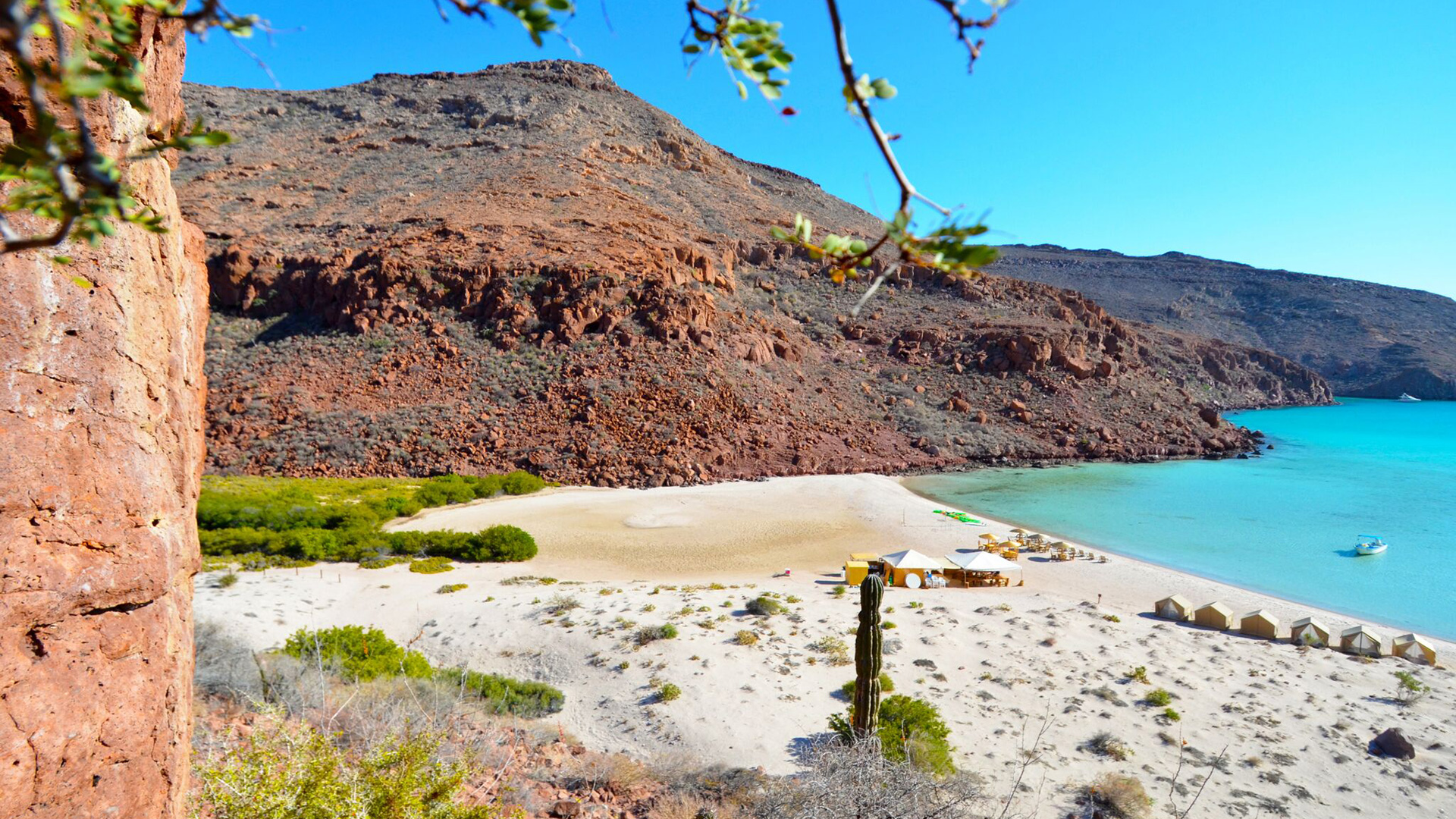 There is heaven on Earth, and it is called the Sea of Cortez. This sliver of blue water nestled between the red and yellow deserts of mainland Mexico and the Baja California Peninsula may be one of North America's best kept secrets. If you have ever dreamed of being a marine biologist then you need to come here! You will explore a variety of habitats from shallow turquoise bays, to rocky shorelines and shallow coral reefs to get close to rivers of fish, marine mammals, diving birds, and colorful invertebrates.
Adventure for Everyone!
If you can swim, you can do any activity on this adventure. We'll help you become comfortable with snorkeling and kayaking through personalized instruction, proper gear fitting and education about the surrounding environment so you can focus on taking in the sites, soaking up the experience, and capturing your moments with photos and videos. – Your friends will not believe your pictures. This trip is open to anyone aged 14 and older.
A Billion-Star Resort
Spend four unforgettable nights glamping on Ensenada Grande beach, of which The Travel Magazine has dubbed as "absurdly beautiful" and swimming in its water is like "swimming in a bottle of Curacao." Far from roughing it, think if the camp as a tent resort. Enjoy chef-prepared meals with fresh ingredients brought in daily, a variety of beverages, and the support of a full crew.
Arrive to the beach with tents already set up and dinner waiting. Each tent accommodates two people, has an amazing view of the turquoise bay, and is equipped with two cots, two sleeping bags; linens, bath towels, and a night stand. The tents are large enough for average height people to stand up in. Other camp creature comforts include manual flushing toilets and solar showers in private bamboo stalls, beach lounge chairs with umbrellas, covered dining and classroom area, purified fresh water, soda, coffee, tea and an honor bar for alcoholic beverages, a refrigeration system and generator powered electricity.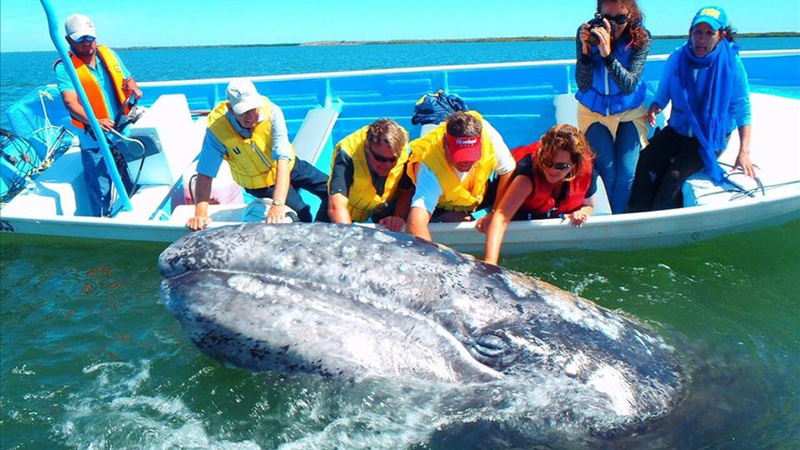 Trip Highlights:
Learn to snorkel & free-dive in a place Jacque Cousteau named, "The Word's Aquarium."
Glamp on one of the world's most beautiful bays – it's not roughing it at all.
Guided snorkeling trips in small groups to explore coral reefs, rocky reefs, and sandy bays.
Sea kayak along volcanic rocks, sea caves, and arches to get up close to shore birds and sea lions.
Spend a day having close encounters with Gray whales at Magdalena Bay.
Plunge in and play with 400 wild and friendly sea lions.
Taste tequila! This tequila talk will introduce you to different types of tequila and the tequila making process.
Informal evening presentations about ecology and conservation.
Snorkel with whale sharks!! These gentle giants are the largest fish on Earth. (contingent on whale sharks being in the bay)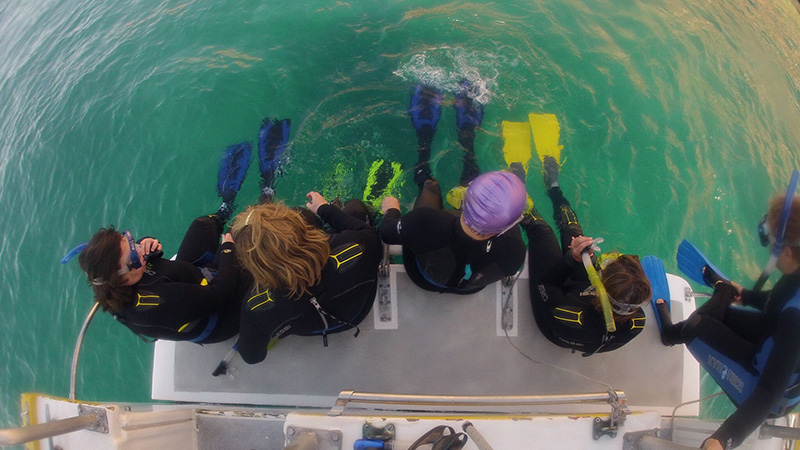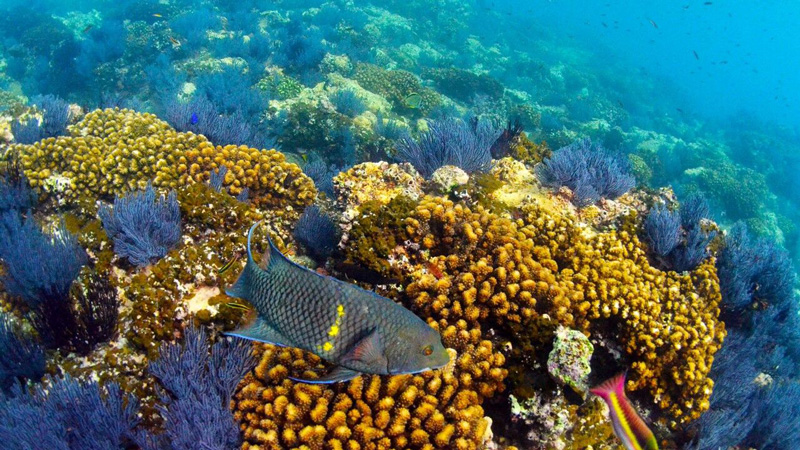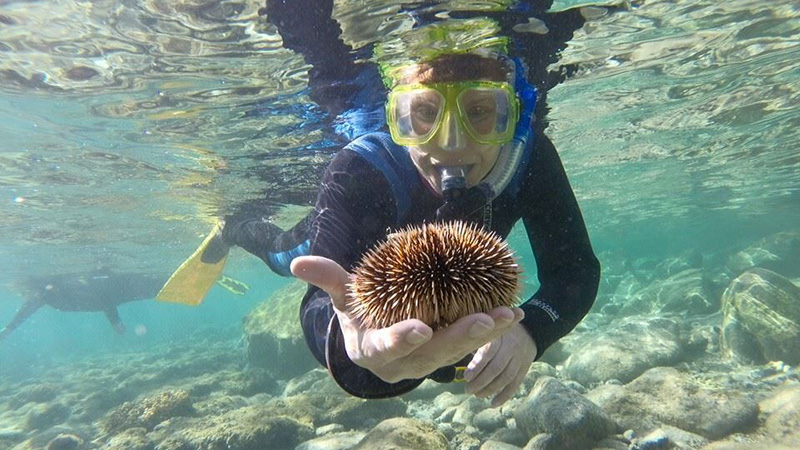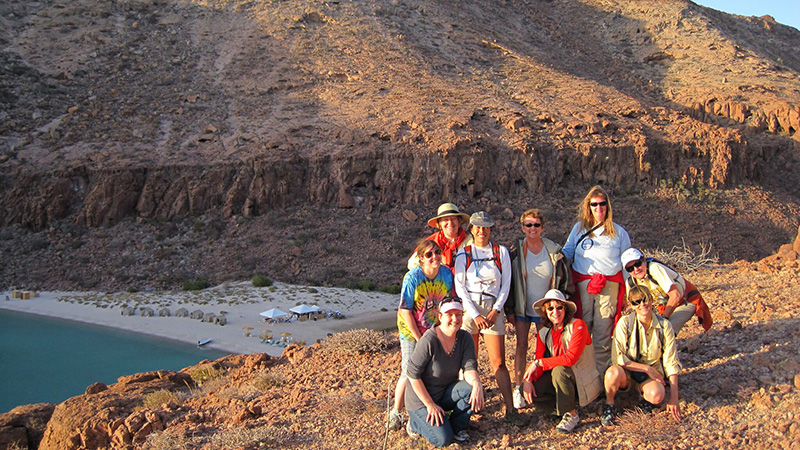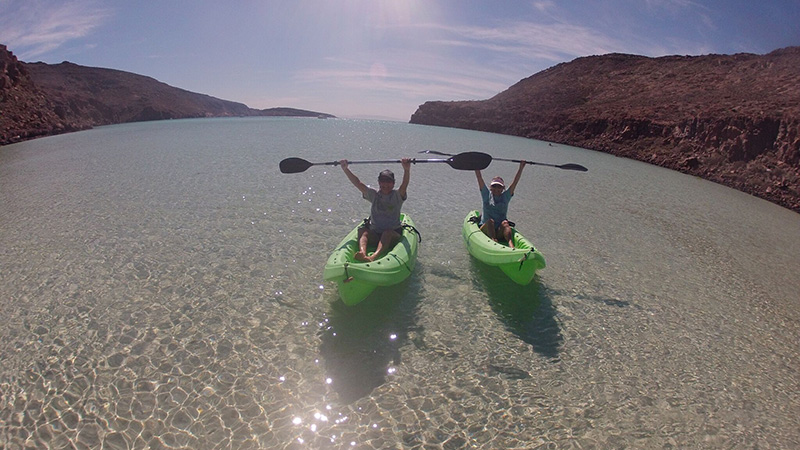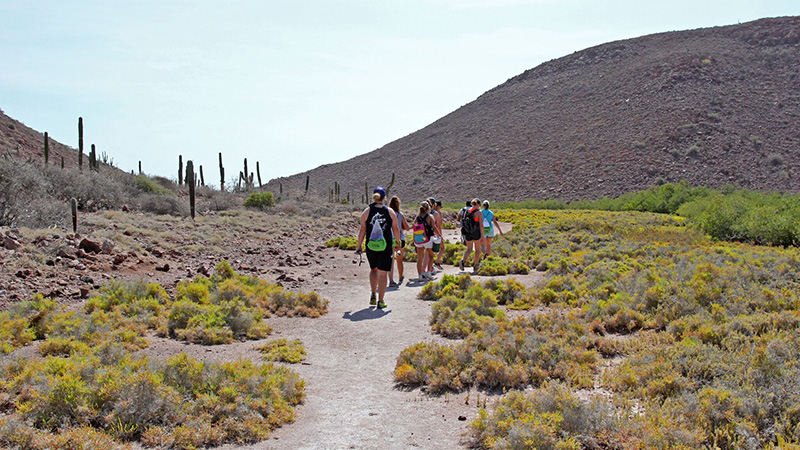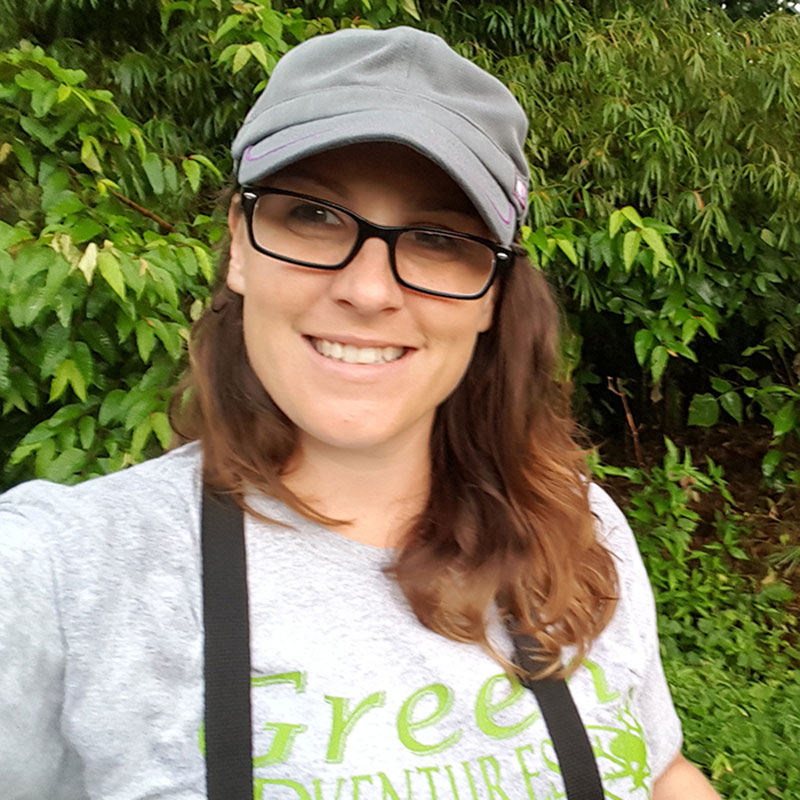 Tara Short
Trip Facilitator / Guide
Tara has 17 years of experience in eco-tourism, guiding and educating students of all ages in the Americas, the Caribbean, and Iceland. She holds a Bachelor's Degree from the University of Wisconsin-Stevens Point in Natural Resource Management with an emphasis in Environmental Education/Interpretation. Tara has worked for notable educational, scientific, and conservation organizations and institutions such as the John G. Shedd Aquarium, Chicago's Museum of Science & Industry, USDA Forest Service in the Chugach National Forest in Alaska, and Wild Studies in the Bahamas. Tara is a PADI Open Water Diver, Advanced Diver, Rescue Diver and has specialty certifications as Underwater Naturalist, Deep Diver, Multi-Level diver and Night Diver.
Chabelo
Divemaster / Fun Baja Diving & Eco-Adventures, LaPaz, Mexico
Chabelo (Pronounced Chaah Bell-O) is a Divemaster for Fun Baja Diving & Eco-Adventures based out of La Paz. Chabelo has been instructing and leading SCUBA divers for 15 years with Fun Baja and instructing snorkeling and free-diving with Green Edventures for 8 years. Our guests consistently tell us how they appreciate the care and attention he gives to everyone in the group. Chabelo is funny, playful, and loves to share everything he knows about his backyard, the Sea of Cortez and his home, La Paz. Chabelo is talented at finding marine life so participants can see the most of the reef. He is also a sea lion whisperer. With him, you will see and interact with the sea lions in a very special way. Your friends won't believe the pictures!
►Where Do We Stay?
Night 1: Hotel in La Paz.
Night 2: Hotel in La Paz.
Night 3: Camp
Night 4: Camp
Night 5: Hotel in La Paz.
►Day 1: Arrival Day and Transfer to La Paz
Flights arrive to San Jose del Cabo which is the airport that services Cabo San Lucas. Participants are transported via 15-passenger air conditioned vans to La Paz. Trip duration is about 3 hours with a stop halfway in San Bartolo for a light lunch and bathroom break. We check into hotel in La Paz followed by dinner and socializing.
►Day 2: Transfer to Lopez Mateos for Whale Watching at Magdalena Bay
We will depart the hotel in La Paz at 6 a.m., stopping for a bathroom break about 1.5 hours into the trip and then again for breakfast in the town of Constitucion. The transfer is 3 hours from La Paz to Puerto Lopez Mateos. The group will go whale watching in the morning and again after lunch. Our overnight stay is in eco-bungalows in Puerto Lopez Mateos with a seafood dinner feast that evening.
►Day 3: Transfer to Island Camp
We depart from Puerto Lopez Mateos after breakfast and return to La Paz. We will stop at the grocery store for participants to pick up personal supplies followed by a lunch of fish tacos downtown on the boardwalk. There will be a stop at the marina to load our gear onto the boats. The trip from Costa Baja Marina to our camp on Isla Partida (adjacent to Espiritu Santo) is 26 miles by boat. We will arrive at the beach camp before sunset. The crew will already have camp set up for us. Dinner will be served and we will settle into our home for the next few nights.
►Day 4: Snorkeling with Sea Lions & Optional SCUBA Diving
We will travel to the Los Islotes Sea Lion Colony for snorkeling after breakfast. The afternoon activity will be determined by the participants' interests. There are dozens of other snorkeling sites and other places to hike. Those who choose to SCUBA will do so this afternoon. In the evening we will have a presentation by a local artist.
►Day 5: Whale Shark Snorkeling & La Paz
Search for whale sharks in the Bay of La Paz. Participants may have the opportunity to swim with these gentle giants. Return to La Paz and move into Hyatt. Participants will shop for souvenirs and explore the La Paz with dinner in town.
►Day 6: Group Transfer to the Airport.
After a delicious breakfast buffet at the hotel, we will load the vans to start our journey to the airport in San Jose del Cabo.
Please note: The activities and schedule may change without notice as practical considerations arise during program development, or onsite for the safety of participants.
US Citizens: You will need a passport that is valid for the length of stay and a blank page for entry stamp. Please visit The US Department of State Website https://travel.state.gov/content/studentsabroad/en/beforeyougo/csi/mexico.html
Included:
All scheduled activities listed on this page including snorkeling, kayaking, hikes, and gray whale watching trip.
5 nights of lodging.
Group ground transport from San Jose del Cabo Airport (SJD).
Authentic delicious and healthy meals from dinner on arrival day to breakfast on departure day.
24/7 Onsite support from a Green Edventures Program Manager .
Excluded:
Personal spending money.
Alcoholic beverages.
Gratuity ($100 per person)
Special travel
Airfare to Los Cabos Airport (SJD)
Optional SCUBA diving
A non-refundable $300 deposit per person is due to reserve your space. Two equal installments of $747.50.50 are due January 15th, and February 15th.
All payments are non-refundable if cancelled by the participant. Participants are highly encouraged to purchase travel insurance to cover unforeseen circumstances that may interrupt or cancel the trip.
Join our mailing list for more information about this tour and others.